Tiger Woods at British Open 2013: Complete Performance Grades at Muirfield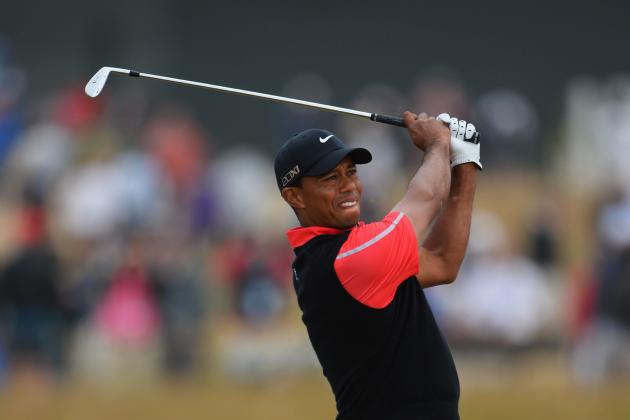 Stuart Franklin/Getty Images

Tiger Woods only has one thing in mind when he plays a major championship. He wants to win so he can pick up his chase of Jack Nicklaus and become the sport's all-time major champion leader.
From that perspective, his performance at the 2013 British Open was a failure. He was in a position to pounce throughout the first three rounds, but he had little in the tank for Sunday's championship round. He still has 14 major championships, four behind Nicklaus.
Woods finished in a tie for sixth with Zach Johnson and Hideki Matsuyama, as he shot a 74 in the final round and finished the tournament with a two-over par total of 286. He was five strokes behind champion Phil Mickelson.
Woods is still the top-ranked player in the world rankings, while Mickelson is now No. 2. Here are his performance grades for the British Open.
Begin Slideshow

»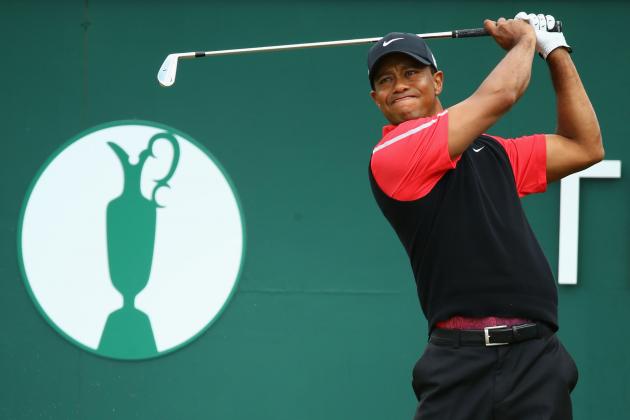 Matthew Lewis/Getty Images

There were a couple of problems along the way, but Tiger Woods did not lose the British Open because he failed to hit the ball well off the tee.
The opposite was true. While he kept his driver in his bag for nearly the entire tournament, Woods struck the ball well off the tee throughout the tournament. He found the fairway on 42 of 56 drives, and his 75 percent success ratio was far better than the tournament average of 58.2 percent.
While Woods had a few hiccups, his play off the tee was quite good from beginning to end.
Grade: A-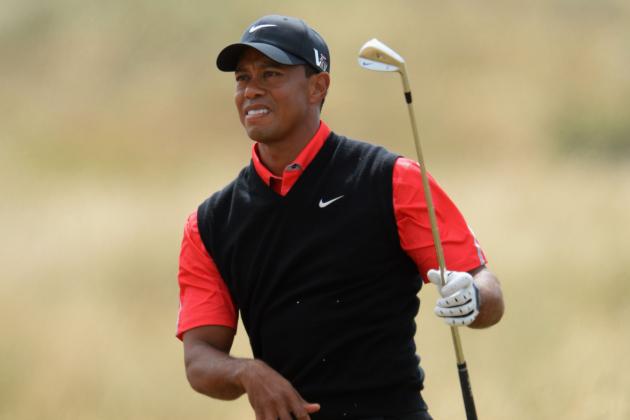 Stuart Franklin/Getty Images

After playing with Tiger Woods in the first two rounds of the tournament, Graeme McDowell told Reuters (through the New York Times) that Woods' iron play was superb and that his game was in top shape.
Overall, Woods did an excellent job with his irons. He reached 50 of 72 greens in regulation, for a 69.4 success ratio. That was well above the tournament average of 60.3 percent.
However, he did not strike his irons with quite the efficiency in the final two rounds as he did in the first two. He leaked more shots into the rough on Sunday than he did in Rounds 1-3, and that's troubling for him.
Grade: B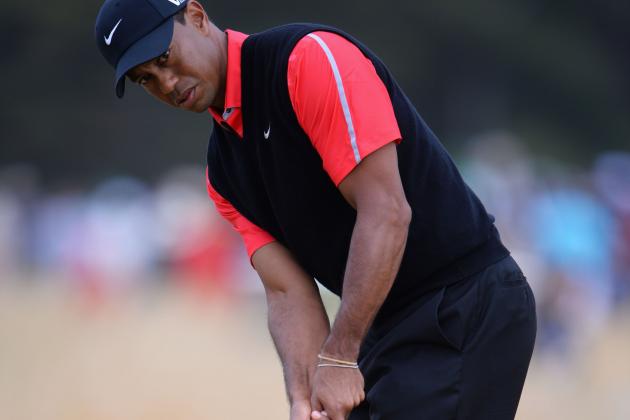 Stuart Franklin/Getty Images

The numbers say Tiger Woods did a slightly better than average job on the greens in the British Open. He averaged 1.71 putts per hole, compared to the tournament average of 1.75 putts.
Woods' putting, like his scores, got progressively worse in the British Open. He was solid with his putter on Thursday when he shot a 69. He drained some long putts when the greens were considered quite fast.
But as the week went on, he made fewer putts. He struggled badly with his flat stick on Sunday. He started off with a couple of tentative putts on the first two holes, and when he finally started to hit the ball with the required authority, he did not have a good line.
"I had a hard time adjusting to the speeds," Woods told the media after the final round (through CBS Sports). "They were much slower today, much softer. I don't think I got too many putts to the hole today."
While his putting numbers were decent overall, Woods did not come through at the most important moments of the tournament.
Grade: C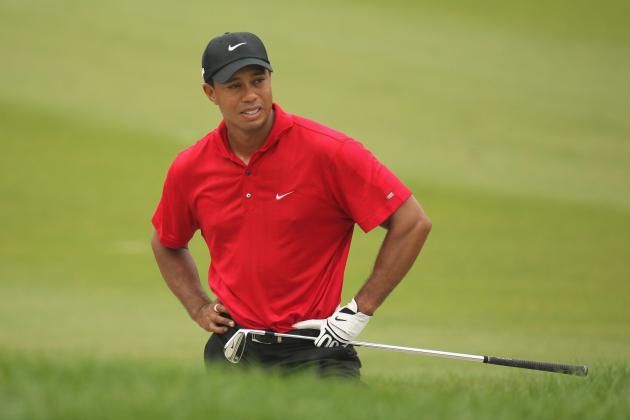 Ross Kinnaird/Getty Images

The streak continues to get longer and longer. Tiger Woods has not won a major since the 2008 U.S. Open, and it seems to be weighing on him.
How could it not? When Woods was at his peak, the question wasn't whether he would win a major, but how many he would bring home in a single golf season. Now the question is whether he will ever win one again.
Could he still catch Jack Nicklaus? It's possible, but as the streak drags on, what once looked like a certainty is now somewhat doubtful.
Woods has won four tournaments this year and is the top-ranked golfer in the world. He is still a great player and confident in his abilities. However, when he's playing the final two rounds in major championships, something is missing.
Grade: C+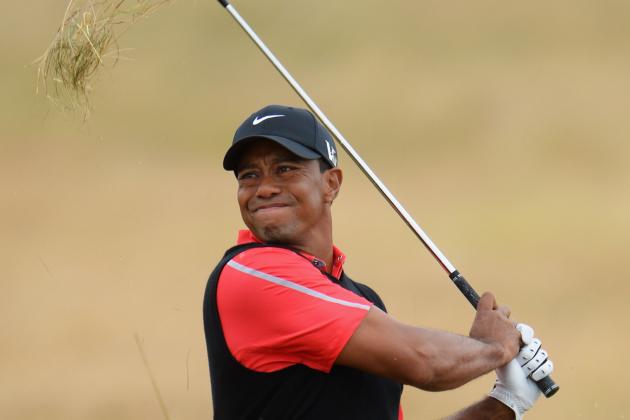 Stuart Franklin/Getty Images

This is almost always one of Tiger's strengths because he understands what is required on each course that he plays.
He certainly knows Muirfield, and he managed it well for three rounds. However, in the fourth round, he seemed a bit off in his execution from start to finish. He made just one birdie on the front nine, and his inability to hit his approach shots where he wanted them helped cause his downfall.
Woods did not make any huge errors—he did not have a double bogey in the tournament—but he didn't execute the way he needed to in the final round of the tournament.
Grade: C+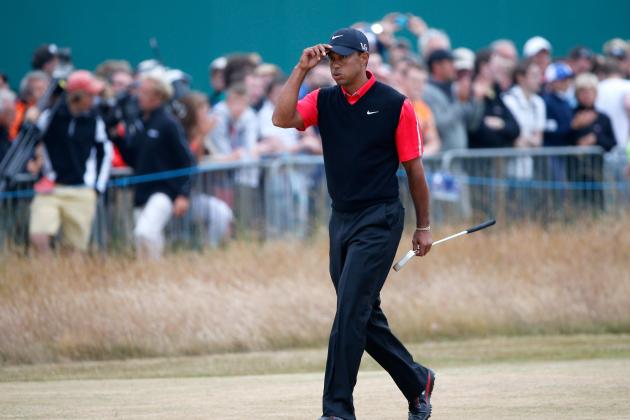 Rob Carr/Getty Images

When it comes to all the measurable aspects of the game, Tiger Woods doesn't have to take a back seat to any player. However, it is a major issue that he is no longer at his best in the final rounds of tournament play.
It's going to remain an issue until he finally exorcises this demon and plays four excellent rounds at a major and wins his 15th championship. The doubts will remain until he finally does that.
Overall, Woods was solid for the large majority of the tournament, as he was able to string together a slew of crisp shots. However, he was not at his best when he had his opportunities on Saturday and Sunday, and that's why he lost.
Woods is not trying for a respectable performance or attempting to be good enough to get close. He wants to win majors, and his overall game is not good enough at this point to accomplish that goal.
Grade: C+