SEC Football: Who Would You Rather Build Your Team Around, Manziel or McCarron?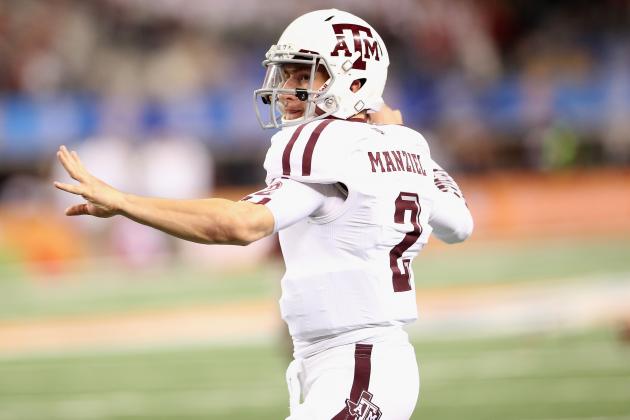 Ronald Martinez/Getty Images

Texas A&M quarterback Johnny Manziel and Alabama quarterback AJ McCarron are two of the top collegiate quarterbacks in the nation. While both are obviously outstanding football players, Manziel is the quarterback you want if you are looking for a player to build your team around.
It is difficult to compare the two because McCarron has been a starter for two years, while Manziel only has 13 games on his resume. McCarron did not start his first game until he was a redshirt sophomore during his third year at Alabama.
Manziel is not entering his third year at Texas A&M and will be a redshirt sophomore in 2013. The talent surrounding each player on their respective teams also has to be taken into consideration.
During his two seasons leading the Crimson Tide, McCarron has played alongside seven NFL first-round draft picks. During his one season as the quarterback at A&M, Manziel has played with one player selected in the first round of the NFL draft.
Their situations are different, but it is still possible to make a valid comparison. This is a comparison of how McCarron and Manziel measure up against each other.
Begin Slideshow

»
Mark Wilson/Getty Images

Advantage: McCarron
When it comes to "skins on the wall," there is no comparison. McCarron has led his team to two national championships while Manziel has none. Of course, if Manziel stays in Aggieland for two more seasons, he will have a chance to rectify that.
Often criticized as a "game manager," McCarron has been nothing short of spectacular in the two BCS title games he played in. In those two games, McCarron has completed 43-of-62 passes for 498 yards and four touchdowns with no interceptions.
Alabama outscored LSU and Notre Dame by a combined score of 63-14 in those two games. Against LSU, the Tide started out the game passing. McCarron's precision with the ball and poise in the pocket were instrumental in loosening up one of the better defenses in recent college football history.
Manziel may win a national title in the future, but right now, McCarron has a clear advantage in this category. If the Tide win the 2013 BCS National Championship, then McCarron should go down in history as one of the better college quarterbacks of all time.
Advantage: Manziel
This one is not even close. Johnny Manziel can take over football games by himself. He can beat teams with his feet or with his arm.
In his two BCS games, AJ McCarron has accounted for 518 total yards and four touchdowns. In his one career bowl game, Manziel set a bowl record with 229 yards rushing. Manziel accounted for 517 total yards and four touchdowns in just one game.
In his two seasons as a starter, McCarron has averaged 2,775 total yards. In his one season as a starter, Manziel rang up 5,116 total yards.
It is obvious that Manziel is a much more prolific playmaker. While some of that is due to the difference in offenses the two quarterback play in, some of it is simply due to Manziel being a more dynamic player.
Advantage: Manziel
This will probably surprise a lot of people due to recent off-the-field developments. If you look at it from the perspective of a recruit, Johnny Manziel is the obvious choice as the person you want as the face of your program.
Do you want a quarterback who is going to call you out on national television like AJ McCarron did to senior center Barrett Jones during the BCS title game? McCarron also cried on the sideline after T.J. Yeldon erased McCarron's poor performance with one catch and run against LSU.
Contrast that with Manziel, who is the Joe Namath of the college football world. He is extremely confident, and that confidence is contagious with his teammates.
They know they are never out of the game as long as Manziel is in the backfield. His off-field antics may get a lot of publicity, but he consistently gets the job done on the field.
McCarron has had multiple incidents off the field that have also drawn scrutiny. He is simply not under the same microscope that Manziel is.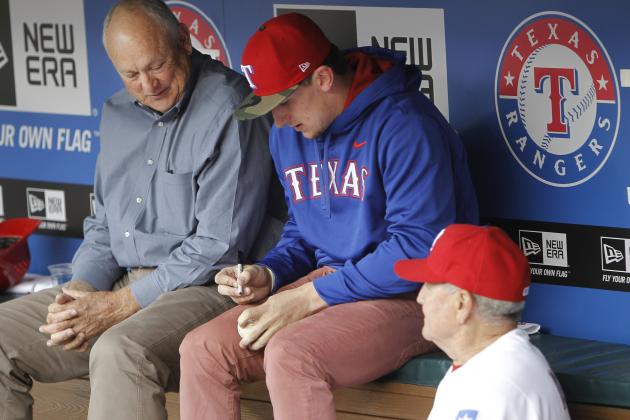 Brandon Wade/Getty Images

Advantage: Manziel
Part of college football is selling tickets. It helps when you have a player that makes people want to tune in.
When Johnny Manziel became the first freshman to ever win the Heisman Trophy, he became a household name. There is a buzz around the A&M program because of the presence of "Johnny Football."
People will buy tickets to games and tune into television to watch Manziel play. McCarron does not generate the same kind of interest outside of his home state.
Manziel is the type of player that bowl games fight over to get into their bowl. He can increase the bowl stature and payout for whatever team he is on simply by his presence. That is not the case with McCarron.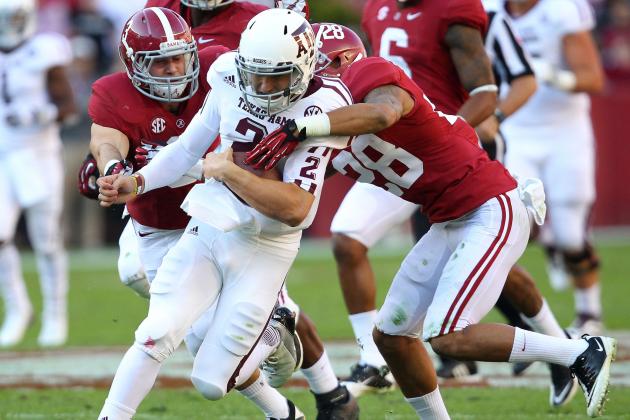 Mike Zarrilli/Getty Images

Advantage: Manziel
AJ McCarron and Johnny Manziel have only met on the field one time and Manziel came out on top in a 29-24 win for the Aggies. McCarron was playing at home in front of 100,000 of his own fans.
It would be very hard to find people who think that the Aggies have more talent than the Crimson Tide man for man. So you have McCarron leading a more talented team at home, and he still could not defeat Manziel.
The redshirt freshman quarterback led the Aggies to an early 20-0 first-quarter lead and never looked back in a game the Aggies never trailed in.
McCarron may currently have more national title rings than Manziel, but if you are starting a program from scratch, Manziel is clearly the player you want to build your team around.