NBA Offseason: All-Liability Team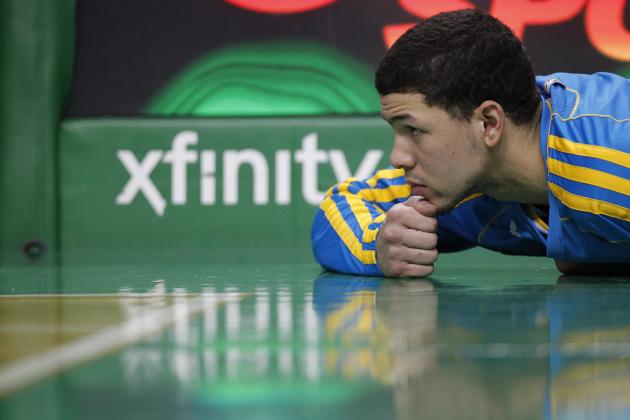 Greg M. Cooper-USA TODAY Sports
Austin Rivers has the drive and the tools to become a star in this league. But after finishing his rookie season at the bottom of the league in Value Added, he is still a big liability.
With the NBA already a few weeks into the offseason, teams are adding, subtracting and trading to upgrade their rosters. But with all of the upgrades, there remain plenty of liabilities.
Even stars such as free-agent standouts Dwight Howard and Josh Smith come with flaws, like their poor free-throw shooting.
I complied a list of of my All-Liability team based on what each player contributes to his team. All the players on this list must have appeared in the majority of his team's games in 2012-13 and ranked near the bottom in at least three Hollinger stats categories.
You may be surprised by at least one of the players on the team, but the numbers don't lie.
So without further ado, let's take a look at the NBA All-Liability Team.
*All statistics courtesy of 2012-13 Hollinger's NBA Player Statistics via ESPN.com.
Begin Slideshow

»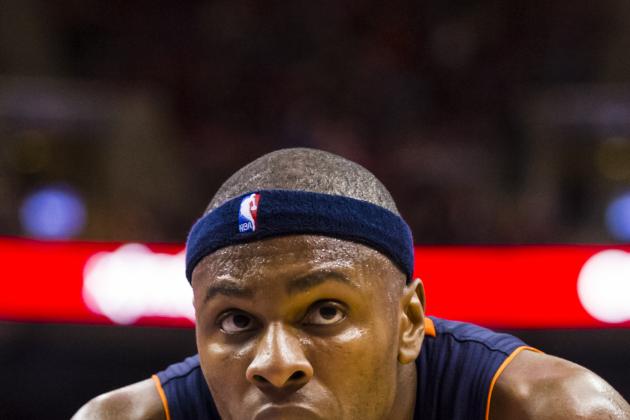 USA TODAY Sports
Veteran 7-footer Brandan Haywood finished last season with the second-worst PER among centers.
PG Earl Watson, Portland Trailblazers: Third-worst Value Added and Player Efficiency Rating among point guards. Finished last season with 2.0 points and 4.0 assists per game.
SG Keith Bogans, Boston Celtics: Second-worst in Value Added and fourth-worst Player Efficiency Rating among shooting guards. Finished last season with 4.2 points per game and a 38 percent field-goal percentage.
SF Marquis Daniels, Milwaukee Bucks: 12th-Worst in Value Added and fourth-worst True Shooting Percentage among small forwards. Averaged 5.5 points per game and shot just 27.8 percent from three-point range.
PF Luc Richard Mbah a Moute, Sacramento Kings: Worst in Value Added and third-worst True Shooting Percentage among power forwards. Finished last season 6.7 points and 4.4 rebounds per game.
C Brendan Haywood, Charlotte Bobcats: Second-worst Player Efficiency Rating and True Shooting Percentage among centers. Finished last season with 3.5 points and 4.8 rebounds per game.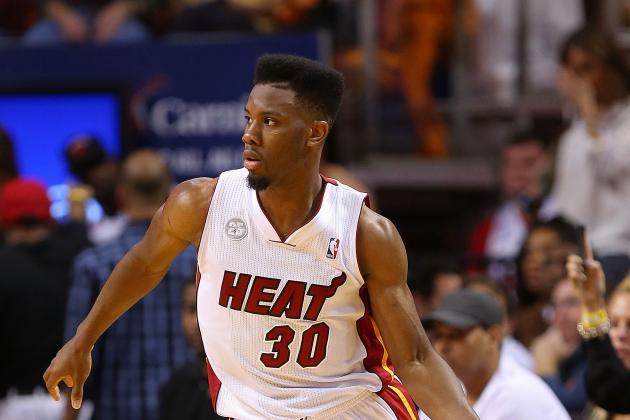 Mike Ehrmann/Getty Images

We'll kick off the All-Liability starting five with Norris Cole of the Miami Heat. The 6'2" point guard contributed some valuable minutes in Miami's 2013 title run, but his efficiency numbers are staggering.
Cole ranked last in Value Added at the point guard position last season with a -73.2 rating. This rating is even surprising to me given the fact that Cole appeared in 80 games and compiled 5.6 points and 2.1 assists per game for the Heat last season.
A further look into Cole's statistics shows that he finished tied for the sixth-worst turnover ratio and had the 15th-worst True Shooting Percentage among point guards. He also finished with a 65 percent free-throw clip.
Norris Cole has been able to bring a tremendous amount of energy to the Heat lineup when he appears, which gets the team running and establishes their fast tempo of play. But presence alone isn't enough.
Cole's -2.4 Estimated Wins Added total last season tells the story. It was worst among all point guards and helps land him as the starting point guard for the All-Liability team.
Jared Wickerham/Getty Images

Austin Rivers' one year at Duke University told fans one important thing about him: He can score the basketball. But his one-on-one mentality presents tremendous liability issues.
The son of Los Angeles Clippers head coach Doc Rivers, Austin has the blueprint and IQ to become an NBA star at some point. But his rookie year statistics show he has some work to do.
Rivers appeared in 61 games for the rebuilding Hornets, averaging 6.2 points and 2.1 assists per game. By all standards, he had a normal rookie season.
On the other side, however, Rivers finished last in the Value Added category (his -96.4 total was worst among all NBA players) and Estimated Wins Added among all NBA shooting guards. His 43.1 True Shooting Percentage was also second-to-last.
Rivers didn't turn the ball over as much as expected, and the fact that he plays for a New Orleans team that will ask him to play big minutes in his second season will force him to shape up or ship out.
The 6'4" guard has an explosive first step and can score points in bunches when he's on, but his impulsive play has to be improved before he can become more than just a "sometimes" big scorer.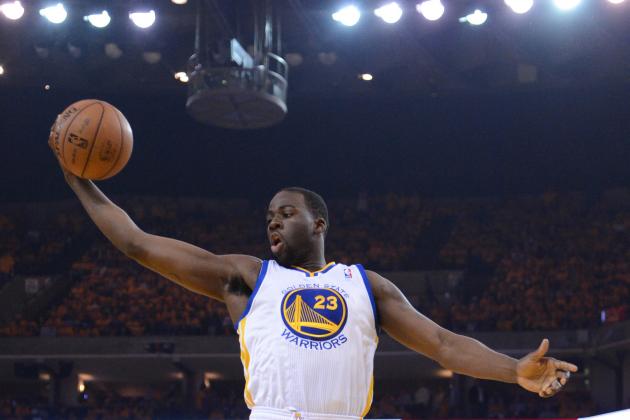 Kyle Terada-USA TODAY Sports

Another interesting case on this list is starting small forward Draymond Green. The Warriors' youngster appeared in 79 games of his rookie season, averaging 2.9 points and 3.3 rebounds per game.
While Green only amassed 13.4 minutes per game last season, I believe his versatility will earn him more opportunities as his career progresses. He has to become more efficient, however.
Green finished second-to-last in Value Added among small forwards and dead last in True Shooting Percentage at 40.4 percent.
Green is an undersized 3 who can stretch the floor and give him team second chances with his ability to crash the boards. He was No. 7 in rebound rate among small forwards and is trouble anywhere on the low block.
If Green can improve his shooting efficiency and eighth-worst turnover ratio, it's possible he could find himself out of this starting unit next season.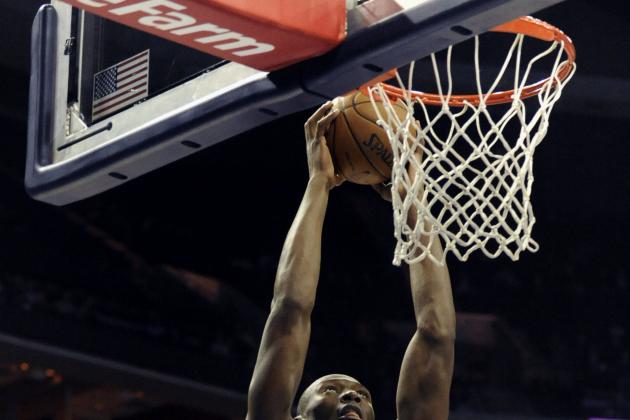 USA TODAY Sports

Without a doubt the biggest project player on this list, Bismack Biyombo gets the nod at power forward for the All-Liability team.
At a long and lanky 6'9", Biyombo actually posted decent numbers last season on the surface. The second-year big man averaged 4.8 points, 7.3 rebounds and 1.8 blocks per game in 80 games played.
While he has the chance to emerge as a solid defensive presence, he finished with the second-worst total in the Value Added category and tied for worst in Estimated Wins Added. If those totals aren't bad enough, he posted the third-worst turnover ratio and seventh-worst True Shooting Percentage among forwards.
Biyombo can block shots with his long frame, and his solid 15.2 percent rebound rate proves he can do work on the low post.
If he can take care of the ball and learn to take better shots around the basket, Biyombo has the tools to make an impact in the league and take his name off of this roster.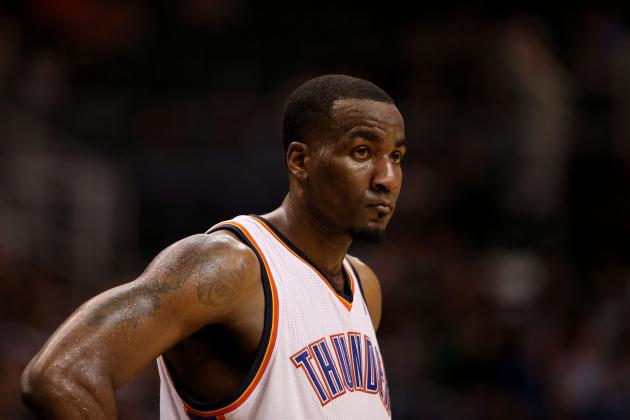 Mark J. Rebilas-USA TODAY Sports

Perhaps the biggest surprise to grace this starting five is Kendrick Perkins. The sour-faced big man for the Oklahoma City Thunder is a well-known name who subtracts a lot from his team with inefficiency.
Perkins appeared in 78 games for the Thunder last season, posting averages of 4.2 points, 6 rebounds and 1.1 blocks per game. Perkins is a load down low who takes up a ton of space, which benefits his team on the defensive end.
However, Perkins finished last among centers with a -70 Value Added total. His 8.20 Player Efficiency Rating was the worst in the league among centers despite his solid 13.7 percent rebound rate.
Perkins shot a porous 61.1 percent from the free-throw line last season and only capitalized on 45.7 percent of his total shots taken, which is significantly low for a low-post player.
He is a big body who is capable of clogging lanes and challenging the shots of any player he is matched up with. Although Perkins will be a mainstay in the Thunder lineup for years to come, his numbers reveal that he is actually a huge liability for a Western Conference contender.