NBA Summer League 2013: Behind the Scenes at Las Vegas, Days 7-10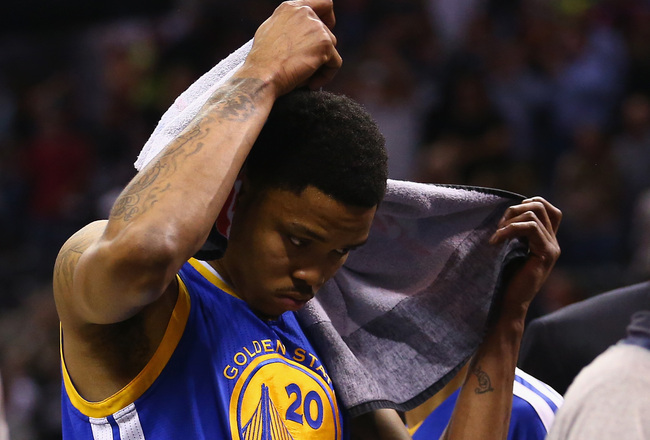 Ronald Martinez/Getty Images
Welcome back to the NBA Summer League in Las Vegas. As the league goes on, more and more good players are rested, more media members go home and fewer stars show up.
This is usually where Summer League fatigue can set in, but I channeled the consummate professionals I see there all day every day, like Tom Thibodeau, R.C. Buford, Isiah Thomas (who can sit on air for eight hours straight every day) and others.
Tristan Thompson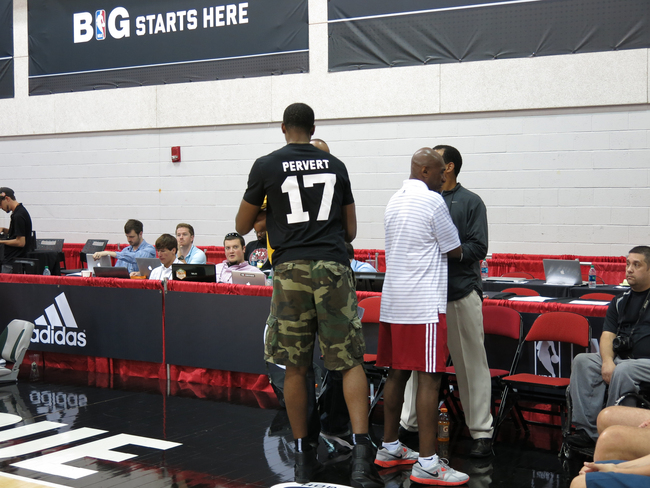 Tristan Thompson rolled up to the game in a $325 T-shirt that said "Pervert 17" on the back.
Tristan Thompson Covered Up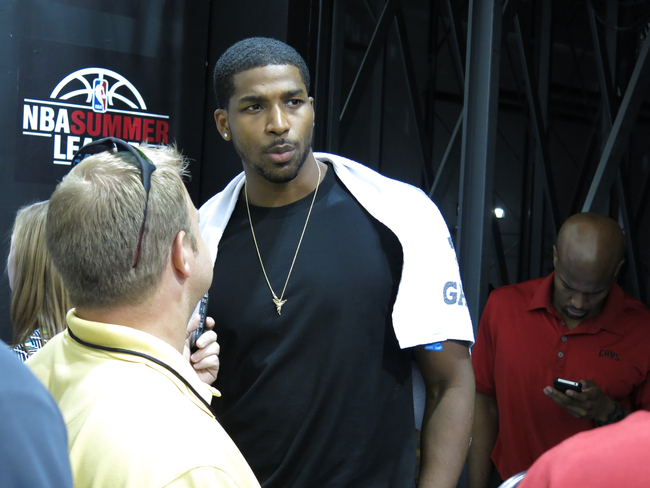 Someone in the organization may have taken exception to the shirt because he quickly donned a towel across his shoulders the rest of the time he was there.
Mike Brown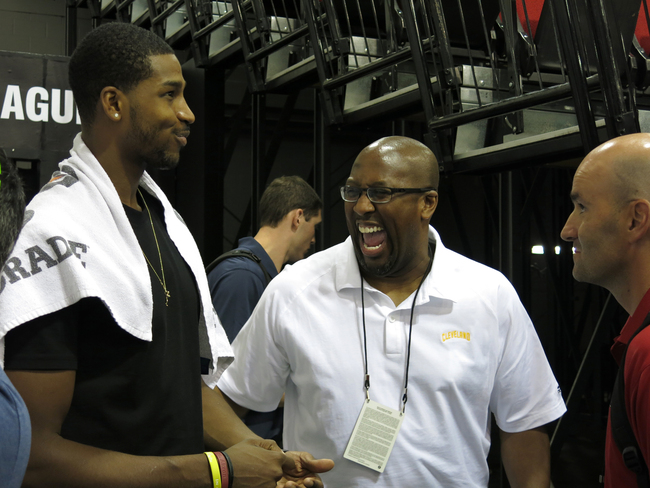 Mike Brown is pretty jovial, laughing it up with everyone he talks to. This photo of him laughing looks pretty scary though.
Tom Thibodeau and Erik Spoelstra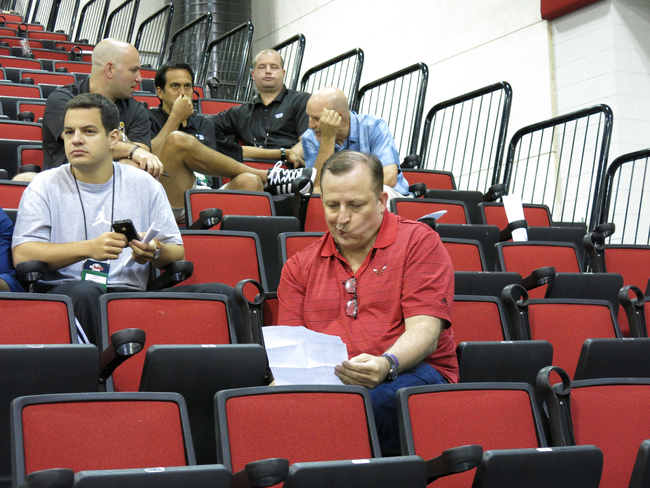 Tom Thibodeau isn't impressed.
What is impressive is his and Erik Spoelstra's work ethic and drive. Some coaches show up for the first few days and then take a hike (Doc Rivers, Rick Adelman), as if there is anything else NBA related going on right now. Not Tom and Erik, who are there every day.
Robert Sarver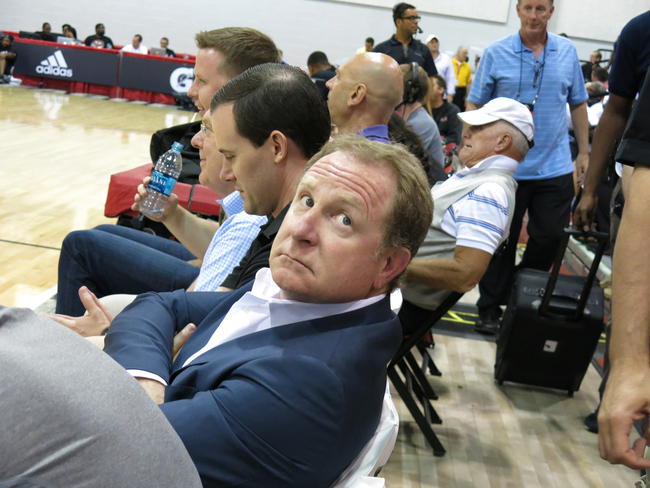 Phoenix Suns owner Robert Sarver was one of the owners in attendance.
James Harden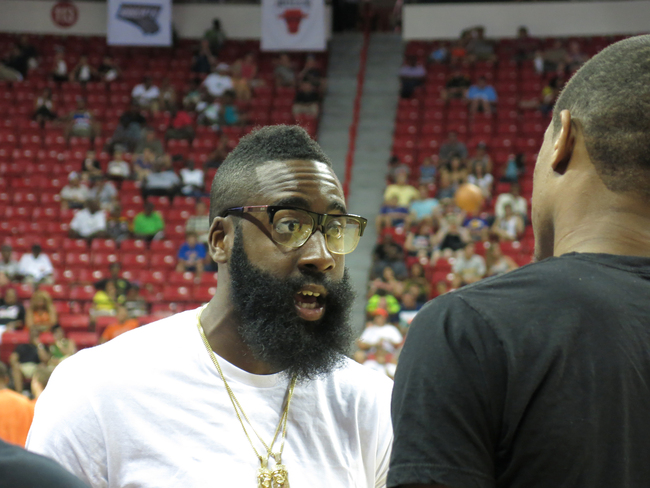 There was a pop-up appearance by James "The Beard" Harden. With Daryl Morey making big moves, I'm starting to think the Houston Rockets may be the biggest threat to the Oklahoma City Thunder this season.
Just when you thought the Harden trade couldn't get worse for OKC.
Dwight Buycks
The Dwight Buycks hype had been growing as the Summer League progressed and it reached its fever pitch as he laid into the Phoenix Suns for 28 points.
The way he's playing, it makes you wonder if the Toronto Raptors regret signing D.J. Augustin this offseason.
John Henson
John Henson, rooted in the paint for a rebound. Is it me or are the Milwaukee Bucks going to have an amazing frontcourt next year between Henson, Ersan Ilyasova, Larry Sanders and Zaza Pachulia?
OK, I was just kidding about the Zaza part.
Nate Robinson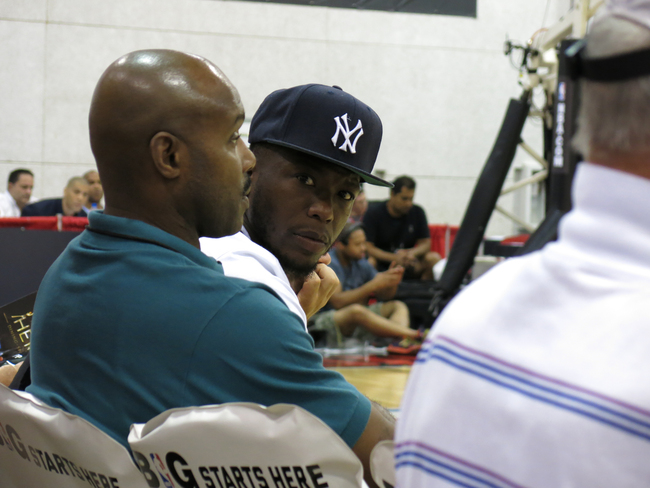 On TV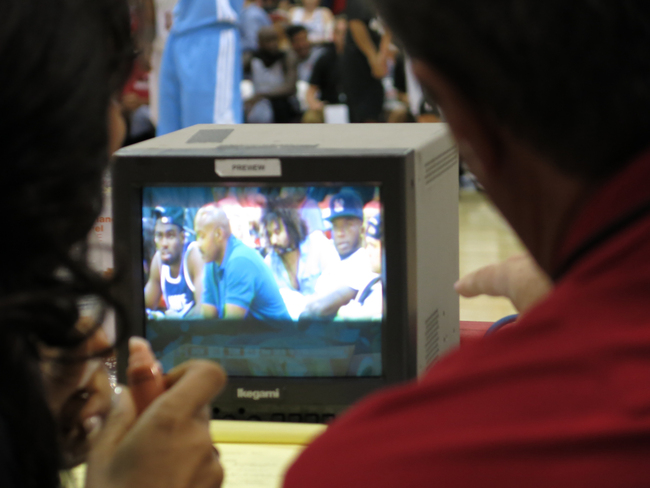 Hey, Mom, look, I'm on TV! With Nate Robinson and both Tim Hardaways. This is why the Summer League is the best.
Kenneth Faried
Kenneth "The Manimal" Faried graduated from playing in the Summer League, but he still dropped by as a spectator.
Robert Pera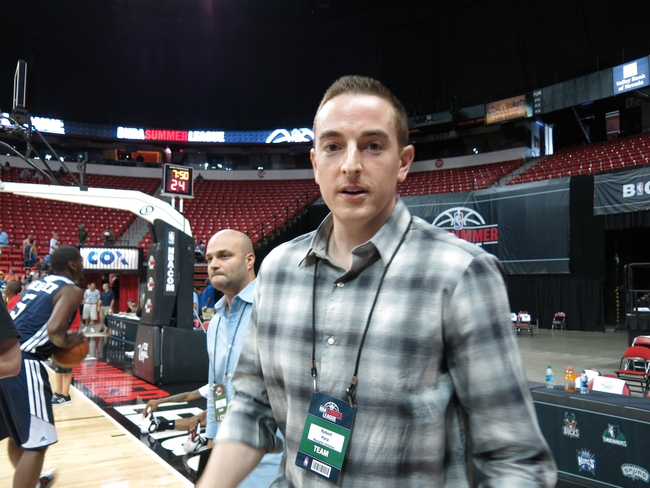 Masai Ujiri and Jonas Valanciunas
After every game, Toronto Raptors GM Masai Ujiri has pulled Jonas Valanciunas (or JV as teammates call him during games) aside and talked to him. Masai spent six years playing basketball professionally in Europe, so perhaps he can speed up the impressive transition JV has been making from Euro basketball to NBA basketball.
Jonas has unsurprisingly been one of the best players in the Summer League, and with Andrea Bargnani being shipped out JV is going to have a huge role on the 2013-14 Raptors.
Jonas' Pain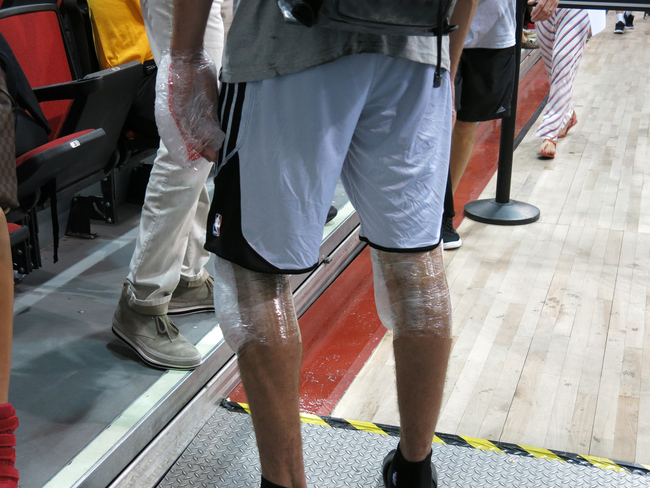 Here you can see the wear and tear the Summer League has had on Jonas Valanciunas.
Tony Snell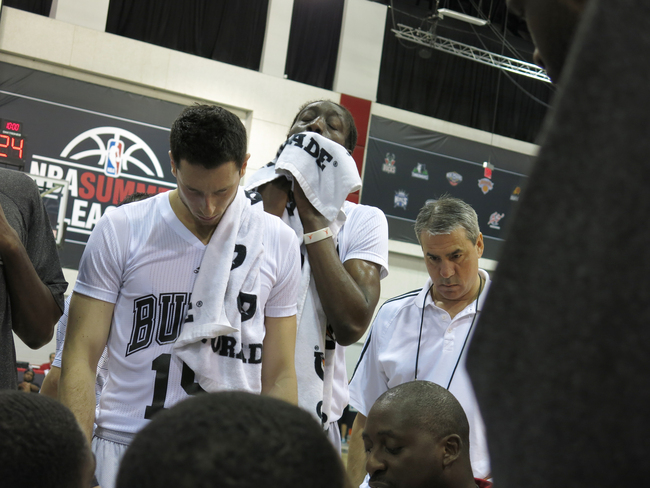 Tony Snell was one of the few first-round picks living up to the hype in Vegas. He was a sublime blend of wing defense, corner threes and rebounding. One night he grabbed 12 rebounds (11 through the first three quarters), the next night he scored 20, including five three-pointers.
Between Snell and Jimmy Butler, I would be shocked if impending free agent Luol Deng is on the Bulls a year from now.
Jim Boeheim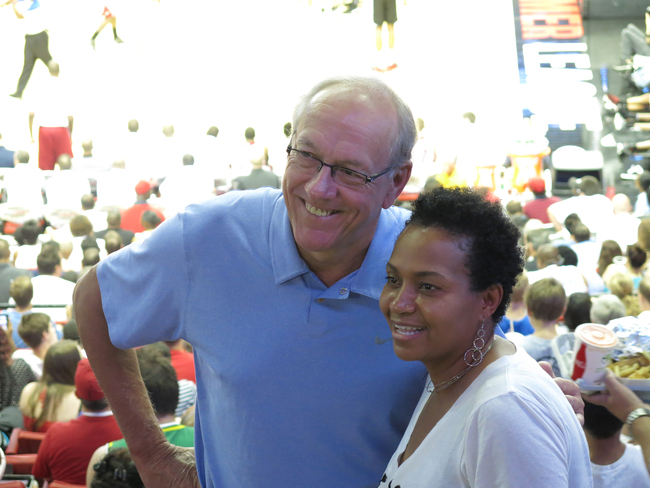 Syracuse head coach and Team USA assistant coach Jim Boeheim is presumably in town for the Team USA minicamp next week.
Erik Spoelstra's Threes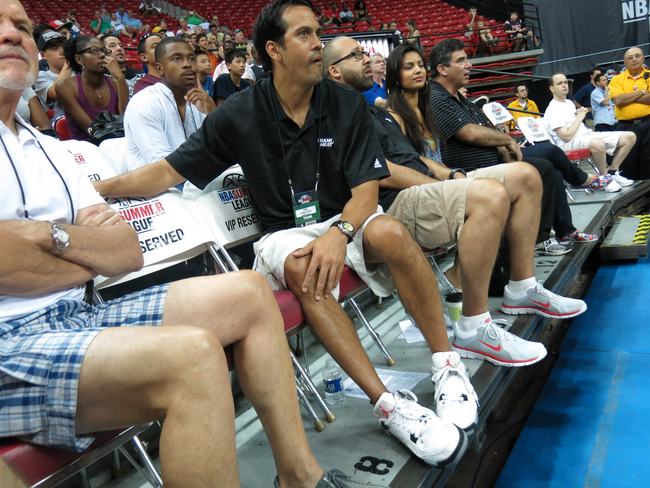 Erik Spoelstra with a crisp pair of Jordan 3s. He was the only coach I saw wearing Jordans.
A.C. Green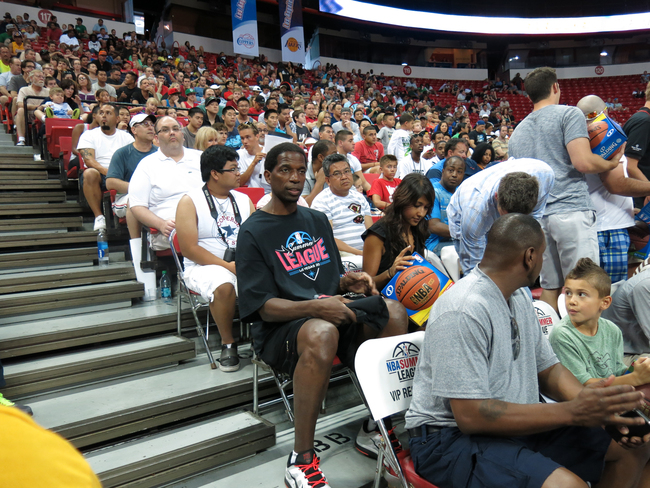 A.C. Green was the Tim Tebow of a previous generation.
Jerry Stackhouse and Jeff Hornacek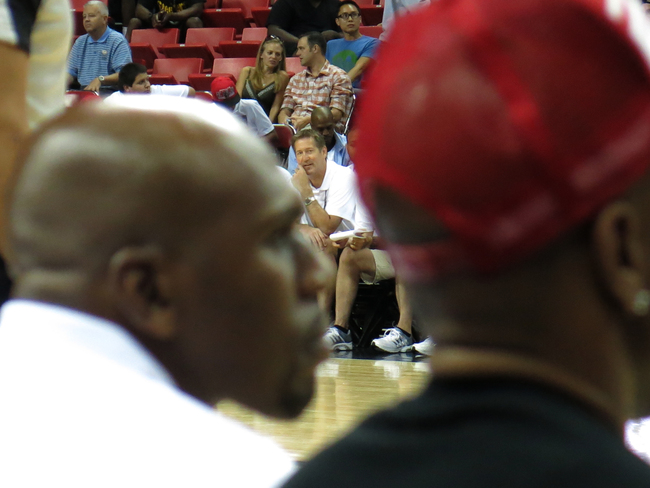 I remember being in homeroom in seventh grade and seeing the Jerry Stackhouse-Jeff Hornacek fight on SportsCenter.
Out of nowhere there was this sheer brutality in what I always thought was a beautiful, safe game. When I realized that both were in the same gym, I knew I had to get them in a photo together. Though it may be abstract, it brings closure to my childhood.
Jeff Hornacek and Jerry Stackhouse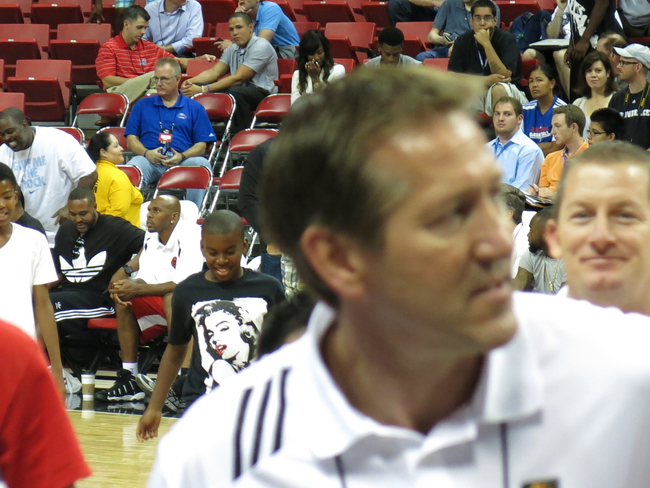 The Ewings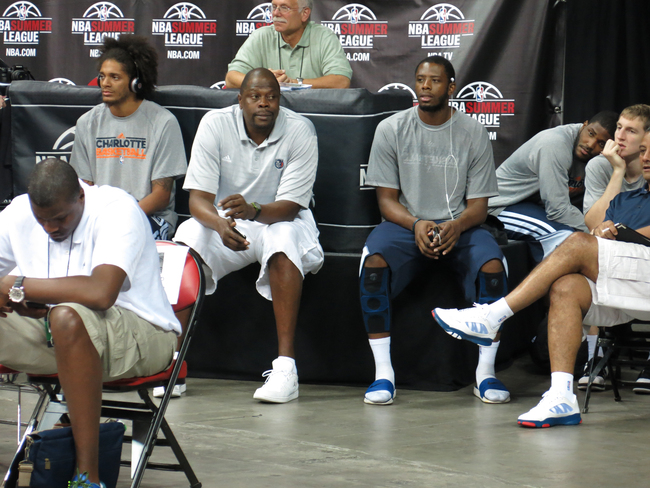 Patrick Ewing and Patrick Ewing Jr.
Patrick Jr. spent last season in Germany and is trying to break into the NBA.
Terrence Jones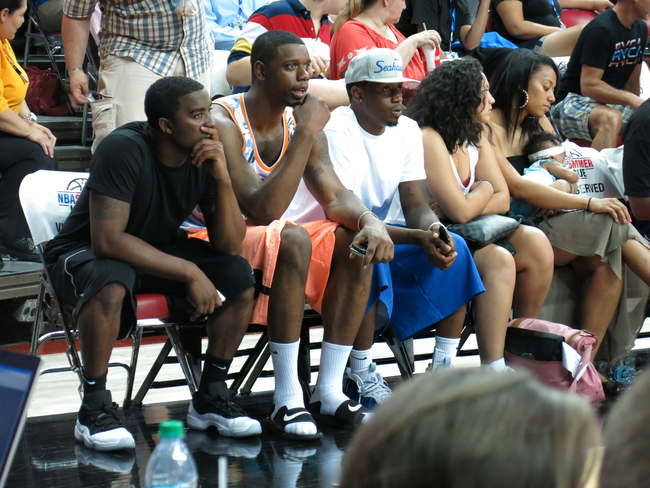 Terrence Jones, the No. 18 overall pick by the Houston Rockets in the 2012 draft, was sitting courtside. Did he come into town with James Harden?
Aaron Brooks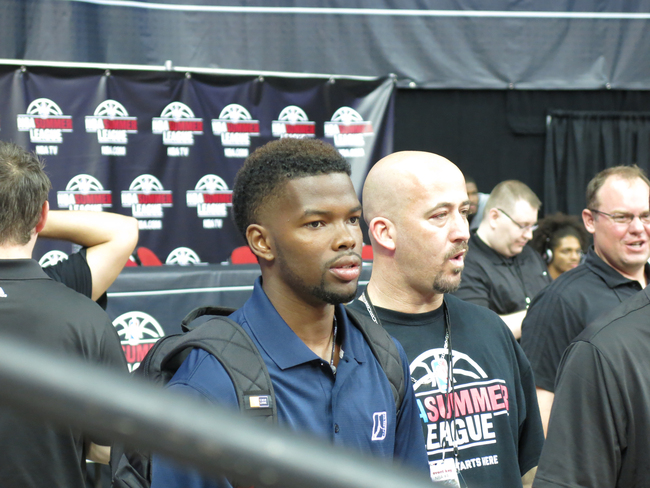 The Houston Rockets invasion continues. Here's Aaron Brooks, who's been to China and back. He signed a contract with the Houston Rockets on July 16. Linsurance?
Rip Van Winkle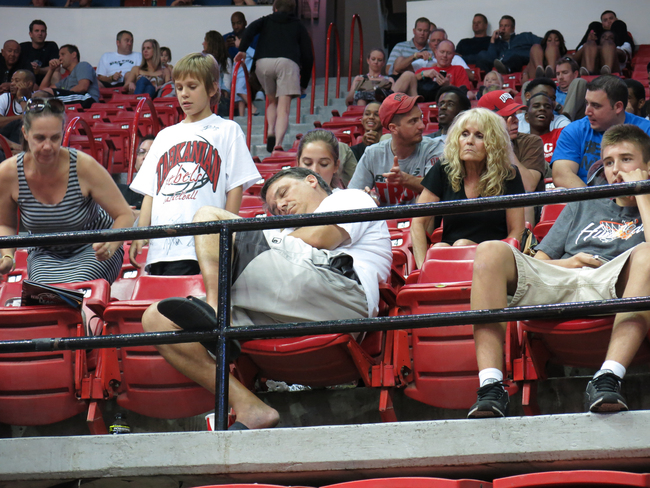 This guy wasn't too into the action.
Bill Bayno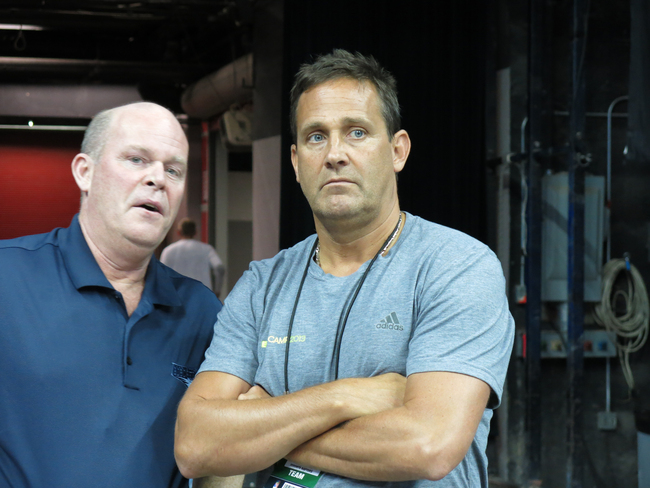 Here, Charlotte Bobcats head coach Steve Clifford and Toronto Raptors assistant coach Bill Bayno chat. Once upon a time (1995-2000 to be specific), Bayno used to be the head coach here at UNLV. He recruited stars like Shawn Marion and Keon Clark, but was eventually fired after a Lamar Odom recruitment scandal that netted the school four years' probation.
It must be bittersweet for him to be back.
Harden's Two Chains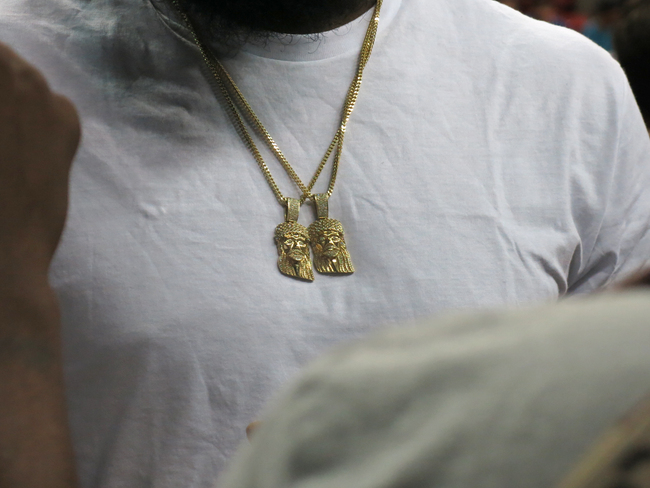 James Harden was going with the twin Jesus pieces look.
Thomas Robinson's Socks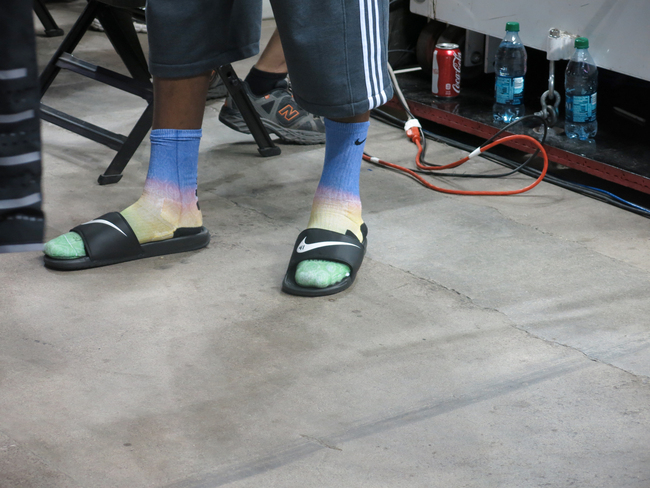 Thomas Robinson was rocking some tie-dyed rainbow socks. I'm loving the colorful sock trend in the NBA right now.
Under Clyde's Desk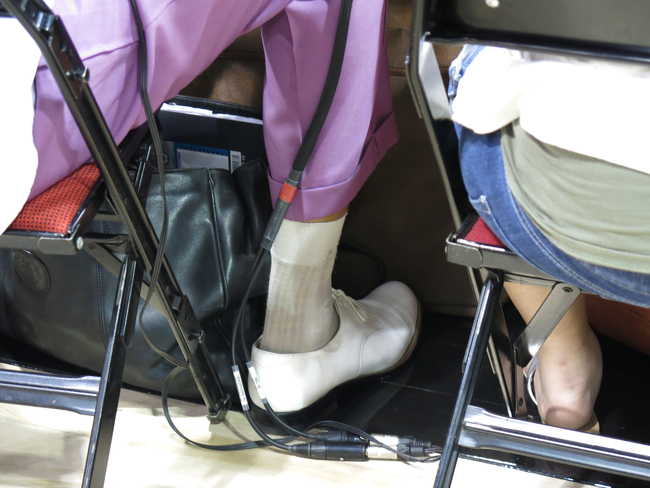 Another peek under Clyde's desk reveals smoothness that a baby's bottom would be jealous of.
Trajan Langdon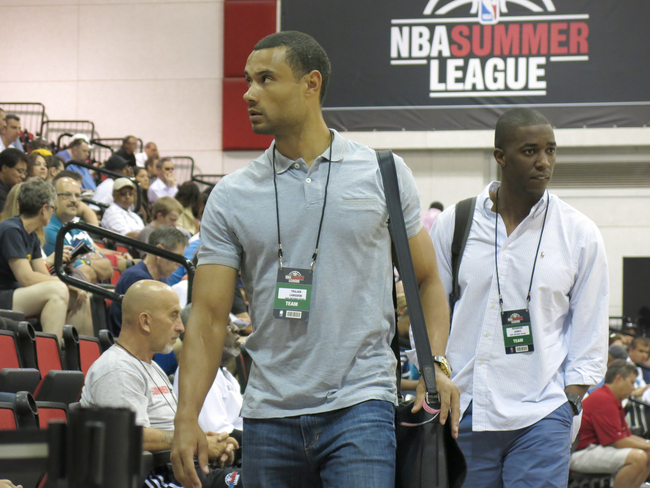 You may remember Trajan Langdon as the 11th pick of the 1999 NBA draft, another Dukie that didn't make it in the NBA.
Since we saw him last, Langdon moved on to Europe, where he found glory in Italy, Turkey and Russia. Upon his retirement he became a scout for the Spurs (who can use a guy very familiar with the Euro League), which is why he's here today.
Jeremy Tyler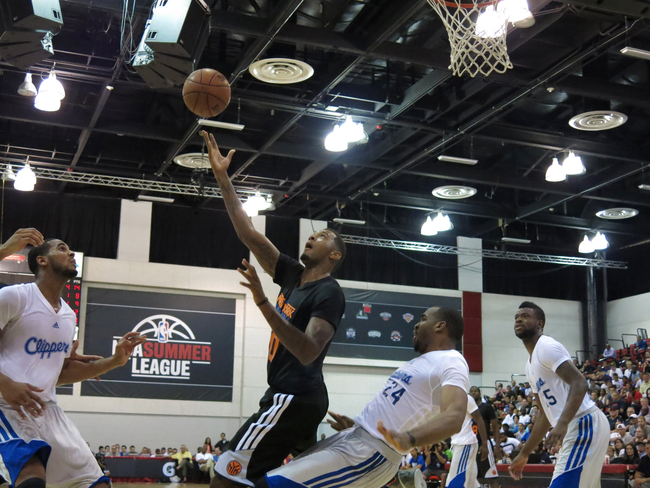 To say Jeremy Tyler has had a unique path to the NBA would be an understatement of Oliver Miller-sized proportions. He was once a highly touted high school player, then decided to forgo his senior season of high school to play professionally overseas for two years until he was eligible to enter the NBA draft.
He signed a $140,000 contract with Maccabi Haifa in Israel but quickly left. He ended up playing for the Tokyo Apache until he was eligible for the draft. He was selected by Golden State as the 39th pick in the 2011 NBA draft, but ended up in the D-League, and now he's here.
He's been the main bright spot for a star-less New York Knicks squad. In one game, he racked up 20 points in 20 minutes. Is this immense talent starting to "get it," or is this just a desert mirage?
Darvin Ham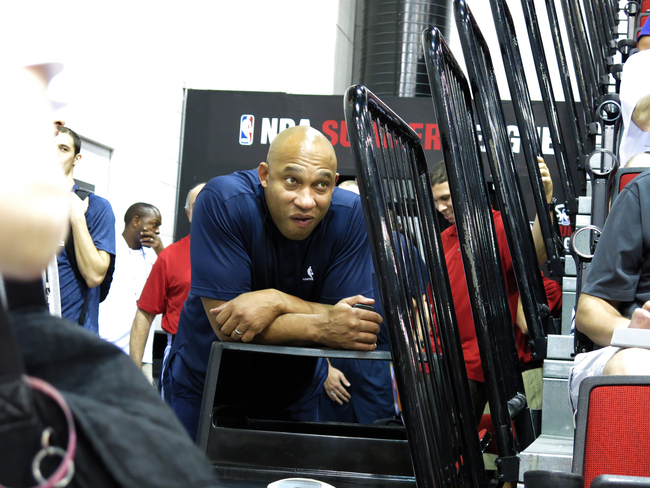 Ex-NBA dunker Darvin Ham is now an assistant coach for the Hawks. He's one of the few human beings to know what it's like to shatter a backboard with a dunk.
Jerry Stackhouse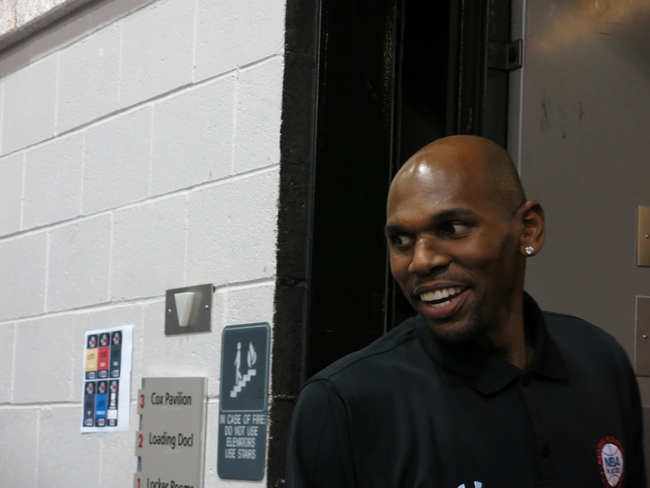 DeMarcus Cousins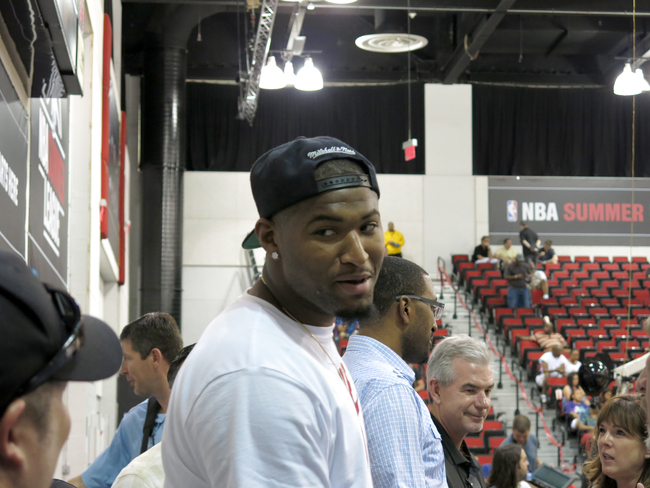 DeMarcus "Boogie" Cousins made an appearance for the Kings game. He's one of the 27 players who will be forming like Voltron at the Team USA Basketball minicamp being held right here starting July 22. I guess he just got here a little early.
Tickle Me Boogie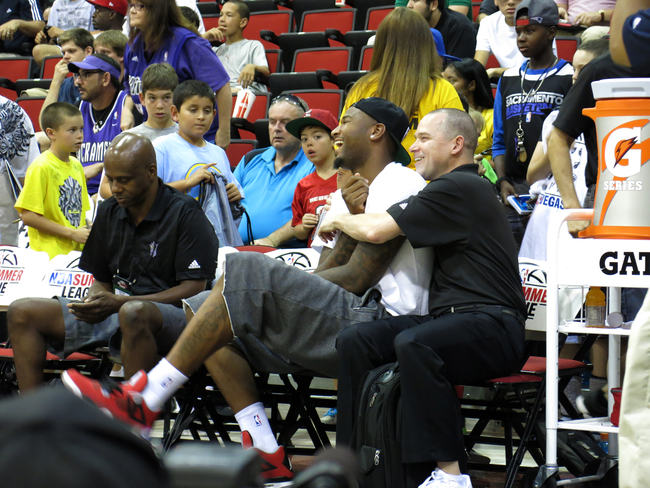 I guess DeMarcus Cousins does have a tender side, you just have to treat him like Tickle Me Elmo.
Mike Muscala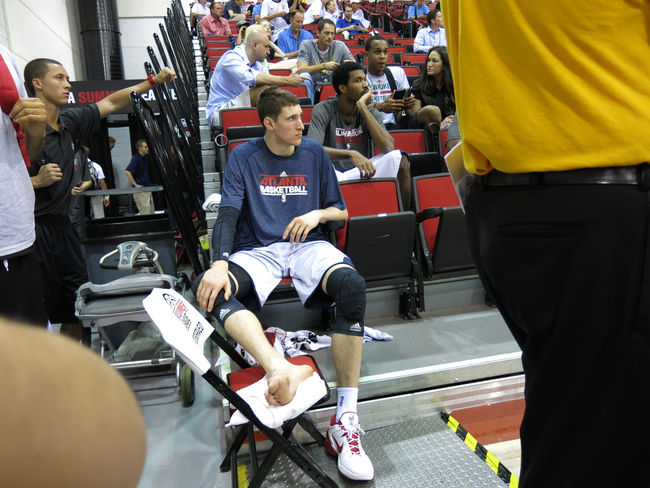 Atlanta Hawks second-round pick Mike Muscala was a casualty of a game versus the Sacramento Kings. A right foot injury shelved him for the vast majority of it.
Kosta Koufos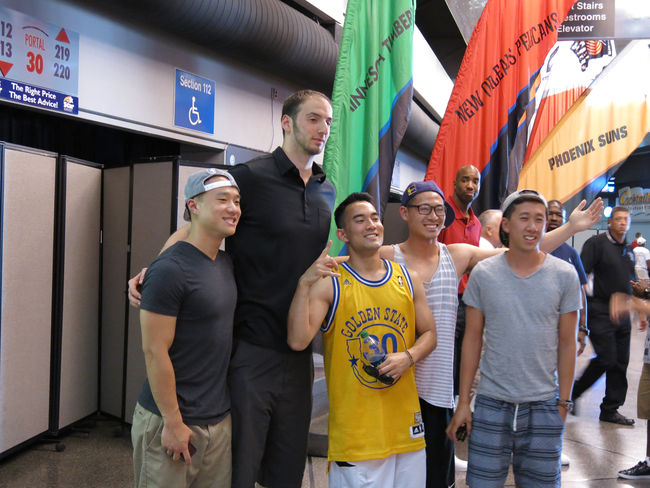 Kosta Koufos made some new friends.
Dennis Schröder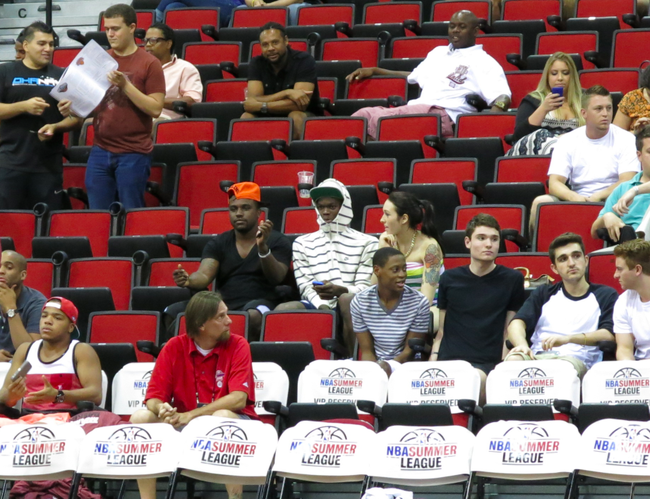 An incognito Dennis Schröder takes in a game. I saw him watching a ton of games he wasn't playing in. Even the day after his team was eliminated, when most players can't wait to get the heck out of there, he was still in the crowd, watching.
Tom Thibodeau and Michael Finley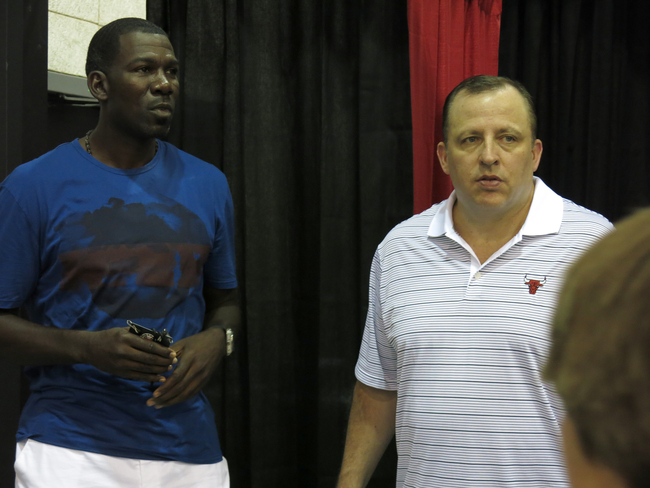 Tom Thibodeau: still here. This time he's kicking it with Michael Finley.
Dion Waiters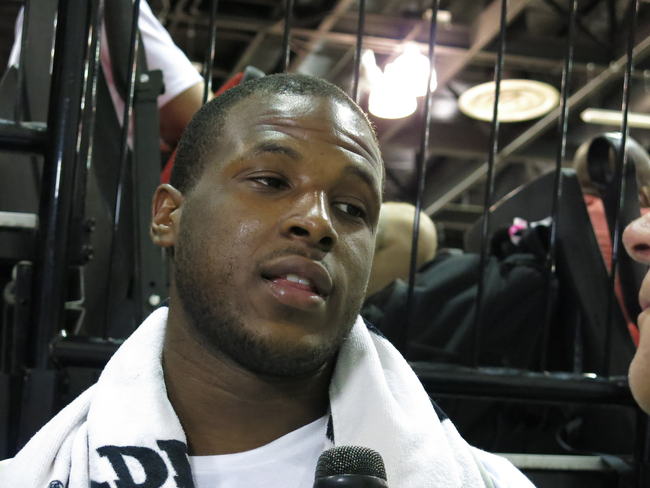 Dion Waiters talks to reporters after dropping 27 on the San Antonio Spurs.
Terry Stotts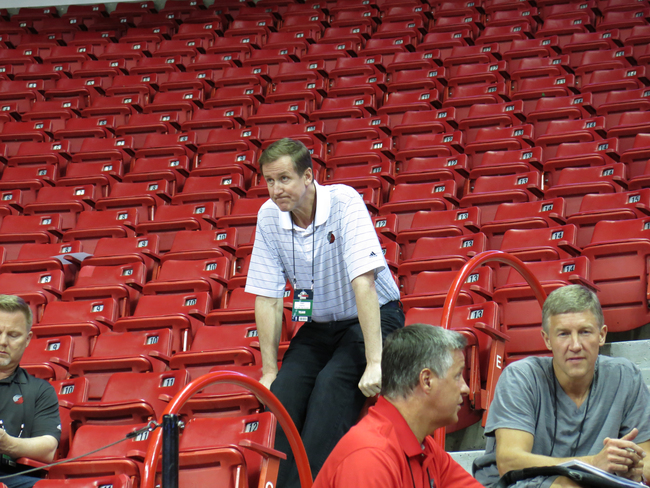 Portland Trail Blazers head coach Terry Stotts kind of looks like the fourth Manning brother.
Jim Buss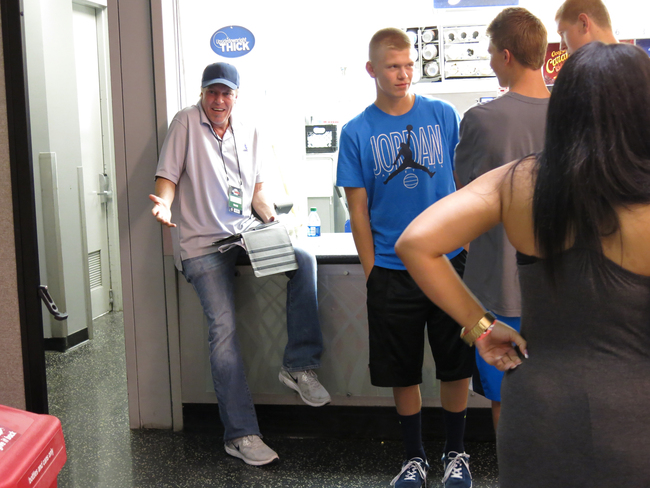 Before coming to the Summer League, I could only judge Jim Buss by what some media said, which was usually pretty negative.
Watching him up close these last few days, I really like him. He went to a lot of games and was hooting and hollering courtside. He interacted with fans like a common person, fielding questions about Kobe Bryant, the Lakers and more.
Jim Buss on the Dairy Queen Counter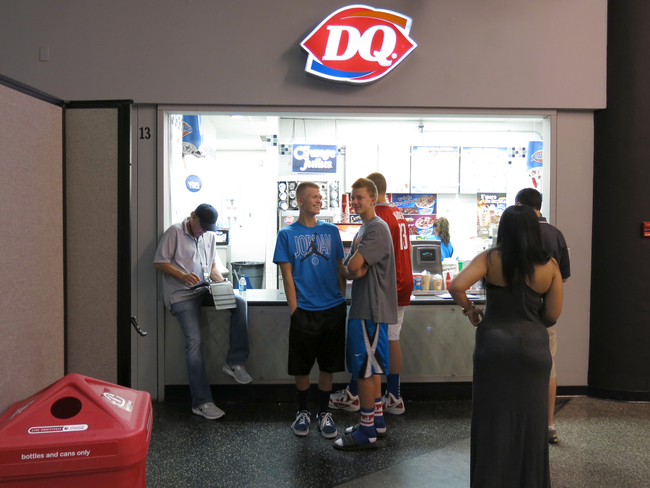 Alright, maybe he's a little too comfortable now, he's just sitting on the Dairy Queen counter messing around on his iPad. Where outside of the Las Vegas Summer League would you get to kick it with the owner of a marquee sports franchise while ordering an ice-cream cone?
The Monsoon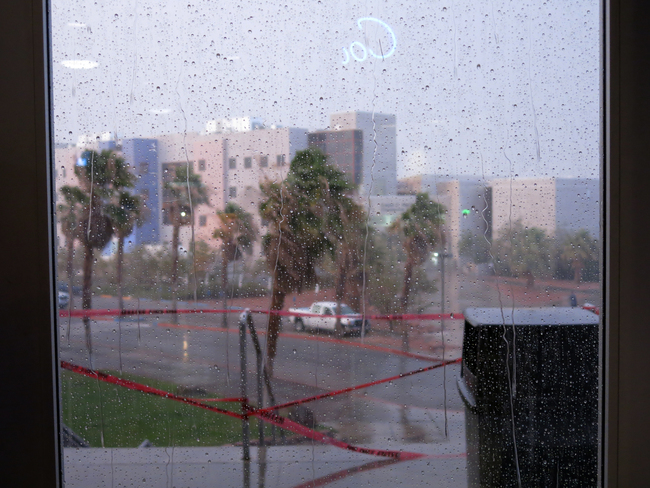 Trajan Langdon's Shoes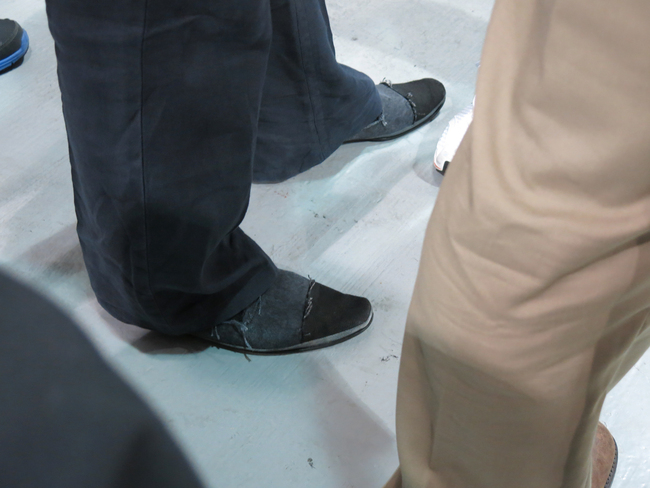 Trajan Langdon's shoes looked like Dr. Frankenstein had started dabbling in denim. These things do not belong on the court.
Gal Mekel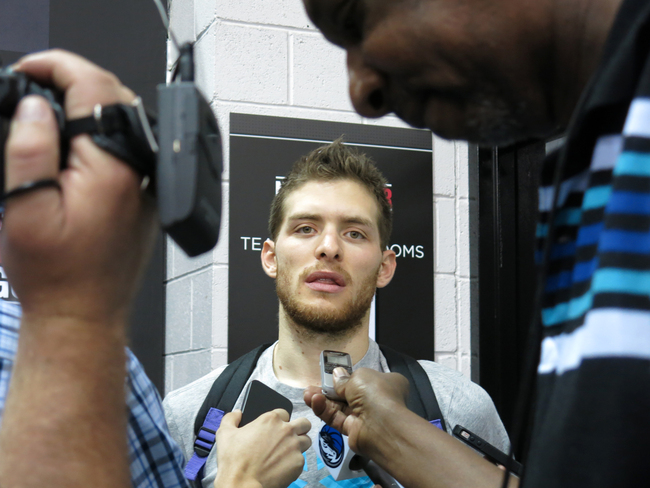 Here is Gal Mekel, the second Israeli to be drafted into the NBA. He was the Israeli Basketball Super League MVP last year. This year we will get to see how he does against NBA competition.
Gal Mekel's Backpack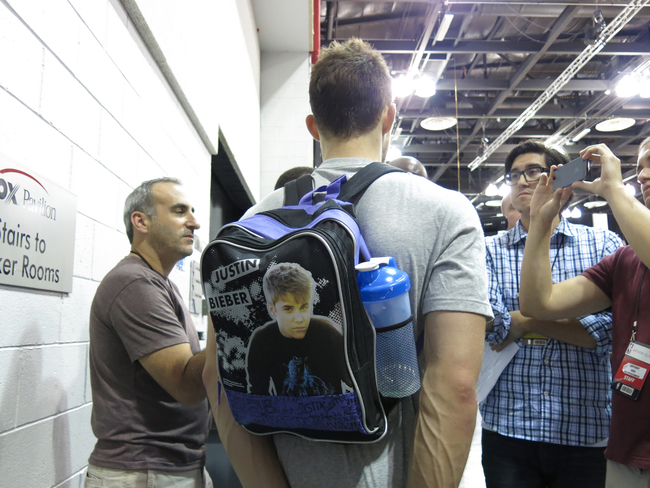 And here is Gal Mekel's backpack. He's apparently a Belieber. Rookie hazing is the best.
Suns Make the Finals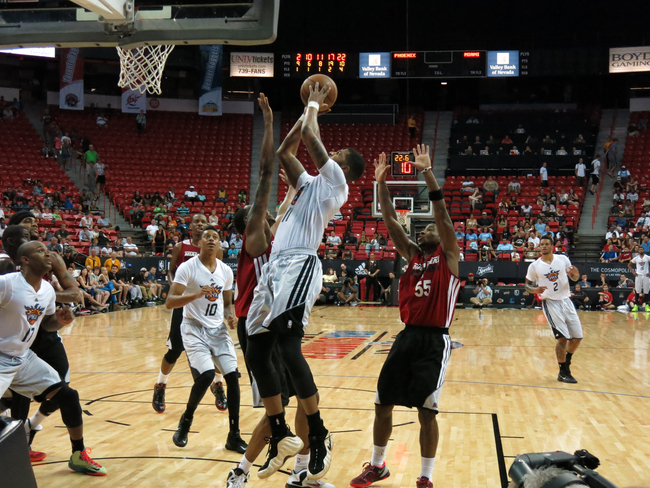 Here, Markieff Morris scores the go-ahead basket to boost the Suns into the finals.
The Morris brothers have been bullying opponents all week. At one point in the game against the Raptors, Markieff backed Quincy Acy down and scored over him. "You're not big enough! You're too small!" he barked at the tweener Acy. It was like he was a drill sergeant breaking a recruit down to rebuild them, only Morris had no rebuilding plans.
Warriors Make the Finals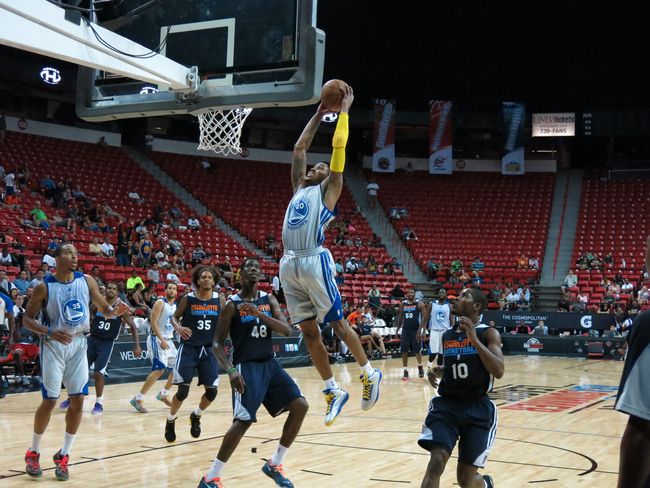 Here, Kent Bazemore puts an exclamation point on the Warriors come-from-behind victory over the Bobcats.
It was their 13th straight Summer League win and propelled them into the first ever Las Vegas Summer League final.
Tired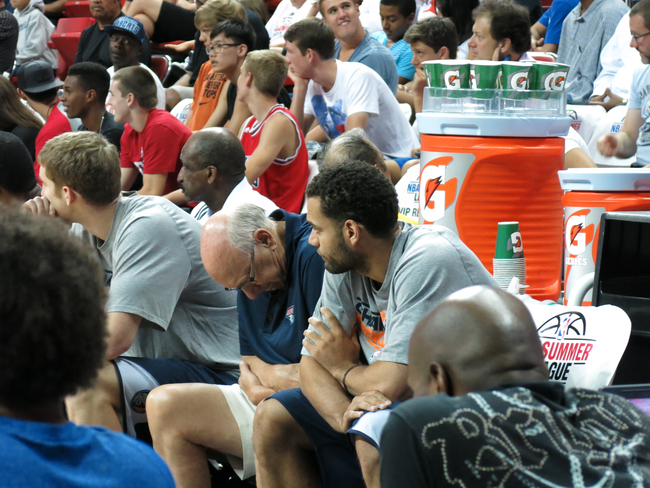 This Bobcats assistant took a brief break from consciousness at the end of the game.
Don't be this guy, check back for the finals photo essay to wrap up our Summer League coverage!
Keep Reading