Winning a major championship is an emotional moment, and there is no one better to celebrate with than one's family.
That is what Phil Mickelson did after solidifying his place on top of the British Open leaderboard on Sunday, and Bleacher Report captured the moving moment:
Phil Mickelson embraces his wife and kids after his incredible final round of the British Open #TheOpen pic.twitter.com/DuCz0UP4qM

— Bleacher Report (@BleacherReport) July 21, 2013
After coming into the final round at Muirfield trailing by five strokes, the veteran put on an absolute clinic on the difficult course. Two birdies on the front nine put him in contention, but a back-nine score of 32 put him at three strokes under par for the tournament.
His final score of 66 featured four birdies on the last six holes, including an impressive one on the 18th hole to give him an insurmountable lead over his competition.
Although there were a number of groups to play after him, his final putt pretty much clinched his first career win at the Open Championship, which led to an immediate celebration on the 18th green: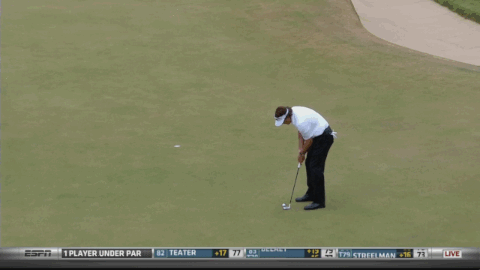 With the fans cheering along, the first people Mickelson greeted on his way into the clubhouse were his family.
His wife and kids have always been a huge part of the American's career. He barely made the start of the U.S. Open this year after traveling across the country to witness his daughter's eighth-grade graduation.
As a result, the crew is virtually always there to support Mickelson when he accomplishes great things as well. When he won the Scottish Open last week, he celebrated with his family, per Golf.com:
Phil Mickelson with his family after winning the Scottish Open. Photo: pic.twitter.com/OF5fWScr0O

— Golf.com (@si_golf) July 14, 2013
Of course, things do not always go well when you give your children the trophy to hold, as highlighted by Sporting News:
That's not how you hold a trophy, Phil Mickelson. http://t.co/K1GhsBBrSW / pic.twitter.com/gvXDUQkbNf

— Sporting News (@sportingnews) July 15, 2013
However, all was well Sunday after Mickelson won the fifth major championship of his career. This is the third different major that he has won, and as SportsCenter notes, he is aware how close he has been to the Grand Slam:
"If 6 seconds counted as a win, I'd have all four of 'em." - Phil Mickelson joking about his tough luck at U.S. Open

— SportsCenter (@SportsCenter) July 21, 2013
Still, this is another great moment in a fantastic career for the American. Lefty is climbing up the rankings as one of the best golfers of all time and he will continue to remain in contention for plenty of titles in the future.
In all likelihood, his family will be right beside him along the way.
Follow Rob Goldberg on Twitter for the latest breaking news and analysis.