This is why Phil Mickelson is one of the most captivating golfers in the world.
Mickelson won the 2013 British Open after a virtuoso performance in the fourth round. He finished three-under for the tournament, three strokes ahead of second-place Henrik Stenson. You can view the full leaderboard below:
Lefty is no stranger to late-round collapses, so there was plenty of speculation from fans and experts alike as to whether this was going to be another in a long line of great rounds from Mickelson undone by a couple of bad shots.
That wasn't to be, as he did all the right things and put himself clear with a couple of brilliant shots on Nos. 17 and 18.
Although he had won the Scottish Open, Mickelson was far from a sure thing going into the British Open. He's always struggled a bit on links courses, and not to mention his propensity for blowing up in major tournaments.
Instead, Mickelson stormed through the final round, finishing with a five-under 66 on Sunday. You can't express how impressive that score was. Golf Digest's Dan Jenkins tried to put it into context:
That 66 by Phil is one of the greatest final rounds of a major on one of the most baffling courses I've ever seen.

— Dan Jenkins (@danjenkinsgd) July 21, 2013
He did a great job of avoiding any costly mistakes and taking chances at the right times. With Mickelson, you know he's always going to try some risky shots. It's a matter of whether or not his style would end up sinking him in the tournament. In this round, all of those risks paid off.
ESPN's Taylor Twellman put it very well. No matter your opinion of Mickelson, you have to give him a ton of credit:
Whether I like him or not, Phil Mickelson has the guts to play big shots in big moments and is not scared to fail. He plays to simply win!!

— Taylor Twellman (@TaylorTwellman) July 21, 2013
His second shot onto the green on No. 17 was incredible. Mickelson got a bit lucky as the ball continued to roll, but sometimes you have to get a little lucky. There's no denying how monumental that shot was.
There's also no doubt Mickelson's final putt on No. 18 will be the lasting image of this tournament. At that point, he had to know that he was going to win: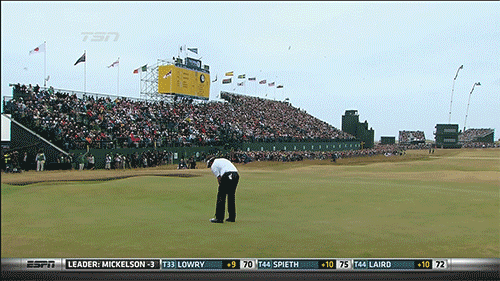 The BBC caught Mickelson at the moment his putt went down:
The moment Phil Mickelson sank his putt on the 18th to finish on -3 #TheOpen pic.twitter.com/B3RG2OCVsP

— BBC Sport (@BBCSport) July 21, 2013
The relief and elation on his face was there for all to see: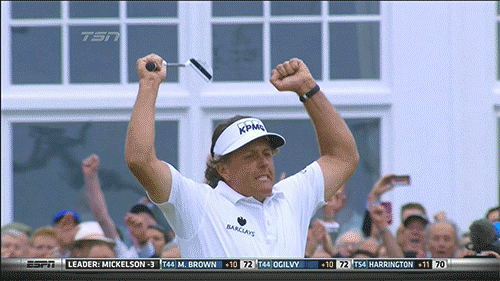 The 2013 British Open will be remembered for a long time because of Mickelson's final round. Prior to Sunday, most of the narrative would have probably focused on how many golfers had been struggling. Scores were low, and there was a lack of captivating moments. That all changed on Sunday.
Of course, Mickelson might not have had a chance if Lee Westwood, Tiger Woods and Adam Scott had not had such a hard time.
Westwood was the leader after three rounds. He didn't so much completely collapse in the fourth round as he slowly crumbled as the day went on. With the compactness of the leaderboard, he couldn't afford to falter at all, and that's exactly what he did.
The defining stretch seemed to be Nos. 7, 8 and 9, where Westwood carded two bogeys and a par. He said those three holes were his undoing, per BBC Sport:
Lee Westwood: "I didn't play that badly, came unstuck on 7,8,9. Phil must have played really well. 5 under par is a great score." #TheOpen

— BBC Sport (@BBCSport) July 21, 2013
Westwood couldn't recover on the back nine and recorded bogeys on Nos. 13 and 16 as well.
Scott really came undone on the back nine. He bogeyed Nos. 13, 14, 15 and 16, which erased all of the progress he had made on the front nine.
The Telegraph's Paul Hayward brought up what is a very good point:
How can Adam Scott implode on the back 9 at two successive Opens, but win a Masters in between - in a play-off?

— Paul Hayward (@_PaulHayward) July 21, 2013
Woods didn't play all that well, and his movement up the leaderboard was largely a result of those around him struggling. He needed a lot of help down the stretch from the leaders if he was going to win the Claret Jug. It was help that would never come. When Woods bogeyed No. 15, you knew his chance of winning went out the door.
Ian Poulter made things very interesting, especially when he eagled No. 9 and then birdied 10, 11 and 12. He just had way too much ground to make up, and his four-under 67 was all for naught.
In the end, it was all about Mickelson, and deservedly so. He had some of the best closing shots you're ever gonna see on a golf course.