My Top 10 Seniors in the 2010 Draft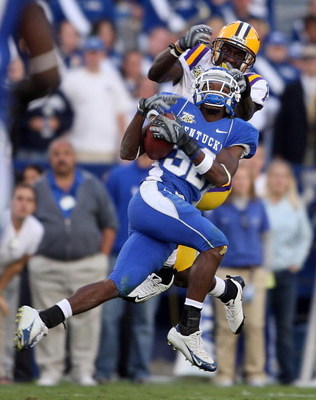 In recent memory, you have to think of 2004 and 2008 as very good draft classes. In 2004, Eli Manning, Larry Fitzgerald, Philip Rivers, Sean Taylor, Kellen Winslow, Ben Roethlisberger, Johnathan Vilma, Tommie Harris, Vince Wilfork and Steven Jackson all went in the first round. Even without mentioning players like Bob Sanders, Jared Allen and Michael Turner who went in the later rounds, that's an excellent draft.
And the most recent 2008 draft, putting out excellent tackles like Jake Long, Ryan Clady and Duane Brown, running backs like Matt Forte, Chris Johnson, Steve Slaton, Felix Jones and Jonathan Stewart, the duo of Joe Flacco and Matt Ryan, and that's not even close to the extent of excellent players drafted.
Flash forward to next April; this could very well top both of those classes. You've got big names like Tebow, Bradford and McCoy at quarterback. You've got an insanely deep defensive line class, with 15 potential first round prospects. But not all of these players are sure things. If they don't declare, they can screw up your draft boards! So, here's a rundown of my Top 10 seniors in next years draft.
Keep in mind this is my opinion, and I'd love to see your guys comments and opinions in the comments!
10. Trent Williams, T, Oklahoma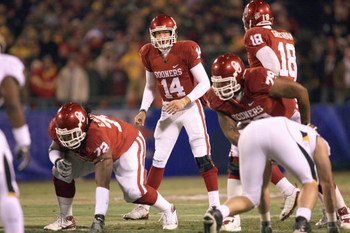 An anchor on the line of the explosive Oklahoma offense, Williams will be making the switch from right tackle to the left side to fill the void left by now-Viking Phil Loadholt.
Williams should have been manning the left side all along. Not only does he have perfect size at 6'5", 310 pounds, but he also is extremely athletic and quick on his feet.
His pass-protecting skills, something Loadholt struggled with, should be on display in the high-flying Oklahoma aerial attack.
9. George Selvie, DE/LB, South Florida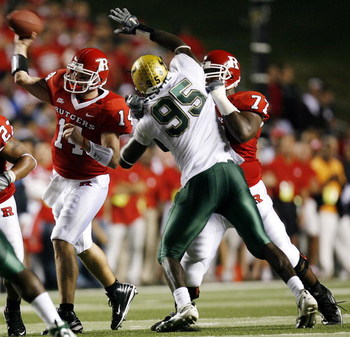 Selvie's 14.5 sacks in his sophomore season put him on the map. Although he was the constant focus of offensive lines, he still had 43 tackles and five sacks.
You'd like to see better production his senior season. But his quickness and explosive pass-rushing ability make him a nightmare for any offensive coordinator. His skill set is well suited to a 3-4 rush linebacker.
8. Brandon Spikes, ILB, Florida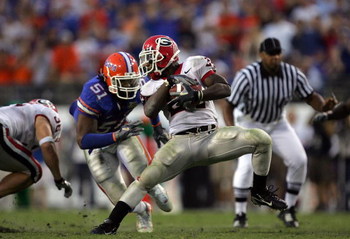 The emotional leader of the Gators' defense, Spikes backs up his talk. He combines the hitting and leadership of a Ray Lewis with the pass-coverage abilities of a Brian Urlacher.
A big hitter with a nose for the football, he has all the makings of a star inside linebacker.
7. Trevard Lindley, CB, Kentucky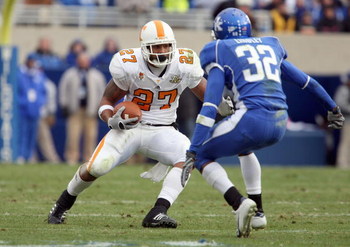 Lindley is one of the most overlooked players in this class. Not only does he have the height and speed for the position, he is incredibly talented at finding the ball and plucking it out of the air.
Although he's thin (177 pounds), his ball skills and toughness should win over the scouts.
6. Terrence Cody, NT, Alabama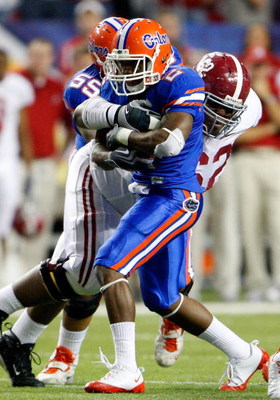 Climbing the man known as Mt. Cody would be a feat up there with climbing Mt. Everest. Unfortunately for opposing running backs, that's what they'll have to do to get around this enormous nose tackle.
The 6'6", 370-pound defensive prospect plays intensely and would make an instant impact in a 3-4, stuffing the run lanes. Weight issues could drop him down some boards.
5. Mark Herzlich, LB, Boston College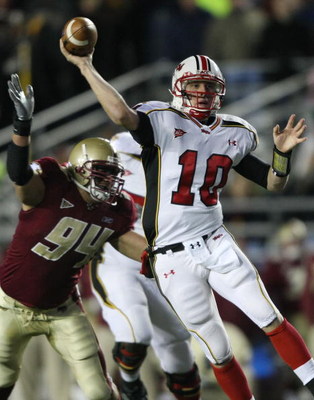 If Trevard Lindley is one of the most overlooked prospects, Herzlich is THE most overlooked.
The versatile Boston College defender can play rush linebacker in a 3-4 or man the SAM or WILL linebacker positions in a 4-3.
He's a high-character guy whose motor is ridiculous. He's racking up fantastic numbers: six interceptions (returning two for touchdowns), 110 tackles, two sacks, two forced fumbles.
Boston College has put out some excellent prospects the past few years: Matt Ryan and B.J. Raji being the most notable. Herzlich could very well be the next Eagle to make an impact on the next level.
4. Taylor Mays, S, Southern California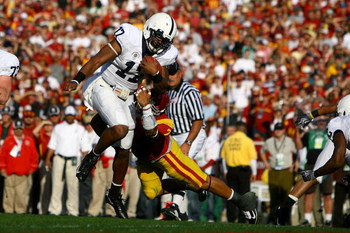 Taylor Mays confuses me.
The safety prospect hits like a strong safety but struggles in run support. Pass defense is his forte.
Mays would much rather make the big hit then grab an interception. That physical style of play will make him very appealing come draft day.
At 6'4", 226 pounds, Mays still manages to run a 4.2 40. He's picked off only four passes in his career, three of them freshman year. But you can't ignore his physical prowess, especially if you're Al Davis.
3. Jermaine Gresham, TE, Oklahoma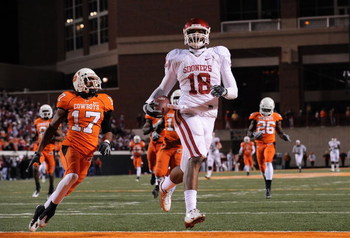 If Vernon Davis can go sixth overall to the 49ers in the 2006 Draft, then Jermaine Gresham has a shot to go No. 1.
I'm being facetious, but Gresham is putting up much better numbers than Davis ever did. He had 66 receptions and 14 touchdowns this past season.
Gresham has impressive size (6'6") but is a so-so blocker. Whoever drafts him will be looking to create mismatches against safeties and linebackers, not to protect the quarterback.
2. Russell Okung, T, Oklahoma State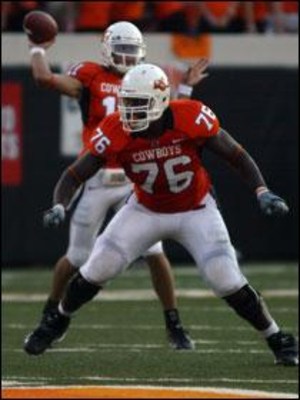 Big No. 76 is a versatile lineman who can play either tackle position or guard.
At 6'5" and 300 pounds, he's plenty big enough to protect a quarterback's blind side, and he's nimble.
Oklahoma State QB Zac Robinson and WR Dez Bryant are other top prospects coming from the Cowboys.
1. Ndamukong Suh, DT, Nebraska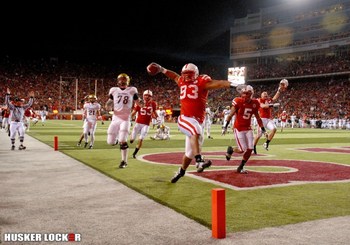 You thought Nnamda Asomugha was tough? This top-five prospect will give Roger Goodell fits before the draft.
That great picture is from him tumbling into the end zone after picking off a pass.
Although he's not known for his pass coverage, he's an extremely athletic defensive tackle who can both stuff the run and get to the passer.
Suh can play in both the 4-3 as a defensive tackle— where he's best suited—or in the 3-4 as a five technique. Either way he is one of the best prospects in 2010.
Honorable Mentions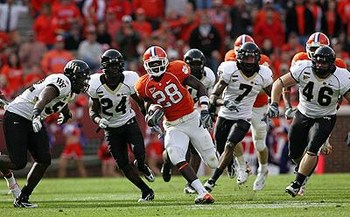 Greg Hardy, DE, Ole Miss
One of my favorite players in the draft, he's an excellent pass rusher. He may not have the quickest first step, he just knows how to get to the quarterback. He was hampered by a foot injury his junior season but still put up 8.5 sacks in the SEC.
Brandon LaFell, WR, LSU
He's the best senior wideout by far, with reliable hands and 4.5 speed. Oh, and did I mention he's 6'3"? He may be overshadowed by some of the top-notch junior receivers who declare.
C.J. Spiller, RB, Clemson
The speedster shows off his play-making ability every time he takes a handoff. Whether it's running outside for 60 yards or up the gut for 60, he's always making big plays. If he runs a 4.3 40, he's guaranteed to be viewed as a Chris Johnson-esque threat.
Keep Reading