The British Open is set to reach its thrilling conclusion as the world's top golfers tee off on the fourth and final day.
There's no shortage of storylines for the closing action at Muirfield, with Tiger Woods chasing his first major in five years and Lee Westwood hunting down his first major ever.
Adam Scott and Angel Cabrera are hanging in there, but some other competitors are storming from behind to make a late push at the Open Championship.
As Day 4 unfolds, here is a look at Sunday's happenings so far.
Woods (+2) Slips Up Early
Stuart Franklin/Getty Images
Entering the day two shots from the lead at one-under par, Woods has not started the lone remaining day according to plan.

Faced with a long birdie putt on the day's first hole, Woods fell about five feet short. Then he missed the chip-shot, which sailed right as Woods watched is disbelief, as captured in this GIF, courtesy of SB Nation.
As Jerry Crasnick joked, ESPN has caught Woods cursing up a storm in frustration.
I might have to mute the sound for British Open back 9. Ears too delicate for Tiger.

— Jerry Crasnick (@jcrasnick) July 21, 2013
Yahoo!'s Shane Bacon also had some fun at Woods' expense.
Tiger Woods stats on Sunday - 1 birdie, 2 f-bombs.

— Shane Bacon (@shanebacon) July 21, 2013
Yet Woods remains three strokes behind Westwood for the lead. Woods could still salvage a sluggish start to the day, but he needs to snap out of it fast.
Poulter (+1) Pushes Up Leaderboard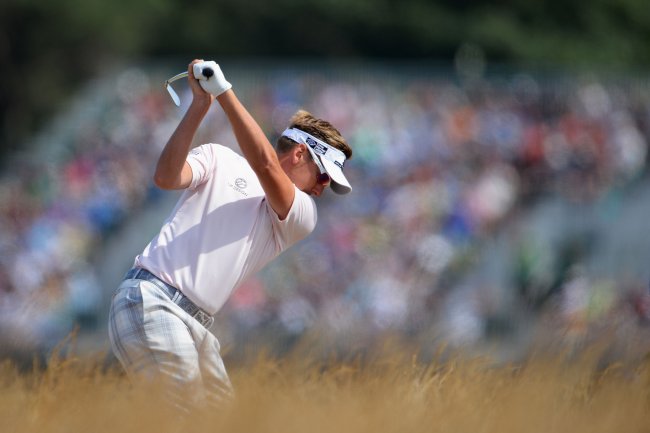 Stuart Franklin/Getty Images
A name seldom discussed prior to today, Ian Poulter is all of a sudden two strokes behind the lead.
After holding his own early, Poulter rallied with an eagle in the ninth hole and birdies in the next three to soar up the ranks. The Rider Cup hero is firing on all cylinders once again, and just like that there's yet another prime contender looking to claim the red jacket.
The Englishman has already made up five shots today. If Poulter could pull off the comeback, his blazing Sunday would rank among the greatest come-from-behind wins in PGA history. ESPN's Justin Ray put the potential feat into perspective.
In last century, worst 54-hole position by major winner is T-20th - Hale Irwin at the 1990 US Open. Ian Poulter was T-19th to start day.

— Justin Ray (@JRayESPNGolf) July 21, 2013
Westwood's (E) Lead Vanishes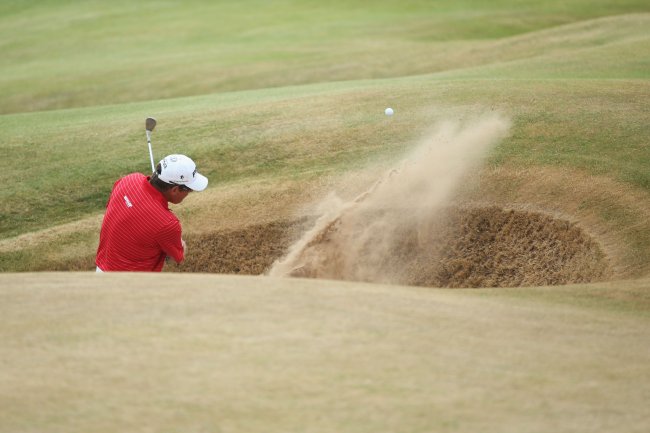 Andy Lyons/Getty Images
Opening the day with a two-stroke advantage over the field, Westwood has now squandered first place.
Formerly holding the lead at three-under, Westwood fell out of first with two straight bogeys, including one in the par-three seventh hole where his ball landed in a bunker. While he avoided a complete tailspin, Westwood surrendered first place to Phil Mickelson.
ESPN Stats & Info reminds us that Westwood has a history of falling short. Despite frequently eyeing first place, Westwood has never sealed the deal on a major.
Nobody has more top-3 finishes in majors in golf's modern era (since 1934) without a win than Lee Westwood's seven

— ESPN Stats & Info (@ESPNStatsInfo) July 21, 2013
As a fictional golfer with experience of falling short, Shooter McGavin still took it upon himself to take a shot at Westwood.
Lee Westwood spending more time in the sand than David Hasselhoff #TheOpen

— Shooter McGavin (@ShooterMcGavin_) July 21, 2013
Can Westwood finally put the "bridesmaid" label behind him, or will he suffer yet another letdown on the unforgiving Muirfield green?