Is the 2013 PGA Championship Tiger Woods' Biggest Disappointment Yet?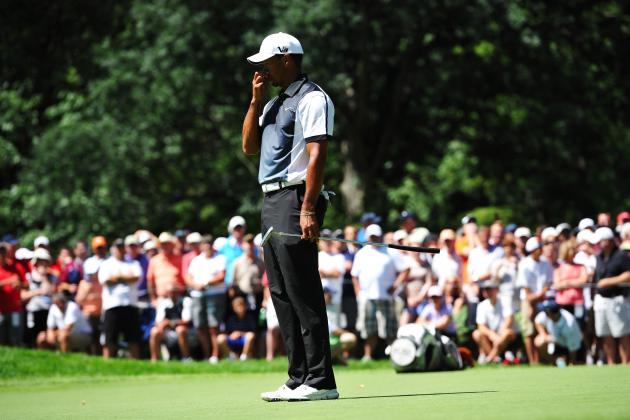 Stuart Franklin/Getty Images

Tiger Woods couldn't have arrived at the 2013 PGA Championship a bigger favorite. He hardly could've limped away from Oak Hill Country Club a larger failure.
Woods entered the season's final major fresh off a dominant victory in the WGC-Bridgestone Invitational last week. He tied a career best by shooting a 61 at Firestone, his lowest round since 2005, announcing with authority his intention of ending a five-year drought in major championships.
And with five PGA Tour victories under his belt this year as well as the No. 1 ranking in the world, Woods seemed more prepared than ever to capture his 15th career major.
But for the 18th straight time, Tiger proved to be more promise than production.
Woods was never right or ever in the mix at Oak Hill. He finished the championship at four over, a mile away from the leaders and even further removed from the once-dominant form that earned him 14 major championships.
Woods didn't make a putt that mattered all week. He avoided his driver like the plague and still couldn't find the fairway often enough to allow his deadly iron play to attack Oak Hill's vulnerable greens.
Taken as a whole, his performance was among the worst in the 18 starts since he last won a major championship in 2008.
That U.S. Open victory at Torrey Pines seems like a lifetime ago for Woods, who has now seen his once-streaking quest to best Jack Nicklaus' 18 career majors go so far off the rails that many wonder if it can ever be restarted.
Like so many majors before, the 2013 PGA Championship ended with frustration, doubt and ever-surging questions. But does Oak Hill stand as the most disheartening setback in his five-year major drought?
Read on to find Tiger's lowest lows of this fruitless stretch, listed from the least disappointing to most.
Begin Slideshow

»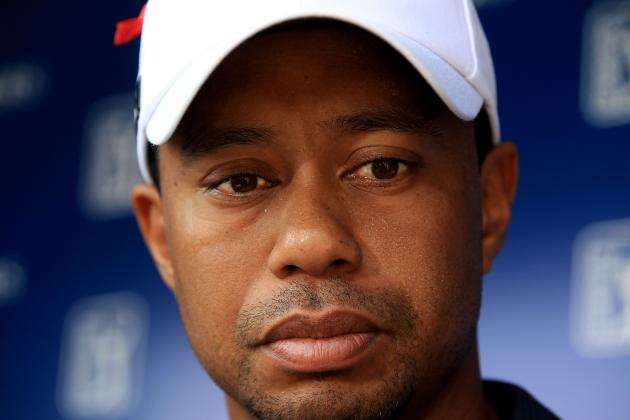 Streeter Lecka/Getty Images

After a strong showing at the 2011 Masters, it seemed as if Woods might be on the verge of finally breaking through in a major championship for the first time since 2008.
Turns out his ailing body would rob him of the opportunity to prove that in the next two majors of the season.
Woods, who finished in a tie for fourth at Augusta National that year, hurt his MCL and Achilles tendon badly enough at the Players Championship that he had to withdraw and sit out the next three months of the season.
That layoff included the 2011 U.S. Open at Congressional and the British Open, meaning Woods would have missed four majors due to injury since his 2008 triumph on the damaged leg, including two of the past four Open Championships at the time.
The injury increased concerns that Tiger's body was letting him down far too often and that his time of dominance in majors was coming to an end.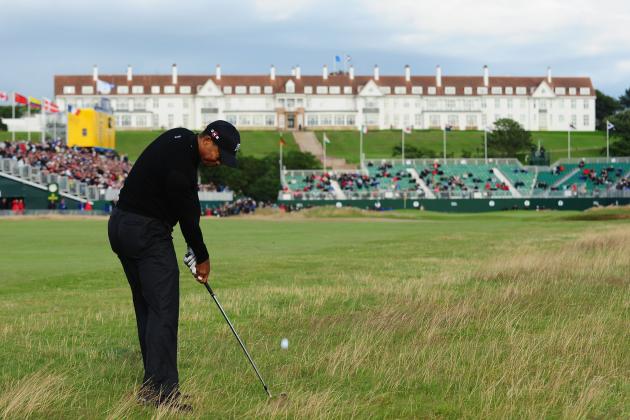 Stuart Franklin/Getty Images

Tiger's third major championship since his ACL reconstruction was among the worst as a professional up to that point—and since, for that matter.
After posting top-10 finishes in both the Masters and U.S. Open that year, Woods was all over Turnberry during the second round of the 2009 Open Championship.
He fired a four-over 74 to miss the cut for just the second time in a major as a professional.
Showing the first real signs of trouble with his game after the extended time off in 2008, Woods struggled to find the fairways, couldn't scramble to save shots and displayed the type of frustration that has become commonplace at majors since then.
In fact, the sight of Woods lashing at his ball from deep hay during the second round of the event was among the enduring images of the Open Championship, which Stewart Cink won in a playoff over Tom Watson.
It was indeed a far cry from the images of Woods lifting the Claret Jug three times before.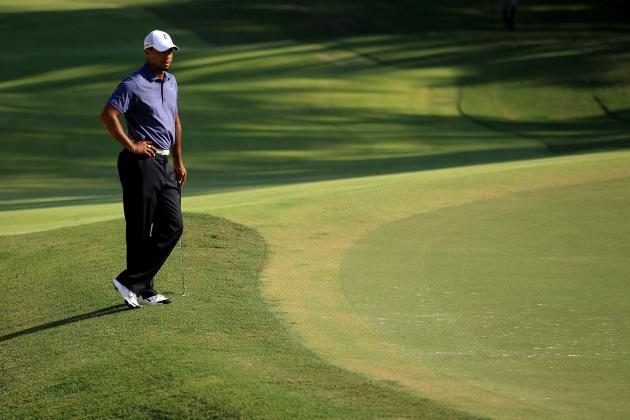 David Cannon/Getty Images

Tiger's return from an injury that kept him out of the previous U.S. Open and British Open landed with an absolute thud at the 2011 PGA Championship.
Woods opened with a 77 at the Atlanta Athletic Club and could muster only a 73 on Friday to miss the cut in a major championship for just the third time as a professional.
His two-day total of 10 over included five double bogeys, including back-to-back doubles on Friday after he had begun a small charge toward the cut line.
Instead, Woods would leave the course on Friday with his game a wreck, his frustration at an all-time high and his major drought guaranteed to extend into 2012.
Tiger would play only once more on the PGA Tour in 2011 and ended the dreadful season with only nine starts and, for the second straight year, without a victory in an official event.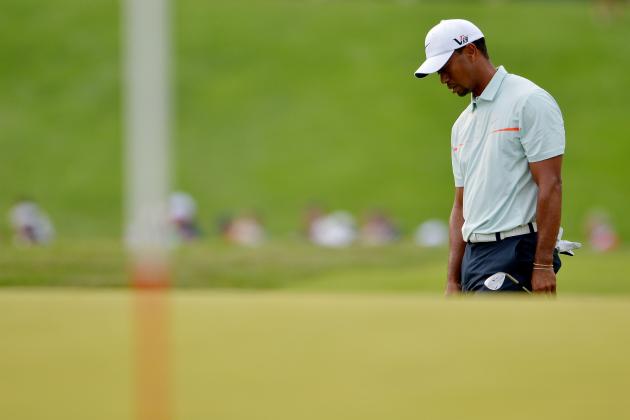 Drew Hallowell/Getty Images

Tiger arrived at Merion Golf Club in June with significant hopes of ending his five-year drought in majors.
He left with an injured elbow and his worst-ever finish in a major championship in which he made the cut.
Fighting a strained elbow that pained him throughout the tournament, and certainly affected his short game, Woods limped to a 32nd-place finish at the 2013 U.S. Open at a stunning 13-over par.
Not only was it a career low in tournaments Tiger most desires to win, it continued his seemingly never-ending battle with injuries at the worst possible times of his career.
The performance included a terrible third round that started with a birdie on the first hole to get Tiger within three shots of the lead.
What followed, however, was a frustrating performance of poor putting and weak short-game execution that resulted in a six-over 76 that officially eliminated him from contention.
Following the championship, Tiger announced the strained elbow would keep him out for a month and eliminate any chance he had of playing a tune-up prior to the 2013 Open Championship at Muirfield.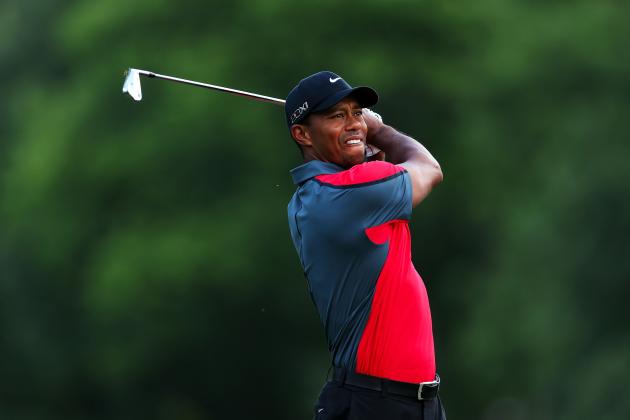 Andrew Redington/Getty Images

Just as he has so many times in the past five years, Woods couldn't live up to high expectations in the 2013 PGA Championship.
Having won five times on the PGA Tour this season, including the week prior at Firestone Golf Club, Woods was the clear favorite at Oak Hill Country Club.
Yet from the start, Tiger was out of sorts and never contended en route to a disappointing four-over finish, his 18th straight disappointment in a major championship.
While his entire game was off at Oak Hill, Tiger's biggest detriment was once again the putter. As he has throughout his major drought, Woods couldn't get it going on the greens, despite the fact that rain and a lack of wind had significantly softened the greens.
He struggled with speed, burned edges with no reward and by the end was fighting his technique.
It was a curious performance, considering Oak Hill was truly there for the taking during the entire championship.
The course surrendered multiple rounds under par every day, including a course-record 63 and a 64 on Friday.
Yet as his competitors were soaring low, Woods managed only two rounds at even par and scuffled to two others above it.
As a result, all those expectations Woods had at the start seemed a distant memory in another poor finish.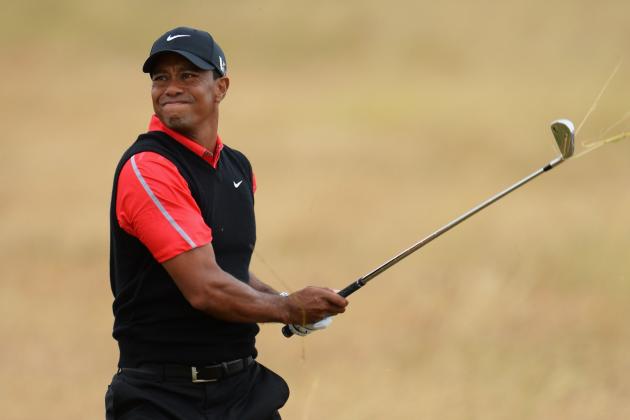 Stuart Franklin/Getty Images

After playing nearly three rounds of solid golf at challenging Muirfield, the final 20 holes of the 2013 Open Championship were an absolute nightmare for Tiger.
In a period stretching from late Saturday evening through his entire Sunday round, Woods went from tournament co-leader to final round also-ran.
In the process, he suffered yet another setback to his hopes of eventually catching Nicklaus' mark of 18 career major victories.
The decline began on the par-five 17th hole Saturday with Woods sharing the lead with Lee Westwood. The top-ranked golfer hit his second shot into a cross bunker on the par five and ultimately made bogey as he watched Westwood make birdie for a two-shot swing.
Woods just missed birdie on the subsequent 18th hole and began Sunday two back and outside the final pairing.
Things only got worse from there as Tiger stumbled, yelled and cursed his way to a three-over 74, his worst round of the championship.
Adding insult to injury, Woods was forced to watch as longtime adversary Phil Mickelson came from five shots back to win his first-ever British Open and fifth career major title.
Given he was playing so well and sat atop the leaderboard so late into Saturday's third round, the collapse was easily among the most painful in Woods' drought.
Until things turned on the 17th Saturday, the world's top golfer was poised to finally break through and silence all his critics.
Instead, he gave them even more to criticise.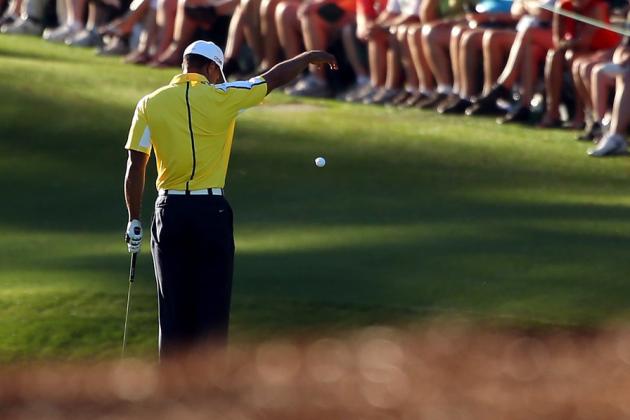 Mike Ehrmann/Getty Images

Through the first 14 holes of the 2013 Masters, it appeared Woods really had put it all back together.
He was in control of his game and was near the top of the leaderboard with the majority of his second round behind him.
Then came that now-infamous wedge on the par-five 15th that hit the pin and rolled back into the water to Tiger's utter dismay. He would drop and play a great fifth just near the hole and tap in for an unlucky bogey.
That's when things really got ugly for Woods. It turned out the drop he took from the 15th fairway was illegal, and on Saturday morning, Tiger was nearly disqualified for signing a wrong scorecard.
Ultimately, he accepted a two-stroke penalty that turned a deficit of two shots into four heading into the weekend.
Despite his best efforts, Woods was never able to get those shots back and ended up tied for fourth, four shots out of a playoff won by Adam Scott.
Ultimately, the controversy over whether or not Tiger should have disqualified himself cast a shadow over the world's top-ranked golfer at Augusta National and followed him well after the event.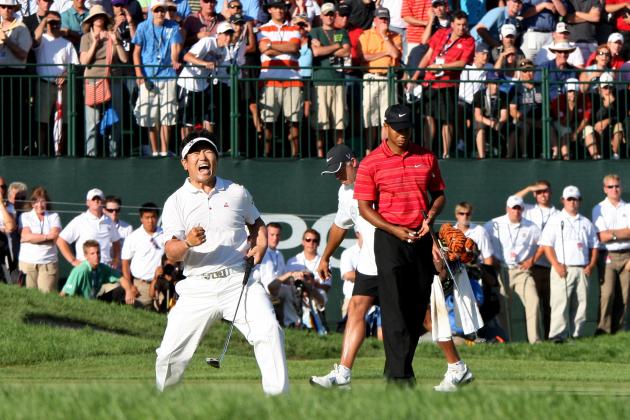 David Cannon/Getty Images

In losing the 2009 PGA Championship, Woods didn't just lose his best opportunity for a 15th major title in the past five years—he began the erosion of his once-dominant persona.
Since then, he's never gotten it back.
For the first time in his career, Tiger lost a major championship he led after 54 holes. Perhaps even more surprising was that he lost it to a player named Y.E. Yang.
Woods entered Sunday's final round of the PGA Championship at Hazeltine with a two-shot cushion and heading straight toward that 15th career major.
By the turn, however, the lead had disappeared, and Tiger then watched Yang surge past him to a shocking three-stroke victory on the back nine.
The loss after being ahead was certainly something new for Woods, but it also signaled the beginning of the worst couple of years of his personal and professional life.
Indeed, we didn't know it at the time, but after that PGA Championship setback, things would never again be the same for Tiger.