UFC on Fox 8: Who's on the Chopping Block?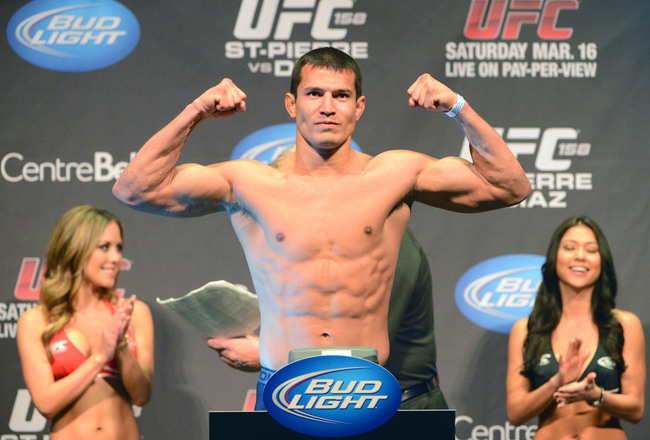 Eric Bolte-USA TODAY Sports
One thing that has become certain as of late with the UFC is that jobs are not secure. A bad performance or a losing streak is all it takes for you to be a free agent and on the outside of the world's largest MMA promotion looking in.
This has especially become far too true for fighters with the UFC clearing roster space, as showcased by the large amount of recent cuts. They have come at the expense of guys at the bottom of the barrel, as well as former headliners like Jon Fitch.
Approaching UFC on Fox 8, it is certain some men will not have their job following their fight. Here is a look at who may be on the chopping block.
John Albert/Yaotzin Meza Loser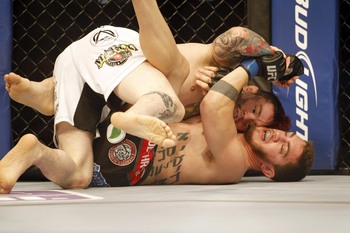 Joe Nicholson-USA TODAY Sports
The first fight on the card features bantamweight competitors John Albert and Yaotzin Meza. It is likely a win-or-go-home fight, so both men must bring their best stuff.
Meza is just 0-1 in the company, and that fight came on short notice in the featherweight division against former title challenger Chad Mendes. He got blistered by a knockout blow in the first round and didn't get to show much.
Albert is 1-3 with the UFC, with all three losses coming in a row. While he quickly defeated Dustin Pague to secure his spot with the UFC, he has since dropped entertaining bouts to Ivan Menjivar, Erik Perez (controversial submission) and Scott Jorgensen.
In looking at the UFC tenure of each man, it's obvious they both need a win. Look for this to be a great fight.
Aaron Riley/Justin Salas Loser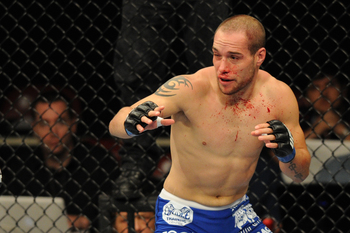 Steve Mitchell-USA TODAY Sports
Long-time veteran Aaron Riley makes his return against young gun Justin Salas. Unfortunately for both, a loss would likely terminate their employment with the company.
Salas is 1-1 with the UFC, opening his tenure with a win over Anton Kuivanen and later falling to Tim Means. The lightweight division is very crowded, so a second straight loss could send him packing.
Riley has fought just twice since 2010. His last bout came in 2011, when he had his jaw broken by Tony Ferguson. He is just sitting around on the roster not doing much, so a second straight loss under those circumstances would all but ensure he gets his walking papers.
Trevor Smith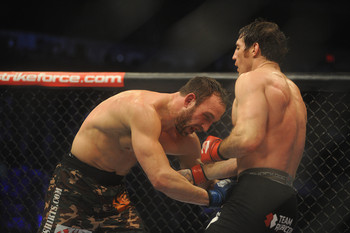 USA TODAY Sports
When it was announced which Strikeforce fighters would be coming to the UFC, Trevor Smith was a name I did not expect to see. However, he made the trip over and draws Ed Herman for his debut.
Sure, Smith is making his debut, but he is on a two-fight skid when fighting under the Strikeforce banner. First, he was pounded out by Gian Villante, which was followed up by a submission loss to Tim Kennedy.
Smith has very little leeway. A win over Herman is a must.
Melvin Guillard/Mac Danzig Loser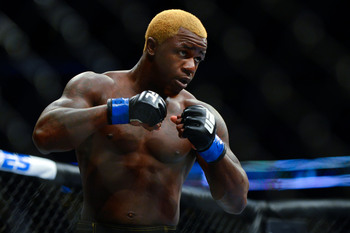 Ron Chenoy-USA TODAY Sports
A former TUF winner in Mac Danzig has his back against the wall against a longtime UFC vet in Melvin Guillard, who finds himself in a similar situation.
Danzig has always found inconsistencies in the Octagon, running a 2-3 record in his last five. If he does lose, the only thing that may save him is a Fight of the Night performance, which wouldn't be a complete impossibility considering he is a three-time winner of that bonus.
Guillard is one of the longest-tenured fighters in the UFC and is rarely in a boring fight. However, he is 1-4 in his last five and has found struggles outside the Octagon in addition to his struggles in the cage.
Again, if this meeting can win the Fight of the Night bonus, Guillard might be saved even if he loses.
However, he makes a good amount of money with the company, and they can't keep him around if he can't secure victories.
Bobby Voelker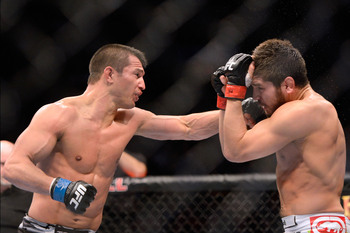 Eric Bolte-USA TODAY Sports
This was a really tough choice to call, but based on his Strikeforce background and 0-1 record in the UFC, Bobby Voelker may be fighting for his job.
His saving grace comes in two forms: close debut and late notice.
Voelker lost his UFC debut to Patrick Cote, but it was a close, entertaining bout. Many people even thought Voelker won, even though it could have been argued either way.
Also, Voelker is taking this fight on short notice against Robbie Lawler, a guy in the top 20 of the division. On roughly two weeks notice, Voelker is putting his job on the line against an experienced, proven veteran.
He is truly on the fence here.
Keep Reading