25 Questions That Must Be Answered in NFL Training Camps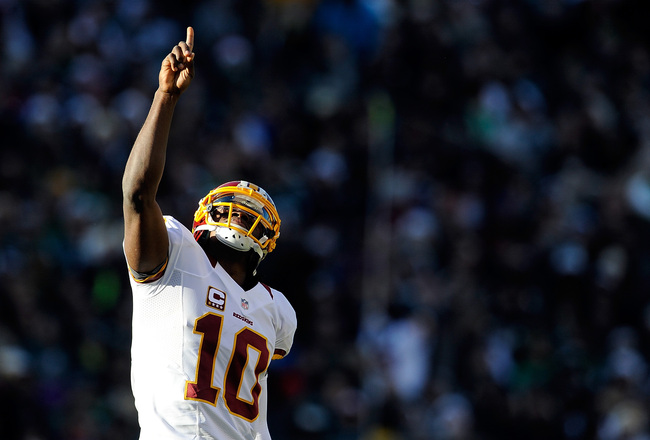 Quarterbacks, injuries and camp battles comprise most of the 25 biggest questions that must be answered during training camps.
Patrick McDermott/Getty Images
If each NFL season was a lifetime, training camp would be like puberty—a short period of time during which teams mature and grow in many formative ways.
During this period, NFL squads have to find the answer to tough questions. Teams that throw away this period will fail, and those that use it wisely will set themselves up for long-term success.
Training camp is a time when franchises find out a lot about themselves. Strengths and weaknesses—old and new—will be exposed and teams will do their best to cover up the blemishes.
Some units will find answers to their questions and some will continue searching for them long after the season starts. Each team probably has 50 questions they want to answer, but I will distill it down to just 25 that must be answered during training camp.
Can the Pittsburgh Steelers Reinvent Their Offense Without Mike Wallace?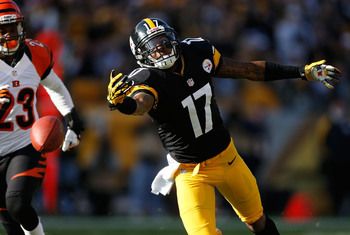 The Steelers lost their best receiver and will have to try to make up for it in other ways.
Gregory Shamus/Getty Images
The Pittsburgh Steelers missed the playoffs last season and let wide receiver Mike Wallace go in free agency. It wouldn't be a stretch the say the Steelers are looking for a new identity, especially on offense. The big question is how offensive coordinator Todd Haley can reinvent it around quarterback Ben Roethlisberger.
Without Wallace, the team will have to lean on Emmanuel Sanders, Plaxico Burress, Antonio Brown and rookie Markus Wheaton at receiver. It's possible the veteran Burress combined with the younger players could produce similar numbers as Wallace, but how each player reacts to their new roles is still unknown.
Haley could use the depth at receiver to his advantage instead of relying on Wallace's ability to make big plays. The Steelers need to find out during training camp how much they can trust a rookie like Wheaton to produce during his rookie year.
The team also drafted running back Le'Veon Bell in the second round of the draft with the hope of revitalizing a run game that has stagnated in recent years. Pittsburgh will probably look to recoup some of Wallace's lost production with a more productive ground game.
How Much of a Difference Will Coaching Make for the Cleveland Browns?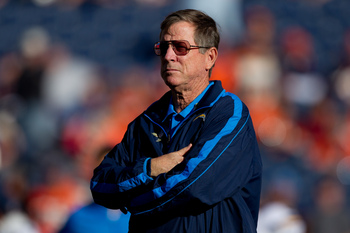 Browns offensive coordinator Norv Turner should help Brandon Weeden in 2013.
Justin Edmonds/Getty Images
The Cleveland Browns certainly made a few big personnel moves, but almost all of them were on defense. It's the offense that remains in doubt, and the team needs to find out if quarterback Brandon Weeden can take it where it wants to go.
Weeden turns 30 in October, so the evaluation timeline is significantly shortened. The Browns brought in Rob Chudzinski as head coach and Norv Turner as offensive coordinator, both of whom have pretty good track records with quarterbacks.
With the offensive personnel virtually unchanged from last year, we are going to get to see how much of a difference coaching makes in Cleveland. There is a wide range of potential outcomes ranging from the impact Jim Harbaugh and Greg Roman had on quarterback Alex Smith in San Francisco in 2011 (a lot) to the impact Mike Mularkey and Bob Bratkowski had on Blaine Gabbert in 2012 (a little).
Coaching and scheme are big parts of the game, and it's possible Weeden just didn't fit what the Browns were doing last year.
Maybe Weeden is a better fit for the deep-passing offense of Chudzinski and Turner more than he was the West Coast offense of Pat Shurmur and Brad Childress.
If Weeden looks significantly better than Jason Campbell, maybe coaching is going to make a difference for him. If they look about the same to the casual observers, chances are the Browns will be stuck in another transitional period.
Will Baltimore's Rebuilt Defense Jell?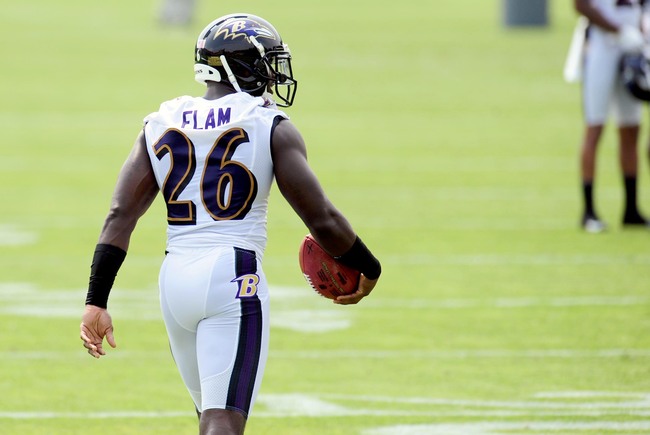 The Ravens expect a lot out of rookie safety Matt Elam.
Evan Habeeb-USA TODAY Sports
The Baltimore Ravens defense has been great for years, but started to show cracks the last few seasons. Linebacker Ray Lewis and safety Ed Reed left a defense they had anchored for years this offseason by way of retirement and free agency, respectively.
Veteran players like pass-rusher Paul Kruger, linebacker Dannell Ellerbe, safety Bernard Pollard and cornerback Cary Williams also left the team via free agency, leaving the Ravens with a lot of holes on defense to fill.
The team drafted safety Matt Elam, linebacker Arthur Brown and defensive lineman Brandon Williams in the first three rounds of the draft to make up for the losses. All of them are expected to have significant roles in 2013.
Safety Michael Huff, pass-rusher Elvis Dumervil and linebacker Darryl Smith were signed as free agents, all of them talented veterans coming off down years. Cornerback Lardarius Webb is returning from a serious injury, bringing the total to as many as six starters on defense that weren't on the 53-man roster at the end of last season.
There's a lot of change, and it will be up to linebacker Terrell Suggs and defensive lineman Haloti Ngata to get the rookies and veterans all on the same page. Fortunately, the defense still has plenty of talent and the Ravens have a great coaching staff to keep it all together.
Who Will Become Tom Brady's Favorite Receiver?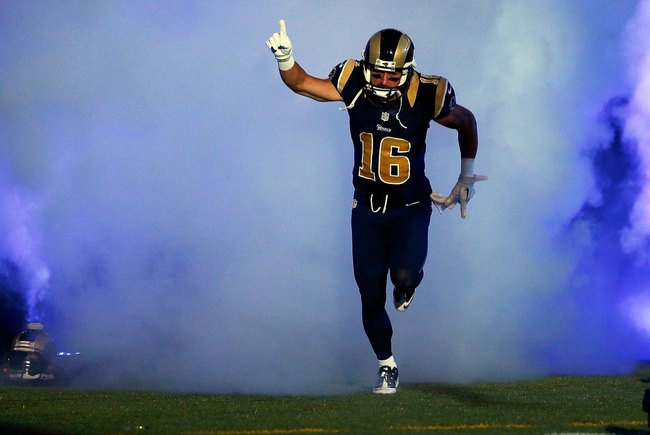 Danny Amendola should become Tom Brady's favorite target.
Jamie Squire/Getty Images
The seven players the New England Patriots either lost in free agency, released or didn't re-sign this offseason constituted over 70 percent of Tom Brady's passing yardage from last season. In theory, this shouldn't matter because Brady didn't really have great receivers from 2002 to 2006 and won two Super Bowls.
However, the league is a bit different now than it was then, and Wes Welker, Brandon Lloyd, Aaron Hernandez and Danny Woodhead are all significant losses for Brady in the passing game. Welker was Brady's go-to slot guy, Lloyd his outside guy, Woodhead his third-down running back and Hernandez his possession guy.
Welker was Brady's favorite target on the basis of receptions, but Brady is going to have to find a new favorite unless he just plans to distribute the load among all his receivers. The obvious choice to replace Welker is Danny Amendola, who was Sam Bradford's favorite target in St. Louis when he was healthy.
It's also possible tight end Rob Gronkowski will become Brady's top target if he is able to stay healthy. In 2011, Gronkowski had 90 receptions, which is actually more than any Patriots player had in 2010.
A surprise candidate could emerge, such as rookie wide receiver Aaron Dobson, but that's unlikely. Amendola and Gronkowski should get the majority of the looks with a handful of other receivers also getting a chance to prove their value to the team.
Who Will Start at Quarterback in Buffalo?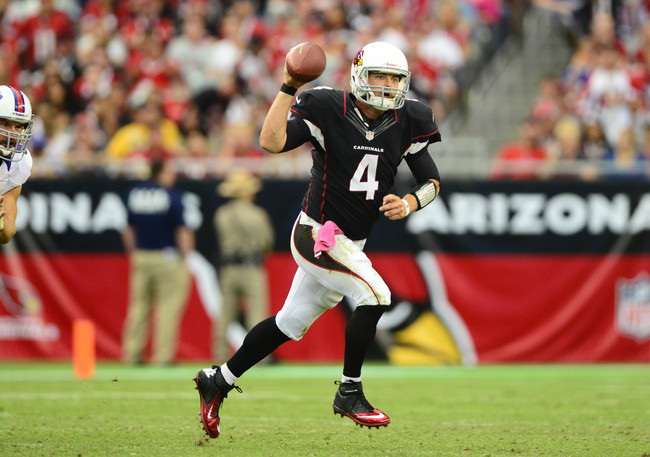 Don't be surprised if Kevin Kolb starts over EJ Manuel in Buffalo.
Mark J. Rebilas-USA TODAY Sports
EJ Manuel and Kevin Kolb will compete for the starting quarterback job in Buffalo. Manuel is a first-round draft pick, and we are accustomed to quarterbacks drafted in the same position starting right away. However, the rookie wage scale makes it possible for him to sit and learn until he is ready.
Kolb is a veteran who didn't make the most of his chance to be the guy the first time around. He was terrible behind a bad offensive line in Arizona, but he may fare better with better protection in Buffalo.
It's a weird competition because Manuel was a surprise first-round pick and Kolb was once considered a quarterback with some potential. The Bills will probably roll with Manuel if he is ready, but they don't have to rush him.
If Manuel is still swimming in the playbook by the end of training camp, the Bills will probably go with Kolb to start and work Manuel in gradually.
How Will the Dolphins Use Dion Jordan?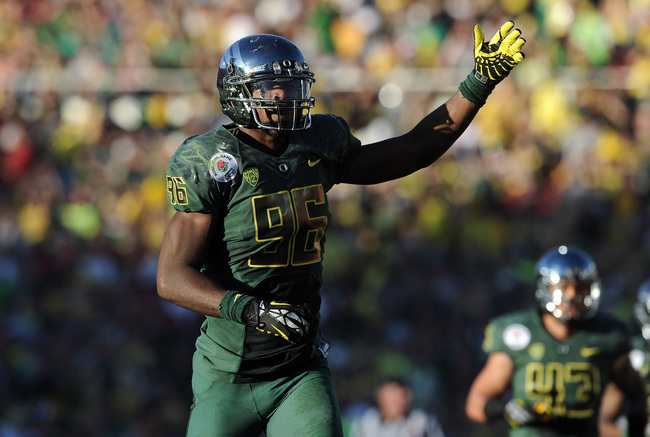 Dion Jordan did a lot of things in college, but will he be more specialized as a rookie in the NFL?
Harry How/Getty Images
The Miami Dolphins traded up from No. 12 to No. 3 in April's draft to select Oregon linebacker Dion Jordan. In doing so, they made a pretty big statement about what they think of his potential.
At Oregon, Jordan did a lot of different things on defense, from rushing the quarterback to dropping into deep coverage. He was certainly a jack of all trades, but it's possible he was also a master of none.
The Dolphins could use Jordan's versatility immediately, but that may be at the expense of refining one area of his game. The other option would be to have him focus on just one thing—like rushing the quarterback.
Every approach has pros and cons, and it's up to the Dolphins to decide what's best. These types of decisions can actually have a significant impact on Jordan's career and are often what separates the good organizations from the bad organizations.
Many coaches will start slow with rookies, giving them only bite-sized pieces until they prove they can handle more. It's a delicate balance because coaches also constantly want to push players to do more.
Will Giovani Bernard Revive the Running Game in Cincinnati?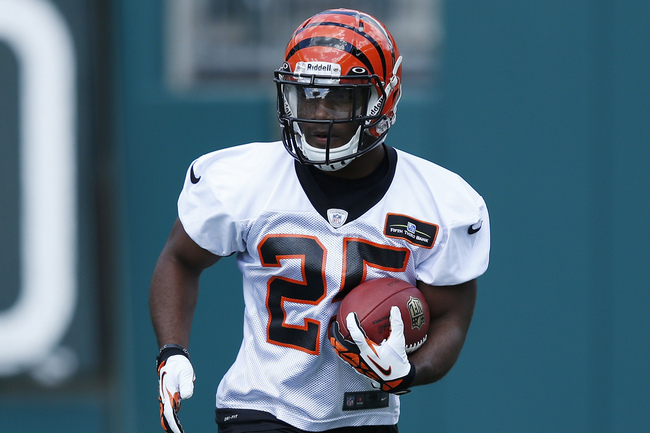 Giovani Bernard has a chance to be the every-down running back in Cincinnati.
Joe Robbins/Getty Images
The Cincinnati Bengals haven't had a legitimate starting running back in a long time. Cedric Benson had a few solid years, but most of his production was based on opportunities and not efficiency.
The last running back who had a really productive season was Rudi Johnson in 2006. That means it has been six years since the Bengals had a great running game.
To assist quarterback Andy Dalton and revive the running game, the Bengals drafted 5'9" running back Giovani Bernard in the second round. There's been some question if Bernard is simply a change-of-pace running back, considering his size, but Bengals running backs coach Hue Jackson told the team's official website that Bernard has the skill set to be an every-down player.
Height is probably one of the most overrated measurements by which to judge a running back. Ray Rice and Maurice Jones-Drew are two successful every-down running backs and they are even shorter than Bernard. Bernard also wouldn't be the classic "burner" change-of-pace running back, coming in at just 4.53 seconds in the 40-yard dash at the combine.
Rookie running backs are typically able to make a splash early, and Bernard getting the majority of first-team reps during training camp could be a sign that he's ready to revive Cincinnati's running game.
How Good Is Denard Robinson?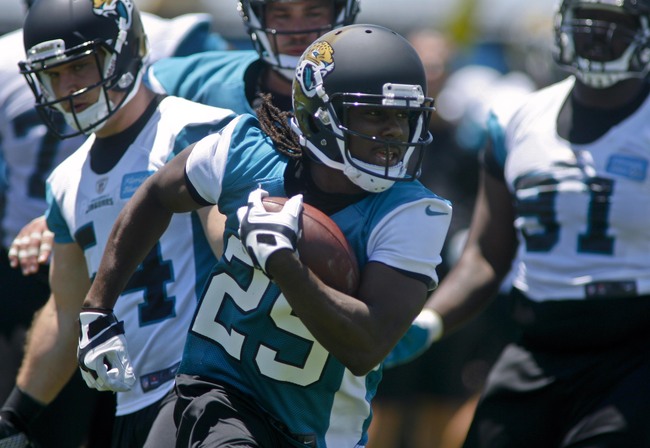 Denard Robinson might be the most hyped fifth-round pick in recent memory.
Phil Sears-USA TODAY Sports
The Jacksonville Jaguars need as much talent as they can get, so they took a chance on former quarterback Denard Robinson, who is switching from his college position to running back or wide receiver in the pros.
Robinson is actually listed as an "OW"—which is an abbreviation for "offensive weapon"—on the Jaguars' roster. It sometimes takes a little longer for a player to grasp the wide receiver position than the running back position, which may be why the Jaguars chose to list Robinson differently.
The team is clearly building some hype around the rookie out of Michigan, who it picked up in the fifth round this year's draft. Did the Jaguars get a steal, or is Robinson simply another conversion project who is better in theory than reality?
Once training camp starts, it won't matter how Robinson is listed on the roster if he's not any good. A fifth-round pick is typically a project player, but the team certainly isn't treating him that way.
How the Jaguars intend to use Robinson and just how good he really is should be revealed during training camp. Either he will impress observers or the Jaguars will put him on ice so he can develop his skills at his new position.
Is Jake Locker the Future in Tennessee?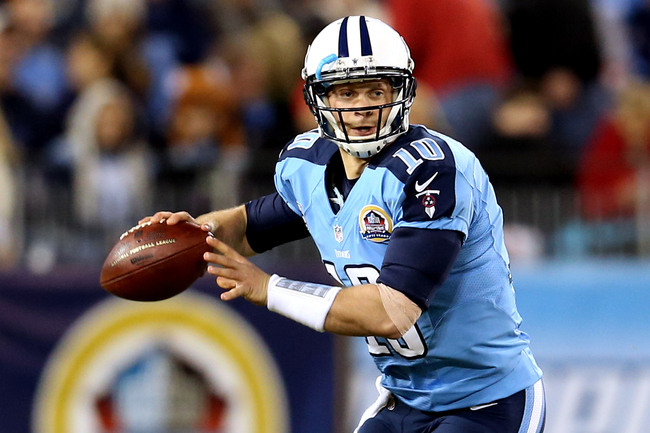 Andy Lyons/Getty Images
Quarterback Jake Locker is going into his third season with the Tennessee Titans in 2013, but he didn't start his first game until last year. Still relatively young at 25, it's time for the Titans to figure out if Locker is capable of taking them where they want to go.
In 11 starts last season, he wasn't very good, as he threw 11 interceptions to just 10 touchdowns and completed just 56.4 percent of his passes. That's just not good enough in today's NFL—even if he also had 41 rushes for 291 yards.
Locker needs to take a big step forward, which should be apparent during training camp. The great quarterbacks practice like great quarterbacks, so he should be completing everything with timing, touch and accuracy.
Who Will Start at Running Back in Denver?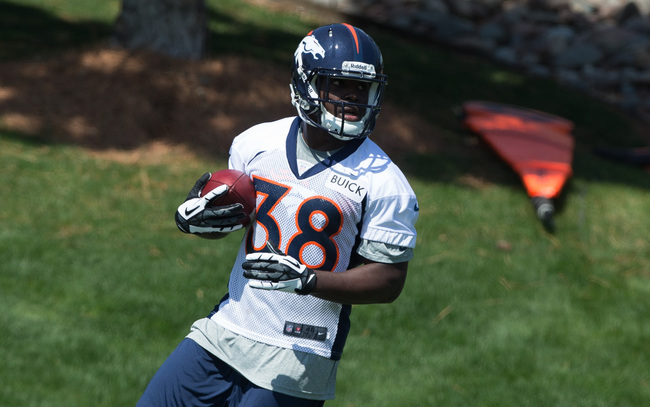 Montee Ball is competing for the starting running back job in Denver as a rookie.
Justin Edmonds/Getty Images
The Denver Broncos are expecting to contend for a Super Bowl in 2013. The parts are in place to get to a Super Bowl, but the starting running back will have to be determined during training camp.
Rookie Montee Ball is considered the favorite to win the job, but Ronnie Hillman is also in the mix. Ball is a good fit for the zone-blocking scheme, but Hillman made strides during his rookie year in 2012 that could keep him in the mix.
It's entirely possible we'll see both players log significant playing time with the title of starter being of little significance, but Ball or Hillman could change that with a strong training camp.
Hillman has to prove he can run between the tackles and pass block, while Ball—like any rookie—has to prove capable in all areas.
What Will Mike McCoy Do to Fix Philip Rivers?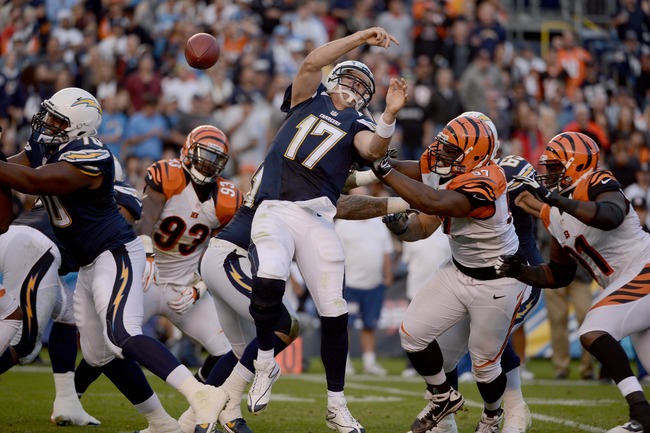 Mike McCoy's toughest job is going to be fixing Philip Rivers.
Donald Miralle/Getty Images
The first real opportunity we will get to see what San Diego Chargers head coach Mike McCoy will do to fix quarterback Philip Rivers will be during training camp. So far, anything that's been done has been mental or minor.
There are basically three things McCoy can do (or try to do) to fix Rivers: give him protection, run the ball and call shorter passing plays. McCoy will likely try some combination of the three.
We'll get a good idea of what McCoy's plan involves and just how much emphasis he plans to place on each thing during training camp. We also may find out if his attempts to fix Rivers could break something else and how much he is willing to adjust the plan if something isn't working.
How Will Alex Smith Fit Andy Reid's Offense?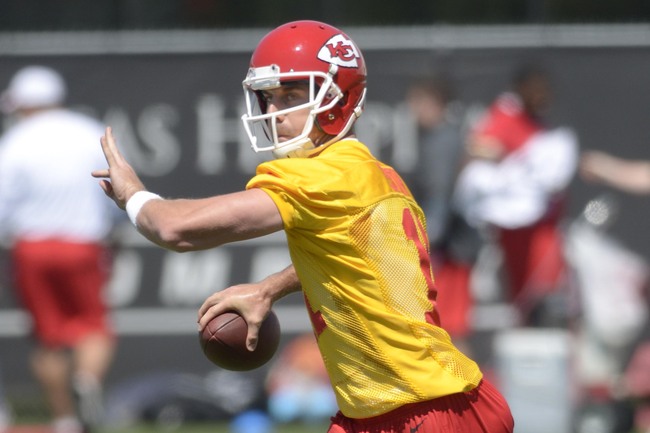 Denny Medley-USA TODAY Sports
The Kansas City Chiefs probably made the biggest move of the offseason by trading for quarterback Alex Smith. Now, the only question is if Smith can execute the offense of his head coach, Andy Reid.
For a long time, Smith looked like a bust, but San Francisco 49ers head coach Jim Harbaugh and offensive coordinator Greg Roman came along and helped Smith become an upper-echelon NFL quarterback.
However, Harbaugh and Roman helped Smith tremendously with play calling. The 49ers became a power running team with a great defense that allowed Smith to manage the game, but he still had serious limitations.
Reid's offense has been pretty forgiving for quarterbacks in the past. Smith was probably the best option available for the quarterback-needy Chiefs, but it will be interesting to see if it's a good match or if there are significant growing pains during training camp.
Can Tyler Wilson or Terrelle Pryor Challenge Matt Flynn for the Starting QB Job?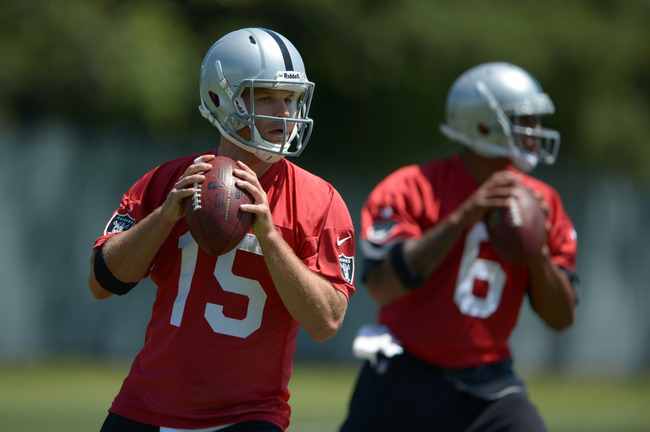 Will Matt Flynn (left) be challenged by Terrelle Pryor (right) in 2013?
USA TODAY Sports
The quarterback situation in Oakland is funky. The Raiders traded for Matt Flynn and drafted Tyler Wilson in the fourth round to go along with Terrelle Pryor after shipping Carson Palmer to Arizona.
With a combined three starts, the Raiders have the league's most inexperienced group of quarterbacks. Flynn is the presumptive starter, but a strong camp by either Wilson or Pryor could force the Raiders to rethink their strategy.
Wilson would be the quarterback of the future, and if he's ready, it would seem unwise to deprive him of valuable experience. Pryor needs a lot of work as a passer, but he makes up for a lot of his issues with his amazing athleticism, and even a moderate jump in passing ability could make a big difference.
It doesn't look like Wilson or Pryor are going to mount much of a challenge to Flynn, but things can change quickly during training camp, depending on how players perform.
How Will the Cowboys Adjust to Monte Kiffin's 4-3 Defense?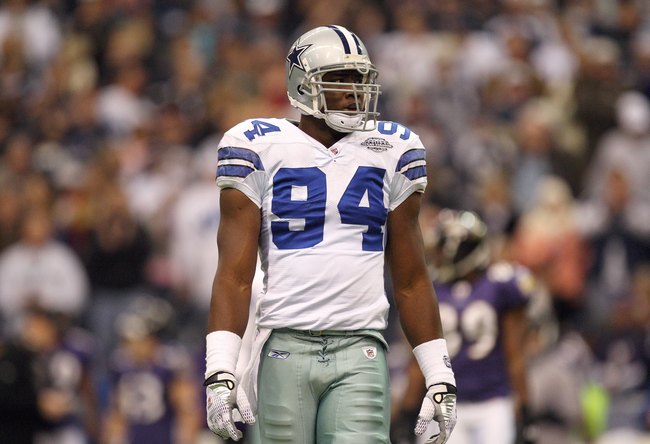 How will DeMarcus Ware respond to having his hand in the dirt?
Ronald Martinez/Getty Images
The Dallas Cowboys are transitioning from a 3-4 defense to a 4-3 under new defensive coordinator Monte Kiffin. Such a transition opens up all kinds of questions, especially as it pertains to star players like pass-rusher DeMarcus Ware.
Ware has been one of the best pass-rushers in the NFL for years as a 3-4 outside linebacker and will transition to 4-3 defensive end in 2013. On passing downs, his roles and responsibilities will be about the same as they were before the switch, so his pass rushing shouldn't be adversely affected.
However, Ware will be in a more difficult position closer to the line of scrimmage against the run. He has decent size and has been a good run defender in the past, but he's getting older and the job will also be more difficult.
How Kiffin and the players handle the transition may be the key to Cowboys' success in 2014. Training camp should give us glimpses of how they are handling the change.
What Surprises Does Chip Kelly Have for the NFL?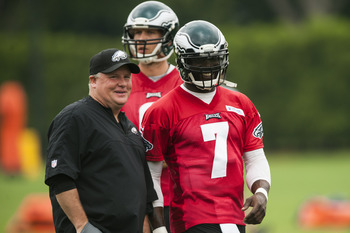 Chip Kelly is a wild card this season.
USA TODAY Sports
College coaches haven't always been successful in the NFL, but elements of the college game continue to bleed into playbooks. After dominating the NCAA (for the most part), Chip Kelly is trying to see if he can make the transition as the head coach of the Philadelphia Eagles.
Kelly is known as an innovator, and outside of his unconventional approach to practice, it's worth wondering what surprises he has for the NFL. Considering that his college offense is probably not going to work well in the pros, the Eagles are probably one of the biggest wild cards this season.
Maybe Kelly will save all of his surprises for the regular season, but training camp should at least give us a few hints.
Is Robert Griffin III 100 Percent Healthy?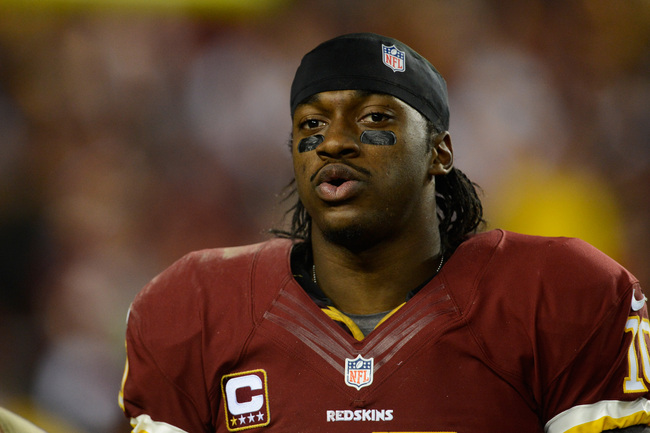 Patrick McDermott/Getty Images
It makes sense for the Washington Redskins to keep Robert Griffin III's health status a mystery. If Griffin isn't fully healthy, they don't want opponents to know about it. If he is, they want opponents to think he might be limited.
The Redskins will probably be cautious with Griffin, as they should be. According to Ian Rapoport of NFL.com, the team already plans to ease him into camp in hopes that he'll be ready by the start of the season.
When will Griffin be allowed to give 100 percent effort? Will the Redskins take it all the way to their first regular-season game? We should get answers to these questions at some point during training camp.
How Will Jay Cutler Adjust to Marc Trestman's Version of the West Coast Offense?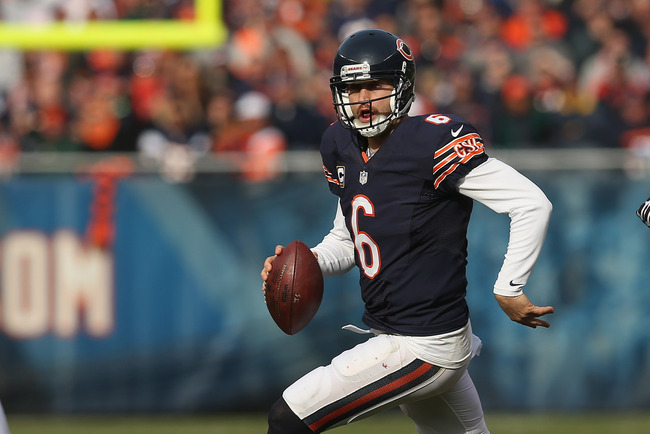 Jonathan Daniel/Getty Images
Quarterback Jay Cutler is known as a bit of a gunslinger, and it will be new head coach Marc Trestman's job to rein him in a little bit. There is a fine line between making plays and making mistakes, and Cutler makes plenty of both.
How will Cutler adjust to Trestman's West Coast offense?
The Bears are hoping Cutler can continue to make plays and eliminate some of his mistakes, but it's also possible to take away his playmaking ability by forcing him to make safer throws.
Is Eddie Lacy or Johnathan Franklin the Better Running Back?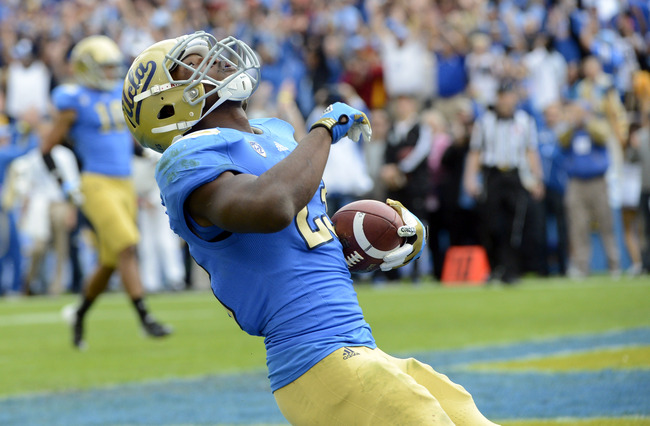 Johnathan Franklin could outperform Eddie Lacy as a rookie.
Richard Mackson-USA TODAY Sports
The Green Bay Packers drafted two running backs just in case one of them doesn't work out. Eddie Lacy and Johnathan Franklin should compete for carries, and both players will probably be used this season as a complement to the passing game.
It's very possible Franklin will be a more productive running back than Lacy, who was drafted ahead of him. The funny part of drafting two players at the same position close together in a draft is that they will constantly be compared. For two competitive guys, that's not always a bad thing.
As rookie running backs usually make an immediate impact in the NFL, we should have a good idea which running back is running at the front of the pack by the end of training camp. If I had to guess, Franklin comes out ahead.
Is Christian Ponder the Answer at Quarterback for the Vikings?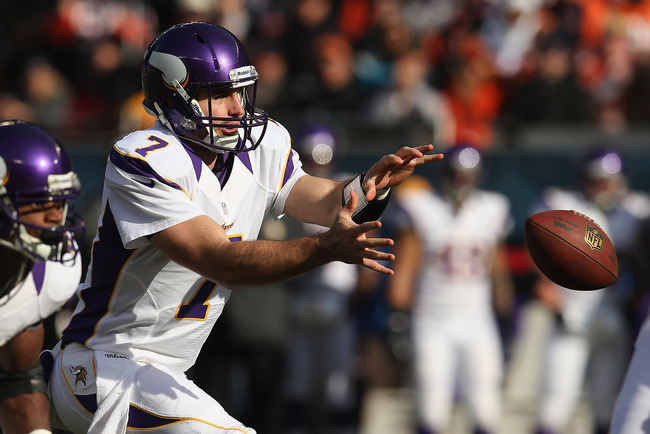 Jonathan Daniel/Getty Images
It's put up or shut up time for quarterback Christian Ponder in Minnesota. Ponder has the best running back on the planet in Adrian Peterson, and the Vikings added veteran wide receiver Greg Jennings via free agency and selected another receiver, Cordarrelle Patterson, in the first round of the draft.
Ponder has a solid offensive line, great offensive weapons and should even have a solid defense on the other side of the ball to give him good field position. If he doesn't prove he is the answer at quarterback for the Vikings now, he never will.
Considering the weapons Ponder has at his disposal, his performance during training camp will probably tell the story. He should look like a totally different quarterback, not be struggling to find chemistry with his new targets.
If Ponder continues to struggle, the Vikings will just have to make the best of it with an eye toward the future. We will probably know by the end of training camp if he is the guy the Vikings hope he can be.
Can Josh Freeman Prove to the Buccaneers He's a Franchise Quarterback?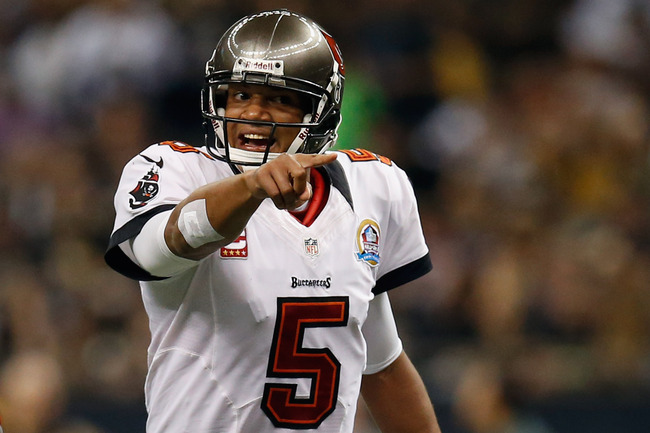 Chris Graythen/Getty Images
The Tampa Bay Buccaneers drafted quarterback Mike Glennon in the third round of the draft just in case current starter Josh Freeman is let go after the 2013 season. Freeman is the starter, and that's unlikely to change, but the fact that he hasn't had his deal extended and the team drafted a quarterback to develop behind him is an indicator that he needs to have a big year.
Freeman needs to take the next step, as he has failed to do for the last couple years. He looked like a future star in 2010, but has struggled to build on that performance.
Freeman is a good quarterback who has produced decent numbers, but the big problem for him has been putting it all together. There are always one or two areas where he doesn't excel, such as completion percentage and touchdowns.
The only thing worse than a bad quarterback is a routinely average quarterback who prevents the team from looking for an elite guy. The Buccaneers know they have the pieces in place, but they will have to consider other options if Freeman can't take the next step in 2013.
Will Steven Jackson Really Be an Improvement over Michael Turner?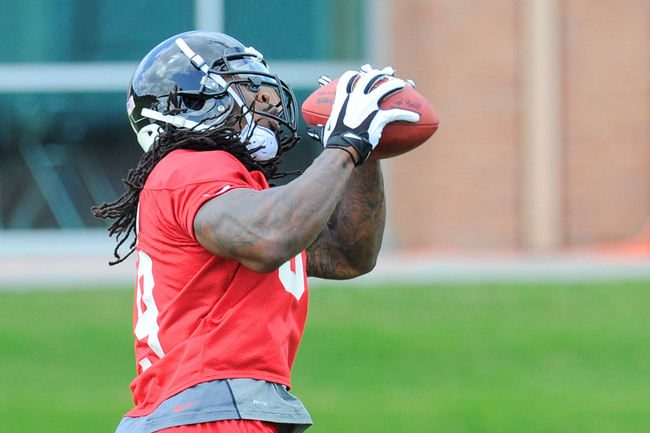 Steven Jackson is a better receiver than Michael Turner.
Dale Zanine-USA TODAY Sports
The Atlanta Falcons are hoping to have a ground game to complement their air attack in 2013, so they brought in running back Steven Jackson to replace free agent Michael Turner.
Jackson will be celebration his 30th birthday on Monday and has reached 1,000 yards rushing in each of the past eight seasons. Turner was productive in his five seasons in Atlanta, but his production seriously declined last year, which tends to be the case when players reach the age of 30.
Considering how many miles Jackson has put on his tires the last eight years and his age, you have to wonder if he's going to see a sharp decline in his production as well. There's certainly a case to be made that he was signed just to replace Turner and not to improve at the position.
To put it in perspective, Turner averaged 89.5 yards per game and 4.4 yards per carry from age 26 to age 29, and Jackson averaged 78.1 yards per game and 4.1 yards per carry in the same time period. Turner carried the ball 18 more times than Jackson from 26 to 29, which is not enough to indicate his decline would be sharper.
Of course, running backs do decline at different rates and Jackson has always been a much better receiver out of the backfield than Turner. Jackson has averaged 21.9 yards per game receiving over the past four seasons, significantly more than any four-year period in Turner's career.
The pep left in Jackson's step is something that should be clear during training camp. We should also see him being utilized in the passing game. If either of these are not the case, it might be worth wondering how much he has left and if he'll provide any more than the Turner-Jacquizz Rodgers combination from last season.
Can Cam Newton Develop Consistency?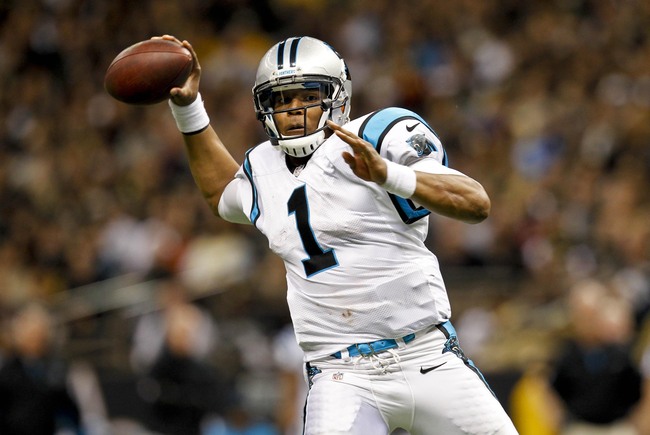 Derick E. Hingle-USA TODAY Sports
When you look at quarterback Cam Newton's numbers, they look pretty impressive. Last year, Newton passed for 3,869 yards and rushed for an additional 741 yards. Only seven quarterbacks directly produced more total touchdowns than Newton did last year.
Newton's average yards per attempt last year was 7.98, just 0.01 yards per attempt behind Peyton Manning. Only three quarterbacks were better in yards per pass attempt, and one of them was Colin Kaepernick, who only started seven games.
The problem for Newton has been consistency. When the Panthers lost eight of their first 10 games, Newton's play was erratic. Newton turned the ball over 13 times and scored only 12 touchdowns.
The Panthers won five of the final six games, and Newton had 14 touchdowns and just two turnovers in those games. Carolina's success is clearly heavily linked to his performance.
Newton needs to carry over what he was able to do at the end of last season into training camp and build on it. If he can develop some consistency, he'll be one the best quarterbacks in football. Consistently positive practice reports should reveal if he has made the necessary strides.
How Will Sean Payton's Return Impact the Saints?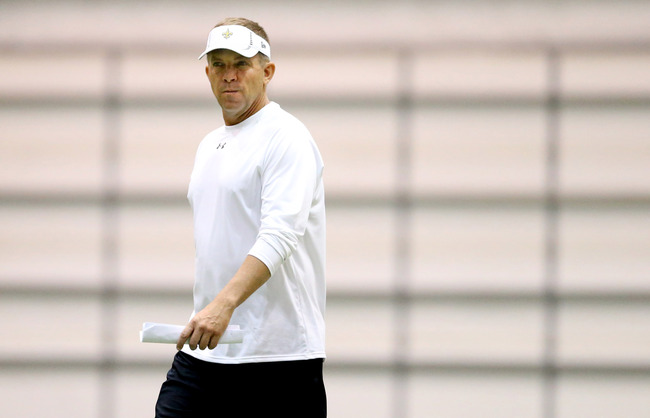 Sean Payton will keep a close eye on his defense during training camp.
Crystal LoGiudice-USA TODAY Spor
The scandal involving the alleged bounty program in New Orleans is finally in the past, and head coach Sean Payton returns to the sideline where he belongs after serving a year-long suspension.
The Saints struggled last season without their head coach, especially on defense. However, they still finished with the third-most points in the league and seven wins.
Payton's specialty is offense, but that part of his team did great without him. Steve Spagnuolo's defense was horrible, and he was fired and replaced by Rob Ryan in a game of musical defensive coordinators.
Clearly, Payton didn't think the problem with the defense was all personnel, or Spagnuolo may have been given a second year. Payton knows his offense will be fine without him, so he should spend extra time with the defense during training camp.
Extra attention from a powerful head coach usually gets players to fall in line out of fear for their jobs. Expect positive defensive reports out of New Orleans. Really, the defense couldn't get much worse.
Do the 49ers Have a Viable Replacement for Michael Crabtree?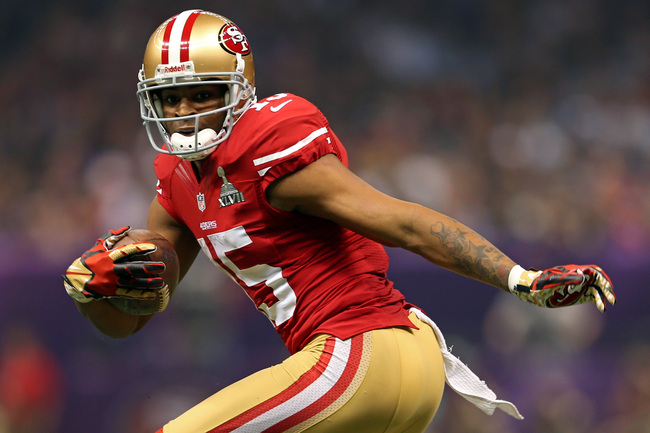 Mike Ehrmann/Getty Images
Wide receiver Michael Crabtree tore his Achilles tendon, and the 49ers hope to have him back for the end of regular season and playoffs. Until then, they have to discuss ways to replace his production because he was Colin Kaepernick's favorite target once becoming the starter.
The 49ers traded for Anquan Boldin, a veteran possession receiver who could certainly gobble up a few of Crabtree's targets. Beyond Boldin, there is also Mario Manningham, but he's on the physically unable to perform list.
Quinton Patton is a rookie with some potential, but San Francisco doesn't have a lot of quality options. It may have to rely on Kaepernick's ability to run, throw to tight end Vernon Davis and hand the ball off to his running backs.
Training camp is a good time to figure out which players are going to rise to the occasion and plug holes on the roster. Crabtree left a fairly substantial hole, and there's no one on the roster currently capable of filling it.
What Can the Cardinals Expect from Carson Palmer?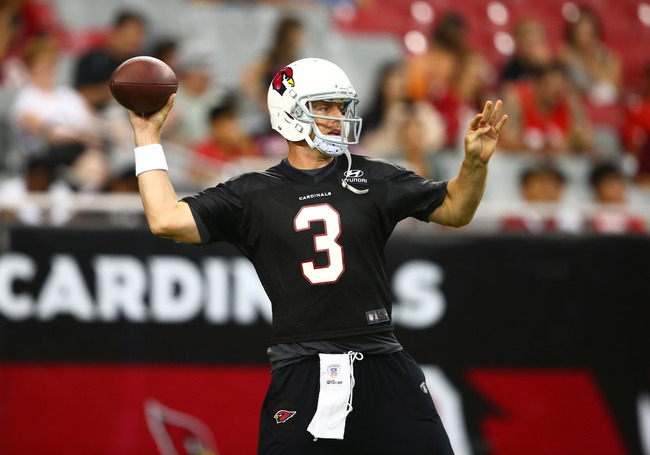 Mark J. Rebilas-USA TODAY Sports
The Cardinals have finally found their veteran franchise quarterback; he just might be a little too veteran and not enough franchise for them. Carson Palmer is an average to above-average quarterback, but that's considerable improvement in Arizona.
Palmer is a perfect fit for Bruce Arians' offense, which features a ton of deep passing routes. He is also smart enough to feed his top receiver, which should make Larry Fitzgerald a happy man.
A lot of scoring and turnovers would be reasonable expectations for Palmer in this offense, but that all depends on how aggressive Arians calls the plays. Former Raiders head coach Hue Jackson called plays very aggressively. Palmer ended up turning the ball over a lot, but also scoring a lot of touchdowns and yards.
Palmer's biggest problem is throwing inexplicable interceptions. Expect a lot of time to be spent on chemistry between the receivers and Palmer. The better the rapport Palmer has with his receivers, the more Cardinals fans can expect out of him in 2013.
Keep Reading