Kansas City Chiefs: Grading the Strength of Each Position Unit Heading into Camp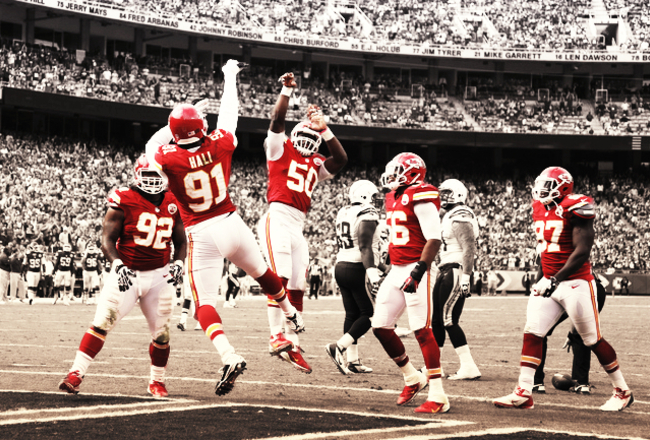 Image edited by Brett Gering
Joe Robbins/Getty Images
For Kansas City Chiefs fans, the countdown to training camp has finally reached its launch date. On July 26, football's annual Survivor spinoff returned from its slumber. Newcomers will scale the depth chart while fan favorites attempt to thwart them like American Gladiators.
But if the regular season kicked off next Sunday, how would the Chiefs' projected roster fare?
Anybody can wave a wand and promote half-hollow guesses to progress reports. However, that stamp of approval holds little weight if it's only supported by vague arguments.
Nobody has a crystal ball in their closet, but Pro Football Focus does break down the stories behind the numbers and allow a 20/20 glimpse into the past. Being so, the most accurate method of grading units before training camp is to score each player's game—based heavily on Pro Football Focus' performance database—in various facets relevant to their position.
Adding the categorical scores and dividing the sum by the total possible points will churn out a grade/percentage for each player. The unit's score then factors in every athlete's weighted value (represented by a percentage beside their name) before outputting a final grade for the position.
| | | | | | | |
| --- | --- | --- | --- | --- | --- | --- |
| | (Category No. 1 | + | Category No. 2) | / Total | = | Score |
| Starter (Weighted Value) | 8/10 | | 3/5 | 15 | | 73 Percent |
| Second-Stringer (Weighted Value) | 6/10 | | 4/5 | 15 | | 67 Percent |
In other words, being that starters account for the majority of regular-season reps, the Chiefs' running back grade will put more stock into Jamaal Charles' rating than Shaun Draughn's.
Now that you've popped two aspirin and remember why you dropped out of accounting, let's start.
Keep Reading

Kansas City Chiefs: Like this team?