4 MLB GMs on the Hot Seat at the 2013 Trade Deadline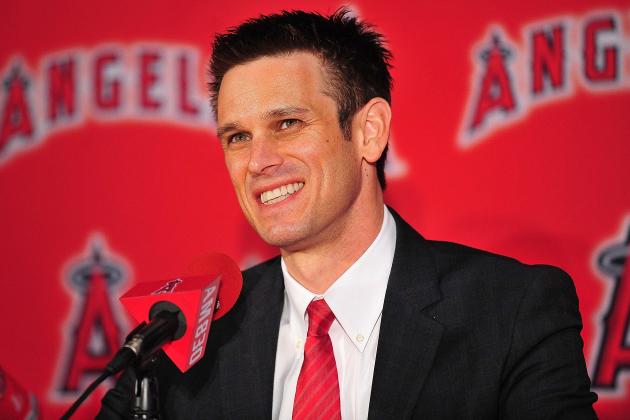 Gary A. Vasquez-USA TODAY Sports

Here we are in July, and for many of us fans the trade deadline is one of the most exciting times in baseball. However, it must seem like the opposite for major league players and general managers.
Many players are filled with anxiety over being traded to a new team. And for many GMs, this is the time jobs are saved or lost. Today, we're focusing on those executives. July is a chance for redemption for many GMs at the helm of struggling teams.
Here's a look at some GMs whose jobs are on the hot seat this July.
Begin Slideshow

»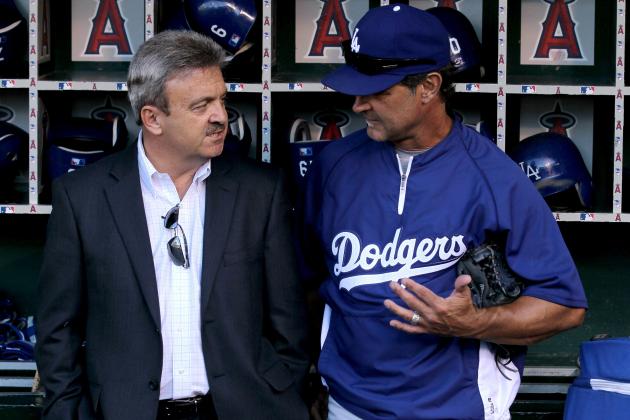 Stephen Dunn/Getty Images

Ned Colletti has made some great moves as a general manager, but he's also made some boneheaded ones.
After surviving the Frank McCourt years, it looked like Colletti would have an opportunity to finally prove himself under a competent owner.
Magic Johnson and Colletti started their partnership off in a big way, but it still wasn't enough to get L.A. into the playoffs last year. And while a recent surge has the Dodgers half a game behind in the NL West, they still have a ways to go in a tight divisional race.
Colletti's already made some improvements to his team this July, acquiring Ricky Nolasco from the Marlins. But given the right-hander's less-than-stellar career—and continuous injuries to other players on the roster—it may not be enough.
New ownership has given Colletti his chances, and if the Dodgers sputter down the stretch—missing the playoffs for the fourth season in a row under Colletti's leadership—you better believe a front office overhaul is coming.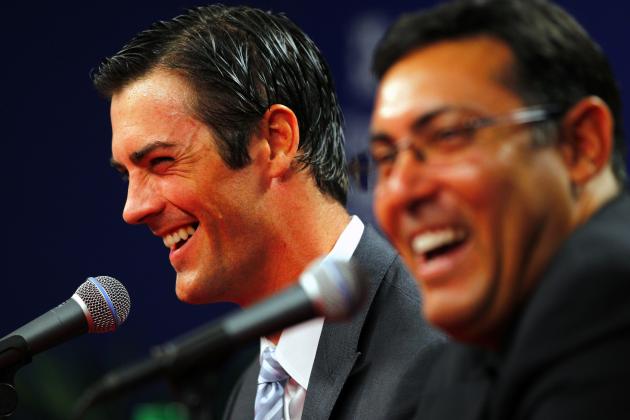 Rich Schultz/Getty Images

For a while Ruben Amaro Jr. looked like the best GM in baseball.
Now he just seems like the most stubborn.
Amaro's model of trading off prospects and spending big on free agents worked for a while, when his nucleus of Rollins, Utley and Howard was in its prime. Now that the stars are aging, the Phillies are faltering. It also doesn't help that Roy Halladay, Amaro's ace in the hole, has been damaged goods since last season.
And while there's potential for a fire sale in Philadelphia, history shows that Amaro might be more than happy to stand pat.
With a lack of youth on the roster, a bloated payroll and a .500 record in the NL East, it's obvious an overhaul is needed in Philadelphia.
The only question now is whether Amaro Jr. is ready to admit defeat and make the necessary moves to bring some fresh blood to Philadelphia.
Tom Szczerbowski/Getty Images

There was a time when Alex Anthopoulos looked like the next great GM in baseball.
However, the young gun has had his chance to build a winning team, and he's yet to find success.
Anthopolous began his tenure in Toronto with a series of underrated trades that gave some huge return for the Jays. Then the 2012-13 offseason came, and the switch flipped.
The Jays spent last winter making a series of blockbuster trades. While the farm system was virtually gutted of its top-tier talent, the high-profile talent that was acquired seemed worth the price.
But the Jays have continued to disappoint this season. Their 45-51 record has them in the AL East basement, and Anthropolous' overhaul of the pitching staff has failed miserably—the big-name starting pitchers he brought in are a combined 24-34 with a 5.08 ERA.
Now the GM is at a crossroads. He doesn't have to gut the team, but returning to his roots—money-shaving trades that bring in underrated talent—could be what the Jays need at this time.
And if he can't make that work, Toronto is obligated to find someone who can.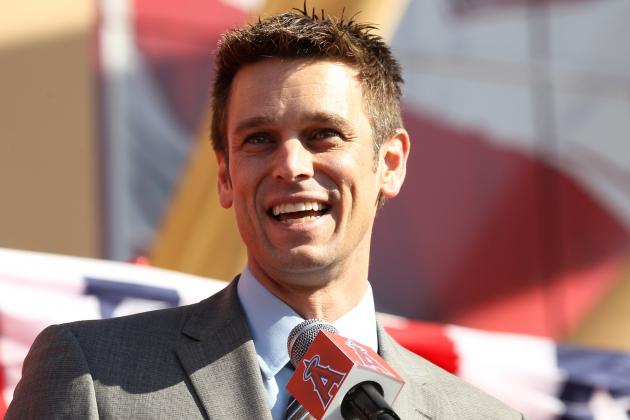 Stephen Dunn/Getty Images

If you had said two seasons ago that the GM of a team with both Albert Pujols and Josh Hamilton on it would be on the hot seat, people would have called you crazy.
But here we are, and that's exactly the case with L.A. Angels general manager Jerry Dipoto.
Dipoto burst onto the scene in his first year on the job, signing big-name free agents Albert Pujols and C.J. Wilson before the 2012 season. Unfortunately, the team failed to play consistent baseball last season, finishing just outside of a playoff spot with an 89-73 record.
Looking to pump even more star power into the team, Dipoto stole away slugger Josh Hamilton from the rival Texas Rangers before this season.
It looked like a brilliant move.
But once again the team is faltering, with the Angels sitting at third in the AL West with a 46-49 record—five games behind the second-place Rangers.
Hamilton and Pujols have been key components in the team's struggles, with both players hitting under .260 (Hamilton is floundering around the .225 mark) and having a combined 30 home runs.
Dipoto's string of big signings has not proved to be the answer in Anaheim. And unless the GM finds a way to right the ship this July, his job will certainly be on the line come October.