Tiger Woods at British Open 2013 Tracker: Day 4 Score, Highlights and Analysis
Tiger Woods failed to play his best golf on the final round at the British Open. Woods shot a three-over-par 74 on Sunday and never made a solid run at the Claret Jug.
In many ways, Woods played sensational golf for the majority of the tournament, as he was in a position to take the lead on Saturday late in the round. However, when he failed to make a birdie on the 16th hole and playing partner Lee Westwood made a saving bogey putt, it appeared to drain the energy out of Tiger's game.
Woods failed to play with consistency from that point forward.
When he was winning major championships, Woods was at his best on Saturday and Sunday. That has not been the case for a long time for him.
Tiger is stuck at 14 major championships and his next opportunity to pick up his pursuit of Jack Nicklaus comes at the PGA in August.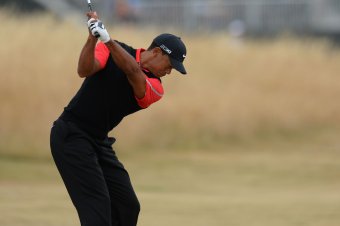 Stuart Franklin/Getty Images
Here's the big problem for Tiger Woods as he contemplates what has gone wrong in the recent major championships. He shot a 69 in the opening round, and each round that followed got worse. That's not going to get it done when you are trying to win your 15th major championship.
Tiger Woods was quite happy with his game through the first three rounds, but he never got it together on Sunday. One indicator came early. After striking his putts firmly all week, he was tentative with his putter on the first and second holes. He was not able to overcome that.
Additionally, after keeping it together in the early rounds, Tiger had a much harder time controlling his famous temper on Sunday.
Tiger made a run at a birdie at 18, but it slides by on the right side for a par. He has to settle for a two-over par finish at 286. After putting himself in contention, a very disappointing finish.
Tiger has a lot of work to do before the PGA in August. Much of that work has to be in his mental approach. He struggles badly on the weekend in majors and he has to figure out why and what he's going to do about it.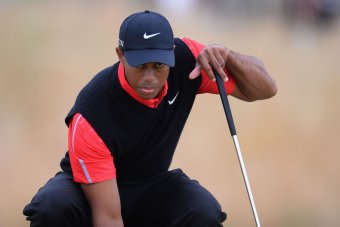 Stuart Franklin/Getty Images
Tiger had a chance to make birdie at 17, but it slides by on the left. He makes his par.
No matter how much Phil campaigns for it, he's not going to get his wish.
Phil, about his success in the majors: "If six seconds [at the U.S. Open] counted as a win, I'd have all four of them." #TheOpen

— Golf Digest (@GolfDigestMag) July 21, 2013
Detroit News columnist Bob Wojnowski rubs it in Tiger's face.
OK, so Tiger has hit rock bottom. He's now regularly getting out-mentally-toughed by Lefty.

— Bob Wojnowski (@bobwojnowski) July 21, 2013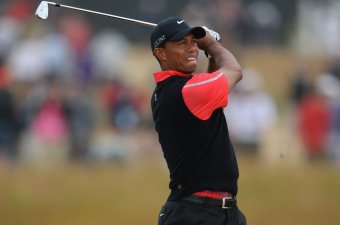 Stuart Franklin/Getty Images
Meanwhile, Tiger makes a par at 16 to remain at two-over for the tournament.
If Phil holds on, look at the list of Muirfield winners.
How 'bout the list of winners at Muirfield: Player, Nicklaus, Trevino, Watson, Faldo, Els and now Lefty?? Incredible. #TheOpen

— Bob Harig (@BobHarig) July 21, 2013
Mickelson is two-under-par after firing a 66. He's three strokes ahead of the field.
Here's something that gets under Tiger's skin.
RT @Steve_Flesch: One thing irking Tiger now more than anything the course could throw at him, the name at the top....Philly Mickelson!

— GC Tiger Tracker (@GCTigerTracker) July 21, 2013
Phil preening as he walks up 18 with a chance for a closing birdie. Tiger fails to make his par and drops back another stroke.
It's going to be a very tough par putt.
Approach to 15 came up a bit short and didn't get a member's bounce. Long birdie putt stays well right, 8-10 ft left for par. #NoBueno

— GC Tiger Tracker (@GCTigerTracker) July 21, 2013
Tiger is just off the green on 15 and he will putt from 45 feet. It doesn't break and he has 12 feet left for a par.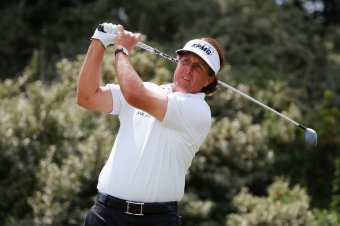 Rob Carr/Getty Images
It's going to be tough to catch Mickelson, who is two-under heading into 18. Tiger hits a sparkling tee shot on 15, but does he have enough game to catch his old rival?
Kyle Porter of CBS looking at massive playoff.
Tiger-Scott-Phil-Westy-Poulter-Zach-Stenson 7-man playoff would be the end of me.

— Kyle Porter (@KylePorterCBS) July 21, 2013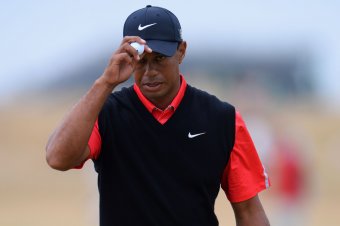 Stuart Franklin/Getty Images
Scott struggling on the 14th, he's got a 15-footer to save par, but he sends it wide right for a bogey. Tiger makes his birdie and is back at one-over.
Brilliant shot on 14 for Woods as his iron shot rolls to within two feet. Nearly a kick-in birdie putt for him.
Good shot on 14 for Tiger.
Nice shot for Tiger off 14 tee that's safely down the right hand side. The way the tee shots have gone today, take what you can get.

— GC Tiger Tracker (@GCTigerTracker) July 21, 2013
Scott is in the dry grass on 13 after an errant tee shot, but he makes a brilliant recovery. Woods leaves his birdie putt short and he remains at two-over par.
Tiger with a nice tee shot on the par 3 13th hole. He will have a chance for back-to-back birdies.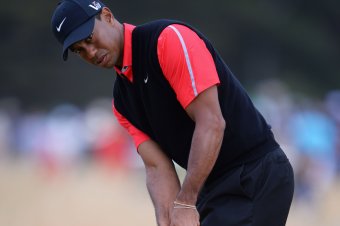 Stuart Franklin/Getty Images
There's some life after all for Woods as he birdies the 12th by draining his 20-footer. He's four behind Adam Scott.
Not only is Adam Scott charging, but so is Phil.
Tiger falling apart while Scott (+ Stevie) and Phil surge up the board...nightmare scenario? #NeedADrink

— GC Tiger Tracker (@GCTigerTracker) July 21, 2013
Golf Channel's Kelly Tilghman offering some perspective on Adam Scott's run.
Adam Scott trying to follow in Jack Nicklaus' bear prints. Winning Open at Muirfield after finishing runner up the year prior.

— Kelly Tilghman (@KellyTilghmanGC) July 21, 2013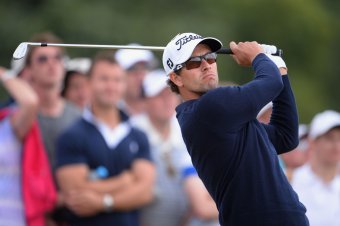 Stuart Franklin/Getty Images
Tiger makes a run at a 40-foot par, but it slides by. He has a bogey and is five back of playing partner Adam Scott.
This article is
What is the duplicate article?
Why is this article offensive?
Where is this article plagiarized from?
Why is this article poorly edited?