One round of the Gold Cup quarterfinals is in the books, and Panama and Mexico have booked their places in the semifinals.
It should be an intriguing matchup. Mexico are the much more established side and have more talent. Given their recent run of performances, you wouldn't back them to beat Panama, though. Panama finished first in Group A, beating Mexico, 2-1, in the process.
Jose Manuel de la Torre has already said the semifinal won't be about atoning for that loss, per Mexican football expert Tom Marshall:
Chepo saying Wednesday's game against Panama is not about revenge: "It's a new game."

— Tom Marshall (@mexicoworldcup) July 21, 2013
The semifinal isn't until July 24, though, and neither team would have gotten that far had they not dispatched their quarterfinal opponent. Here's how Panama and Mexico saw their way through the quarterfinals.
Panama 6, Cuba 1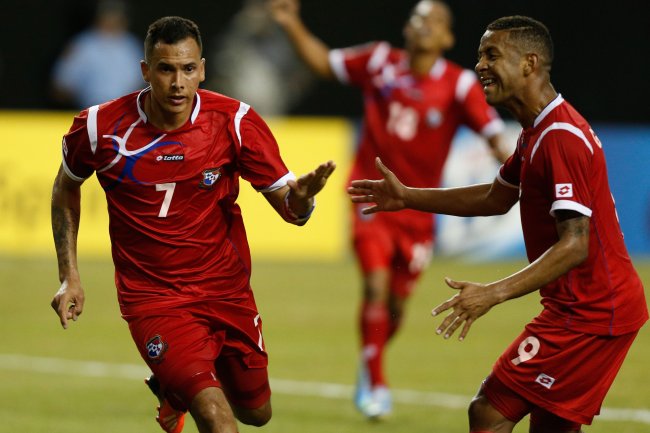 Mike Zarrilli/Getty Images
When Cuba went up, 1-0, in the 21st minute, Cuba coach Walter Benitez was probably feeling pretty good. It took all of four minutes for everything to come undone for the Cubans, though. They surrendered six unanswered goals to fall, 6-1, to Panama in the quarterfinals.
Jose Ciprian opened the scoring with his goal in the 21st minute. Ciprian did a nice job to finish with his right foot on the volley. More credit should go to Jaime Colome for the assist. His ball over the top of the defense did most of the work for Ciprian.
You can see a replay of the goal, courtesy of FOX Soccer:
Goal Cuba! Watch as Ciprian breaks the deadlock against Panama with this strike: - http://t.co/NLb5jnCHBJ

— FOX Soccer (@FOXSoccer) July 20, 2013
In the 24th minute, Renay Malblanche was judged to have handled Marcos Sanchez's shot in the 18-yard box. The referee pointed to the spot, and it was a penalty against Panama. The Cuban players surrounded the official, but their protests were to no avail. The replays showed that Malblanche did hit the ball with his arm. An argument could be made, though, that no penalty should have been called.
Gabriel Torres then struck the penalty kick into the bottom left corner to put Panama level in the 25th minute.
FOX Soccer tweeted a replay of the penalty and subsequent penalty kick:
Goal Panama! Watch as Gabriel Torres equalizes from the penalty spot: - http://t.co/CWxBy5pkAJ

— FOX Soccer (@FOXSoccer) July 20, 2013
The penalty wouldn't be the first time referee Mark Geiger would find himself in the spotlight.
Panama went ahead in the 38th minute on Torres' second goal of the match. It was a rather easy finish as Torres completely lost his marker. He had plenty of time and space to let Blas Perez's header fall to his feet. That let Torres guide the ball with more precision into the bottom right corner.
Here's a replay of the goal, courtesy of FOX Soccer:
Goal Panama! Watch as Torres volleys in his second goal against Cuba: - http://t.co/9NVIWoZScs

— FOX Soccer (@FOXSoccer) July 20, 2013
With his brace, Torres is now tied with Chris Wondolowski atop the Gold Cup goalscoring chart, per ESPN Stats & Info:
Gabriel Torres (Panama): 2 1st-half goals (25' PK & 38'); has 5 goals in tournament (tied for lead with Chris Wondolowski of USA)

— ESPN Stats & Info (@ESPNStatsInfo) July 20, 2013
Any hope Cuba had of getting back in the match essentially ended when Ariel Martinez was sent off in the 58th minute for a high boot on Perez. Whether the foul was enough to warrant a red card is up for debate. It was a situation very similar to when Nani went high on Xabi Alonso in the Champions League match this past season between Real Madrid and Manchester United.
Most were of the opinion that it wasn't a red card then, and most will likely be of the same opinion regarding Martinez's foul now.
Soccer by Ives' Ives Galarcep thinks Perez made the most of the foul:
That looked a harsh red card on Martinez, but you had to know once Blas Perez was involved he was going to writhe around like he'd been shot

— Ives Galarcep (@SoccerByIves) July 20, 2013
However, Seth Vertelney of Goal.com thought it was the correct call:
Good decision by Mark Geiger there. Martinez had his foot up, but then followed through into Perez's leg

— Seth Vertelney (@svertgoalcom) July 20, 2013
Following the sending-off, Panama added four goals. Perez scored in the 78th and 87th minutes, with Carlos Rodriguez and Jairo Jimenez each scoring as well.
While the red card undoubtedly changed the match, Panama were the deserved winners. They had the lead before Martinez was sent off, and had Martinez not left his boot high, he wouldn't have been sent off at all.
Mexico 1, Trinidad and Tobago 0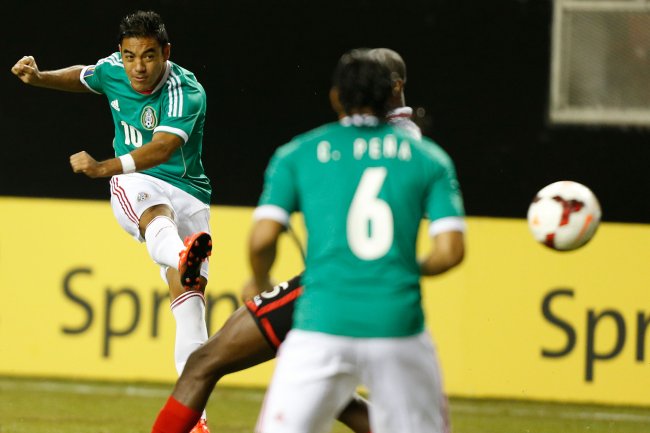 Mike Zarrilli/Getty Images
Mexico will meet Panama in the semifinals after their 1-0 win against Trinidad and Tobago. It was a nail-biter, as it took El Tri 84 minutes to find the goal that would send them through. Much has been made of Mexico's lack of aggression in the final third, and this match will do nothing to silence the critics of Jose Manuel de la Torre.
Most of this match consisted of Mexico penetrating the Trinidad and Tobago backline, only to be thwarted by either poor finishing or Jan Michael Williams. You have to give credit to T&T, though. Despite the talent gap, they fought hard and created plenty of chances themselves.
Trinidad and Tobago had the best chance in the first half to break the deadlock. Andre Boucaud's rocket from the top of the box was knocked away by an outstretched Jonathan Orozco in the ninth minute.
Despite being scoreless for 45 minutes, the first half had some nice end-to-end football. Both teams had chances to score and provided plenty of entertainment.
The second half was much of the same. Trinidad and Tobago were sitting back a little bit more, with Mexico doing the majority of the attacking. However, El Tri looked just as ineffective as they have over the past couple of months. They just didn't show that killer instinct.
Mexico are very good playing with a lead, since they're hard to break down. When having to score a vital goal, though, they get themselves in much more trouble because of their lack of creativity. It was that kind of trouble Mexico were in for the majority of the match. They had the advantage in most of the statistical categories, but the match was still even.
That was, until the 84th minute.
Miguel Layun found Raul Jimenez with a cross, and the forward slid it across the face of goal and into the bottom left corner. At first, it looked as if Jimenez mishit the cross, but he actually did a good job of using the speed of the cross and barely getting a touch on it to direct it into goal.
FOX Soccer tweeted out a replay of the goal:
Goal Mexico! Watch as Jimenez puts Mexico within touching distance of the semifinals: - http://t.co/LmWg0ZmiBp

— FOX Soccer (@FOXSoccer) July 21, 2013
Galarcep had a bit of fun with de la Torre:
Only took Mexico 84 minutes to find a goal, Raul Jimenez makes it 1-0 El Tri, over T & T, 84th minute. Chepo goes "Just like I drew it up"

— Ives Galarcep (@SoccerByIves) July 21, 2013
The Yanks Are Coming thought it was a goal in the making, considering Trinidad and Tobago's defending:
Too much space. Whole game. Not closing out fast enough. Finally bites T and T late.

— The Yanks Are Coming (@YanksAreComing) July 21, 2013
Scoring so late left Trinidad and Tobago with little time to answer. You could see their players' body language changing drastically after that goal. They knew the match was over, and it was just a matter of time before the referee blew his whistle.
FOX Soccer's Kyle McCarthy was very positive in regard to Trinidad and Tobago, while also pointing out that Mexico had yet another underwhelming performance:
Full credit to Trinidad and Tobago for an inspired performance. Ample resolve. Decent shape. Competitive throughout. Deserved extra time.

— Kyle McCarthy (@kylejmccarthy) July 21, 2013
Mexico once again labored to dispatch an inferior opponent. Poor in the second half. Jimenez bails them out though. Improvement necessary.

— Kyle McCarthy (@kylejmccarthy) July 21, 2013
El Tri will definitely need a better showing against Panama if they hope to make it to the final.