There were plenty of interesting things happening on and off the course on Saturday at The Open Championship. While Tiger Woods was battling Lee Westwood for the lead, Woods' girlfriend Lindsey Vonn shared this Instagram photo of a group of guys dressed in tiger costumes following Woods.
The guys were spotted all over the course.
Plenty of Tiger fans at #TheOpen - All the behind the scenes photos are on our Instagram page http://t.co/VLYETyyDQU pic.twitter.com/Z9bvGqBjbH

— BBC Sport (@BBCSport) July 20, 2013
I did not have time to stop and ask for whom they were rooting. pic.twitter.com/hBTnssym3U

— Barry Svrluga (@barrysvrluga) July 20, 2013
They weren't the only ones dressed, via Barstool Sports.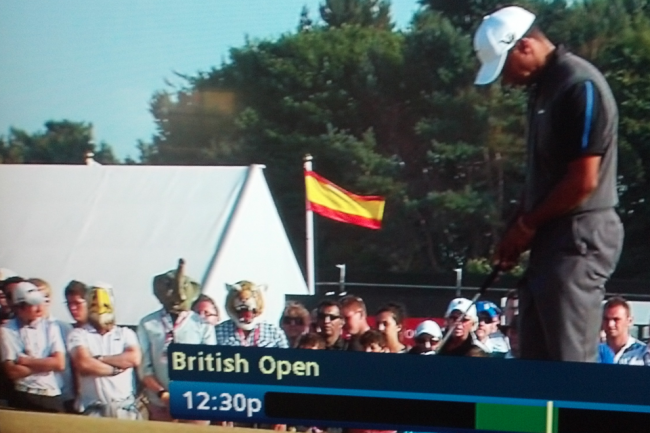 Not a costume, but this guy has some great eyebrows.
Just spotted this bloke on the telly at The Open. Check those monstrous eyebrows :) pic.twitter.com/XtO1y6BgFx

— Morphin Cuba (@morphincuba) July 20, 2013
Woods tees off with Adam Scott at 9 a.m. ET on Sunday.