Tiger Woods at British Open 2013: Round 3 Performance Grades at Muirfield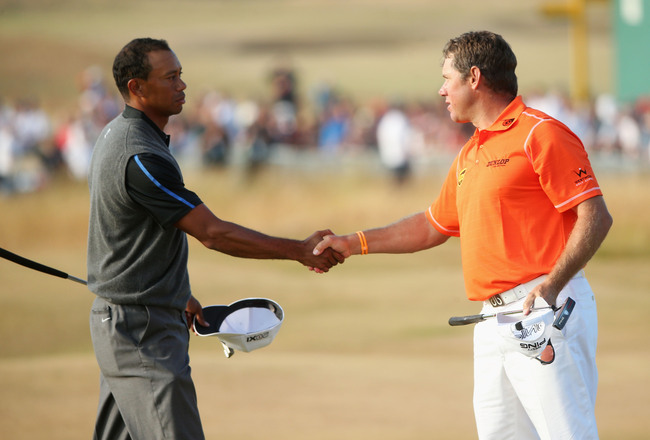 Tiger Woods, Lee Westwood after Saturday's battle.
Andrew Redington/Getty Images
Saturday's third round in the British Open was a big one for Tiger Woods.
He was a shot out of the lead before he started, and when the day ended he was two shots behind leader Lee Westwood.
Obviously, Woods, who hasn't won a major since 2008, is in the spotlight, and he performed admirably to put himself in position for Sunday's final round.
Following is a report card of sorts for Woods and his performance Saturday.
Tee Shots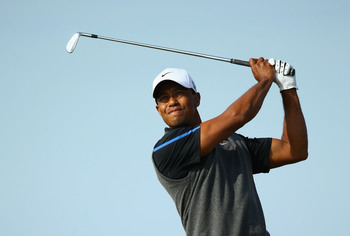 Tiger Woods was spectacular off the tee, setting up the rest of his game.
Matthew Lewis/Getty Images
Woods came to Muirfield Golf Club with a game plan that included very limited use of his driver and he's stuck to it.
He used it once on Saturday, hammering it down the middle of the par-five fifth fairway. Otherwise, he was very good with the long irons and occasional fairway woods he used on the tees.
Obviously, the conditions were very helpful with fairways being as hard as they are. But not everybody has the ability to conjure up the kind of accuracy and distance Woods can.
Grade: A
Iron Play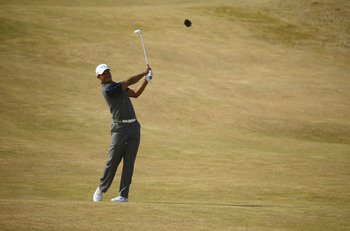 Woods struck his irons well, but had trouble getting the ball close.
Matthew Lewis/Getty Images
On the surface, the assumption is Woods didn't have a great day with his irons. And watching Woods throughout his round, it can't be denied he missed five greens.
He missed a couple short, he bounded one just over the green on the seventh, and missed a couple left and right. He was never able to get the ball close enough to the hole for many reasonable birdie chances.
What must be said, however, is that he wasn't the Lone Ranger out there. Those putting surfaces were tough for everybody and the short list of players under par is testament to the toughness of the day.
Grade: B
Putting
Woods had a good day on the greens, even though he only made one birdie.
Andy Lyons/Getty Images
He'll say he had too many putts in his third round, and because he was in defense mode all the way around the course, Woods had to assume he wasn't going to get many great looks.
He missed a good chance for birdie on the No. 5 and a fairly good one on 16, but there were really no other glaring misses. He made birdies on the second and ninth holes.
On the other side, Woods made a bunch of momentum-saving pars with some clutch saves.
This wasn't a day for thinking about going low, and Woods used some good putting to put himself in good position for Sunday's final round.
Grade: B
Course Management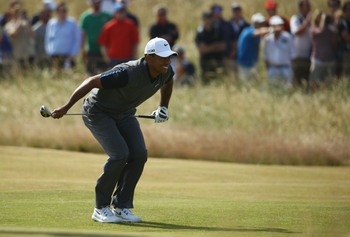 Tiger Woods knew as soon as he hit his second shot on 17 that it wasn't good.
Matthew Lewis/Getty Images
He kept his ball in play all day.
One of the fairways he missed resulted in a second shot that had to be hit from the tall fescue, but he executed that shot without difficulty.
He did make a mental mistake on the par-five 17th. After a good drive with a three-wood, he opted to hit three-wood again in an attempt to reach the green.
Woods didn't hit it as well as he would have liked and found a fairway bunker. That led to a bogey and a two-shot lead for Lee Westwood when the Brit sank a putt from the same area as Tiger's.
Grade: B
Mental Makeup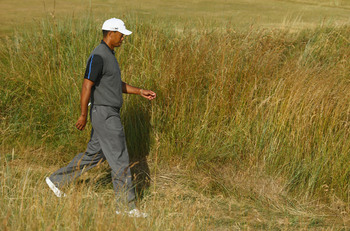 All things considered, it was relatively pleasant walk in the park for Tiger Woods.
Matthew Lewis/Getty Images
For the first time in many major championships, Woods looked like a man comfortable and confident in his ability to handle that situation.
There was none of the tension on his face or in his body language that had been there previously.
He only expressed extreme anger on one occasion, uttering a profanity that has become somewhat synonymous with him.
Playing at such a level has allowed him to become a guy who absolutely has the look of being on the verge of greatness in a major yet again.
Grade: B
Overall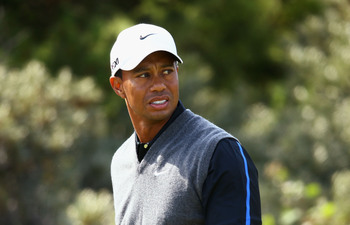 There were few moments of visible concern for Tiger Woods Saturday.
Matthew Lewis/Getty Images
First, this must be said: Woods has never won a major in which he wasn't leading or tied for the lead going into the final round.
He's aware of that and is probably quietly disappointed that he wasn't able to stay tied with Westwood through moving day.
He also knows he's played this difficult course just about the way he wanted. He'll be telling himself he can play it better, and that might be just enough to win.
He got off the tees very nicely. He struck a lot of really good irons, didn't get a bunch of great looks at birdie.
All in all, it was a good performanceone he can build on and contend for the title Sunday afternoon.
Grade: B
Keep Reading