Heading into Day 2 of the 2013 Open Championship, we knew we'd see some separation between those in contention for the title and the rest of the field.
And that's exactly what we got.
On Saturday, Tiger Woods and Lee Westwood installed themselves as the golfers to beat, as the pair managed to stay ahead of the pack despite playing on a course that appears to be only increasing in difficulty as the tournament progresses.
It was a wild day at Muirfield, as Round 1 leader Zach Johnson continued to struggle and finished over par for the second consecutive day.
In general, the scores weren't overly impressive, as the wind and fast greens terrorized the field for much of the afternoon; even the PGA took notice:
How fast is Muirfield? Charl Schwartzel just put his tee shot inside 15 feet at the 448-YARD 15th. #TheOpen #PGATOUR

— PGA TOUR (@PGATOUR) July 20, 2013
Woods and Westwood dueled for the lead throughout the day, and though Tiger had his opportunities to seize the lead, or at least hang onto a piece of it, the Brit managed to secure a two-shot advantage over the 14-time major champion.
Heading into the decisive day of the 2013 British Open, here's a look at the updated leaderboard, as well as highlights and analysis of Round 3.
Leaderboard
*For a complete look at the 2013 British Open leaderboard, click here (via TheOpen.com).
During a back-and-forth day, Westwood's consistency helped him to a 70, while Tiger struggled late and finished the round at plus-one.
Now, as we head into Sunday, despite Westwood's two-shot lead on the field, there are a number of contenders still in the mix for the year's third major, as seven golfers sit within four shots of the leader.
But, at least for now, this is Westwood's tournament (via the Open's Twitter account):
Here's our leader @WestwoodLee on the 13th...another wonderful picture! #TheOpen pic.twitter.com/mSpyu0NCTW

— The Open (@The_Open) July 20, 2013
Woods was looking good for the majority of the day, but after ending the day tied for second with Hunter Mahan, he'll be paired tomorrow with the man that will be looking to redeem himself after a Round 4 meltdown at the Open last year, as Golf World noted:
Tiger Woods (72, -1 total) and Adam Scott (70, Even total) will be in the penultimate pairing tomorrow. http://t.co/1FrDZ6DsMz #TheOpen

— Golf World (@GolfWorldUS) July 20, 2013
For Scott, who sits even after three rounds, tomorrow presents the Masters champion with a chance to at least erase the bitter memories of last year's British Open, while his partner will be attempting to end his five-year major drought, so needless to say, there's a lot riding on the day's second-to-last pairing.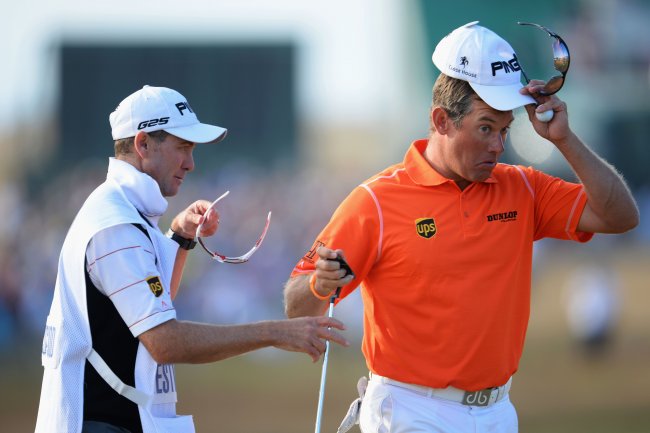 Stuart Franklin/Getty Images
Also in the hunt are Johnson, Henrik Stenson, Angel Cabrera and Ryan Moore at plus-one, and given how unpredictable the first three rounds have been, there's no telling who will be nipping at the heels of Westwood, Woods and Mahan tomorrow.
Today, the turning point seemed to be on No. 5, as PGA.com points out, as Westwood finally put some space between he and Tiger:
Huge roars as Lee Westwood holes an eagle putt from off the green at 5 to take the lead at -3. Tiger two-putts for par, remains -2. #TheOpen

— PGA TOUR (@PGATOUR) July 20, 2013
The eagle seemed to shift momentum back to Westwood, and he never relinquished it (via The Open).
From there, the 40-year-old stayed the course (no pun intended), and after Woods' bogey on 17, he left Muirfield with some much-needed breathing room going into Sunday.
After the round, Woods seemed to be content with how things stand heading into Sunday, and certainly doesn't think he's too far back to catch Westwood, as noted by ESPN.
Early on, Tiger looked to be in control of his own destiny, as he sank this pretty birdie on No. 2 (via The Open).
But it wasn't enough, as Tiger had only one more birdie (and three bogeys) the rest of the day to finish two shots back of the lead.
Now, the sports world's collective attention will turn back to Scotland, as we wait to see if Tiger has a little late-round magic in store, because it's been quite some time since we've seen vintage Tiger Woods on a big stage.