Predicting the Winner of the Chicago Bears Biggest Training Camp Battles
David Banks-USA TODAY Sports

After the seemingly long wait, the Chicago Bears will kick off their training camp this Thursday and hold their first open practice Friday at 9 a.m. in Bourbonnais, IL on the campus of Olivet Nazarene University.
With a new coaching staff and a bevy of players playing with just one year remaining on their contracts, this training camp will be very important for many players on this Bears roster.
While some starting positions are virtually set in stone, many players will be battling it out to add depth to the roster.
Here are the Chicago Bears' five biggest training camp battles:
Begin Slideshow

»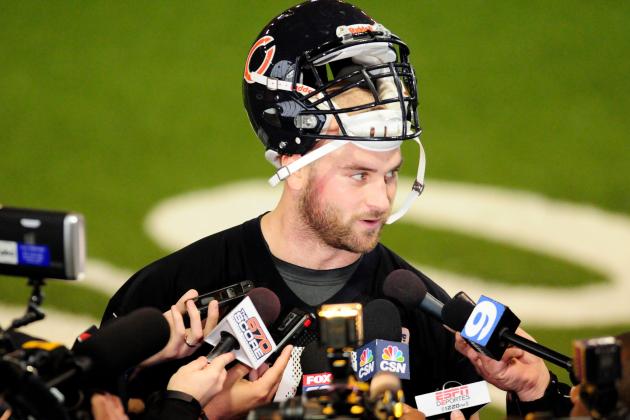 Reid Compton-USA TODAY Sports

Kyle Long vs. James Brown
Since quarterback Jay Cutler's arrival in Chicago prior to the 2009 season, the offense line has been one of the biggest problems the team has faced. Players have bounced around from the left to the right side and veterans and rookies have all had their chances, but no combination has consistently worked.
The organization made a point to improve the offensive line this offseason by signing veteran left tackle Jermon Bushrod and veteran guard Matt Slauson to bolster the left side of the line. After making those additions, general manager Phil Emery then drafted guard Kyle Long with the Bears' first pick in the 2013 NFL draft.
Long's selection caused a bit of confusion within the fanbase, considering he is relatively inexperienced (only making four starts at guard at Oregon) and was pegged by many to be a late first-round/early second-round pick—not the 20th overall pick.
But Emery saw something there that he liked.
Long has incredible athleticism for his size (6'6", 313 pounds), and despite his limited number of starts, he showed the ability to be a pulling guard and to get himself to the second level of defense. He needs to work on his technique, particularly in how he engages a defender; he tends to lunge instead of "manning up" with a would-be tackler.
Long missed the majority of OTAs and minicamps due to a rule that did not allow him to participate until his college semester was over. Given that he is a bit behind in learning the new offense, second-year guard James Brown is primed to take over the position.
Undrafted in 2012, James Brown eventually started three games for the Bears last season and has gotten some high praise from Marc Trestman this offseason (h/t ChicagoBears.com):
James has ascended. He's locked in and he's grown as a player. He's got to face a heck of a defensive line every single day, and that's a good way to get better.
Brown is similar to Long with his athleticism and both likely project more as tackles than guards but considering that last year's first-round pick (Shea McClellin) had little impact, the team will likely be pushing for Long to start.
Winner: Kyle Long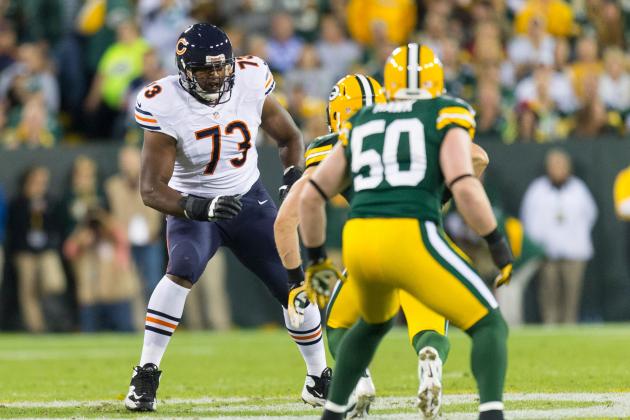 Jeff Hanisch-USA TODAY Sports

J'Marcus Webb vs. Jonathan Scott

After being drafted in the seventh round of the 2010 draft, J'Marcus Webb became the project of now former offensive line coach/offensive coordinator Mike Tice.
Tice saw some good things inside Webb's sometimes flawed game and pushed for him to be a contributor on the offensive line. In the past three years he has started 44 of the team's 46 regular-season games, tied with Roberto Garza for most among Chicago's offensive linemen.
Webb has jumped back-and-forth from right tackle to left tackle, and with the signing of Jermon Bushrod, he will be competing with Jonathan Scott for the starting right-tackle position. He has the athleticism and the tools to succeed but has made his fair share of mental mistakes in the past. In the last three seasons he has had 13 false starts and has allowed 33.5 sacks. No longer does Webb have his top supporter (Tice is no longer with the team); he will have to prove his worth to Marc Trestman and his staff.
The likely top competition for Webb will be veteran Jonathan Scott.
After the poor play of Gabe Carimi last season, Scott jumped in at right tackle and played well enough in seven starts to get re-signed for the 2013 season. The seven-year veteran has started 35 games in his career, including Super Bowl XLV at right tackle for the Pittsburgh Steelers.
Webb's youth and athleticism should give him the upper hand, but Scott impressed Phil Emery enough to be re-signed for this season.
Winner: J'Marcus Webb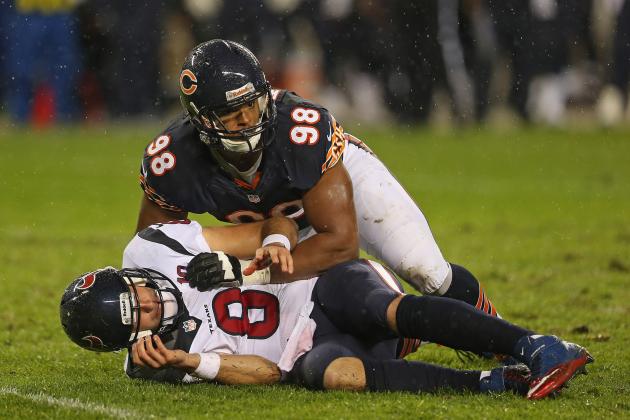 Jonathan Daniel/Getty Images

Corey Wootton vs. Shea McClellin

Heading into the 2012 season, defensive end Corey Wootton was known for one thing: getting the sack that essentially ended Brett Favre's career.
2012 became a breakout season for Wootton who finished with seven sacks after having one career sack combined between 2010 and 2011, and he also finished with two forced fumbles and a touchdown on the return of a blocked punt.
Though still considered a work in progress, the 6'7", 260-pound Wootton has a tremendous combination of size and speed and has shown a great first step that allows him to beat blockers off the snap. He does have a tendency to rush too deep at times, but with the departure of Israel Idonije, he now has a chance to solidify his position along the defensive line. His ability to stop the run haven't gotten him as much praise as his pass-rushing skill, but he does a good job of staying home and getting after the runner.
Being in a contract year could bolster Wootton's numbers, but in camp he will be squaring off against the Bears 2012 first-round draft pick, Shea McClellin.
McClellin suffered through some injuries last season and only registered 2.5 sacks and seven solo tackles through 14 games as a situational pass-rusher. His quick first step and burst off the line of scrimmage is a plus, but he got manhandled at times by stronger offensive lineman.
He was nearly a liability at times in run defense last year and will need to work on that during training camp.
It appears that the Bears still view McClellin as more of a situational player who can fill multiple roles. He will likely not be penciled in as the starter at the start of the 2013 season.
Winner: Corey Wootton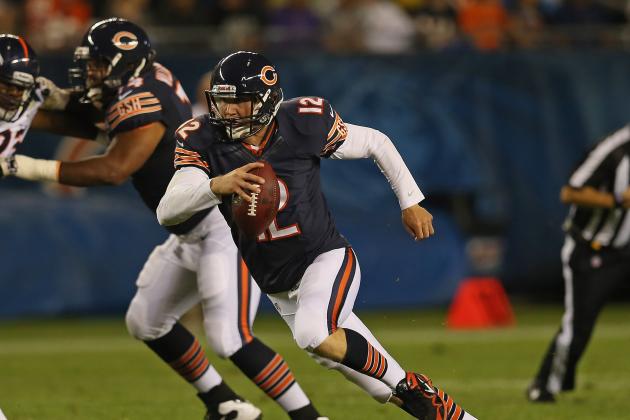 Jonathan Daniel/Getty Images

Josh McCown vs. Matt Blanchard
In 2013, as in recent years, there is little argument that the Chicago Bears will go as far as Jay Cutler can take them.
In his last three seasons, he has missed eight games, and the Bears have gone 2-6 in his absence. Last season the team paid Jason Campbell big money to backup Cutler, but Campbell struggled in his relief duties of Cutler.
Still, the team decided to head into the 2013 season with what they had on its roster.
Veteran Josh McCown collected one of those two wins in relief of Cutler during the 2011 season. After being cut before the start of 2012, McCown eventually made his way back onto the roster near the end of the season.
This year, the Bears have brought back McCown with the expectation that he'll back up Cutler.
Cutler has not been shy in revealing what McCown means to him, saying to the Chicago Sun-Times:
There are so many different aspects to what he brings to this team, especially for me, he's been in a lot of different situations, and he's been in the league a long time. He's had success, he's had down years, and he's just a positive guy.
While keeping Cutler happy is a plus, McCown has also shown the ability to run an offense, and he is athletic enough to move outside the pocket.
His only competition in camp will be former undrafted free agent Matt Blanchard.
After impressing the Bears' coaching staff during last year's rookie minicamps, Blanchard was signed and placed on the practice squad to begin the 2012 season. He was released in early December but was re-signed in January and is expected to be the team's third-string quarterback heading into the 2013 season.
He participated in the team's rookie minicamp this season and got high praise from new quarterbacks coach Matt Cavanaugh who said to CSN Chicago:
He's got all the physical tools. He's got mobility, a strong arm and can make plays with his legs. Now he's just inexperienced so preseason is going to be huge for him.
While preseason will be very important for Blanchard moving forward, McCown's experience will likely keep Blanchard as the team's third quarterback this season.
Winner: Josh McCown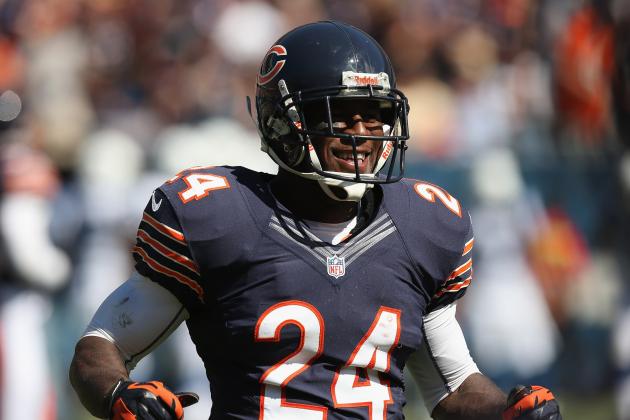 Jonathan Daniel/Getty Images

Kelvin Hayden vs. Isaiah Frey

Following the demotion of D.J. Moore early in the 2012 season, veteran Kelvin Hayden slid into the nickelback role and played well at times, finishing the season with 37 tackles, an interception and five passes defensed.
While no one would argue that Hayden is an elite cornerback, his experience makes him a valuable asset to the team in 2013. While there are a few younger cornerbacks like Sherrick McManis and Zackary Bowman who could push Hayden, second-year man Isaiah Frey may give him the biggest push.
Selected in the sixth round of the 2012 draft, Frey spent the majority of the season on the Bears' practice squad.
At 6'0" and 190 pounds, he has ideal size for the position but is still considered a raw prospect. At Nevada he showed good quickness and athleticism but often struggled while playing press coverage up on the line of scrimmage.
Frey did see some time with the first-team defense during minicamps. But he will need to work on being more physical at the line of scrimmage and will also need to work on not giving up so much space off of the line of scrimmage, as he tends to drop back rather than engage.
Getting another training camp to work with defensive backs coach Jon Hoke could help him push Hayden for more playing time but he will likely start the season behind Hayden on the depth chart.
Winner: Kelvin Hayden