WWE Smackdown: 5 Storylines to Watch for 7/26/13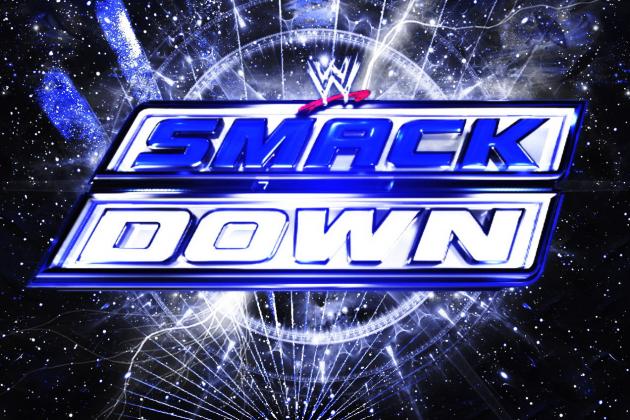 WWE.com
With SummerSlam creeping up on us, WWE is starting to get very interesting. Numerous storylines are running parallel and even crossing over into one another. It is a great time for storytelling in WWE.
And on top of that, some of the best workers in the company are the ones being featured prominently. Daniel Bryan, CM Punk, Dolph Ziggler, The Shield and AJ Lee are all involved in major angles right now, and they are the ones who can put on the best matches week after week.
WWE is about to embark on an international tour, so they are taping an extra week of Raw and two weeks of SmackDown all before they head out overseas, so if you like to read spoilers, you are going to know what is ahead for the next few shows.
If you don't like spoilers, then you are in the right place. This slideshow will examine five storylines to watch for on SmackDown this week, spoiler-free!
Begin Slideshow

»
The Shield have been bouncing from feud to feud since being taken out of the main event mix, and right now the targets in their crosshairs are The Usos and Mark Henry.
While you would think a common enemy would unite Henry and The Usos against The Shield, it was made clear on Monday that Henry is all about Henry. During the brawl between the six men, Henry grabbed one of the Usos and threw him aside so he could get to The Shield.
This means we are less likely to see a six-man match at SummerSlam. What will most likely happen is two title matches for the U.S. and Tag titles.
SmackDown should give us a better idea of where things are headed. If we start seeing Henry and The Usos team up to take on The Shield in matches on Raw and SmackDown, then they will probably be in separate matches come SummerSlam.
Friday should provide us with a little clarity as to where these two parallel feuds will go.
Dolph Ziggler, AJ Lee and Big E Langston are in their own little world right now, and AJ Lee is the crowned queen of crazy in their kingdom.
Even after being clearly upset by Ziggler on Monday, AJ still seemed willing to jump to her next romantic prospect by giving Langston the look that usually makes men fall for her. The big man did not fall so easily, but it is still early.
Langston and AJ do not seem destined to end up with each other, but he will probably remain a big brother character to her for the time being.
What really matters now is the match that will come from this feud. Langston and Ziggler are both very gifted athletes, and together they might be able to surprise a lot of fans and steal the show at SummerSlam.
The new Total Divas reality show is a big priority for WWE right now, as it is their way of breaking into a new form of entertainment, and with the premiere of the show being this Sunday, you can expect something from the Divas this Friday.
Monday featured all of the Divas who will be featured on the show in the ring for a painful segment, and I am not talking about the pain Jerry Lawler suffered from Eva Marie's slap.
(By the way, what was that? Lawler seemed genuinely shocked to be called into the ring by Miz, and he seemed even more perplexed when he was leaving the ring.)
Anyway, the Divas might not be the brightest spot in WWE right now, but the Divas reality show is not meant to appeal to just wrestling fans. This is WWE's way of getting all of those reality TV fans to tune into their product.
The sad thing is this show will probably be a huge hit. Reality shows about women who do nothing but backstab each other are very popular, and what women know how to backstab each other better than the WWE Divas?
The smark in me wants this show to go away faster than Kizarny (remember him?), but the businessman in me wants the show to succeed for the betterment of WWE as a whole. It is a very confusing position to be in as someone who hates reality TV but loves WWE.
Curtis Axel is a very talented wrestler who has struggled to find the same level of success as his father, and some of the blame for his difficulties can be put on how WWE treats his family's legacy.
At first he was saddled with a terrible name, Michael McGillicutty, which was designed to distance him from being the son of Mr. Perfect. It was supposed to give him a chance to succeed on his own.
When that didn't work, WWE went in the opposite direction. Instead of ignoring his family legacy, they embraced it too much by combining his father and grandfather's names into Curtis Axel.
What's wrong with the name Joe Hennig? It lets everyone know that he is Curt Hennig's son without playing into it too much.
This Friday will likely feature Axel doing the same thing he has been doing since winning the IC title, and that's treading water.
Having Paul Heyman by his side as a mouthpiece has worked out pretty well so far, but there needs to be a great storyline to help him get over. Hopefully Friday puts something in motion for Axel heading into SummerSlam.
Vickie Guerrero is back in control of SmackDown after being appointed the permanent GM by Vince McMahon last week, but that doesn't mean she can just rest on her laurels.
Teddy Long and Booker T are now without jobs, and you can expect them to be looking for ways to get back in control of SmackDown.
Whether Teddy and Booker work together remains to be seen. They were having some friction before Booker took some time away, but with how long it has been since then, WWE might ditch the storyline animosity between them so they can work together to take Vickie down.
Friday marks just about the halfway point between Money in the Bank and SummerSlam, which means WWE will be working hard to develop the rest of the storylines that will make up the SummerSlam card.
Friday's show should be interesting with all of the different angles going on right now. Which one are you most excited about?
Thanks for reading and follow me on Twitter @BR_Doctor.