Tiger Woods at British Open 2013 Tracker: Day 3 Score, Highlights and Analysis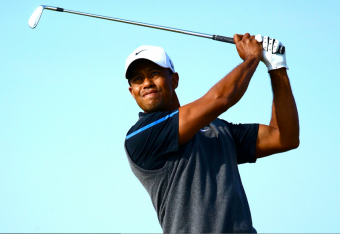 Tiger Woods is going to have to do something he has never done before if he is going to pick up the Claret Jug. He is going to have to come from behind to do it.
Woods has never won any of his 14 major championships by coming from off the pace. He has always been leading by himself or had a share of the lead when he has been victorious in a major.
Woods shot a 72 in the third round of the British Open, while playing partner Lee Westwood fired a 70 to take a two-stroke lead. The pair dueled throughout their moving-day round, but Westwood took charge on the 17th hole when he birdied the par 5, while Woods found a fairway bunker and had to settle for a bogey.
Westwood is three-under-par for the tournament, while Woods is one-under par. Hunter Mahan also sits at one-under, and since he finished his round earlier than Woods, he gets the advantage of playing in the final pairing with Westwood.
Woods will play with Masters champion Adam Scott in the penultimate pairing of the championship. Scott was one-under for the day and he is even-par for the tournament.
Woods may not have a share of the lead, but he showed much improvement by playing well in a weekend round of a major, something he has not been able to accomplish during his five-year major dry spell.
Buckle up for a scintillating final round.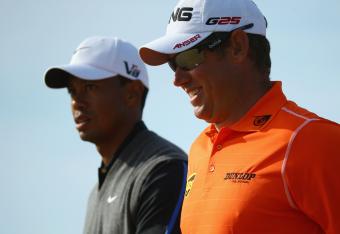 Westwood's difficult putt comes close, but he has to settle for a par.
Woods lines up his putt and studies it hard. It's got the line, but he leaves it short and he has to settle for a closing par.
Westwood fires a 70 and has a two-stroke lead. Tiger shoots a 72 and he is two strokes behind heading into the final round.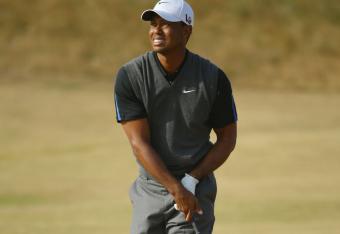 Woods has hit a sensational second shot, right on the green. He will have an excellent chance at a birdie.
Westwood seemed a bit unsure as he stepped away from his ball before hitting, but he is on the green as well. He has a more difficult putt than Woods.
Huge ovation as both men stride up the 18th fairway.
Woods responds to the deficit with a perfect tee shot on 18. He needs a birdie to put some heat on Westwood at the start of the final round.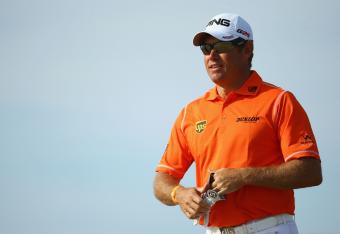 Tiger lines it up for left-to-right break, but the putt stays left. Westwood drains his birdie putt and he's got a two-stroke lead as Tiger makes his bogey putt.
Huge swing on the last two holes. Westwood takes advantage of his opportunity; Tiger does not.
Jimenez with a double bogey on 16, and that makes him five-over on the day and two-over for the tournament. Tough day for the Spaniard.
Woods gets out of the bunker and his fourth shot ends up just past the edge of the green. He will have to make a sensational putt to make par.
Westwood and Woods are in the same vicinity, but Tiger needs his for par while Westy is going for birdie.
Woods' tee shot on 17 was a low burner that impressed Yahoo.com golf writer Shane Bacon.
Wow, what a cool shot by Tiger off the tee on 17. Ball got about 2 feet off the ground with fairway wood.

— Shane Bacon (@shanebacon) July 20, 2013
However, Woods' second shot found the bunker.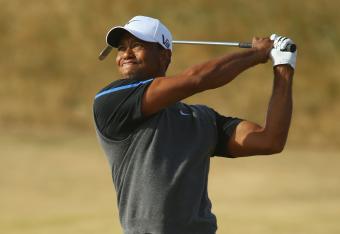 Woods with a solid 3-metal on the 17th and is in excellent shape to attack this par 5 hole. Westwood also powers his drive down the middle.
Westwood is having big problems on 16. He had an awful lie on his second shot and his ball did not reach the green. He takes his putter from off the green and gets it up the hill, but he is woefully short. He'll need to make a 20-footer to make bogey.
Woods reads his putt and calmly strokes it, but it stays one ball length outside the cup. It's a kick-in par.
Westwood makes a saving bogey putt and the two men are tied for the lead once again.
That was a terrific save for Westwood.
Don't forget about Masters champion Adam Scott. He has been steady and is in contention.
Adam Scott recorded 2 9's of 35 for a total of 70. His round included 3 birdies, 2 bogeys & many pars. He is Even par for the week #TheOpen

— The Open (@The_Open) July 20, 2013
The pairing of Woods and Westwood hit the finishing three holes with the dangerous par 3 16th.
Westwood hits his ball into the left rough as the course marshals look for it and find it. Woods takes his time and re-tees the ball and hits a sensational shot directly at the flag. He appears to be less than 15 feet from the flag.
A birdie here would tie him for the lead, if Westwood can make his par.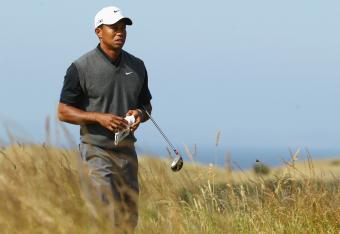 Tiger's approach shot was well-struck, but it would not stop and ended up at the back of the green. He made a fine run at it, but it slid off to the left.
He makes his par, and that's six straight on the back nine for him.
Westwood's birdie putt slides by and keeps on going. It's a tough par putt and he drops into the center of the cup.
Westwood took the honors on the 15th hole after his birdie and drove the ball right down the middle on the 448-yard, par-4 15th hole.
Woods also hit his drive in perfect position and both men will take aim at the flag on their second shots.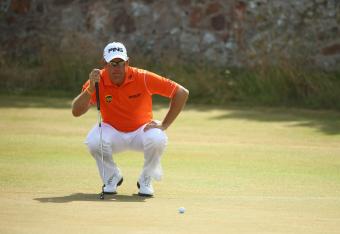 Tiger makes a great shot out of the bunker, gets the ball out of the hazard and should be able to make his par putt.
Westwood makes his birdie into the heart of the cup. He is back into the lead once again.
Tiger studies his par putt carefully and makes it. He is one stroke down going into the 15th hole.
The par 4 14th is one of the hardest landing areas on the course. Westwood negotiates it well and is just a few feet from the hole.
Tiger's shot skitters into the bunker and it's a deep and difficult one. He'll have to be very good to get his par. Westwood has an excellent chance at taking the lead once again.
Tiger missed an excellent birdie opportunity on the 13th that would have given him the lead. You have to wonder when he is going to take charge.
Golf Channel did not think Tiger made a great effort on his birdie putt.
Not a good roll there. Easy par but never got on line properly. First par on a par 3 all day.

— GC Tiger Tracker (@GCTigerTracker) July 20, 2013
Westwood's birdie putt drifts off to the right, leaving him with a short par putt.
Tiger studies his putt carefully and it never had a chance. It started left and stayed left. Both men par the 13th.
The 13th hole is a par 3, 190-yarder. Woods sends it out to the right of the hole and the wind draws it back to the hole. He is in excellent position to make a birdie right here.
Westwood's shot went left, but he got a fruitful carom off the ridge. He has a decent birdie putt as well.
Golf Channel liked Tiger's shot on 12, even if the golfer himself was not impressed.
Approach here at 12 is fine, but it'll be a long, long birdie attempt - 50 feet or so. Will do good to two-putt this one.

— GC Tiger Tracker (@GCTigerTracker) July 20, 2013
Tiger missed his birdie putt and so did Westwood. Both men made their par putts once again.
Tiger was not happy with himself for his approach shot on the par 4, 12th. However, he's on the green and he has a shot at a birdie. Westwood was a bit short with his wedge and he's in front of the green. He can putt if he wants to.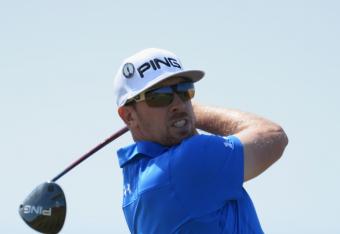 Great finish for Hunter Mahan with a 68. He is one-under after three rounds and one back of Woods and Westwood.
Westwood did not take advantage of his birdie opportunity and slid it by the right side. Will Tiger make him pay on the 12th hole?
Tiger gets it out of the heavy stuff and he will be able to use his putter on his third shot, but he's 40-plus feet from the hole. Westwood hits his second shot to within eight feet and he has an excellent shot to go back into the lead if he can handle his business with his putter.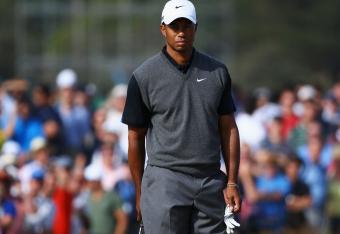 Tiger's tee shot on 11 goes way left and he is in the tall rough. He will have plenty of green to work with, but it depends on the lie he has to work with.
Westwood makes an excellent run at his birdie, but it slides by to the right. That putt gives Tiger a read on his line.
Tiger appears to have the right line, but his ball stays to the left and he has to settle for a par. Both men make par.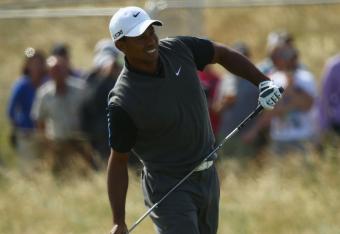 Special shot from Tiger Woods on the 10th. He lashes his second shot on a right to left path and his ball is less than 10 feet from the flag.
Westwood hits a decent ball, but he is just off the edge of the green.
This article is
What is the duplicate article?
Why is this article offensive?
Where is this article plagiarized from?
Why is this article poorly edited?