Complete Report Card and Predictions Following WWE SmackDown for 7/19/13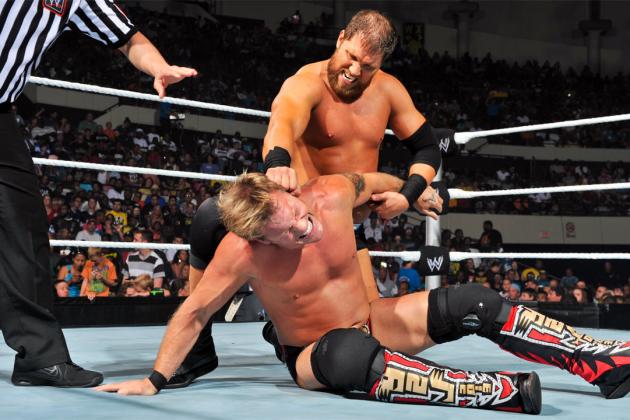 (Photo from WWE.com)
Even if fans read the spoilers, Friday's WWE SmackDown was well worth watching.
Fans in Providence, R.I., saw two great matches as Randy Orton took on Alberto Del Rio and Curtis Axel defended his Intercontinental Championship against Chris Jericho.
Paul Heyman gave another excellent performance. Rob Van Dam returned to Friday nights for the first time in several years.
The entertaining show began with Vince McMahon hiring a new General Manager for SmackDown. With the results, grades and predictions going forward, here is the SmackDown report card for the July 19 episode.
Begin Slideshow

»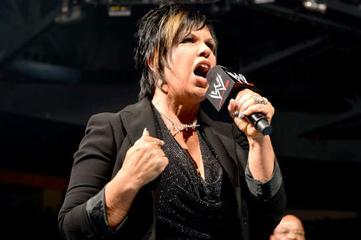 (Photo from WWE.com)
With Brad Maddox getting the call to be the General Manager on Monday nights, Vince McMahon wanted to solidify the same position on WWE SmackDown.
Teddy Long opened the segment, saying he wanted to be the permanent GM after serving as the stopgap man for the job over the last few weeks. Booker T made his return and wanted to claim his position back.
McMahon explained that "only one person can be in charge of SmackDown."
Maddox hurried in to throw his hat in the ring. He apparently wants to be in charge of both shows. However, McMahon had a different direction in mind. He chose Vickie Guerrero.
Guerrero churned up some good heat from the crowd, as she scolded them for getting her fired from Raw. Showing that she does indeed hold a grudge, she slapped Maddox's face backstage like Miguel Cabrera hitting a fastball.
Grade: B+
Surprise powered a segment that furthers the McMahon storyline and makes the SmackDown GM situation an intriguing one going forward.
Prediction
Triple H will replace Vickie on SmackDown shortly to continue the back-and-forth power struggle between the McMahons.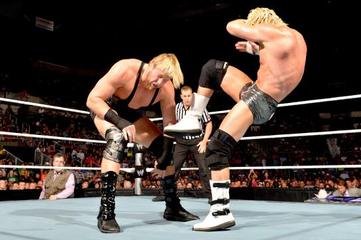 (Photo from WWE.com)
Looking to regain his focus and shake off the stink of his lost against Alberto Del Rio at Money in the Bank, Dolph Ziggler took on his former tag team partner, Jack Swagger.
Antonio Cesaro and Zeb Colter stood at ringside, slipping in unseen blows before the referee threw them both out.
After that move, Ziggler was not far from victory. He survived Swagger's ankle lock, grinding through the pain of that hold to grab the bottom rope. A moment later, he hit the Zig Zag for the three-count.
Ziggler favored the leg that Swagger had, as the referee raised his hand in victory. He told AJ, who was watching backstage that he was sorry that he didn't break up with her "a hell of a lot sooner."
Hearing that, AJ exploded in anger. She tossed chairs around and screamed until Langston held her tenderly. It looked like he was going to join the long list of men who have tongue-kissed her, but, instead, kissed her on the forehead.
Result
Ziggler won via pinfall in a short match.
Grade: B-
The match was hurried, but the story between Ziggler, AJ and Langston is gaining intensity.
Prediction
AJ will cost Ziggler his match against Big E. Langston at SummerSlam.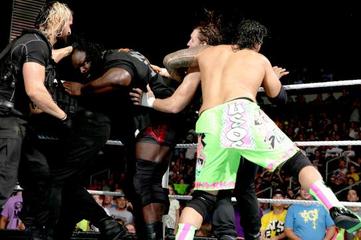 (Photo from WWE.com)
What looked to be rematch of the Money in the Bank pre-show turned into a six-man brawl.
The Usos attacked Roman Reigns and Seth Rollins with a flurry of punches. Dean Ambrose jumped into the pile and held up one of the Usos while Reigns slugged him.
Mark Henry soon came down to the ring to even the sides. Henry cleared the ring in impressive fashion, and The Shield cowered in retreat.
Result
The match descended into chaos before it officially began.
Grade: Incomplete
This fracas should lead to something interesting in the future, but was over too fast to entertain in the present.
Prediction
Look for a six-man tag match between these men at SummerSlam.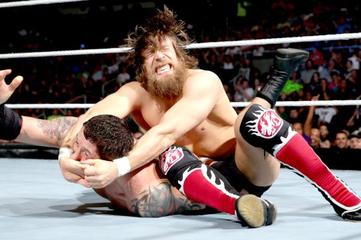 (Photo from WWE.com)
The match that reportedly, per F4WOnline (h/t WrestlingInc.com), got cut from Monday's WWE Raw saw little time on SmackDown.
Barrett lost in rapid fashion, continuing his downward spiral. Bryan's career is the inverse of his. After suffering a few knees and forearms from Barrett, Bryan slid out of his grasp and clamped on the No! Lock for one of many recent wins.
This was clearly designed to make Bryan look like a legitimate contender against John Cena at SummerSlam, but with how weak Barrett has been made to look lately, the win doesn't have very big of an impact.
Result
Bryan won by submission.
Grade: C-
This was a glorified squash match to help propel Bryan towards his match with Cena.
Prediction
Barrett doesn't get a win before SummerSlam.
Paul Heyman appeared on Miz TV, but Miz was too disgusted with Brock Lesnar's advocate to interview him. He told Heyman, "I have nothing to ask you. You're beneath contempt."
Heyman took the microphone and proceeded to sell the Punk and Lesnar feud masterfully.
He called Lesnar a "merciless emissary of suffering" and said that Punk would be better off staying down and going home than fighting his client.
Miz was revolted by having to share the ring with Heyman and left the set just as Curtis Axel made his entrance.
Grade: B+
Heyman delivered another excellent promo, though one with less intensity and poetry than his performance on Monday night.
Prediction
Punk will begin his quest for vengeance against Heyman by attacking Axel on Monday.
The Intercontinental Championship was on the line in Chris Jericho;s last match for the near future. Fozzy's tour takes him out of action for the next few months at least, and to no one's surprise, Jericho had a great showing on his way out.
Jericho had the early momentum, but Axel's power helped him take control.
A fluid, well-worked match featured Jericho hitting a bridging Northern Lights suplex, Axel turning the Codebreaker into a powerbomb and Jericho narrowly missing out on another IC title win after he hit a Lionsault, but took too long to go for the cover.
Axel's top three matches have been against Jericho, and this one was the best.
Ryback came to feed on Y2J once the bell had rung. He clobbered Jericho with a thunderous clothesline followed by the Shell Shocked.
Result
Axel won with the Hangman's facebuster.
Grade: A-
The match of the night sent Jericho off in style and now gives Axel a big boost of momentum.
Prediction
Axel will hold the IC title for the remainder of 2013.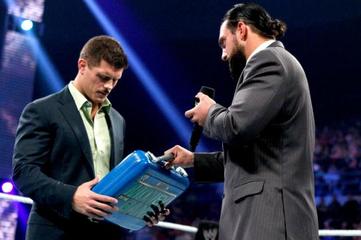 (Photo from WWE.com)
The winner of the World title Money in the Bank briefcase tried to explain his actions on Sunday. Damien Sandow rebuffed criticism that he'd done something wrong by taking out Cody Rhodes, but still said that "forgiveness is an attribute of the strong."
Sandow said that the audience, which he referred to as "knuckle-dragging halfwits," couldn't understand what went on in his head that night.
Rhodes came down to the ring, and judging by the scowl on his face, he didn't have much forgiveness to offer. Sandow asked Rhodes to be the protector of the briefcase, and the former IC champ responded by clocking Sandow with the case and landing a number of solid punches.
Grade: B+
Sandow got to gab, and Rhodes looked strong beating his former best friend down. A solid segment furthered the feud well.
Prediction
This feud with Sandow will end with Rhodes going from underappreciated to properly appreciated.
An interesting pairing had the beloved vet Rob Van Dam go up against Darren Young of the Prime Time Players.
Young showboated after just about every offensive move. He mocked Van Dam's signature hand gesture, but got down to business as well.
He battled hard against Van Dam who used his high-flying and kicks to overcome "Mr. No Days Off." Van Dam delivered again, though not as fantastic a match as he had against Chris Jericho on Monday.
Result
Van Dam hit the Five-Star Frog Splash for the win.
Grade: B+
Young and Van Dam produced a fun match that had Young look good while highlighting Van Dam's return to Friday night.
Prediction
Van Dam's winning streak extends to at least five.
The world champ met the WWE title Money in the Bank ladder-match winner in a clash worthy of the main event.
Del Rio was the aggressor for the most part. He stomped on Orton, attacking him like a rabid animal. He pulled at his face and wrenched his arm.
Orton fought on with his left arm limp at his side, eventually landing a gorgeous dropkick to Del Rio in mid-air. Del Rio mocked his opponent, mimicking Orton's mat-punching routine and going for the RKO.
Theirs was an intense match, even without the heat of a rivalry—two great performers delivering an elite performance.
Result
Orton wins with the RKO.
Grade: A
The post-Money in the Bank week ends with a pay-per-view quality bout.
Prediction
Del Rio and Orton feud over a major title in the future.