Worst Robberies from First Half of 2013
Kyle Terada-USA TODAY Sports
Like any sport with referees and officials, MMA has its share of robberies. As we scan the first half of the year, we can say that there have been surprisingly few of note in 2013, thankfully.
Most of the fights that make this list were close fights and could be argued one way or another. But that can't be said for all of the fights.
Here is a breakdown of the worst robberies of the year so far.
UFC 161: Tyron Woodley Against Jake Shields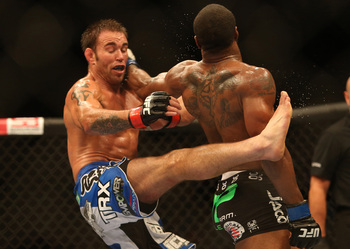 Tom Szczerbowski-USA TODAY Sport
Tyron Woodley had a perfect start to his UFC career with a stunning 36-second KO of Jay Hieron, which is why his split-decision loss to Jake Shields is all the more unfortunate.
Shields is a fighter on the slide, and against Woodley, he failed to recapture the diversity of skill that helped him win the Strikeforce title at this weight division.
Having gone up a weight class and then down again, Shields was dominated by Woodley but still took a split-decision win. One of the worst robberies of the year.
UFC on FX: Belfort vs. Rockhold, Evan Dunham Against Rafael dos Anjos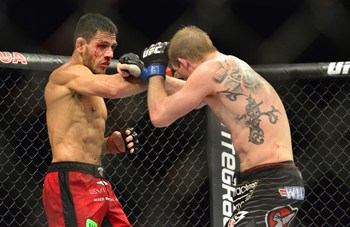 Jason da Silva-USA TODAY Sports
This is one of those in which the fighter paid the price for leaving it in the hands of the judges. UFC president Dana White was quick to call it a robbery moments after the fight, but you could argue that's overstating it a bit.
The No. 10-ranked lightweight, Rafael dos Anjos, gave Dunham a hard fight, and despite Dunham's protestations, he didn't do enough to convince the judges on all three score cards.
However, even the dissenting judges gave it 29-28, showing you just how close the contest was. Still, Dunham was the better fighter in that contest—of that there is no doubt—and he was denied a victory he'd done enough to deserve.
Strikeforce: Marquardt vs. Saffiedine, KJ Noons Against Ryan Couture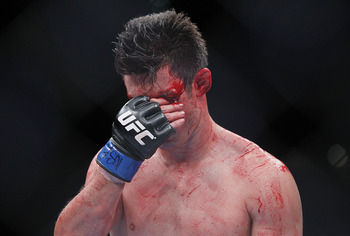 Gary A. Vasquez-USA TODAY Sports
Strikeforce had been bought by the UFC in 2011, and for most of 2012, its roster of fighters waited patiently to know their fate.
Eventually it was announced that the promotion would be dissolved and Strikeforce: Marquardt vs. Saffiedine would be the final event.
All of the fighters on the card knew they were fighting for their careers, including K.J. Noons and Ryan Couture.
Noons had gone 1-3 and was struggling to regain the momentum that led him to the EliteXC lightweight title. But against Couture, he rose to the occasion.
He dominated Ryan Couture for three rounds and out-landed him in most striking exchanges. However, the judges saw it the other way.
After losing the fight, Noons said he had the Oklahoma State Athletic Commission admit he deserved to beat Ryan, but that must be poor consolation.
UFC on Fuel TV: Silva vs. Stann, Takanori Gomi Against Diego Sanchez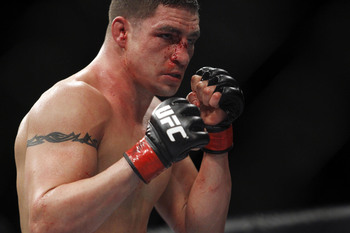 Matt Ryerson-USA TODAY Sports
Diego Sanchez had already missed weight on fight night, coming in at 158 pounds the night before. In the end, the match was fought at 158 pounds catchweight, and the Japanese fighter Takanori Gomi was the home-crowd favorite.
Gomi was coming off of two wins and was coming back into the lightweight picture, fighting a slow, uninspired Sanchez. Gomi was the better fighter on my scorecard for all three rounds.
The judges, however, disagreed and awarded the fight to Sanchez.
UFC on Fox: Henderson vs. Melendez, Lorenz Larkin Against Francis Carmont
Kyle Terada-USA TODAY Sports
Lorenz Larkin came into his UFC debut with a formidable record. His 12-0 (1) record was blemished by a KO loss to a 'roided-out Muhammed Lawal.
Francis Carmont had an even more storied career. He was riding a formidable 10-fight winning streak and had gone undefeated in four fights in the UFC. But against Larkin, he had met his match.
Admittedly, neither fighter amazed anybody, but Larkin was clearly the better fighter. Carmont looked apathetic, and his gas was spent by the third round. He'd come into the fight in bad shape and Larkin took the fight.
But for some reason, the judges gave it to Carmont in one of the most inexplicable decisions of 2013.
Keep Reading