The 18 Best Pictures From Darlington Raceway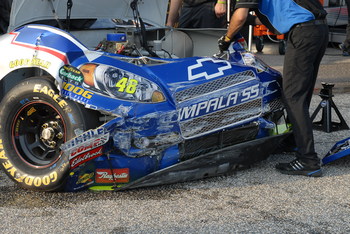 All pictures were taken by David Yeazell.
There are some days when you just don't want to be bothered. Today seemed to be one of those days.

The Lady In Black set the tone early, and made it clear today was not the day she wanted to be bothered.

On only the third lap of practice for the Nationwide series, the ol' girl slapped her first victim.

Throughout the day, she would smack around a record number of drivers.
She didn't play favorites, either. She was just as mean to the Sprint Cup boys as she was to the Nationwide boys.
Saving the best for last, she would, for the second year in a row, send Jimmie Johnson into the wall, not just one wall, but two of them.
In this first picture, you see the damage to JJ's car. The back end is just as bad.
Darlington Roll On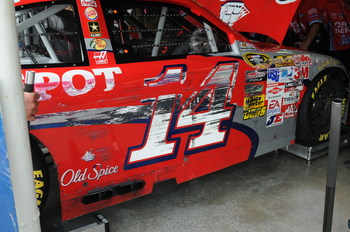 Tony Stewart was the first of the Sprint Cup regulars to be striped.
Hard work by his crew paid off, as Stewart qualified in the top 20.
Franchise Player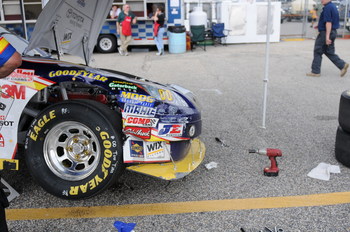 The double 00 was another victim of the Darlington wall.
I guess being a franchise doesn't mean anything to the Lady In Black.
Busch'ed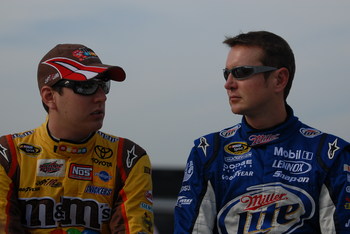 The brothers Busch discuss strategy before qualifying.
Is That Tom Cruise?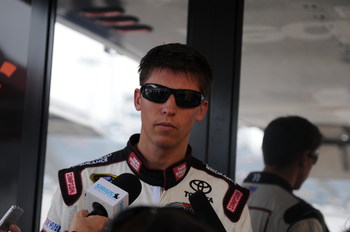 Denny Hamlin breaks out the Hollywood look while being interviewed by the media.
Whats In A Name?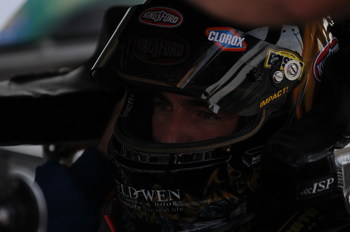 Marcos Ambrose wonders if "Impact" racing was such a good idea for a sponsor.
Not a Gillette Young Gun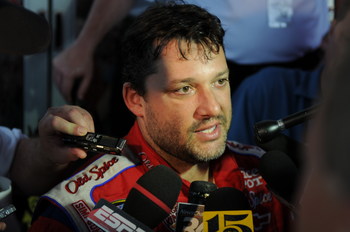 Bright eyed and bushy faced, Tony Stewart addresses the media after final practice.
Jeff Gordon is not listening.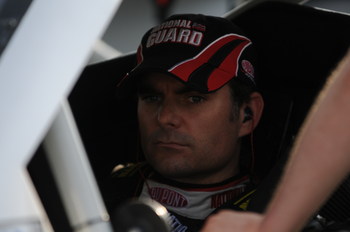 Ear plugs in place, Jeff Gordon puts on his game face before qualifying.
Too Many Jr.'s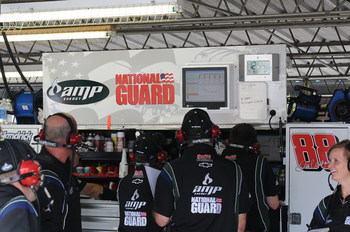 Tony Eury Jr. and his crew members, except for the girl, check the speed chart to see where Earnhardt Jr. is located.
His location wasn't that good, and his qualifying effort wasn't much better.
My Favorite Martin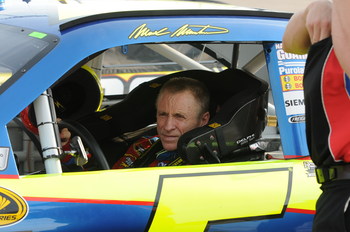 Before Mark Martin was swallowed up by his seat, he qualified the car in 12th position.
Marco? Polo?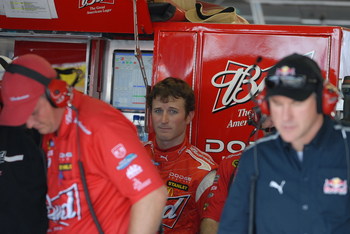 Kasey Kahne seems to be hidden away by his crew members. He would emerge for qualifying and put his car in the top 10.
The Eyes Have It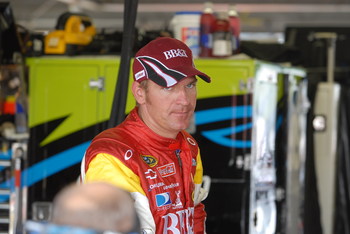 Clint Bowyer gives a strange look while in the garage. Could it be he's tired of being told giving up Jack Daniels was a mistake?
Ryan, a New Man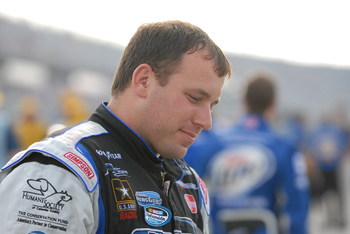 Ryan Newman seems to like his new digs and his new boss, Tony Stewart.

Both Newman and Stewart are in the top 10 in points, and Newman, one of the few who did not get a Darlington stripe, qualified third.
Wall to Wall Johnson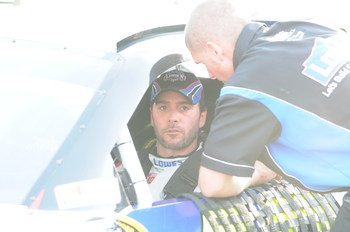 Jimmie Johnson talks strategy with a crew member prior to qualifying. The strategy didn't pay off.

Johnson will have to use a back up car because he hit the outside wall exiting turn 1, and then the inside retaining wall on the backstretch just past turn 2.
Almost destroying both ends of the car, Johnson will have to go to the back, instead of being up front.
Rookie High Five
Joey Logano fields questions and congratulations about his qualifying fifth.
Reflective Bull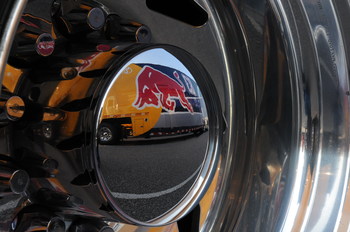 An image from the Hauler Parade, a Darlington tradition where the Haulers line up in Florence for fans to see up close, then parade through town to Darlington, ending at the speedway.
We Saved Your Spot, David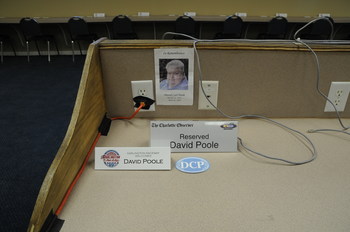 First chair in the band is an honor, David Poole always had the first chair in the Darlington Media Center. This weekend was no different.
Racing Under A Full Moon
It was just one of those kind of days at Darlington Raceway. Tomorrow is a full moon also, can't wait to see what the Lady In Black has in store for us.
Will you join me?
Keep Reading