Muirfield is a shot-maker's golf course, so it's no surprise to see so many top golfers on the leaderboard after two days of action at the 2013 Open Championship.
Featuring razor's-edge precision and undeterred focus, the nine men who've managed to shoot under par through the first two rounds have an edge over the field.
Miguel Angel Jimenez leads the tournament heading into Saturday's action at three-under par. He shot an even-par round of 71 on Friday to hold a one-shot lead over Tiger Woods and three others.
In other news, he's also related to the most interesting man in the world, as you can clearly see from this photo, as shown by Mason Raine:
Your leader Miguel Jimenez. pic.twitter.com/2YaVEDaBHF

— Mason Raine (@masonraine4) July 19, 2013
Of the players at the top, Lee Westwood put together the most impressive round on Friday. He finished the day at two-under par after shooting a three-under-par round of 68, which was tied for the lowest round of the day.
But if not for three bogeys in his final six holes, Westwood's round would have put everyone else's efforts to shame. As noted by Jason Sobel of the Golf Channel, before his late-round struggles the English golfer was six shots under par:
Lee Westwood is 6-under for the day and tied for the lead. He's swimming laps while everyone else is treading water.

— Jason Sobel (@JasonSobelGC) July 19, 2013
With two rounds yet to play, these top golfers are ready to make a big move on Saturday—"Moving Day" at the 2013 British Open.
Jason Day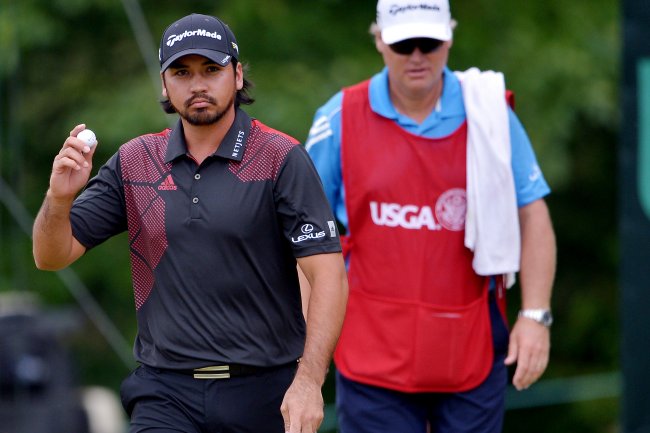 Drew Hallowell/Getty Images
This Aussie knows how to play in major championships. As noted by the PGA Tour, Day has finished in second place three times and third place once in his last nine major tournaments:
In his past 9 major starts, @JDayGolf has 3 runners-up and a third-place finish. Is a win in the near future?: http://t.co/VTNu0B76Vs

— PGA TOUR (@PGATOUR) July 16, 2013
After posting two top-three finishes in the first two majors this year, Day has put himself in position to make another run at a major title at the 2013 British Open.
The Aussie posted a disappointing score of 73 on Thursday, double-bogeying No. 1 and No. 18. It's hard enough to get back into it after posting a score of two-over par on your first hole, but to do it again on the last hole could have been devastating.
Thankfully, Day's confidence never wavered, and he came back strong on Friday with a round of even par.
He's rolling the ball well on the greens, with 1.67 putts per hole, and he's tied for eighth place in the tournament with 15 one-putts. Additionally, Day has done a decent job getting his tee shots to stay in the fairways, and if he can dial in his approach shots on Saturday he's primed for a low score.
Lee Westwood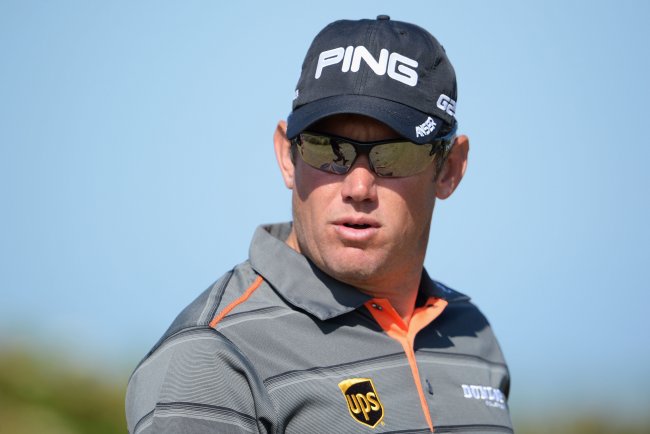 Stuart Franklin/Getty Images
Anyone who is hot enough to shoot six-under par in 12 holes at Muirfield deserves mention among the leaders ready to emerge as a legitimate contender over the weekend.
He's posted more top-three finishes than anyone who hasn't yet won a major since the inception of the Masters, as noted by ESPN's Justin Ray:
Can Lee Westwood break through? He has 7 top-3 finishes in majors - most of anyone without a win since the inception of the Masters.

— Justin Ray (@JRayESPNGolf) July 19, 2013
It's time for a breakthrough.
Westwood's rock-solid demeanor serves him especially well on such a finicky and mischievous course. Patience is key to winning at Muirfield, and through two rounds he's shown plenty of it.
With nine birdies through two rounds, this local favorite has shown an ability to shoot low. Unfortunately, as Muirfield is wont to do, Westwood has also logged seven bogeys—five of which occurred on the back nine.
The most impressive aspect of his game this week has been Westwood's putter. He's tied with Tiger Woods for the lead over the field with 18 one-putts through two rounds.
Tiger Woods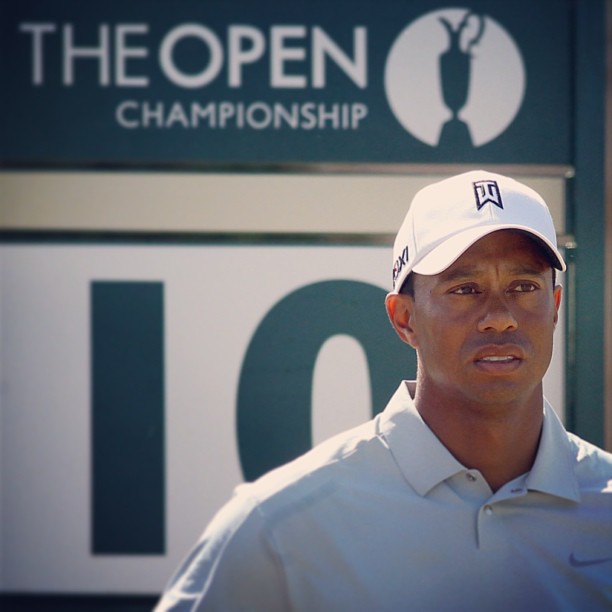 Speaking of Woods, he's playing excellent golf once again after a couple of dismal showings in his previous two events.
Playing without any pain in his left elbow, Woods' game is back in tip-top shape, but his recent history seems to hint a letdown is coming. As noted by Ray, Woods hasn't been successful at keeping his momentum going for some time:
Tiger Woods enters the weekend T2nd. From 1997-2008, Woods won 14 of the 20 times he was top-5 thru 36. Since he is 0-for-6. #TheOpen

— Justin Ray (@JRayESPNGolf) July 19, 2013
He's swinging his clubs with an effortlessness that we haven't seen in a couple of months, however, and Woods' demeanor, body language and focus have been on a different level this week.
And his putting is a study in perfection this week.
Woods is rolling the ball better than anyone else in the field. He relishes non-bent-grass greens, and as ESPN's Rick Reilly noted, he's the best fast-green putter in the world:
Tiger Woods is the best fast-greens putter in history. He has 18 one-putts in 2 days. #OpenChampionship

— Rick Reilly (@ReillyRick) July 19, 2013
After an even-par round of 71 on Friday, Woods is set up perfectly for a move to the top of the leaderboard on Saturday.
Note: Stats courtesy of TheOpen.com
Follow me on Twitter @JesseReed78