New York Jets: Grading the Strength of Every Position Unit Heading into Camp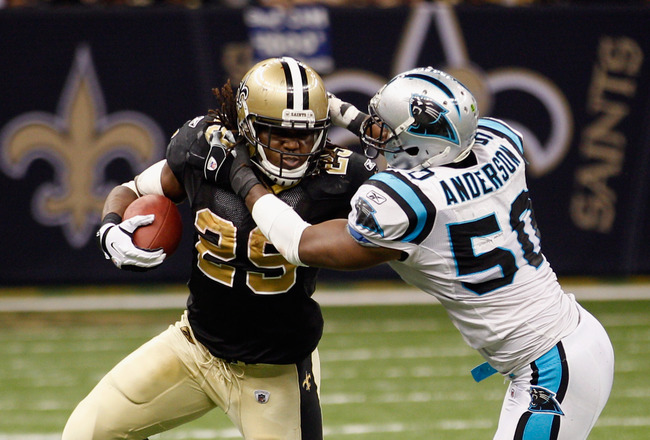 Chris Graythen/Getty Images
Jets training camp will supply fans with new insight heading into the 2013 season. The offseason overhaul is in the team's rear-view mirror, but steady progress has yet to commence.
New general manager John Idzik preaches competition, a mantra that is set to redefine the new era of Jets football.
The projected 53-man roster will come to fruition after the conclusion of camp, but much remains undecided as the team readies itself for Cortland, NY.
The following slideshow grades the Jets' strength of every position unit heading into training camp:
Offensive Line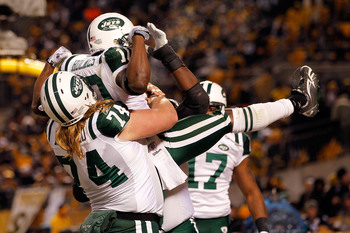 Gregory Shamus/Getty Images
The Jets offensive line was at the forefront of two teams that reached AFC title games.
Its backbone was shredded after Damien Woody retired in 2010 though, igniting a pitfall in veteran leadership and overall performance.
The team found some element of stability on the offensive front last season after experimenting with defunct tackle Wayne Hunter in 2011.
Second-year starter Austin Howard isn't a beast capable of pancaking pass-rushers at will, but he's able to maintain his ground at 333 pounds.
Center Nick Mangold is a stabilizing factor in the middle of the Jets' O-line.
He's an anchor in the trenches, aiding the offensive attack. Left tackle D'Brickashaw Ferguson is a rock on the strong side, leveraging enormous lower body strength to prevent defenders from exploding off the edge.
Third round draft pick Brian Winters has an opportunity to claim a starting role, considering the departures of guards Brandon Moore and Matt Slauson.
A solid performance in camp will prompt Winters to be slotted at right guard on the first team offense in Week 1.
Grade: B-
Tight End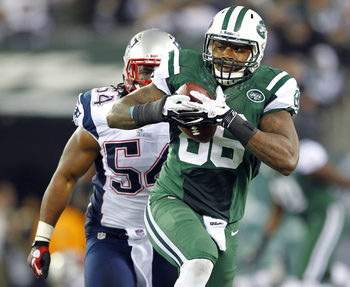 Rich Schultz/Getty Images
The Jets face massive uncertainty at tight end entering training camp.
The depth chart features three players that have combined for just 44 receptions and 496 yards in addition to banged-up veteran Kellen Winslow.
Former backup Jeff Cumberland showcased above average route-running ability while racking up respectable numbers in 2012.
Cumberland caught 29 passes for 359 yards and three touchdowns in 12 starts last season. Now, he's slotted atop the Jets depth chart heading into camp.
Winslow boasts the best track record of the four players in competition, but hasn't performed at a high level since 2011 when he racked up 75 receptions for 763 yards and two touchdowns.
Konrad Reuland is likely the odd man out, considering the value that former rugby star Hayden Smith presents on special teams.
If Winslow is able to stay healthy and perform at a high level, he could prove to be one of the biggest steals of the offseason. In addition, if Cumberland can continue to demonstrate steady improvement, the Jets could achieve some element of stability at the tight end position.
Nothing is a sure thing, though.
Grade: C
Wide Receiver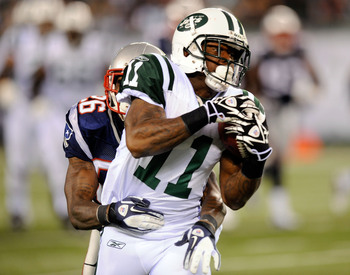 Patrick McDermott/Getty Images
The Jets are flat out desperate at wide receiver. The team will reportedly re-sign veteran receiver Braylon Edwards before camp commences on Friday, according to Manish Mehta of the NY Daily News (via Twitter).
Edwards seems to play his best in a Jets uniform. He racked up 10 catches for 125 yards in three starts after being picked up off waivers last season. His second stint in New York will continue in 2013.
The move was prompted by serious concern over the pending health status of Santonio Holmes, who was officially placed on the PUP list prior to players arriving at camp.
Holmes suffered a Grade 4 Lisfranc fracture that crippled his 2012 season. The Jets suddenly became heavily reliant on slot receiver Jeremy Kerley, who proved to be effective in a down-and-distance role. He recorded 56 receptions for 827 yards and two touchdowns, averaging over 50 yards receiving per game.
Kerley could see upward of ten targets per game in new offensive coordinator Marty Mornhinweg's West Coast offense, but can't carry the load on his own.
Second-year player Stephen Hill has been a massive disappointment to this point, failing to develop sufficient fundamental skills. The fact that the Jets plan to bring back Edwards is a clear indicator that the team's coaching brass has serious doubts about Hill, rather than concerns over depth.
Grade: D+
Running Back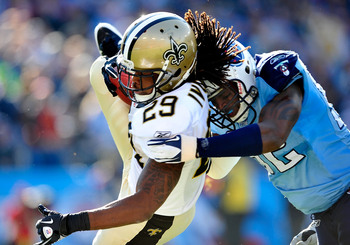 Grant Halverson/Getty Images
The most exciting position on the Jets roster in 2013 is running back.
The revamping process took full flight when GM Idzik opted to trade a fourth-round pick to snag potential Pro Bowl RB Chris Ivory.
Ivory will receive a bulk of the carries on offense for the Jets this season.
It's a monstrous opportunity for the former bench-warmer to showcase his dynamic skill set.
Ivory racked up 217 rushing yards on just 40 attempts in 2012. He's scored eight touchdowns in his three-year career, a number that the Jets would like him to at least match this season.
Free agent pick-up Mike Goodson will complement Ivory at tailback, barring significant legal ramifications. Goodson is a speed-back that demonstrates strong receiving prowess. It's expected that he'll be a considerable element of OC Mornhinweg's offensive scheme.
Goodson reeled in 16 catches for 195 yards and a touchdown with the Raiders last season. He also averaged 6.3 yards per carry on 35 attempts.
Both backs feature small samples sizes of success and remain relatively unproven, although they also feature the biggest upside at any offensive position for the Jets.
Grade: B
Quarterback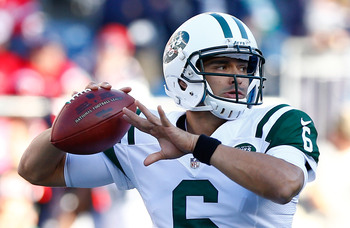 Jared Wickerham/Getty Images
The infamous competition between blundering quarterback Mark Sanchez and unproven rookie Geno Smith will be under the spotlight throughout Jets training camp.
Sanchez stands a significant chance to reclaim his role of Jets main signal-caller, especially after a supposed solid showing in OTAs and mini-camp.
The turnover king of the football world has a disturbing reputation of refuting apparent progress, however.
Sanchez is coming off a dismal season that cast a shadow over the success he enjoyed during his first two seasons as a starting quarterback in the NFL. He committed 26 turnovers for the second consecutive season and failed to complete 55 percent of his pass attempts.
It's possible for Smith to win the competition by default if Sanchez is unable to showcase substantial upside.
Smith is more athletic and less erratic. He completed 71.2 percent of his pass attempts in his senior season at West Virginia and led the nation with 42 touchdown passes. His touchdown to interception ratio was also ridiculous (7:1).
Smith's aptitude to operate a short passing scheme could prove advantageous in training camp, although Sanchez is touted as the favorite, nevertheless.
Grade: D+
Kick Returners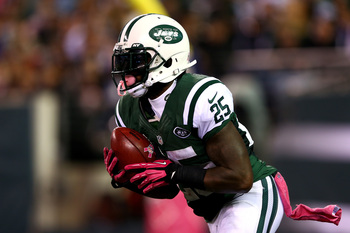 Elsa/Getty Images
Joe McKnight is one of the best kick returners in the NFL.
His quickness enables him to explode past defenders to find open space downfield. McKnight has averaged 29 per return in three seasons as a pro. He's also tallied two touchdowns, including a 107-yard spring to the endzone against the Ravens in 2011.
McKnight boasts enormous confidence and feels strongly that he stands a chance to win the starting gig at running back, but his value is ultimately at kick returner.
A solid showing over the previous two seasons has created a niche for McKnight, who would likely be on the bubble if he didn't possess electric return ability.
McKnight has averaged 29 yards per return over the course of his three-year career. He often sets up the offense with stellar starting field position, aiding a stagnant offensive attack.
His fatal flaw is protecting the football. McKnight has tallied six fumbles over the last two seasons, a dooming trait that handicapped him from earning more carries on offense.
Grade: A-
Kickers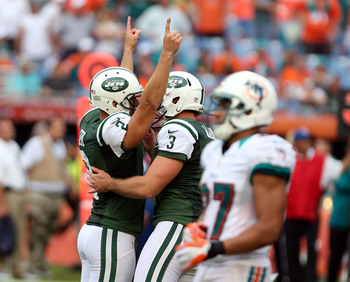 Marc Serota/Getty Images
Nick Folk has quietly established himself as one of the league's most reliable kickers.
The veteran place kicker has pinned down 77.9 percent of his career field goal attempts. He converted 21 of 27 kicks in 2012, his most effective season since 2008.
The Jets have officially acquired former Cowboys kicker Billy Cundiff to compete with Folk in training camp.
The team's front office has continuously pressured Folk into out-performing competition in camp since his arrival in 2010. Folk feels strongly that the added sense of competition fuels his ability to perform better.
Folk nailed 8-of-11 kicks from 40-plus yards in 2012. He's not the best place kicker in football, but is an under-appreciated asset that continues to perform at a high level.
Grade: A-
Defensive Line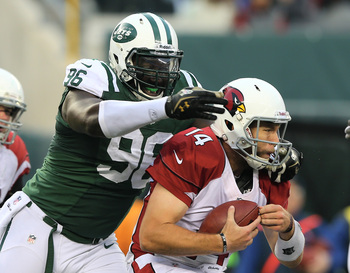 Elsa/Getty Images
The best component of the Jets defense heading into camp is the defensive line.
Muhammad Wilkerson is steadily developing into a formidable pass-rusher. He racked up five sacks, four defended passes and three forced fumbles in 2012, and could be ready for a breakout effort this season.
First-round draft pick Sheldon Richardson was impressive in two seasons at the collegiate level. The Jets are hoping he can explode onto the scene in the NFL and mount a solid rookie effort.
Nose tackle Kenrick Ellis has been slow to develop in two seasons as a pro, although the coaching brass flashed an enormous sign of confidence in his abilities by not tendering veteran NT Sione Pouha a new contract after releasing him in March.
Ellis forced a fumble in two starts in 2012 and should see a massive increase in playing time this season. At 346 pounds, Ellis has the size necessary to become a brute force in the middle of the Jets D-front.
In addition, veteran defensive tackle Antonio Garay supplies depth to a D-line loaded with youth. Garay appeared in just eight games for the Chargers last season and was stagnant at best against the run. His presence should help push Ellis toward becoming a better all-round player.
Grade: B
Linebackers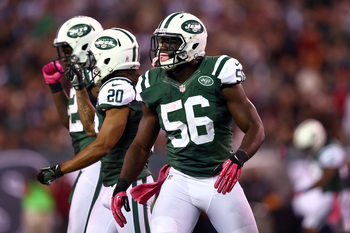 Elsa/Getty Images
Head coach Rex Ryan wants to reignite the Jets former blitz-happy pass rush that enabled two dominant seasons en route to the pinnacle of playoff success.
New found linebacker Quinton Coples displayed explosive ability as a defensive end in his rookie season, registering 5.5 sacks and two defended passes in two starts.
Coples' coverage skills will be heavily tested early on, but he maintains the intangibles necessary to effectively man his position.
Second-year player DeMario Davis earned a starting gig by default when the Jets front office opted to dump veteran Bart Scott.
Davis played in all 16 games for the Jets in 2012 and recorded 22 tackles. He'll play inside with veteran David Harris, who registered respectable numbers last season despite under-performing.
Harris tallied 79 tackles, three sacks and three defended passes in 16 starts.
Free-agent pick-up Antwan Barnes is attempting to revitalize his career after a disappointing, injury-plagued season in 2012. He was dominant in 2011, recording 32 tackles, 11 sacks and two forced fumbles.
The linebacking core is the deepest positional unit on the Jets defense. Calvin Pace and Garrett McIntyre supply depth on the outside edge, in addition to Josh Mauga and Nick Bellore.
Grade: B-
Defensive Backs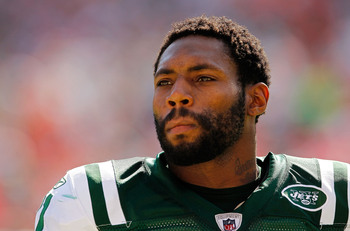 Mike Ehrmann/Getty Images
Veteran cornerback Antonio Cromartie is the leader of the Jets' revamped secondary. He's no longer a second-fiddle CB on a team that features a total shutdown core of defensive backs.
Cromartie has taken a leap into the limelight, adopting a leadership role in the face of a rebuilt defense. He performed at a high level last season, totaling 13 defended passes and three interceptions.
Rookie CB Dee Milliner is the favorite to land a starting role opposite Cromartie, although nickelback Kyle Wilson is also in the mix. He performed better than expected in 2012, taking over for Darrelle Revis.
Wilson recorded 41 tackles, four defended passes and an interception in 15 starts last season.
The Jets face depth concern at safety after losing LaRon Landry and Yeremiah Bell to free agency. Dawan Landry will assume a starting role. Antonio Allen and Josh Bush will compete for the other starting spot.
Allen and Bush have combined for three tackles and one sack in one start, signaling an alarming lack of experience. Both players are late-round picks that scarcely saw the field in 2012, although Bush saw action in all 16 games.
Bush outplayed Allen in OTAs and mini-camp, earning the former sixth-round pick a slight advantage heading into camp.
Grade: C+
Keep Reading

New York Jets: Like this team?