2014 NBA Draft: Who Has the Early Inside Track on Andrew Wiggins?
Andrew Wiggins has all the hype to be the next superstar in the NBA.
Brian Spurlock-USA TODAY Sports
Speculation has been building that teams around the NBA are considering tanking this season. Why would a professional sports team lose on purpose? The answer is quite simple.
The 2014 NBA draft class is stacked, headlined by the guy pictured above, Andrew Wiggins. Wiggins is a freak athlete, and some people have even referred to him as the next LeBron James or Kevin Durant. The folks over at Draft Express have him at the top of his prospect class.
Wiggins has the potential to change the course of a team's history. He can be a superstar and a team leader. He could make any miserable team an instant playoff contender. Bleacher Report's very own Jonathan Wasserman breaks down exactly why Wiggins can change a franchise.
Speaking of these miserable teams, here's a look at five teams who will have despicable seasons in 2014. These are the teams who have the best chance at landing the top pick in next year's draft and could walk away with a superstar.
Meet Andrew Wiggins

Wiggins is a tremendous athlete and has proven he can dominate on the court.

Before we look at the teams trying to get him, take a look at Wiggins himself. The video is a mixtape of his highlights from his senior year at Huntington Prep in West Virginia.
Wiggins was named the Gatorade High School Athlete of the Year. He was a McDonald's All-American, scoring 19 points for the East in his first game on the national stage.
Wiggins has chosen to play for Kansas during his one and only year in college. He should be among the nation's elite this year for the Jayhawks. The scouts will be paying close attention, especially the ones from the following teams.
5. Phoenix Suns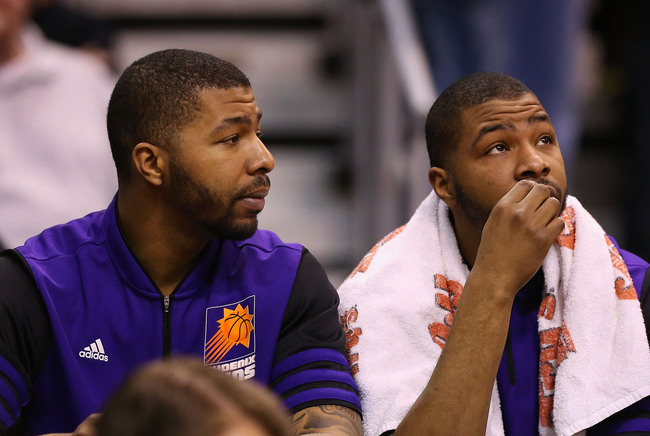 The Morris twins and Co. will struggle to compete this season.
Christian Petersen/Getty Images
Projected Starting Lineup
PG: Goran Dragic
SG: Eric Bledsoe
SF: Caron Butler
PF: Luis Scola
C: Marcin Gortat
Other key players: Marcus Morris, Markieff Morris, Alex Len
The Suns finished dead last in the West last season, only winning 25 games. They were near the bottom in points scored and points allowed per game and in the middle of the pack in rebounds and assists.
The Suns don't have many viable scoring options, nor do they have any standout players on defense. Phoenix is bracing itself for a few miserable years, unless it can land Andrew Wiggins and start over from the ground up.
4. Milwaukee Bucks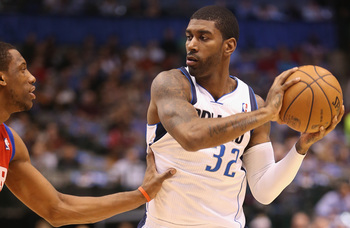 O.J. Mayo may have cashed out this offseason, but his new situation in Milwaukee could be a dire one.
Ronald Martinez/Getty Images
Projected Starting Lineup
PG: Luke Ridnour
SG: O.J. Mayo
SF: Giannis Adetokunbo
PF: Ersan Ilyasova
C: Larry Sanders
Other key players: Carlos Delfino, Zaza Pachulia, John Henson
Milwaukee has had an offseason full of question marks. The Bucks still don't know if they will have their franchise point guard back next season as the Brandon Jennings fiasco continues. They made a questionable trade by sending away J.J. Redick and receiving nothing in return except for some second-round picks. They gave O.J. Mayo a juicy contract, another questionable transaction.
As a result of those bad decisions, they find themselves on this list.
After finishing as the eighth seed last year, which isn't an impressive feat in the East, they've lost Redick and Monta Ellis—and possibly Jennings as well.
It doesn't seem as though the Bucks will be able to make it back to the postseason with the loss of these three guys. In fact, with other teams like Detroit and Cleveland making big improvements, the Bucks will likely take a big tumble in the standings this season, possibly into the Wiggins range.
3. Sacramento Kings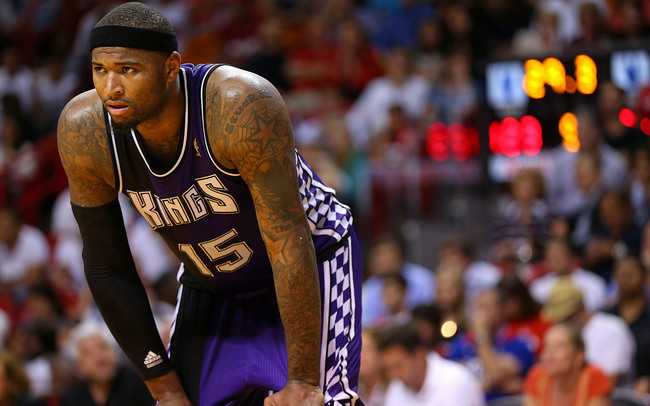 DeMarcus Cousins and the Kings have struggled to win games, and maybe Wiggins is the answer.
Mike Ehrmann/Getty Images
Projected Starting Lineup
PG: Greivis Vasquez
SG: Ben McLemore
SF: Luc Richard Mbah a Moute
PF: Jason Thompson
C: DeMarcus Cousins
Other key players: Marcus Thornton, Carl Landry, Isaiah Thomas
The Sacramento Kings can't do anything right. Over the past few years, they have made some terrible decisions and have joined the Charlotte Bobcats as the laughingstocks of the NBA.
Charlotte is finally on the right track, leaving Sacramento behind and alone.
The Kings haven't done much to improve upon last year's 13th-place finish. They brought in Landry and Mbah a Moute, but those guys alone won't lift the Kings out of the West cellar. Their first-round pick, Ben McLemore, has had a less-than-impressive NBA Summer League in Las Vegas. He has struggled shooting the ball, and he isn't exactly facing premier defenses.
It could be another long year in Sacramento. The Kings are desperate for a solution. Wiggins could be the answer.
2. Boston Celtics
New coach Brad Stevens will have his hands full at the NBA level with a lackluster roster.
Darren McCollester/Getty Images
Projected Starting Lineup
PG: Rajon Rondo
SG: Avery Bradley
SF: Jeff Green
PF: Brandon Bass
C: Jared Sullinger
Other key players: MarShon Brooks, Courtney Lee, Kelly Olynyk
After trading away the final pieces of the Big Three that won Boston a championship in 2008, the Celtics are now near the bottom of the league in talent. The Celtics gave away champions Paul Pierce and Kevin Garnett and got very little in return. They also lost their distinguished head coach, Doc Rivers.
With rookie coach Brad Stevens and a dull roster, the Celtics are far removed from their championship days. General manager Danny Ainge is tearing up the roster and starting from scratch.
Despite certain rumors, Ainge has been adamant that the Celtics are not tanking this year. The only remaining star in Boston is Rondo, who is coming off a season-ending ACL injury.
The Celtics are in for a rough year, but perhaps a new star could be on his way to town. Depending on how poorly the Celtics actually play, Wiggins could be the next Boston legend of this storied franchise.
1. Philadelphia 76ers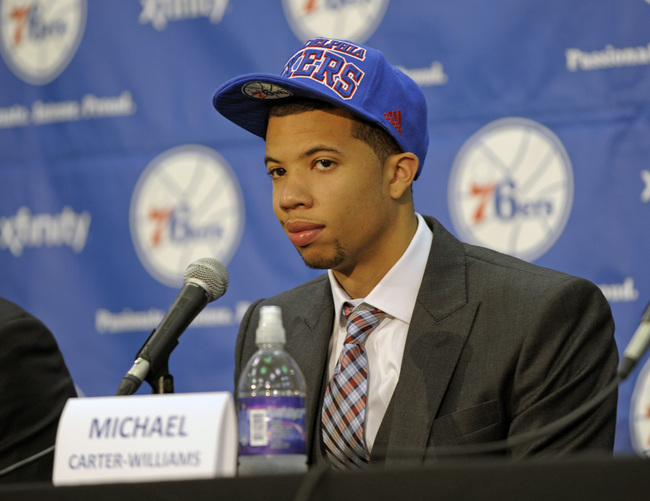 Michael Carter-Williams will have his hands full next year with an overmatched Philadelphia team.
Eric Hartline-USA TODAY Sports
Projected Starting Lineup
PG: Michael Carter-Williams
SG: Jason Richardson
SF: Evan Turner
PF: Thaddeus Young
C: Nerlens Noel
Other key players: Spencer Hawes, Arnett Moultrie
After finishing last season in ninth and missing out on the playoffs, the Sixers are in a bad situation. After trading their franchise player Andre Iguodala for Andrew Bynum last summer, Bynum never played a second in a Sixers uniform. They lost him for nothing, and now they are in a deep hole.
Philly traded away All-Star point guard Jrue Holiday for Nerlens Noel, a highly coveted prospect before he suffered a devastating ACL tear. Noel will not even be ready for the beginning of the season.
Philly's starting five may be the worst in the league. Its bench shouldn't be much help either.
The Sixers are guaranteed to have an abysmal season, giving them the best chance to get Andrew Wiggins.
The Sixers have a ton of holes and hardly any depth. They need Wiggins more than any other team, which will be evident during the season. For now, they just need to be patient and try to develop the small amount of young talent they have currently on the roster.
Philly fans need to start praying the lottery odds will be in their favor.
Keep Reading