Vancouver Canucks 2013-14 NHL Schedule: Must-See Games, Predictions and More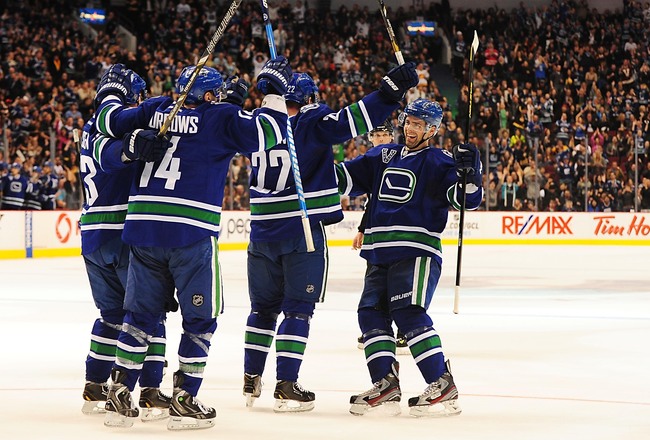 USA TODAY Sports
Exactly 148 days after their 2013 campaign ended in the very same building, the Vancouver Canucks will begin the 2013-14 NHL season on Thursday, Oct. 3 in the renamed SAP Center at San Jose.
It will be a fitting way to begin what should be an undeniably interesting year—Vancouver's first in the new Pacific Division and first without Cory Schneider creating controversy in the news.
Eighty-one games and 192 days later, the 'Nucks will wrap up their 2013-14 campaign with a Sunday evening match against another traditional rival in the Calgary Flames.
And then, hopefully, Vancouver will advance to the postseason for the sixth consecutive spring.
What should fans know about the recently unveiled 2013-14 Canucks' season? A full breakdown—complete with a general overview, a preview of several must-see games, a Pacific Division analysis and a bold end-of-season prediction—falls on the coming slides.

Important Dates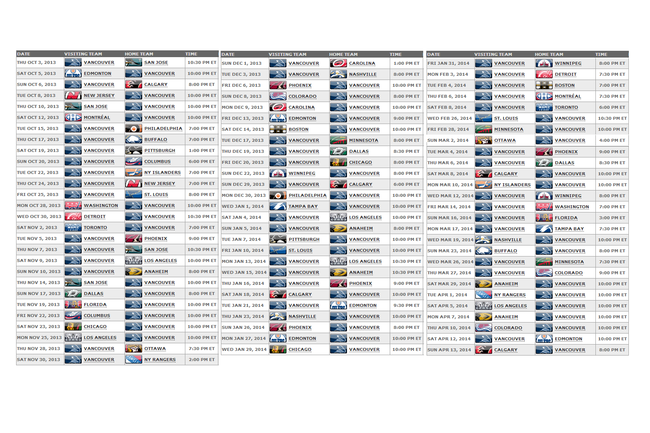 The complete team schedule can be viewed above. Check out some of the season's most noteworthy dates and stretches below (via nhl.com):
Thu, Oct. 3: Season Opener (at San Jose)
Sat, Oct. 5: Home Opener (vs. Edmonton)
Tue, Oct. 8: Cory Schneider's return to Vancouver (vs. New Jersey)
Tue, Oct. 15 to Fri, Oct. 25: Longest road trip (seven games)
Thu, Nov. 14 to Mon, Nov. 25: Longest homestand (six games)
Mon, Dec. 23 to Sat, Dec. 28: Holiday Break
Wed, Jan. 1: New Year's Day game (vs. Tampa Bay)
Sun, Feb. 9 to Tues, Feb. 25: 2014 Winter Olympics break
Fri, Feb. 28: Keith Ballard's return to Vancouver (vs. Minnesota)
Sun, Mar. 2: Heritage Classic outdoor game (vs. Ottawa)
Sun, Apr. 13: Season Finale/Home Finale (vs. Calgary)
Must-See Games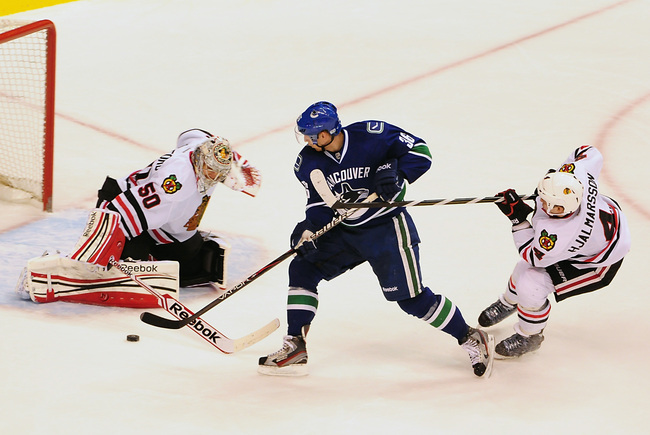 Anne-Marie Sorvin-USA TODAY Spor
Sat, Nov. 23 vs. Chicago Blackhawks
The Canucks get their first of two cracks at the defending Stanley Cup champions in the sixth game of their November homestand.
Both teams will have to prove that their 2013 offseason losses won't knock them out of the Western Conference's elite. Vancouver will have to respond to the departures of Mason Raymond and Cory Schneider; Chicago will have to prove that the losses of Dave Bolland, Michael Frolík and Viktor Stålberg weren't mistakes.
Expect a high-stakes Saturday night showdown.
Sat, Dec. 14 vs. Boston Bruins
Boston will travel to British Columbia for the first time since defeating Vancouver in the 2011 Cup Final in mid-December.
The 'Nucks won the first meeting between the two clubs since that memorable series, but that 4-3 win in Boston will be almost two years old by Dec. 14. The respect and emotions that each team displays towards the other should be very interesting to observe.
Sun, Mar. 2 vs. Ottawa Senators
The city of Vancouver will host its first Heritage Classic in spring 2014, capping off the NHL's six outdoor games in the coming season against their cross-continent Canadian rivals.
The game will played at 1 p.m. PT in BC Place, the home of the CFL's BC Lions and MLS's Vancouver Whitecaps, in front of an expected crowd of approximately 60,000.
Sat, Apr. 5 vs. Los Angeles Kings
Two teams who should be competing for top spots in the new Pacific Division meet for the fifth and final time in 2013-14 when L.A. visits Vancouver in early April.
The Canucks' final fate and seeding could rest largely on this game—their fifth-to-last of the regular season and the start of a crucial three-game homestand.
Breaking Down the New Division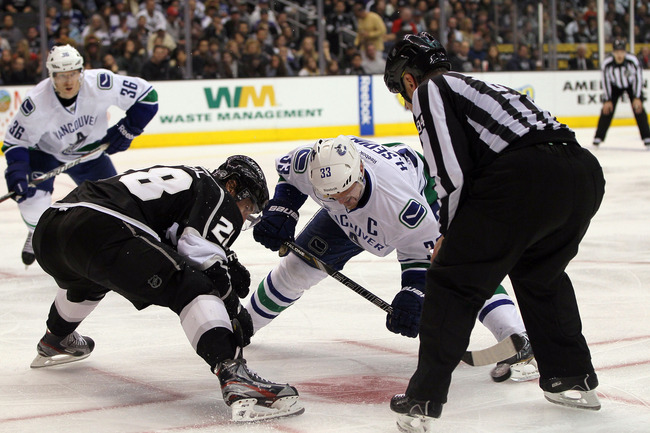 Victor Decolongon/Getty Images
Pacific Division: Anaheim Ducks, Calgary Flames, Edmonton Oilers, Los Angeles Kings, Phoenix Coyotes, San Jose Sharks and Vancouver Canucks
The Canucks will follow their traditional western Canadian rivals Edmonton and Calgary to the new Pacific Division, featuring four of the five teams from the Pacific Division of old.
Vancouver posted a miserable 5-9-2 record against the Ducks, Kings, Coyotes and Sharks in the 2013 regular and postseason. They should make punching bags of the Flames and 'Yotes in 2013-14, but the 'Nucks will encounter tough competition everywhere else they turn.
Los Angeles and San Jose have beaten the 'Nucks handily in the first round of each of the last two NHL playoffs. Meanwhile, Anaheim proved their dark horse with a second-place finish in the West in 2013, and the Oilers boast one of the league's youngest, most potential-laden squads.
In the coming season, Sedins & Co. will have to prove that perennial success hasn't been merely the result of the easy, now-extinct Northwest Division.
Toughest Stretch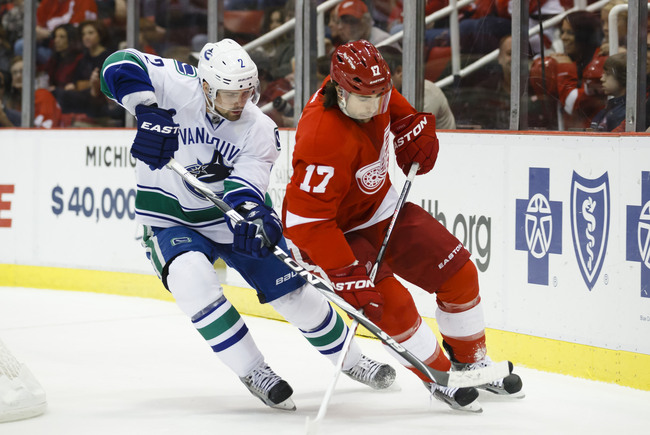 USA TODAY Sports
Wed, Jan. 29 to Sat, Feb. 8: vs. Blackhawks, at Jets, at Red Wings, at Bruins, at Canadiens, at Maple Leafs
A brutal six-game stretch will lead the Canucks into the Olympic break this coming winter.
Five of the six games occur on the road. Five of the six games face off against a 2013 playoff team. And all six games will test Vancouver thoroughly before their relaxing three-week break.
The 'Nucks will have to deal with matches against the 2008, 2010, 2011 and 2013 Cup champions in this run, in addition to visits to the raucous home arenas of fellow Canadian foes Montreal and Toronto three time zones away.
Moreover, the one team of the six that didn't qualify for the last postseason—Winnipeg—will be hosting Vancouver at the MTS Centre for the first time ever.
The Canucks' place in the standings come Olympic time will be very telling for how they should finish the year.

Predictions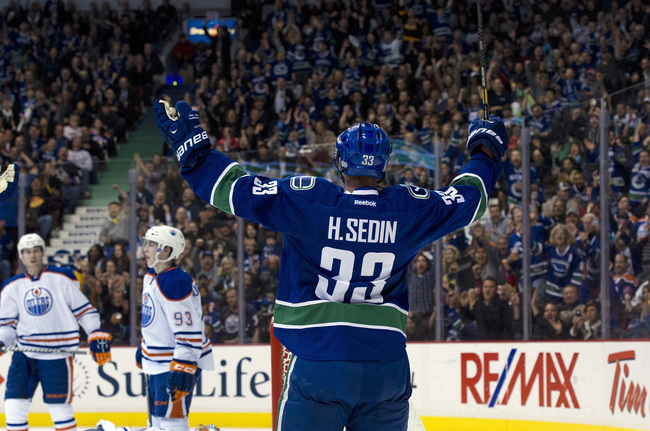 Rich Lam/Getty Images
Projected Pacific Division Finish: Third
Projected Western Conference Finish: Sixth
Can Vancouver keep on winning without Cory Schneider?
Can Vancouver keep on winning in the tough new Pacific Division?
Can Vancouver keep on winning?
Yes, they absolutely can.
The Canucks should struggle to deal with the Kings and Sharks in 2013-14; the chances of them beating out either California powerhouse for the division's No. 1 and 2 seeds seem slim.
However, the 'Nucks are still an extremely talented and experienced team.
The change of attitude and confidence brought by new head coach John Tortorella should be evident. Vancouver will face tough challenges with the up-and-coming Ducks and Oilers, yet they have the prowess to hold on to the Pacific's third-place position and another valuable playoff spot.
2013-14 may not be the most eventful or exciting year in Canucks history, but it should further establish their status as perennial contenders in the new NHL format.
Keep Reading

Vancouver Canucks: Like this team?