Breaking Down the Best and Worst of the WWE for Week of 7/15/13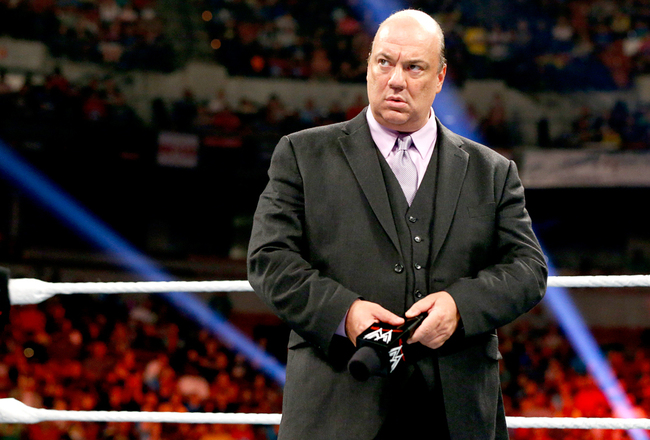 (Photo from WWE.com)

Money in the Bank 2013 and its aftermath gave WWE fans a week of mostly excellence.
The week wasn't without its missteps, but mostly the company and its Superstars delivered. Chris Jericho produced an instant classic in one of last performances for some time, Bray Wyatt continued his mission to disturb fans and Paul Heyman worked a microphone at a level that few ever have.
As we head toward SummerSlam, Heyman's rivalry with CM Punk is sure to intensify and Daniel Bryan and John Cena will build toward their WWE title match. For next week to top this, there's some major work to be done.
From Sunday's pay-per-view, WWE Raw and Main Event as well as an unfortunate side effect of Tuesday's SmackDown tapings, here are the best and worst items of the week.
Best: Money in the Bank Pay-Per-View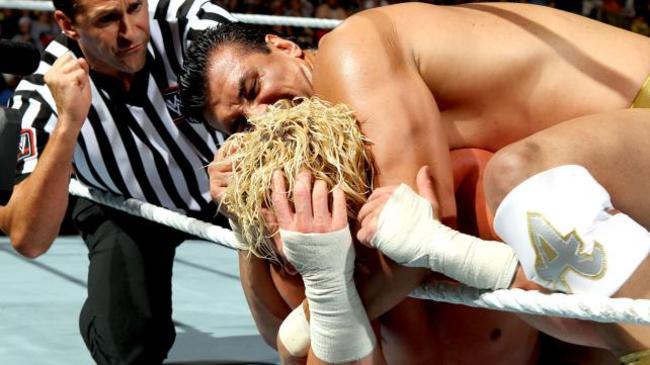 (Photo from WWE.com)

WWE is on a roll with its pay-per-views and Sunday's Money in the Bank event was just the latest in a string of great shows.
Even the pre-show was awesome. The Usos gave The Shield more of a challenge than most expected and those two teams put on one of the night's best matches.
The Money in the Bank ladder match for the world title was phenomenal entertainment complete with the dissolution of Team Rhodes Scholars, teamwork from Antonio Cesaro and Jack Swagger and some innovation from Dean Ambrose.
Add to that, the WWE title MITB match, a second straight quality AJ Lee and Kaitlyn pay-per-view match and Alberto Del Rio and Dolph Ziggler giving compelling performances and it appears SummerSlam has some work to do to top July's event.
Best: Chris Jericho vs. Rob Van Dam
Two stars late in their careers collided on Monday's WWE Raw in a match that belied their age.
Fresh off returning to WWE at Money in the Bank, Rob Van Dam worked a fantastic match against Chris Jericho. Van Dam moonsaulted off the apron, slipped out of a suplex and landed on his feet and hit Jericho with a battering ram of a kick.
Jericho has been WWE's answer to fine wine during his latest run and with his Twitter announcement that he's leaving for the time being will have us savor this excellent performance even more.
The appreciative Brooklyn crowd watched as Van Dam reopened his wound from Sunday, blood sliding down his forehead. The crowd provided a wave of energy that seemed to push the two warriors to one of the best matches of 2013.
Worst: Brie Bella vs. Naomi
Watching AJ Lee and Kaitlyn put on consecutive impressive performances at the last two pay-per-views made it harder to watch such a low-energy Divas match on Monday.
Aside from a few athletic moves from Naomi to end this, there was little entertainment in this battle.
The fans grew restless as Brie Bella held Naomi in a wear-down hold for most of the match and the two women offered very little to get excited about. Layla, Aksana, Alicia Fox and Natayla outdid these two in their tag match on Wednesday's WWE Main Event.
Best: Bray Wyatt and a Pile of Bodies
Justin Gabriel and Heath Slater were in the midst of battle on Wednesday's WWE Main Event when the Wyatt Family invaded.
Bray Wyatt watched his crew knock Slater, Gabriel, Jinder Mahal and Drew McIntyre to the ground. Erick Rowan and Luke Harper dragged those men into a pile in the ring. Wyatt then told the crowd, "this world can be such a cold, cold, dark and lonely place."
This unsettling moment, with Wyatt standing over a heap of bodies, followed Wyatt's powerful promo on Monday night.
The most intriguing element of this scenario is that Wyatt referred to Kane, telling him to "follow the buzzards." He appears to be recruiting Kane into his cult which makes for exciting TV going forward. Will Kane be his enemy or his ally?
Worst: More 1-800-Fella
A fun-loving hooligan is one thing, but WWE has turned Sheamus too much into a comedy character.
His 1-800-Fella segments have been mildly amusing at best and have done little to endear fans to Sheamus. WWE aired another of these Brogue Kick-centered bits on Monday. In it, Sheamus tried to rid an office worker of his hiccups with that signature move.
It's strange to see WWE continue to have Sheamus head down this path.
Wouldn't a Superstar like Santino Marella or Yoshi Tatsu be better for a ridiculous segment like this? A touch of humor does well to deepen Sheamus' character, but it shouldn't be his central focus.
Best: Randy Orton vs. Fandango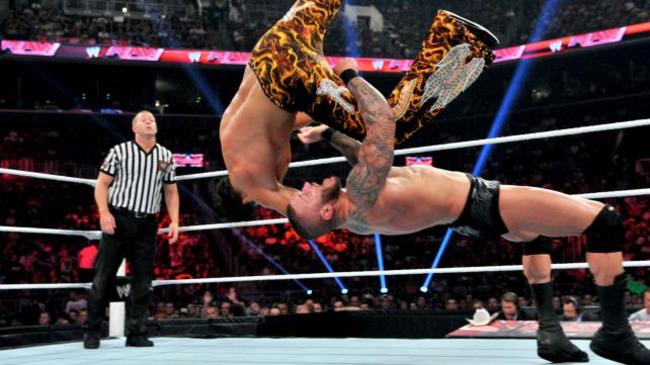 (Photo from WWE.com)

The opening match on Monday's WWE Raw would have been its best had Chris Jericho and Rob Van Dam hadn't been as excellent.
The Brooklyn crowd chanted playfully and apparently had low expectations for this, but Orton and Fandango gave them an intense, well-worked match.
Orton stalked Fandango, but the ballroom dancer managed to slip away again and again. Momentum swung between them until Orton landed the RKO. Even in the loss, Fandango looked good, equal parts gutsy and savvy.
The Viper reminded us how great he is while Fandango showed us once again how talented he is regardless of the silliness of his gimmick.
Worst: Randy Orton's Injury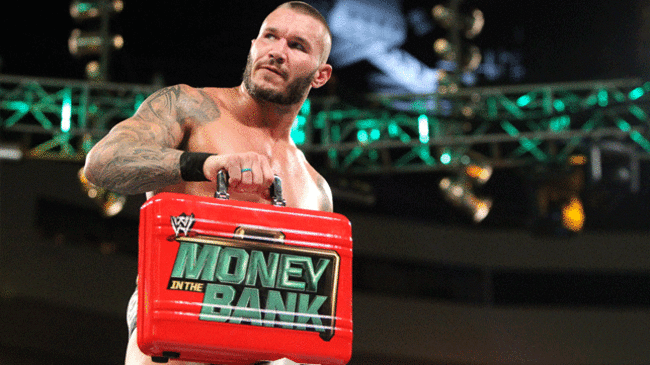 (Photo from WWE.com)

Randy Orton goes up against Alberto Del Rio on Friday's WWE SmackDown and at some point during that match, The Viper took a big hit to the neck and suffered an injury. WWE.com reported that Orton suffered a cervical strain and cervical neuropraxia.
Even if Washington University of St. Louis writes that one can recover from neuropraxia as soon as a few days, having anything spinal-related damaged is unnerving.
Orton told his Twitter followers that he was fine, but until he's RKO'ing the next man he steps into the ring with, his fans can't help but worry.
Best: Paul Heyman Explains Himself
Much of the buzz following Monday's WWE Raw centered around Brock Lesnar's brawl with CM Punk. However, it was Paul Heyman's performance before that moment that was the masterpiece that deserves recognition.
Heyman continues to prove that he is one of the finest actors and performers with a microphone in WWE history. His tension with Punk was visceral and convincing.
Heyman began by telling Punk, "You don't exist."
He then talked about how Punk had failed him, a layer of hurt and betrayal burning under the surface of his speech. He was his usual conniving self with extra viciousness in his voice. As good as Lesnar and Punk can be in the ring at SummerSlam, it will be Heyman who is the most enthralling figure in this saga.
Keep Reading