Breaking Down Minnesota Vikings' 2-Deep Depth Chart at Start of Training Camp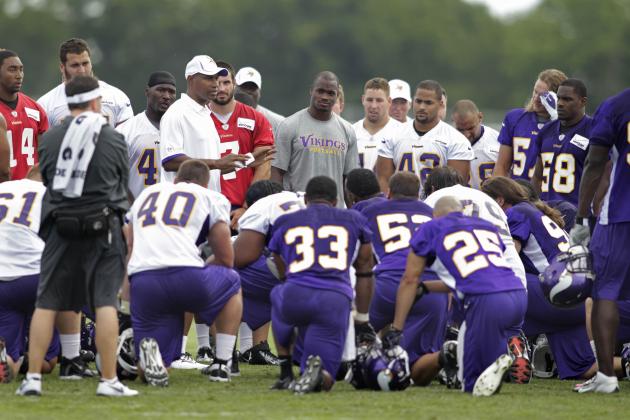 Bruce Kluckhohn-USA TODAY Sports

With the start of Minnesota Vikings training camp just a few days away, now is the time to break down the two-deep depth chart for each position on this roster.
From Pro Bowl-caliber players returning to fresh faces in the locker room, this current Vikings roster is being constructed to make another serious push towards the postseason.
Factoring in a player's previous experience, team news heard this offseason and Pro Football Focus' advanced stats, this depth chart was carefully pieced together.
With all of that being said, it's time to start the slideshow below and check out the two-deep depth chart for each position on the Vikings roster heading into training camp.
*All stats provided by Pro-Football-Reference unless noted otherwise.
Begin Slideshow

»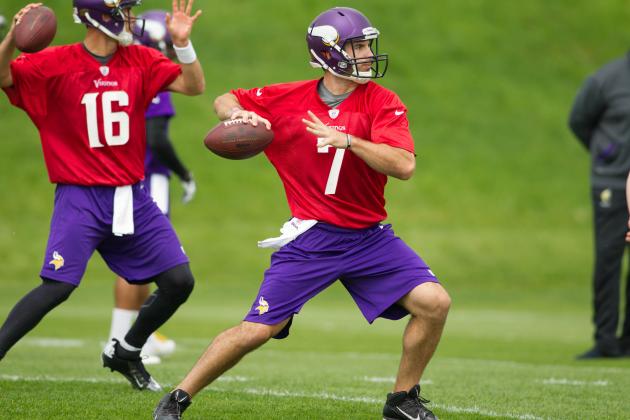 Bruce Kluckhohn-USA TODAY Sports

1. Christian Ponder
It's been said over and over again, but in a make-or-break season, it's clear that the pressure is on Christian Ponder.
Finally surrounded by a quality supporting cast, Ponder needs take control of this team if he wants to fill the role of franchise quarterback.
Using the vocal support of his teammates as fuel for success, even with Matt Cassel breathing down his neck, there's no doubt about it—Christian Ponder is the man right now heading into camp.
2. Matt Cassel
The former New England Patriots and more recently Kansas City Chiefs QB Matt Cassel was brought in by the Vikings this offseason to put a little pressure on starting quarterback Christian Ponder.
While Cassel has struggled in recent times, so has Ponder.
According to Pro Football Focus' formula for grading players (subscription required), Ponder finished last season as the 34th-ranked quarterback in the NFL.
Even though both QBs have struggled, as it stands now heading into camp, Cassel is the backup and Ponder is the starter.
And while it's a long shot that he will steal the starting job away from Ponder this offseason, compared to last year's second-string QB Joe Webb, Cassel's presence alone serves as a major upgrade for this team in the QB department.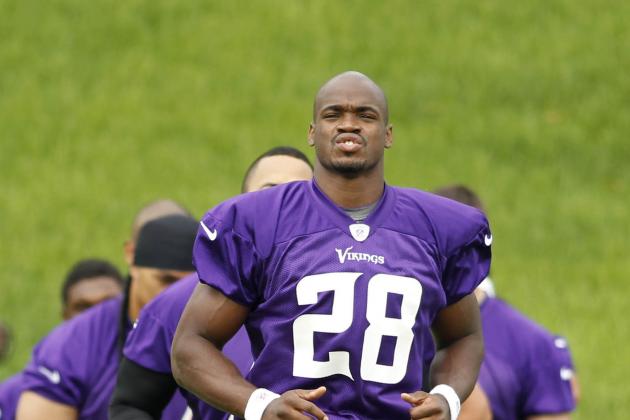 Bruce Kluckhohn-USA TODAY Sports

Heading into camp this year, projecting the starting running back for the Vikings is easy as it gets.
The heart and soul of this team, Adrian Peterson is the Bugatti-inspired engine that keeps this franchise moving forward.
After coming off a major knee injury and producing a near-record breaking season, the current NFL MVP is ready to make another major impact in 2013.
Averaging an astounding 6.0 yards per carry last season and another year removed from knee surgery, Vikings fans know that Peterson is more than ready to shatter Eric Dickerson's all-time single-season rushing record if he gets the chance.
2. Toby Gerhart
Since being drafted by the Vikings in 2010, running back Toby Gerhart has served as Adrian Peterson's reliable backup.
Proving his worth as a quality complement to No. 28 over the time he's been here, the talented Gerhart is entering the final year of his contract with the team.
While there's no doubt he will back up Peterson once again, because of his ability, there's a real chance that this will be Gerhart's last season in Minnesota.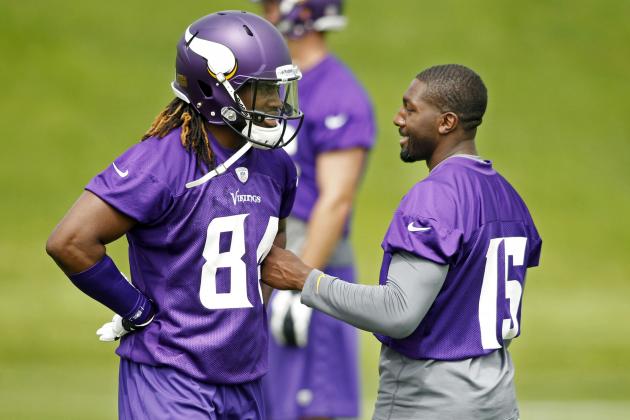 Bruce Kluckhohn-USA TODAY Sports

1. Greg Jennings
Since the start of the offseason, a dramatic shift has taken place in the Vikings receiving corps.
With Percy Harvin, Michael Jenkins and Devin Aromashodu out of the picture, the team went out and landed superstar wide receiver Greg Jennings to help improve on last year's 31st-ranked passing attack.
After signing a five-year, $47.5 million contract this offseason, the former Green Bay Packers Pro Bowl wide receiver is coming into camp as the obvious No. 1 receiving option.
With his ability to stretch the field and work across the middle, the 29-year-old Jennings will be a wonderful target for starting quarterback Christian Ponder all season long.
2. Jerome Simpson
Although he's mostly known for his ultra-acrobatic catches and freakish athleticism, Jerome Simpson is a pretty good wide receiver when healthy.
Thanks to a three-game suspension to start the year and nagging injuries that plagued him the rest of the way, to many fans' disappointment, Simpson never really got going last season.
This year, though, Simpson is healthy and ready to prove that last year was a fluke.
While first-round draft pick Cordarrelle Patterson might be the guy fans want to see line up across from Jennings to start the season, as Coach Frazier reminded everyone when talking to the Star Tribune, due to his experience, the veteran Simpson is the favorite to start heading into camp.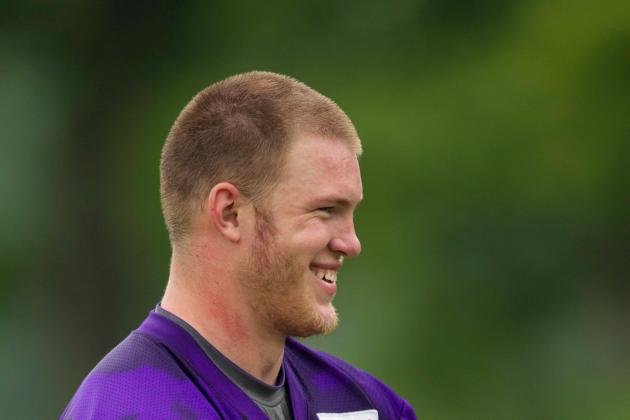 Bruce Kluckhohn-USA TODAY Sports

1. Kyle Rudolph
After being selected to his first Pro Bowl last season, third-year tight end Kyle Rudolph is coming into camp focused.
Talking with the Pioneer Press, when asked what he could do better this season, Rudolph said:
I spent some time with (Dallas Cowboys tight end) Jason Witten at the Pro Bowl. He congratulated me on a great first couple of years, but told me each and every year to continue to work your craft and fine-tune your game. You can always get better.
The dynamic big man out of Notre Dame already is a matchup nightmare for opposing defenses. Any improvement to his game will just further frustrate them. Thanks to his large frame, deceptive speed and bullish strength, Rudolph also serves as a lethal option for Christian Ponder whenever he's on the field.
After hauling in nine touchdown receptions last season, Rudolph's ceiling is off the charts coming into training camp.
2. John Carlson
Fresh off the restructuring of his contract this offseason, John Carlson heads into camp as the No. 2 tight end on the depth chart.
After dealing with a knee injury last season, Carlson is hoping to rebound this year and make a positive impact for this team.
With the possibility of Rhett Ellison serving as the second-string blocking tight end, Carlson will have to use his receiving skills and get back to playing like he did in Seattle if he hopes to leave camp with a role carved out for him.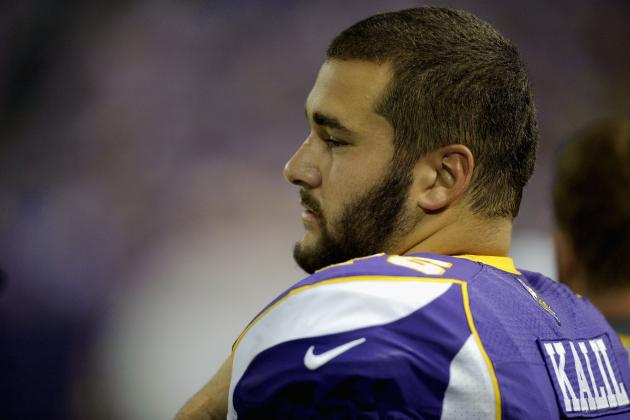 Hannah Foslien/Getty Images

1. Matt Kalil
The fourth overall pick in last year's draft, Matt Kalil is the obvious starter at left tackle heading into camp this year.
He established himself as an elite tackle in just one season. According to Pro Football Focus (subscription required), last year Kalil graded out as the 22nd-ranked tackle in all of football. Kalil showed the world why he was such a high draft pick.
While he needs to improve his run-blocking—Kalil graded out as the 53rd overall run-blocking tackle—with his strong play, the former USC Trojan has already become a staple of this talented Vikings offensive line.
2. DeMarcus Love
After missing all of last year thanks to a damaged pectoral muscle, former sixth-round pick DeMarcus Love is heading into camp with hopes of winning a roster spot.
With plenty of depth on the offensive line, securing a reserve role is going to extremely challenging for Love, who has yet to play an NFL regular-season down.
Whether we're talking about Travis Bond, Brandon Keith, Troy Kropog, Kevin Murphy or Seth Olsen, the battle to be part of this offensive line is going to be one of the real highlights of camp.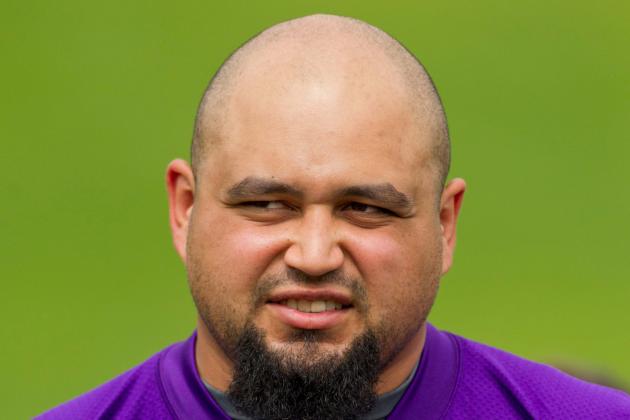 Bruce Kluckhohn-USA TODAY Sports

1. Charlie Johnson
Unlike Matt Kalil, John Sullivan and Phil Loadholt, starting left guard Charlie Johnson is a weak link on this Vikings offensive line.
According to Pro Football Focus (subscription required), he graded out as the 61st-best guard last season. Johnson was a huge liability for the team—especially against the pass.
While his poor play was masked thanks to the brilliance of Adrian Peterson, due to depth on the offensive line and the Vikings' push for a youth takeover, the 29-year-old Johnson should be ready to face an open competition this year at camp.
2. Jeff Baca
A sixth-round pick in last April's draft, former UCLA standout Jeff Baca should be considered the backup to Johnson right now.
With the possibility of becoming a "swing tackle" due to his sheer size and quickness, Baca really hasn't carved out a role for himself quite yet. But at 6'4" and 302 pounds, Baca has the size needed to play pretty much any position on the offensive line.
It should be interesting to watch him develop at camp and attempt to overtake Johnson as the starting right guard down the line.
Hannah Foslien/Getty Images

1. John Sullivan
For what it's worth, you can argue that John Sullivan is the best center in all of football.
Grading out as the No. 1 center last season (according to Pro Football Focus), Vikings fans may be the only people who understand just how good this guy really is.
While he may not get the recognition he deserves league-wide, Sullivan, who serves as an anchor of this Vikings offensive line, is crucial to the team's success this season and beyond.
2. Joe Berger
Another man who will attempt to earn himself a roster spot on this offensive line is the versatile Joe Berger.
As it stands, Berger is heading into camp as the backup to starting center John Sullivan.
Thanks to his previous experience with the team, Berger, who has seven starts under his belt, should be able to beat out the competition and secure a role backing up Sullivan all season long.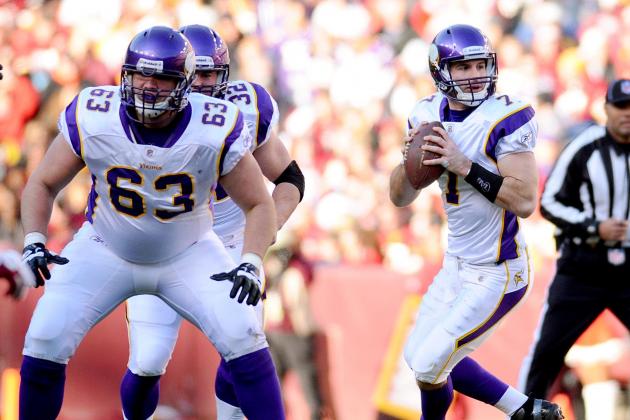 Evan Habeeb-USA TODAY Sports

1. Brandon Fusco
Like his counterpart Charlie Johnson, starting right guard Brandon Fusco's lack of production has been shielded from criticism thanks to the cyborg we call Adrian Peterson.
According to Pro Football Focus (subscription required), he was the 73rd-best offensive guard in 2012. Fusco struggled a ton in pass-blocking situations, as well as run-blocking.
Although he enters camp as the starting right guard for the Vikings, Coach Frazier has made it clear that nothing is set in stone as far his starting job goes. If Fusco doesn't improve, the man next up on this depth chart could find himself starting at some point this season.
2. Seth Olsen
Having experience with the Denver Broncos and more recently the Indianapolis Colts, Seth Olsen looks like he could become the backup guard to Brandon Fusco when camp opens its doors this week.
What gives Olsen a chance to compete for a job this year is the same thing that has guided him throughout his tumultuous NFL career: persistence.
That sheer will and focus to do better and grow everyday as a player is something Olsen needs to display if he has any hope of impressing the coaching staff in camp.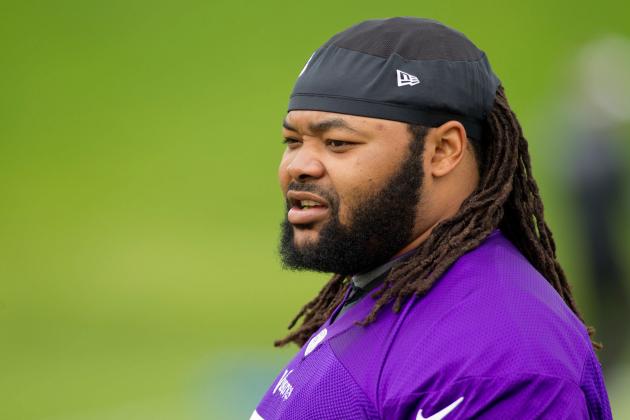 Bruce Kluckhohn-USA TODAY Sports

1. Phil Loadholt
Barring injury, the mammoth they call Phil Loadholt is a lock to start for the Vikings at right tackle this season.
After signing a long-term deal to remain with the team, the earth-moving Loadholt—whom Pro Football Focus graded as the 22nd-best tackle last season—will be coming into camp ready to dominate once again.
With Matt Kalil on the other side, Loadholt completes one of the most dynamic tackle duos in the NFL today.
2. Brandon Keith
While he may not end up on the roster at the end of training camp, veteran tackle Brandon Keith should be considered the backup to Loadholt at this moment in time.
As noted in the prior slides, the fierce competition set to take place at all of the offensive line positions means Keith's coveted backup role will be up for grabs throughout camp.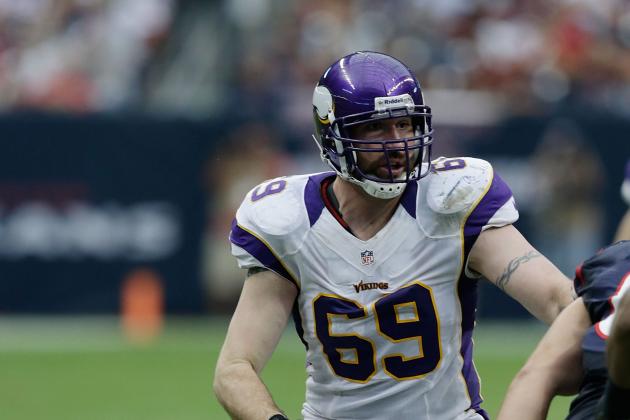 Scott Halleran/Getty Images

1. Jared Allen
By now everyone knows the true catalyst of this Vikings defense, Jared Allen, is entering the final year of his contract.
A pass-rushing savant, Allen will look to produce another high-octane season as he lines up on a weekly basis. Even though he battled injuries last season, according to Pro Football Focus (subscription required), Allen still managed to grade out as the 25th-best 4-3 defensive end.
An enigmatic presence on and off the field, you have to figure that Allen's leadership and work ethic will motivate him throughout the duration of his contract year.
2. Everson Griffen
After transitioning from linebacker to defensive end, the Vikings may have struck gold in fourth-year man Everson Griffen.
Coming off an eight-sack season, Griffen is expected to contribute once again and prove to this team that he is ready to be a permanent piece of this Vikings defensive line.
Even though he will be playing off the bench in various roles, the versatile Griffen should see enough snaps to make his presence felt again this season.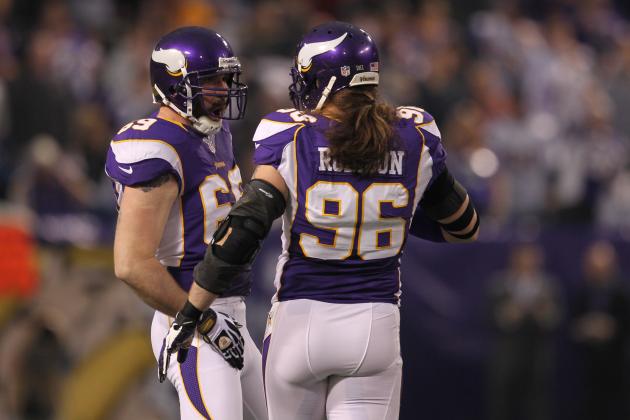 Brace Hemmelgarn-USA TODAY Sport

1. Brian Robison
A forgotten man at times, Vikings fans understand that starting left defensive end Brian Robison is an extremely talented player.
Using Pro Football Focus' formula (subscription required), Robinson graded out as the 14th-most productive 4-3 defensive end in all of football last season.
A valiant pass-rusher as well as run defender, Robison has compiled 16.5 sacks over his last two seasons in Minnesota.
With his deal set to expire at the end of the year also, like Jared Allen, Robison has a lot to play for in 2013.
2. Lawrence Jackson
By signing former Seattle Seahawks and Detroit Lions defensive end Lawrence Jackson, the Vikings were looking to add some depth to their defensive line.
Jackson, who comes to Minnesota with a career total of 19.5 sacks under his belt, isn't going to start for this team. But his previous experience and production should give the veteran Jackson a real chance to snag a reserve role over the likes of D'Aundre Reed and George Johnson when camp wraps up.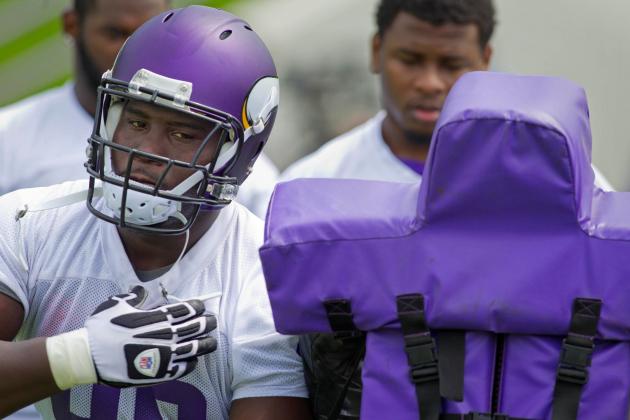 Bruce Kluckhohn-USA TODAY Sports

1. Letroy Guion
Last season, Letroy Guion was the guy who lined next to Kevin Williams on a weekly basis.
But coming off an underwhelming season, Guion's job appears to be up for grabs entering camp.
According to Pro Football Focus, Guion graded out as the worst nose tackle in the NFL last season. And whether you believe their stats to be accurate or take them with a grain of salt, we can all agree that it shows there is a huge gap at this position, and the Vikings have to address it.
Factor in the man next up on this depth chart, and there is a real possibility Letroy Guion will be riding pine to start the season.
2. Fred Evans
Coming into camp already neck-and-neck with Letroy Guion to start at nose tackle is the cagey veteran Fred Evans.
According to ESPN 1500, Evans is not only a favorite of general manager Rick Spielman, but recently Vikings coaches have been pushing for this guy to get a chance to start the season at NT.
If he continues to outperform Guion in camp and the preseason, the starting job should be his in no time.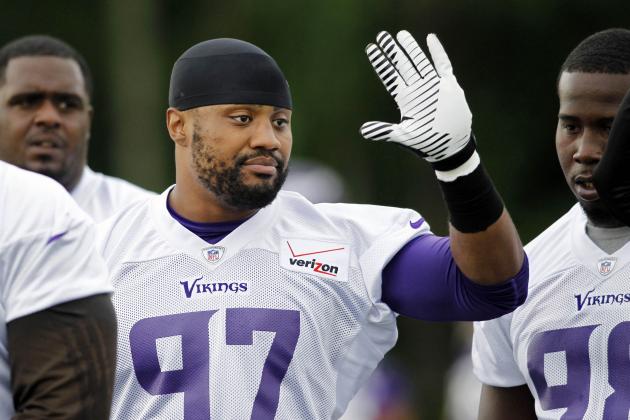 Bruce Kluckhohn-USA TODAY Sports

1. Kevin Williams
Thirty-two-year old Kevin Williams is heading into possibly his last training camp wearing a purple-and-gold uniform.
Williams—who was once part of the legendary Williams Wall—has been a staple of this Vikings defensive unit ever since being drafted in 2003.
With a promising young defensive tackle slotted behind him on the depth chart, Vikings fans are aware that this season could be the last time they will get to see Kevin Williams wreak havoc on Sundays.
2. Sharrif Floyd
With Kevin Williams' contract set to expire at season's end, Vikings first-round pick Sharrif Floyd is entering camp as his willing backup.
To the surprise of many, the talented, highly sought-after Floyd fell in last April's draft and landed smack dab in Minnesota's lap.
For a guy his size, Floyd is strong, quick and exceedingly athletic, all traits that Vikings fans and coaches should be thrilled to have in a player.
Like most young guys in this league, Floyd is going to want to make an impact right away. And even though he will be behind Williams on the depth chart, this former Florida Gator will get his chance to showcase his stuff on the field sooner rather than later.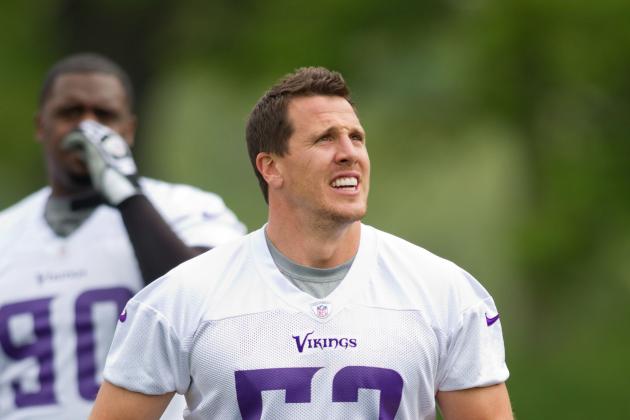 Bruce Kluckhohn-USA TODAY Sports

1. Chad Greenway
After earning second-team AP All-Pro honors last season, Chad Greenway is ready for another season atop the Vikings depth chart.
A tackling machine, Greenway is coming off another productive season for the Vikings. Racking up 148 combined tackles—98 of those being solo efforts—even after undergoing arthroscopic knee surgery this offseason, the talented linebacker is not expected to miss any time at camp.
2. Audie Cole
Although he is most comfortable playing at the MLB position, because of his age and production last year, fan favorite Audie Cole has a chance to back up Chad Greenway heading into camp.
With so many question marks surrounding the linebacking corps, Cole will have to work incredibly hard and prove he is worthy of this job.
Having Marvin Mitchell, Larry Dean and Tyrone McKenzie in the mix, it's going to be one heck of battle to see who gets a roster spot and who comes up short.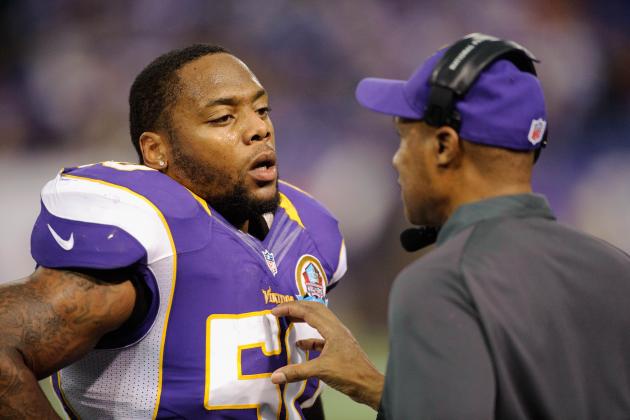 Hannah Foslien/Getty Images

1. Erin Henderson
A few months ago, Erin Henderson seemed like a sure bet to become the starting middle linebacker for the Vikings. But with the recent addition of former Green Bay Packers inside linebacker Desmond Bishop, things just got turned upside down.
Heading into camp, the battle will be tough, but as it stands right now, it looks like the MLB position is Henderson's to lose.
2. Desmond Bishop
Trying out for two positions, Desmond Bishop enters camp as the No. 2 man on the Vikings depth chart for the MLB position.
While he will get reps at weak-side linebacker as well, Bishop's previous experience as an inside linebacker gives him a realistic chance to steal this job away from Henderson during camp.
If he shows up healthy and focused, due to his versatility, run-stopping ability and his incredible work ethic, no one can stop this guy from doing big things all season long.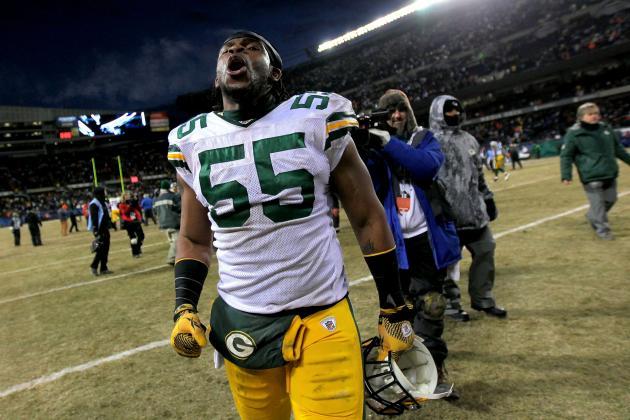 Doug Pensinger/Getty Images

1. Desmond Bishop

When the Vikings signed Desmond Bishop, they knew they were signing an extremely versatile player who, when healthy, would instantly give their linebacking corps a major upgrade.
As noted in the slide before, Bishop will try out for two positions in camp this summer.
Outside of his duel with Erin Henderson to become the team's starting "mike" linebacker, Bishop also try his hand at filling the weak-side linebacker slot.
Thanks to his ability to rack up tackles—in 2010 and 2011 with the Packers Bishop racked up 166 solo tackles, 54 assists on tackles, eight sacks and four forced fumbles—and his gift of shedding blocks, Bishop's skill set actually might serve him better at the weak-side position.
2. Gerald Hodges
Fourth-round pick Gerald Hodges will get his reps, but the rookie linebacker should be considered a backup right now.
Before the Bishop signing, there was a distinct possibility that Hodges could end up starting at weak-side linebacker.
But with the addition of Bishop, Hodges will now have the chance to properly develop and grow as a player.
The wild card in this whole scenario is if Bishop ends up beating out Erin Henderson for the MLB position.
If Bishop does take over the starting MLB role, the battle between Erin Henderson and Hodges should be a thrilling one to watch at camp this summer.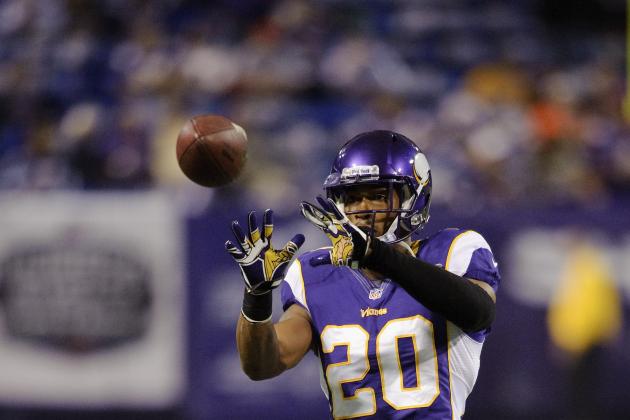 Hannah Foslien/Getty Images

1. Chris Cook
Chris Cook is entering camp this season as the lead cornerback in the Vikings secondary.
The 25-year-old Cook, who has managed to play just 22 games in three NFL seasons, is going to have to stay healthy and prove his worth this season if he has any hopes of sticking around long-term.
At 6'2", Cook provides the Vikings with the size needed to slow down some of the bigger wide receivers in their division.
This being his contract year, the 2013-14 season will have to be a big one if Cook has any hopes of getting paid next offseason.
2. Xavier Rhodes
Part of the first-round draft pick trio this past April, the dynamic Xavier Rhodes is the favorite to line up across from Chris Cook at cornerback coming into camp.
With Josh Robinson already taking reps in the nickel package, Rhodes should be able to transition well into a starting role thanks to his size, ball skills and ability to stop the run.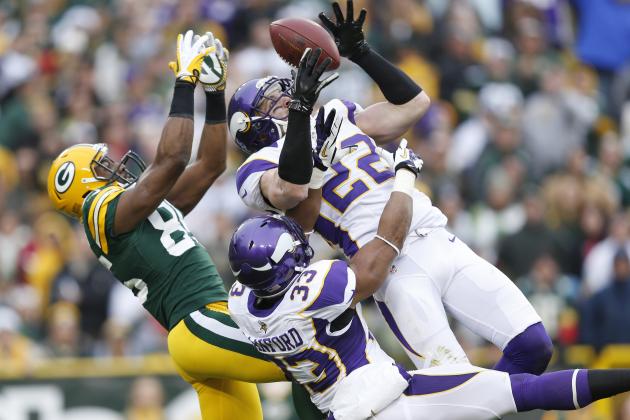 Joe Robbins/Getty Images

1. Harrison Smith
Last year's rookie sensation Harrison Smith is coming into camp this year looking to build on his past success.
After finishing up a stellar debut campaign, with the departure of Antoine Winfield, Smith is now being counted on to not only be a productive player but to also become leader of this young Vikings secondary.
With nothing in his way, watch for Harrison Smith to break out once again and secure his spot among the top young defensive backs in the game today.
2. Robert Blanton
With Smith a lock to start this year, second-year man Robert Blanton should be the early favorite to back him up.
A converted cornerback, the Vikings won't be giving up on Blanton after one season in favor of another player.
While he's set to do battle with Jamarca Sanford and Mistral Raymond to win the strong safety job in camp, the odds are, due to his lack of experience, Blanton will find himself in a reserve role.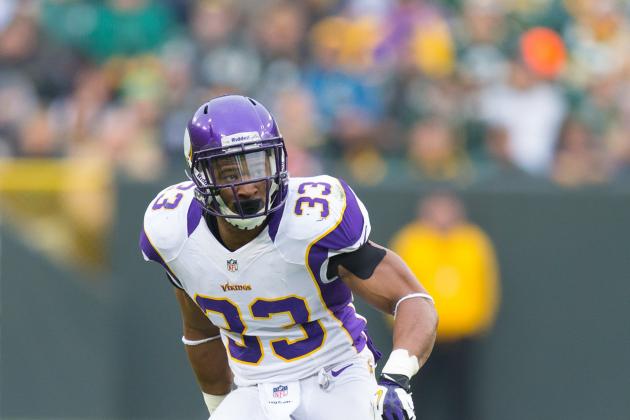 Jeff Hanisch-USA TODAY Sports

1. Jamarca Sanford
Unlike the position of free safety, the person who will end up becoming the starting strong safety is a toss-up heading into camp.
While Jamarca Sanford is the projected starter right now, he will face some serious competition with the likes of Mistral Raymond and Robert Blanton behind him on the depth chart.
Taking over for the injured Raymond, last season Sanford proved his worth. Forcing a team-high four fumbles, the 27-year-old safety showcased an aggressive style of play on a weekly basis.
But with zero interceptions combined between Sanford and Raymond last season, the Vikings know whoever ends up winning this job at camp is going to have to produce at a higher level.
2. Mistral Raymond
Last time around, it was Mistral Raymond who won the starting strong safety job in camp.
The 25-year-old Raymond out of the University of South Florida is going to have overcome the strong play of Sanford last year if he has any hopes of winning that job back.
A guy who's already dealt with a ton of adversity in his life, one thing we know is that you can't count out this young man.
With Robert Blanton lurking in the shadows as well, the strong safety position is going to be one of the most heated battles to take place in Vikings camp.