What began as a relatively favorable Friday morning for scoring at the 2013 British Open ended with wind gusts that exceeded forecast expectations, even drier conditions and a jam-packed leaderboard as a result.
European Tour veteran Miguel Angel Jimenez is the 36-hole leader at three under-par overall after a round of even-par 71. Jimenez continued to show a sensational short game and magnificently clutch putting in pursuit of his maiden major at age 49.
Only one stroke further back are a plethora of stars, though, headlined by Tiger Woods, who matched Jimenez's Round 2 score with a great birdie on No. 18.
Alan Shipnuck summed up the difficult circumstances faced in logging a comment from legendary commentator Peter Alliss:
"That is cruel. That is desperately cruel." -Peter Alliss, pretty much summing up the entire course setup.

— Alan Shipnuck (@AlanShipnuck) July 19, 2013
Former world No. 1 David Duval noted that Woods should be tough to beat this weekend:
I do believe Tiger will be tough to beat this weekend. In full control of his game except driver and he doesn't need that club here.

— David Duval (@david59duval) July 19, 2013
Pat Forde of Yahoo! was impressed with how well Jimenez ground through the treacherous course, which he compared to how Woods fared:
The Mechanic now the clubhouse leader at 3-under. Gritty round from him, similar to Tiger's in terms of just hanging in there.

— Pat Forde (@YahooForde) July 19, 2013
Also at minus-two are big hitters Dustin Johnson and Henrik Stenson, along with Englishman Lee Westwood, who matched the best score of the day with 68. It was a captivating, action-packed day of golf at Muirfield Golf Links, and other experts had plenty to say.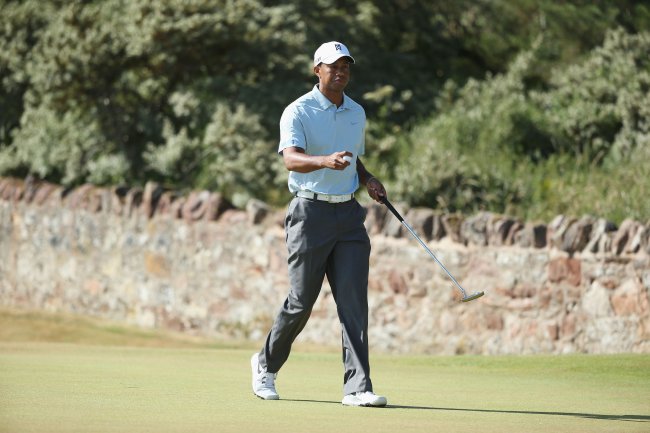 Andy Lyons/Getty Images
One sign of how tough conditions were in Gullane, Scotland was highlighted by the finish of 19-year-old prodigy Jordan Spieth, who missed a couple short putts coming in to finish at minus-one. Still, as Ron Green of Golf Week points out, he vaulted up the leaderboard:
How tough was Muirfield this afternoon? Jordan Speith was T26 when he finished just after noon...Now he'sT11

— RonGreenJr (@RonGreenJr) July 19, 2013
Others weren't so lucky. Vijay Singh, a multiple major champion, was unfortunately well outside of the cut-line—and also on the wrong end of a joke alluding to his deer antler spray controversy (h/t Robert Lusetich of FOX):
Apologies to whomever I stole this idea from but Vijay shot double deer antlers 77 77 #TheOpen

— Robert Lusetich (@RobertLusetich) July 19, 2013
What better expert to turn to than a caddie? Bubba Watson's close confidante, Ted Scott, noted the preposterous distances Watson hit some of his clubs in Round 2:
Is the course firm? Hmmmm. 6 iron off 15 tee (315 yds). Lob wedge to green (141 yds) pin high. Undoubtedly YES!!

— ted scott (@jtedscott) July 19, 2013
Although Angel Cabrera bogeyed the last to finish at minus-one, he's still merely two strokes behind. The Argentine's stellar play sparked this tweet from Golf Channel's Whit Watson:
El Pato es fantastico en los grandes torneos de golf.

— Whit Watson (@WhitWatsonGC) July 19, 2013
Some of the top performers from Thursday had to tee off in the afternoon wave, and it was absolutely brutal at times. Phil Mickelson, one of the greatest putters in the world, three-putted from very close range:
Phil Mickelson just three-putted from two feet on 16. Mayhem.

— Pat Forde (@YahooForde) July 19, 2013
It was really about three feet, but Mickelson reacted afterwards rather appropriately:
Phil Mickelson on the course setup: "You win. It was too much course for me." Gotta hand it to him. The man knows how to give a soundbite.

— Jason Sobel (@JasonSobelGC) July 19, 2013
Shane Bacon of Yahoo! felt the greens were generally unfair in the context of how some of the game's best in Mickelson, Brandt Snedeker, Rory McIlroy and Woods had various, unusual low points:
Also - if Rory putts a ball in a bunker, Tiger putts one off the green, & Snedeker AND Mickelson four-putt, the greens might be too much.

— Shane Bacon (@shanebacon) July 19, 2013
Dan Jenkins of Golf Digest defended Muirfield, though, implying that this is how an Open Championship should be played:
So they've all come back to Tiger. What do we say if he doesn't win now?

— Dan Jenkins (@danjenkinsgd) July 19, 2013
33 players are within six shots of the lead entering the third round, so it should be a really tight tournament. However, it will be interesting to see how Woods handles himself on Saturday. According to Jenkins, the pressure is on:
Let me defend Muirfield. Players moaning like they've been in a war? Par saves feeling like birdies? That's what a major's supposed to be.

— Dan Jenkins (@danjenkinsgd) July 19, 2013
As a 14-time major champion, Woods has never gotten it done in winning from behind. He'll have his work cut out for him to stand out from this world-class field entering the final 18 holes.