Heading into the second half of the season, the Rookie of the Year races in MLB's two leagues will be looking to answer two different questions.
For the National League: All right, who wants it the most?
And for the American League: Seriously, does anybody want it, like, at all?
It's just one of those years for the Junior Circuit. It had Mike Trout last year, as well as guys like Yoenis Cespedes, Yu Darvish and Jarrod Parker. This year, it's got this guy, that guy and that other guy, none of whom is even close to being as good as any of last year's top AL rookies.
It's a good thing, then, that the Rookie of the Year race in the Senior Circuit is a dandy. The National League is overflowing with talented youngsters, and we're at a point in the season now where the honor of being "the man to beat" is sort of up in the air.
Since the National League is where the real intrigue lies, we'll begin there with our latest Rookie of the Year stock watch.
National League Candidates
1. Jose Fernandez, SP, Miami Marlins
| GS | IP | K/9 | BB/9 | K/BB | BAA | WHIP | ERA | ERA+ |
| --- | --- | --- | --- | --- | --- | --- | --- | --- |
| 18 | 104.2 | 8.86 | 3.44 | 2.58 | .192 | 1.08 | 2.75 | 140 |
Stock: Up
Courtesy of MLB Advanced Media via MLB.com.
Have you been paying attention to Jose Fernandez this season?
I suppose I don't blame you if your answer is, "no" or a sheepish, "not really." He is a Marlin, after all.
But if you haven't been watching Fernandez, you've been missing out. The 20-year-old right-hander has absolutely electric stuff, and the numbers he's racked up in his 18 starts speak for themselves.
What they don't reveal, however, is just how good Fernandez has been lately. He's been on an absolute tear since the start of June, racking up 52.1 innings in eight starts with a 1.92 ERA. He's struck out 51 hitters in this span and limited batters to a .453 OPS.
Manny Navarro of the Miami Herald reports that the Marlins are looking to cap Fernandez's innings at around 170, so the clock is ticking on his quest to win the Rookie of the Year award. But given the way he's been pitching, Fernandez could still do a lot of damage before he hits his innings limit.
2. Shelby Miller, SP, St. Louis Cardinals
| GS | IP | K/9 | BB/9 | K/BB | BAA | WHIP | ERA | ERA+ |
| --- | --- | --- | --- | --- | --- | --- | --- | --- |
| 18 | 104.2 | 9.63 | 2.49 | 3.86 | .224 | 1.12 | 2.92 | 126 |
Stock: Down-ish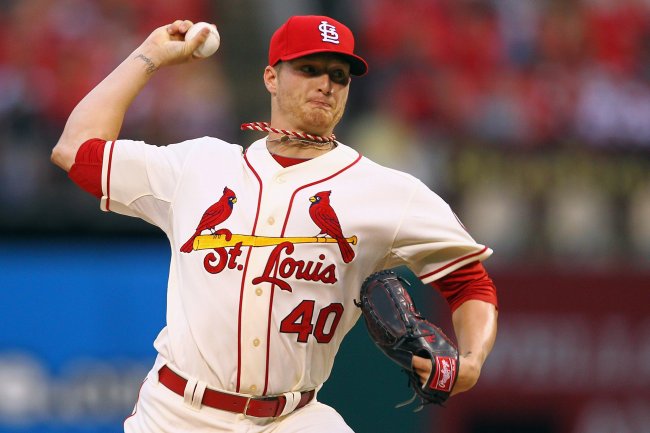 Dilip Vishwanat/Getty Images
Shelby Miller is the author of 2013's best pitching performance.
That's according to Bill James' Game Score, anyway. Per Baseball-Reference, Miller's complete-game shutout against the Colorado Rockies back on May 10 earned him a game score of 98—the best in baseball for a single game in 2013.
But that was a while ago. In more recent history, it's been a struggle for St. Louis' 22-year-old right-hander. He's basically been the anti-Fernandez since the start of June, pitching only 42.1 innings in eight starts with a 4.25 ERA and an opponents' OPS of .718.
Miller's overall numbers are still terrific, and Cardinals fans should certainly be excited for what the future holds for him. But he's coming back to the pack after a hot start while Fernandez is only getting better, so Miller has some catching up to do in the Rookie of the Year race in the second half.
3. Hyun-Jin Ryu, SP, Los Angeles Dodgers
| GS | IP | K/9 | BB/9 | K/BB | BAA | WHIP | ERA | ERA+ |
| --- | --- | --- | --- | --- | --- | --- | --- | --- |
| 18 | 116.2 | 7.17 | 3.01 | 2.38 | .242 | 1.25 | 3.09 | 117 |
Stock: Steady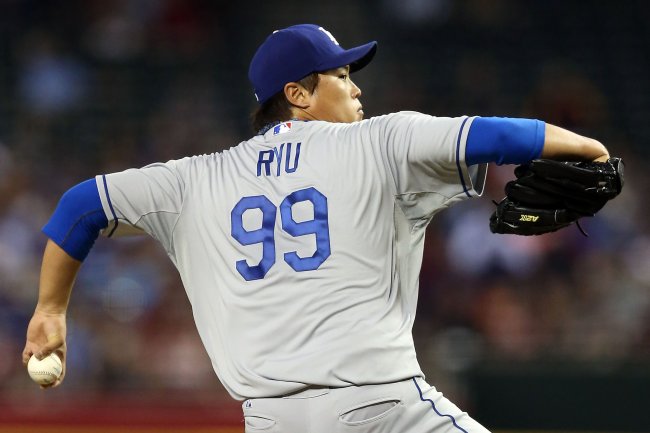 Christian Petersen/Getty Images
Something weird happened in Hyun-Jin Ryu's final start before the All-Star break on July 10. He lasted only five innings and gave up five earned runs against the Arizona Diamondbacks.
The number of times he had lasted only five innings before then: once.
The number of times he had given up at least five earned runs before then: once.
That's the kind of season it's been for Ryu. It's hard to get noticed when you're sharing a rotation with the marvelous Clayton Kershaw and the uber-rich Zack Greinke, but Ryu has been delightfully dependable for the Dodgers.
Granted, Ryu has been human since the start of June, posting a 3.40 ERA in seven starts. This could be a product of teams having a better read on him, or it could be just one of those things.
4. Yasiel Puig, OF, Los Angeles Dodgers
| GP | PA | AVG | OBP | SLUG | OPS | 2B | 3B | HR | K% | BB% | SB | CS |
| --- | --- | --- | --- | --- | --- | --- | --- | --- | --- | --- | --- | --- |
| 38 | 161 | .391 | .422 | .616 | 1.038 | 8 | 1 | 8 | 22.4 | 4.3 | 5 | 3 |
Stock: Down
Courtesy of MLB Advanced Media via MLB.com.
Before we get into the "What have you done for me lately?" stuff, let's acknowledge that Yasiel Puig is still the best offensive rookie out there right now.
His numbers are outstanding, as a .391 average and a 1.038 OPS are nothing to scoff at. FanGraphs also has Puig leading all major league rookies in weighted on-base average and weighted runs created plus. That's the geeky way of saying, "Dude can hit."
There are, however, the two obvious hitches in Puig's Rookie of the Year candidacy. One is the small sample size of games. The other is that the league and bad luck are catching up to him.
Puig started July with a three-hit game in Colorado. In the 11 games that followed, he hit .267/.306/.311 with 14 strikeouts in 49 trips to the plate. He also got banged up a little bit in the process.
Puig is a phenomenal talent, so his slow finish to the first half could prove to be anomaly. Either that, or it could be the start of a stretch that will make the hype of June look awfully silly in retrospect.
5. Jedd Gyorko, 2B, San Diego Padres
| GP | PA | AVG | OBP | SLUG | OPS | 2B | 3B | HR | K% | BB% | SB | CS |
| --- | --- | --- | --- | --- | --- | --- | --- | --- | --- | --- | --- | --- |
| 63 | 267 | .272 | .330 | .440 | .770 | 17 | 0 | 8 | 21.7 | 7.5 | 1 | 0 |
Stock: Even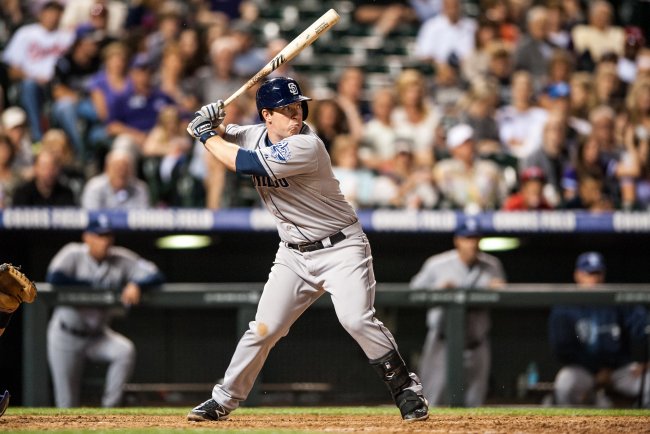 Dustin Bradford/Getty Images
I don't think there's a no-brainer call for the No. 5 spot on this countdown, so I went with the National League rookie with the most production in the largest sample size.
That would be Jedd Gyorko. He's only eighth among National League rookies in games played, according to MLB.com, but he has a better OPS than everyone ahead of him on the list.
They were even better before Gyorko had to go on the disabled list in early June, as he was sitting on a .284/.341/.461 line. But then he failed to reach base in each of the 12 plate appearances he got in three games fresh off the DL, driving his overall line down a bit.
They call that "rust" in the industry. If Gyorko can settle back into the groove he was in earlier, he'll be fine.
Also in the Mix*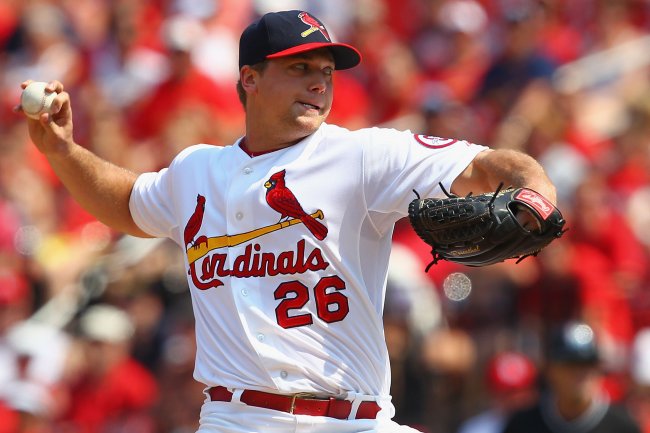 Dilip Vishwanat/Getty Images
*In no particular order.
Evan Gattis, C, Atlanta Braves (Stock: Down)
Evan Gattis was a huge player in the Rookie of the Year race at the end of May when he was hitting .285 with a .961 OPS and 12 homers in 42 games. But since then, he's spent some time on the disabled list and racked up two hits in his last 30 at-bats.
Julio Teheran, SP, Atlanta Braves (Stock: Down)
Julio Teheran was sitting on a 3.12 ERA following a 10-strikeout performance against the Diamondbacks in his last start of June. But in three July starts, he's allowed nine earned runs in 17.2 innings.
Didi Gregorius, SS, Arizona Diamondbacks (Stock: Down)
Remember how Didi Gregorius was being billed as an all-glove, no-bat shortstop before the Diamondbacks called him up? That's what he's been in his last 28 games, in which he's hit just .195 with a .505 OPS. He's on his way out of the Rookie of the Year race.
Matt Adams, 1B, St. Louis Cardinals (Stock: Up)
Quick, among NL rookies with at least 50 games played, who has the highest OPS?
It's Matt Adams, of course. He owns a .917 OPS and has been particularly hot lately, hitting .333 with a 1.050 OPS and three home runs in his last 13 games.
Trevor Rosenthal, RP, St. Louis Cardinals (Stock: Down-ish)
Trevor Rosenthal has been one of the most dominant relievers in baseball in 2013, but he's hit a bit of a rough patch lately. After allowing six earned runs in his first 32 appearances, he's allowed five earned runs in his last 11 appearances. In the process, he's raised his ERA from 1.59 to 2.20.
American League Candidates*
*Of which there are really only three good ones, because the race really is that "meh."

1. Jose Iglesias, 3B/SS, Boston Red Sox
| GP | PA | AVG | OBP | SLUG | OPS | 2B | 3B | HR | K% | BB% | SB | CS |
| --- | --- | --- | --- | --- | --- | --- | --- | --- | --- | --- | --- | --- |
| 52 | 199 | .367 | .417 | .461 | .878 | 10 | 2 | 1 | 12.1 | 5.5 | 2 | 1 |
Stock: Down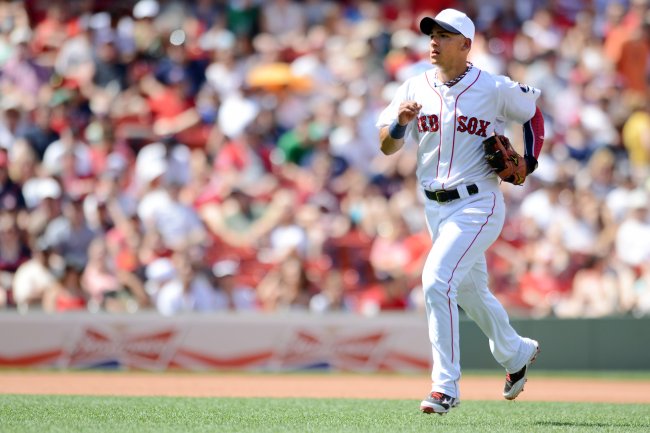 Darren McCollester/Getty Images
As recently as a couple months ago, nobody thought Jose Iglesias could hit, and there he is leading all American League rookies in batting average and OPS.
But you've probably caught wind of what's been happening with Iglesias' bat lately. If not, well, suffice it to say it's finally gone cold.
In his last 27 games, Iglesias is hitting .296 with a .709 OPS. In July, he's hitting only .250 with a .586 OPS. Once his biggest allies, the BABIP gods have turned on Iglesias. His BABIP has gone from being well over .400 to being a mere .279 in July.
Still, there's not a rookie hitter in the American League who has been as productive as Iglesias, and he gets extra points for giving the Red Sox good defense at both third base and shortstop. He's trending backward, but he's still the guy to beat in the American League race.
2. Dan Straily, SP, Oakland A's
| GS | IP | K/9 | BB/9 | K/BB | BAA | WHIP | ERA | ERA+ |
| --- | --- | --- | --- | --- | --- | --- | --- | --- |
| 14 | 80.0 | 7.4 | 2.9 | 2.54 | .215 | 1.13 | 4.28 | 91 |
Stock: Up
Courtesy of MLB Advanced Media via MLB.com.
His numbers may not look great, but only two other rookie starters in the American League have made more starts than Dan Straily. So that's something.
But then there's this: his last two times out, Straily's been dynamite.
In starts against the Chicago Cubs and Pittsburgh Pirates, Straily logged 13.1 innings and allowed only one earned run on three hits and six walks. He struck out 13.
Straily was subsequently optioned to Triple-A, but Rotoworld explains that was because the A's weren't going to need a fifth starter in the final days leading up to the All-Star break. Straily should be back in the majors soon, at which point he can look to continue building his Rookie of the Year stock.
3. Nick Tepesch, SP, Texas Rangers
| GS | IP | K/9 | BB/9 | K/BB | BAA | WHIP | ERA | ERA+ |
| --- | --- | --- | --- | --- | --- | --- | --- | --- |
| 16 | 85.1 | 7.4 | 2.4 | 3.04 | .268 | 1.35 | 4.85 | 90 |
Stock: Down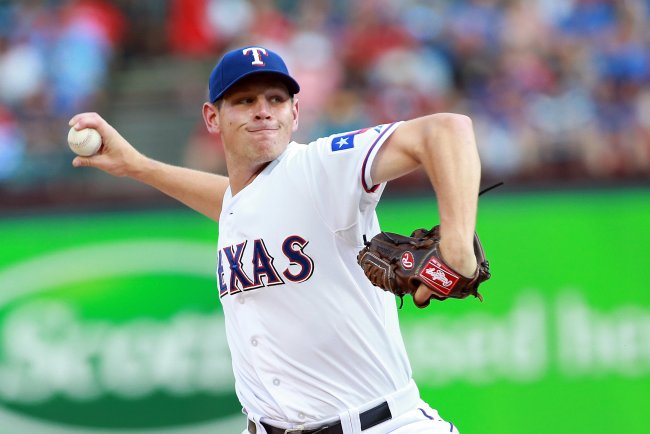 Rick Yeatts/Getty Images
Nick Tepesch is one of the two rookie starters in the American League who have made more starts than Straily, and is certainly the better of the two. The other is Justin Grimm, who owns an ERA of 6.37.
Tepesch's 4.85 ERA looks pretty good in light of that monstrosity, but it looked a lot better about a month ago. Through his first 10 starts, Tepesch had a 3.44 ERA and was looking like a solid piece in Texas' rotation. Then he posted a 7.42 ERA in his next six starts and is now on the disabled list with an elbow issue.
Tepesch is still a primary contender for the American League Rookie of the Year, but only because that's just the way it is this year.
Also in the Mix*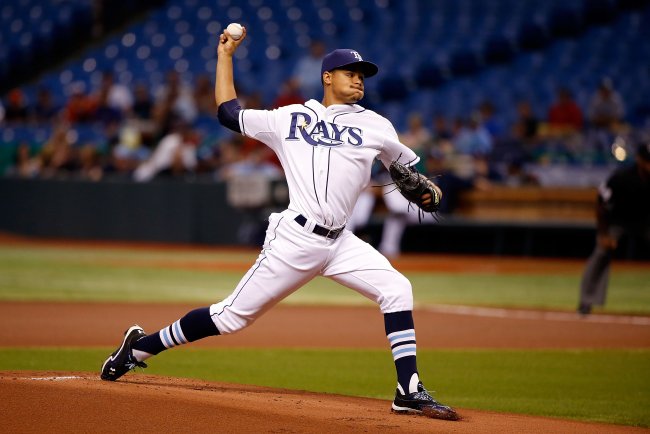 J. Meric/Getty Images
*In no particular order.
Chris Archer, SP, Tampa Bay Rays (Stock: Up)
Chris Archer's 2013 debut on June 1 didn't go so well, as he surrendered five earned runs in only four innings of work. But since then, he owns a 2.27 ERA in eight starts. The most recent of those was a complete-game shutout against the Houston Astros.
Wil Myers, OF, Tampa Bay Rays (Stock: Up)
Wil Myers owns a respectable .288/.321/.413 batting line, but he could do a lot better than that in the second half. He ended the first half with a flurry of hits in his last five games, collecting nine in 19 at-bats with a pair of walks on the side.
Nick Franklin, 2B, Seattle Mariners (Stock: Down)
Nick Franklin's average was over .300 as recently as June 28, at which point he also had an .868 OPS. Then he hit .191 with a .610 OPS in his next 13 games. Yeesh.
Oswaldo Arcia, OF, Minnesota Twins (Stock: Down)
Oswaldo Arcia was the owner of an .817 OPS when June came to a close. Then he hit .159 with a .377 OPS in his next 11 games, striking out 17 times in 46 plate appearances. Double yeesh.
Cody Allen, RP, Cleveland Indians (Stock: Even)
One of the more overlooked Rookie of the Year contenders in the American League, Cody Allen has been solid out of Cleveland's bullpen this year to the tune of a 2.27 ERA and 1.11 WHIP in 40 appearances. He allowed runs in back-to-back outings earlier this month, but none in his last five appearances.
If You're Looking for Leonys Martin...
FanGraphs lists Leonys Martin in its rookie leaderboards and Grantland's Jonah Keri gave him a shoutout in a midseason awards piece, but MLB.com doesn't list Martin as a rookie and my understanding is that he logged too much major league service time in 2011 and 2012 to be considered a rookie heading into this season.
Final note: Stats are courtesy of Baseball-Reference.com unless otherwise noted.
If you want to talk baseball, hit me up on Twitter.