12 Videos of Incredible Athletic Feats of Strength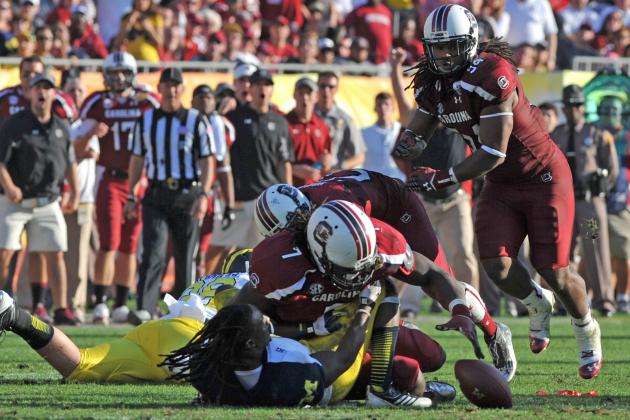 Al Messerschmidt/Getty Images

There's a reason why normal people envy athletes.
Sure, anyone who can make it to the bigs in his specific sport obviously has more talent than that of a normal person, but the guys who separate themselves from the pack are those with freakish athletic abilities.
These guys do things that even their peers can't do, lighting up the Internet with viral videos and making everyone wonder how the hell they did that.
Not everyone can have super strength like these athletes can, so check out some of my favorites over the years.
Begin Slideshow

»
Strength: Bench pressing 700 pounds.
Impressive Ranking: 8/10
Although the all-time bench press record is held by Ryan Kennelly, Texas high-schooler Matt Poursoltani seems to be working his way toward challenging it.
I give the nod to Poursoltani here because he was still in high school when he put up this insane amount of weight.
Who knows if this kid will become anything more than a YouTube hit, but even if that's all he is, he should be applauded for being a superstrong one.
Strength: MLB Home Run Derby record, 28 home runs in first round.
Impressive Ranking: 8.2/10
I know, I know, current Los Angeles Angels (former Texas Rangers) outfielder Josh Hamilton didn't even win the 2008 Home Run Derby, but one couldn't be less than impressed with the feat he accomplished.
Setting the derby record for most homers in a single round, "J-Ham" showed just how sweet his swing is when he's locked in.
And though he failed to win the contest or break the all-time record of most jacks in a derby, that's a ton of long balls in one round, which may never be touched by anyone.
Strength: Breaking a baseball bat over his thigh.
Impressive Ranking: 8.4/10
Though I'm personally more impressed by the original bat-breaking ability of Bo Jackson—who did it over his head once—Baltimore Orioles All-Star Chris Davis is pretty good at it too.
Davis is enjoying a 2013 season that puts him in elite company, so he hasn't had much to complain about.
But considering I'd be left black and blue and limping for a day or two if I even tried this, I give him props for splitting the thing in half.
Strength: Breaking protective glass with a hockey puck.
Impressive Ranking: 8.5/10
Here's a quick reminder for all sports hecklers out there—be careful whom you mess with.
A few Philadelphia Flyers fans found that out a couple of years ago when Buffalo Sabres defenseman Tyler Myers had enough with their yelling. He shot a puck at the glass, shattering it in pregame warmups.
I'm no engineer, but I'm certain that breaking glass isn't supposed to be that simple.
Maybe Myers just has a Happy Gilmore-like shot, though?
Strength: Throwing the fastest pitch in MLB history.
Impressive Ranking: 8.5/10
Cincinnati Reds closer Aroldis Chapman's arm is like a rubber band. Once it's being pulled back and released, it moves forward with serious force.
There's no other way of describing it, seeing that he routinely throws at speeds in the triple digits.
Being clocked in the mid-90s is amazing, so I couldn't imagine standing in the box with a ball traveling 105 mph just 60.5 feet away.
I'd probably go running back into the dugout, crying to my manager.
Strength: 50" vertical leap at 5'11".
Impressive Ranking: 8.7/10
Who says that white men can't jump?
Just as Billy Hoyle (Woody Harrelson) proved in the 1992 cult classic, Jacob Tucker showed that he has serious hops too.
Standing at just 5'11", the former Illinois College baller made his case to compete in the NCAA dunk contest, doing more than repping himself well when he brought home the title in 2011.
Jumping an astonishing 50", his ability scored him a spot with the Harlem Globetrotters a few years back.
Not too shabby.
Strength: Ripping down NBA hoops as if they were toy baskets.
Impressive Ranking: 8.9/10
Former NBA player and current TNT analyst, Shaquille O'Neal, will forever go down as one of the most dominating forces to ever play the game, so it should come as no surprise that he had some memorable dunks in his career.
Though he had one a year earlier where he literally deflated a basket, this one where he pulled down the entire thing might just be the most impressive display of strength I've seen in basketball.
Strength: Carrying opposing players.
Impressive Ranking: 9/10
I mean, what the hell can't New Englad Patriots tight end Rob Gronkowski do?
During his record-breaking 2011 season, "Gronk" had a number of plays that made football fans wonder if the dude was the perfectly constructed tight end or just a freak of nature.
The answer might be both.
Having the balance to make the catch, get back up, stay in-bounds and bull over and carry defenders on his back is something that few people can do—yet he does it routinely.
Strength: Jumping into the bed of a truck.
Impressive Ranking: 9.2/10
I'd forgive you if you didn't know a thing about former Washington Redskins wide receiver (and current Omaha Nighthawk), Keith Eloi.
If you want to get to know more about him when he came into the league in 2009, read this.
But if you want to marvel at how he became a YouTube sensation because of his remarkable leaping ability, just watch this video.
Responding to another small-school college kid named Jarron Gilbert, Eloi made his own statement by leaping into the bed of a pickup truck.
It's impressive in itself, but seeing that he did it in socks and sandals—a serious fashion faux paus—might even best the leap.
Strength: Running 24 miles per hour on a treadmill.
Impressive Ranking: 9.5/10
As someone who runs every single day, I honestly lost my stuff to this video.
Chad Ochocinco, the 35-year-old former All-Pro wideout who has been out of the league for a year, can still run as fast as anybody in the league—even if it is for just a few seconds.
A couple observations here:
1) Ochocinco did this with a soaking wet shirt, meaning he had probably just finished a workout. This makes it even more incredible in my opinion.
2) The cameraman took a serious chance by stepping over the still-running treadmill to prove how fast Chad had run. That risky move could have easily backfired.
3) Just to put this in perspective, No. 85 would have been pulled over in a school zone for running—think about that.
Strength: A crushing hit on Michigan running back, Vincent Smith.
Impressive Ranking: 9.8/10
OK, so this one might just be a bone-crushing hit on another player—which we've seen plenty of before—but you have to admit, Jadeveon Clowney's helmet-popping, ball-fumbling-and-recovering hit is one of the more impressive you've ever seen.
For a 6'6", 274-pound guy to get off the ball as fast as he did, then pummel the ball-carrier like that is something not everyone can do.
Oh yeah, and he also claims to run a sub-4.5 40-yard dash.
He's a freak.
Strength: 59.5" broad jump.
Impressive Ranking: 9.9/10
Maybe it's just because it's the flavor of the week, but seeing Houston Texans defensive end J.J. Watt broad jump almost five feet is mind-blowing to me.
The reigning NFL Defensive Player of the Year shows why so many offensive linemen and quarterbacks hate seeing him anywhere near them on the football field.