Roster Spots on the Philadelphia Eagles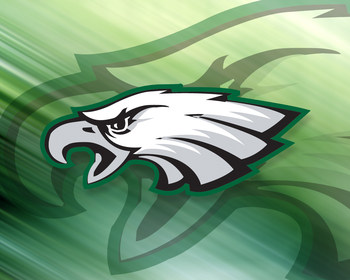 Training camp is almost here, and the Eagles have a very deep and very talented roster to work with. Andy Reid is going to have a lot of tough decisions to make when he assembles the roster for the 2009 season.
This slideshow showcases a few players who will be fighting for starting spots and playing time, as well as taking a look at the rookies and what they bring to the table.
Enjoy......
Sean Jones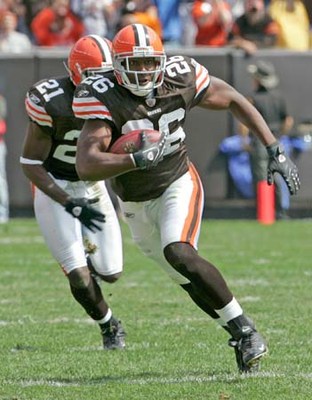 Sean Jones was signed from Cleveland to a one year, 3 million dollar deal at the beginning of free agency. Originally he was thought of by Eagles fans as the replacement to the departed Brian Dawkins. Just one problem though: Dawkins is a free safety, and Jones is a strong safety.
If Sean Jones wants to start, he will most likely have to beat out strong safety Quintin Mikell. There is still a possibility that Jones could be moved to free safety, but Quintin Demps is starting there as of right now.
Wherever the Eagles decide to put Jones, he is bound to make plays in the Eagles aggressive defense. He has ammassed 14 interceptions over the last three years- good for third in the NFL. And he compiled these numbers on a Browns defense that was usually suspect at best.
However, last year was a down year for Jones. After having surgery on his knee, he missed all of training camp and the first four games of the regular season. Following a slow start, he racked up four interceptions in the final six games. Those four interceptions ended up being the only passes he defended the entire year; however, and he only compiled 56 tackles(48 solo).
While Jones didn't have great numbers in 2008, the two previous seasons tell a different story. In 2006 and 2007 he was one of the most dominant safeties in the NFL. Over those two years he made 207 tackles (including a 111 tackle season in 2006) and he also had 10 interceptions while defending 26 passes.
Jones is a ball hawk and a playmaker, and he will see the field regardless of whether or not he starts. The possibility of an uncapped 2010 season also provides alot of motivation for him to play well- especially since he only signed a one year deal. He is a bit injury prone and he will have to show that his knee has fully recoverd- but he is still looking to make a huge impact going into the 2009 season. Whether it's as a starter, a bench player, a free safety, or a strong safety remains to be seen.
Quintin Mikell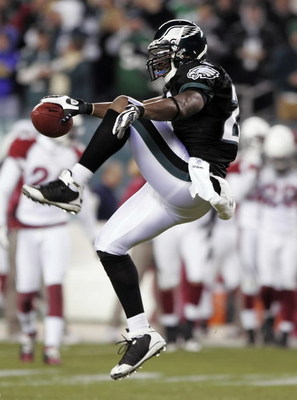 Quintin Mikell is not anywhere near the household name that Brian Dawkins is. But many Eagles fans, even some of the most diehard Dawkins supporters, can agree on this: Quintin Mikkel has been not just the best safety, but the best player on the Eagles defense for the past two years.
After a solid 40 tackle season in 2006, he cracked the starting lineup in 2007 and tallied 74 tackles (52 solo), 1 interception, 1 sack, and defended 5 passes. Those totals again improved in 2008, with 93 tackles, 2 sacks, 3 interceptions, and 9 passes defended.
Looking past the numbers, he played at a pro bowl level week in and week out, and has improved consistently, especially in pass coverage. Barring any kind of injury, he shouldn't lose his starting spot in 2009- even if Sean Jones plays at a high level. Mikkel was a key piece last year on a young defense that ended up being the third best overall in the NFL- and the Eagles can not afford to take him off of the field. He is solid in all phases of the game.
Quintin Demps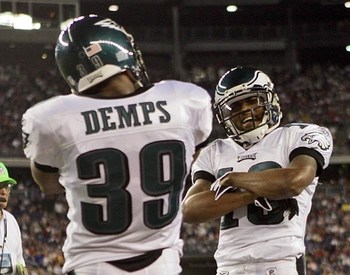 Quintin Demps is penciled in as the starting free safety right now, but he may have to battle with Sean Jones to keep that spot.
If Demps starts at free safety, he will be required to fill the shoes of a Philadelphia legend. Brian Dawkins has been the long time starter at free safety, and was the heart, the soul, and the leader of the defense. Demps will not be able to replace the leadership of Dawkins- because few human beings posses Brian's qualities. Dawkins is an icon in Philadelphia and to all Eagles fans- not just because of his stellar play, bone crushing hits, or inspiring pep talks. He also gets notice for his off the field contributions, and was a finalist last year for the Walter Payton Man of the Year award.
While replacing the leadership of Dawkins will be near impossible, Demps can still make solid contributions on the field. In 2008 he only recorded 18 tackles, but he earned more playing time towards the tail end of the season and he was very solid- his only blunder came in the NFC championship, when he was charged with a 15 yard late hit penalty for body checking Kurt Warner.
Quintin Demps also returned kicks in 2008. His 1314 yards were actually second in franchise history. However, he is in danger of losing his job to Ellis Hobbs, whom the Eagles acquired from the Patriots on draft weekend for two fifth round picks. Hobbs had 1,281 yards last year on returns. If Demps starts at free safety, Hobbs would likely return kicks, as kick returners often have a hard time focusing on two positions.
From a talent perspective, Hobbs and Demps are neck and neck for this spot going into training camp, with Demps currently regarded as the starting return man.
Sheldon Brown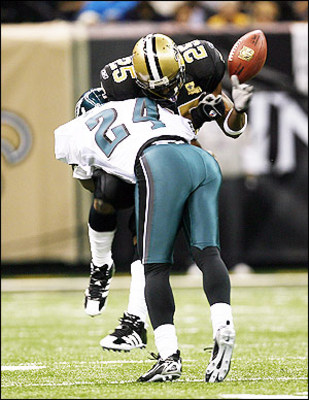 Sheldon Brown created quite a stir this offseason when he demanded a new contract and then requested to be traded. While the Eagles are well known throughout the league to give second and third contract extensions, they sometimes refuse to renogiate contracts. The most famous and well known example was during the Terrell Owens saga.
Brown was given alot of money upfront, with a $7 million dollar signing bonus. He is due to receive base salaries of $2 million, $2.5 million, $3.5 million, and $4.25 million from 2009-12.
This situation could get ugly, and the Eagles have been down this road before. Last year Lito Shepperd was unhappy with his deal after the Eagles broke the bank for Asante Samuel. He was also displeased at having his starting job taken from him, a spot he had held down for several years. After giving up three touchdowns on thanksgiving day, he was benched for the remainder of the season and then traded to the New York Jets for draft picks.
Hopefully Sheldon does not sulk like Lito. He is a valuable part to the Eagles defense, and never misses games. He has played in all 88 games since 2004-both regular and postseason. And his level of play has always been very high. Last year he did not allow any touchdowns in the regular season, while Samuel, who went to the pro bowl ahead of Brown, allowed 3.
If Sheldon does get benched or traded, then Ellis Hobbs or Jack Ikegwuonu would likely start in his place. Jack was a first round prospect before he hurt his knee right before last years draft. His spot on the depth chart right now is a bit of a mystery.
Sheldon has stated that he will attend training camp, and hopefully he will play at his usual high level. It remains to be seen how this whole situation will play out.
Akeem Jordan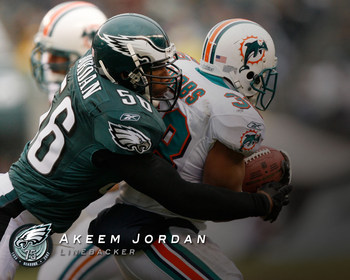 Akeem Jordan was given the chance of a lifetime in a late November game at Baltimore.
In his first start, he wowed the coaches by recording seven tackles- two of them for a loss. This was impressive because the Ravens were running the ball right at Jordan at times. They had a big running back/fullback in Leron McClain, and Jordan possesed a small frame at 6-1, 230 pounds, along with alot of inexpierence. But that didn't stop him from making plays.
In a 2 game stretch (season finale at Dallas and the Wild Card game), he recorded a team high 26 tackles. Those are dominant numbers.
He finished the year with 61 tackles, two pass knockdowns, and a fumble recovery. Also, he was second on the team in special team tackles with 21.
Omar Gaither will try to win the starting weakside linebacker spot back in training camp, but Jordan should keep the job with his athleticism and playmaking ability.
Jordan is faster than Gaither, who would probably be better suited to play middle linebacker. His cover skills are also good enough in space that he can cover a back or a tight end.
Look for Akeem Jordan to start at weakside linebacker.
Victor Abiamiri/Juqua Parker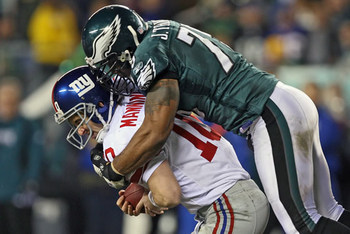 (Juqua Parker pictured. He doesn't like Eli Manning very much)
Both Victor Abiamiri and Juqua parker split reps at the starting left defensive end spot in the post draft mini camp, and that figures to continue in training camp. Whoever gets the nod to start, both of these two players will see the field plenty, as Jim Johnson like to rotate his defensive lineman.
As for what both of these guys bring to the field, Abiamiri is bigger and younger and would be a better force against the run than Parker. In the past he had been used in a third down specialist role but the coaches think he can start. He could also add something to the pass rush.
Juqua Parker has started the past few seasons, but he has played far to many snaps. Parker is an energy guy and he would probably fair better if he came off the bench as a quality reserve. Last year he lost steam as the year went on, probably from receiving to much playing time.
These two are dead even at 50/50 right now for the starting left defensive end spot, and will have to battle it out in training camp.
Reggie Brown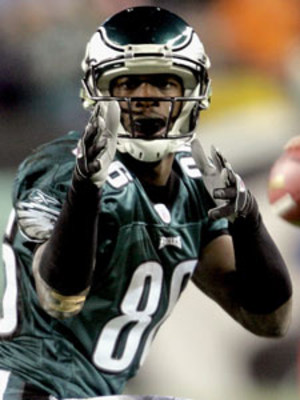 Reggie Brown, the former high second round pick from Georgia, was full of potential, especially after his promising sophomore campaign. But ever since then his play has declined, and he has been incredibly inconsistant.
In 2005, Reggie Brown was the lone bright spot on a 6-10 team that was a preseason superbowl favorite. Then a rookie, he had 43 catches for 571 yards and 4 touchdowns. He followed that up with a 46 catch, 816 yard and 8 touchdown season in 2006. Going into his third year, which many NFL experts consider to be the year receivers break out, the expectations for Brown were sky high. But he failed to deliver. He had 15 more catches then he did a year ago, with 61, but with 36 less yards. An injury plagued 2008 limited him, and with the emergence of Desean Jackson, he lost his starting role.
Where does Brown fit into the picture now? Some Eagles fans say that he won't even make the team, even though he was expected to be the Eagles #1 receiver just two years earlier. Brown will have to fight for his football life if he wants any chance to see the field, as he is currently listed below Jackson, Curtis, Maclin, and Avant. The Eagles also drafted Brandon Gibson, who has alot of upside and potential.
Jeremy Maclin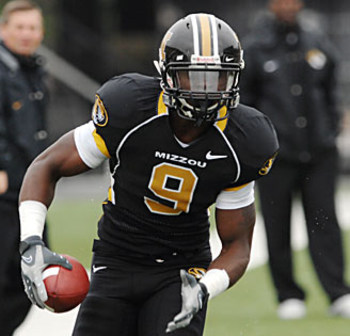 The Eagles turned alot of heads when they drafted(or well, stole) Jeremy Maclin. Thanks to Oakland's insane pick of Heyward bey, and the Jaguars taking Eugene Monroe instead of Crabtree, Maclin fell all the way to 19. The Eagles then traded up from 21 to snatch him away from the division rival and receiver needy New York Giants, who were aggressively trying to trade up to 20th overall.
Some Eagles fans were upset about the pick of Maclin, simply because they wanted a trade for Anquan Boldin. Many Eagles fans had the perception that Maclin was an "outside speedster" and basically a Desean Jackson clone. But Maclin is not just a speedster. Maclin is listed at around 6-1 and 200 pounds, which is much bigger than Desean Jackson. In addition, all throughout his college career he played multiple receiver positions, and caught an abundance of balls in the middle of the field. In his two years at Missouri, he caught an incredible 182 passes for 2,315 yards and 22 touchdowns. By picking Maclin, the Eagles have added a receiver who could very well be a stud for the next 10-15 years.
There are concerns with Maclin. The main one being that he played in a spread offense and thus never had to run routes. That may not translate well when Maclin tries to pick up the Eagles complicated West Coast offense.
Hard study could make up for this though, and Maclin appears to have alot of class and is known as a hard worker. Even if he does get off to a slow start right out of the gate, he does not have to play alot right away. Kevin Curtis and Desean Jackson are the starters, and Avant is the slot receiver. Maclin will have to earn his way into the rotation, or he could replace Avant in the slot. It should be interesting to see how Reid decides to use Maclin.
Maclin was also a dynamic return man in college, and could very well return punts for the Eagles. Jackson may want to focus more on being a receiver, which would give the punt return job to Maclin.
What are the expectations of Maclin? In the long term, he should end up being a pro bowl threat to line up on the opposite side of Desean Jackson. But this year? It is to early to tell, but he will definately get playing time. He will have to first learn the playbook, and then work his way into the rotation. He is definately capable of having a season similar to what Desean Jackson had last year, but with all of the talent and depth the Eagles have on offense, it may be difficult to put up those kinds of numbers.
Lesean McCoy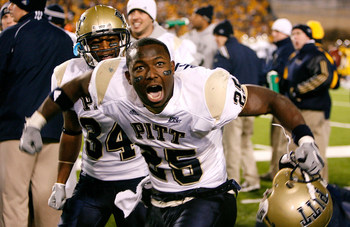 The Eagles were originally expected by many NFL draft experts to take Knowshown Moreno, but the Broncos jumped on him at 12. Despite that, they still came away with a pretty solid back in Lesean McCoy.
McCoy is in the same mold as Brian Westbrook- a fast back, who is somewhat small, and great at catching passes which is perfect for a pass first, west coast offense.
Many have already pinned him as the future replacement to Brian Westbrook- who will be 30 at the start of the season. In the meantime, though, McCoy will spell Westbrook and perhaps be a third down back. He could play a role similar to what Felix Jones had in Dallas last year before his hamstring injury and get 10 impactful carries a game.
McCoy will have a more immediate impact than Maclin. With the loss of Buckhalter in free agency, McCoy is really the only serviceable running back behind the often injured Westbrook, who has never played a full 16 game season and who last year had a grocery list of nagging injuries. If Westbrook misses a few games, which is likely, McCoy has the talent to carry the load and make a few spot starts.
The Eagles have always been a pass first team, and as long as Reid is the coach, they always will be. But after revamping the O-Line (Stacey Andrews, Jason Peters, and Shawn Andrews returning afer missing most of last season),and adding an excellent fullback in Leonard Weaver, the Eagles should call many more running plays in 2009. And McCoy will get many of those carries and be a large factor in the overall season success.
Cornelius Ingram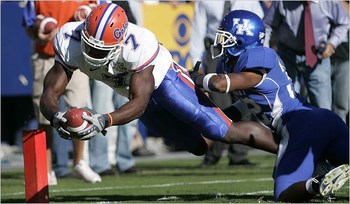 The Eagles had a great draft this year. In addition to getting Jeremy Maclin and Lesean McCoy on day one, they made several smart picks on day two. They used their first day two pick to take Cornelius Ingram in the fifth round. Originally projected to be a first or second round pick, Ingram tore his ACL prior to the 2008 season, which would have been his senior season at Florida.
Ingram has immense talent and physical ability. At 6'4 245, he has athleticism that many NFL scouts have compared to that of Vernon Davis. He is commonly knocked for his blocking ability, because he played in a spread offense at Florida. Many times he lined up in the slot instead of in the trenches. But he has put in hard work to improve his blocking. Before he tore his ACL last August, he spent alot of his practice time working on his blocking. He actually sent tapes of those practices to NFL teams so that they could evaluate his improvement, since he did not play in any games last year.
While he was injured, in addition to rehabbing his injured knee, he used the time to add upper body strength and overall weight to his body to further help him with his blocking capabilities. He actually stated the day after the draft on the Eagles live web show (hosted by Dave Spadaro and Merril Reese) that the knee injury really helped him add weight.
The dedication Ingram put towards blocking is a good representation of his commitment to playing at a high level in the NFL. If his knee holds up, which it should (he ran a 4.6 40 yard dash at the combine), then he should make solid contributions as a rookie. He is being counted on as the number 2 tight end behind starter Brent Celek, so obviously the Eagles have faith in his abilities.
Keep Reading

Philadelphia Eagles: Like this team?