Strangest MMA Stories from 1st Half of 2013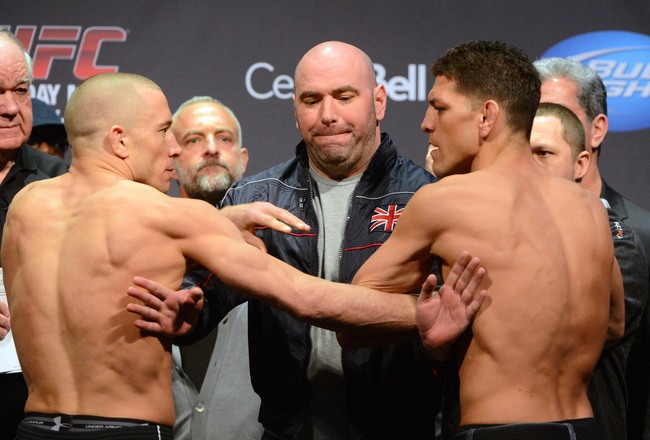 The fight and fallout from Diaz vs. GSP provided two of the year's craziest stories so far.
Eric Bolte-USA TODAY Sports
MMA is a sport where anything can happen, in or out of the cage. As such, we've seen plenty of wackiness over the years, and the first half of 2013 was no exception.
From silly matchmaking turns to crazy call-outs, there were plenty of oddities from January through June. What strange stories top this list, though? What are the absolutely, positively, most ridiculous things to pass so far this year?
Find out right here!
The Anthony Pettis Title Shot Saga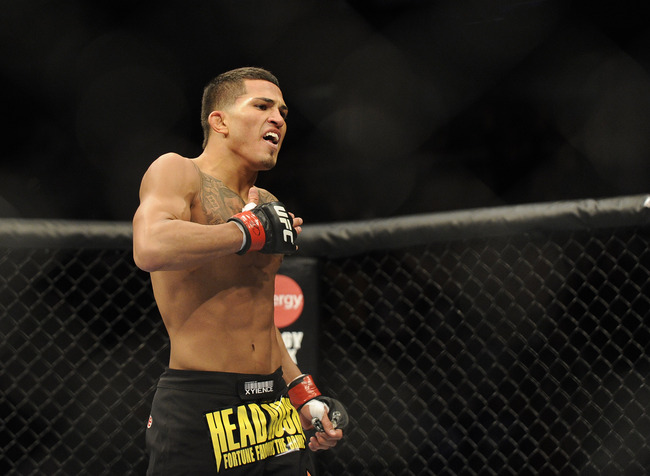 Anthony Pettis' quest for a title shot spanned two years, two divisions and three champions.
David Banks-USA TODAY Sports
Finally. After two long years, Anthony "Showtime" Pettis had his shot at a UFC title.
While he missed his crack back at the belt in 2011 after an unfortunate draw between Frankie Edgar and Gray Maynard, a spectacular one-kick knockout of Donald Cerrone knotted it up. He was finally the top contender and would face off with Ben "Smooth" Henderson in a highly anticipated rematch of the final WEC fight (which Pettis won via unanimous decision).
Or maybe not.
Pettis, using some remarkably flimsy logic, instead decided to call out featherweight champion Jose Aldo. The reason? Well, apparently he was nervous about a fight between Henderson and former Strikeforce champ Gilbert Melendez ending up being a draw...or something.
Regardless, Dana White was happy to bench on-paper contenders Cub Swanson, Ricardo Lamas and Chan Sung Jung for the slightly more marketable bout with Pettis. Too bad he would tweak his knee a few weeks out, forcing him to withdraw from the fight.
From there he would try to do the same thing he did at 145 pounds and pushed for that lightweight title shot yet again (which, coincidentally, was set up in his old stomping grounds in Wisconsin).
This angered actual top contender TJ Grant so much so that his brain exploded (not really, he suffered a concussion in training). In the end, Pettis would get his wish, and he is now getting his title shot at UFC 164 on August 31.
UFC Pitches GSP's "Darkness"
The UFC is in the business of selling fights, and sometimes, that job isn't easy. The fight between Georges St-Pierre and Nick Diaz was not one of those times.
St-Pierre and Diaz had an ugly, ugly rivalry and regardless of whether or not you agreed with Diaz getting the title shot over Johny Hendricks honestly doesn't matter. You were going to watch that fight. You know it, I know it and the UFC knows it.
Or maybe it didn't, because the way it ultimately decided to pitch the event—that the UFC's Ryu had gone all Akuma—generated little hype but a lot of laughter.
GSP is an elite fighter, and he could easily find himself labeled the greatest mixed martial artist of all time in another year. That said, with one of the most clean-cut images in sports and an almost endearing appearance and accent, it's hard to not giggle a little bit when you hear about the "darknez" in his head.
While the idea got a smidgen of credibility when GSP ripped into Diaz during a conference call, it didn't hold up when push came to shove. While GSP discussed how he wanted to put Diaz into retirement before the fight, when he actually succeeded (more on that later) he gave what was pitched as his mortal enemy a big ol' hug and told him to stick around.
Nick Diaz Retires, Starts Own Promotion, Does Solid Job
Nick Diaz is a complicated character, but even his irrationally loyal fans wouldn't be able to say he's business savvy with a straight face.
The popular welterweight has consistently struggled handling his own affairs (including publicly announcing he doesn't pay his taxes), so when word came out that Diaz was starting up his own promotion—later named War MMA—the spectrum of reactions ranged from confusion to laughter.
The strangest part of all this, however, is that the inaugural event was actually pretty good. Aside from early hiccups with the show's stream, everything went quite well.
The fighters, though sloppy, put on a strong show. The fights smoothly went from one into the next. There were no real issues with the scheduling, logistics or management.
While a second event is listed on the War MMA site, there's no telling if it will, in fact, come to be. Diaz apparently wants to get back into the fighting end of the business, so it's possible he may shelf his Don King wig for a while.
Or maybe not. Who knows with Nick Diaz?
Transgender Fighter Sparks Massive Controversy
I'm not going to touch the debate over whether or not Fallon Fox should be allowed to compete as a woman following gender reassignment treatments. That's out of my pay grade (and that goes for everyone who isn't a doctor who specializes in the field).
What I will say is that it's definitely a weird situation. No matter which side of the debate you come down on. I doubt that this is a day you were planning on seeing.
Granted, there have been an increasing number of questions, investigations and situations regarding transgender athletes, but no satisfying conclusions have been reached thus far. This will likely only continue for the next few years.
Anderson Silva's Management Calls Out...Cung Le?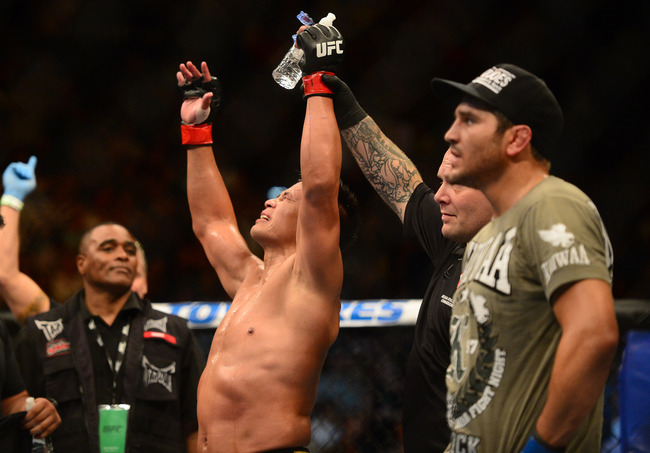 Le, who splits his time between MMA and movies, was called out by Anderson Silva's manager.
Mark J. Rebilas-USA TODAY Sports
It seems like so long ago right now, but there was a time where it really, really seemed like Anderson Silva wanted no part of Chris Weidman. You can't really blame him at this point, though.
After roughing up Stephan Bonnar, there weren't an especially long list of potential opponents for the longtime middleweight champ. Weidman, who owned the shocking knockout of Mark Munoz, was the biggest threat to Silva on paper but was basically unknown to the majority of MMA fans just six months ago.
Seemingly to avoid the surging wrestler, Silva's manager, Ed Soares, proceeded to call out longtime British standout Michael Bisping, Strikeforce middleweight champion Luke Rockhold and, most confusingly, famed kickboxer and on-again-off-again actor Cung Le.
While Le is a deadly striker, perhaps even on the same level as Silva himself, he is by no means a "worthy" title contender, having fought in the UFC just three times, against three fighters ranked well outside the middleweight top 10 rankings. That's on top of the fact he spent a good portion of 2012 on a set (he appeared in the kung fu flop The Man With the Iron Fists), rather than in the cage.
This ended up making Silva himself look a little bit silly and added fuel to speculation that he was actively avoiding fighters with a strong wrestling game. As you likely know, however, he would take the fight with Weidman a month later and would get knocked out in the second round.
Strikeforce Imports Dominate UFC Counterparts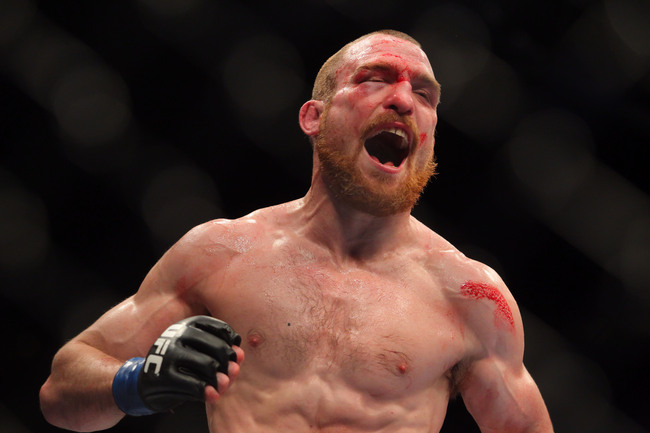 Pat Healy, Robbie Lawler, Jacare Souza, Josh Thomson and many more have looked great in their UFC debuts.
Brad Penner-USA TODAY Sports
Think back to 2008, when fighters from Pride—the promotion that was supposed to be superior to the UFC—had its fighters appear in the UFC.
Mirko Cro Cop gets decapitated by a Gabriel Gonzaga headkick. Forrest Griffin chokes out Mauricio "Shogun" Rua. Wanderlei Silva comes up short in his superfight with Chuck Liddell. Dan Henderson drops back-to-back title fights to Quinton "Rampage" Jackson and Anderson Silva.
Now look to this year, when what was supposed to be the UFC's annoying little brother, Strikeforce, had its fighters begin joining the fray en masse.
Josh Thomson demolishes former lightweight title contender Nate Diaz. Pat Healy chokes out highly regarded Jim Miller. Ronaldo "Jacare" Souza scores back-to-back first-round submission victories over UFC fighters. Robbie Lawler knocks out longtime welterweight contender Josh Koscheck.
Granted, there have been a few losses along the way (most notably those of Gilbert Melendez and Luke Rockhold). Even so, habitual naysayers of fighters outside the UFC are still having trouble wiping the egg from their face on this one.
Fighters Fighting Against the UFC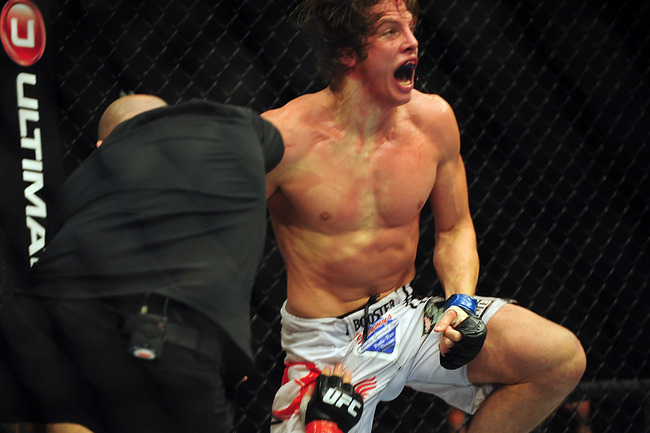 Matt Riddle is one of many fighters willing to tell the UFC where to stick their pink slips.
Anne-Marie Sorvin-USA TODAY Sports
I wrote an article that discussed this at length. The most important bits are as follows...
"Most tellingly is how fighters, the group of people most at Zuffa's mercy, have been more and more willing to burn bridges with the world's largest promotion.
From the superstar Quinton "Rampage" Jackson, to the well-established Jon Fitch, to that guy whose name rings a bell, Jacob Volkmann, down to the also-ran John Cholish, fighters at all stages in their career seem to be willing to tell the UFC where, exactly, they should stick that pink slip."
Indeed, it remains strange whenever we hear of yet another fighter willing to sass the UFC. For years on end, if a guy like Matt Riddle griped about the UFC from outside the organization or, more interestingly, if a guy like Tim Kennedy criticized from inside the organization, it could have realistically spelled doom for their MMA career.
Now, however, fighters outright insulting the UFC and its executives are met with a "ho-hum."
That remarkable turnaround has gone unnoticed by some fans, but educated observers still likely raise an eyebrow whenever they see a headline end with "...Rips Dana White."
Keep Reading