Tiger Woods had to dig deep for another trademark gutsy effort, but he managed to pull out an even-par round of 71 in Friday's second round of the British Open at Muirfield.
At two under overall, the world No. 1 is just one stroke off the lead set by Miguel Angel Jimenez. Dustin Johnson, Lee Westwood and Henrik Stenson are also part of the group at minus-two, but Stenson will play with Jimenez in the final pairing.
ESPN Stats & Info put a bit of a damper on the hard-earned score Woods posted, but it is worth noting in light of Woods' recent performances on major weekends:
Tiger Woods -2 after 2nd round. Over last 6 majors, he is a combined -11 in rounds 1 and 2. He is 30 shots worse - +19 - in rounds 3 & 4

— ESPN Stats & Info (@ESPNStatsInfo) July 19, 2013
The last time Woods won the claret jug was in 2006 at Hoylake, where he frequently took longer irons off the tee rather than fairway metals and drivers. He's deploying a similar strategy, and it's working extremely well in terms of finding the short grass.
That was the case on the first hole, which Shane Bacon of Yahoo! Sports poked fun at in light of Woods' snap hook at the opening par-four in the first round:
Tiger hit an iron off the first hole. It is about 40 yards right of his tee shot on Thursday.

— Shane Bacon (@shanebacon) July 19, 2013
However, despite the fact that Woods has found 75 percent of fairways in regulation this week, finding the green with approaches—and hitting it close—has been rare due to the dried-out conditions in Gullane, Scotland.
Patience was rewarded on the par-four 18th, when Woods finally had a manageable birdie putt from about 15 feet and capitalized, with an animated raise of the flat iron as the ball fell into the cup.
Classic Tiger Woods, scrambles all day and makes it happen on the last to salvage the round. Raises his putter in excitement. Shoots 71.

— GC Tiger Tracker (@GCTigerTracker) July 19, 2013
Going out in the morning wave in Round 2 was perceptibly advantageous for Woods, but the wind completely changed directions from how it was blowing during practice rounds and in Thursday's action. It was an adjustment for Woods and the entire field.
In the early going, it was actually Woods' putter that let him down at times.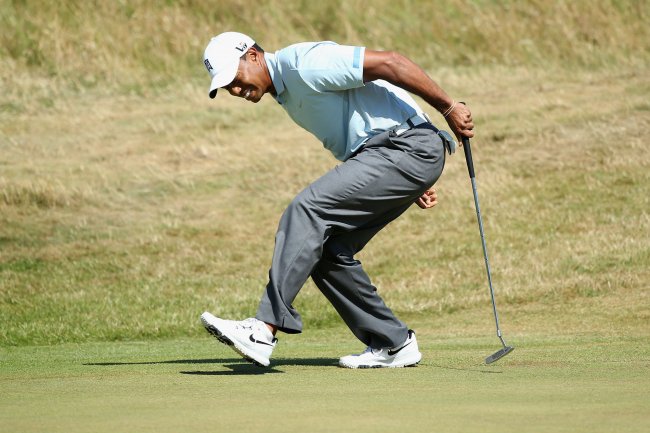 Andy Lyons/Getty Images
After a birdie at No. 3, Woods missed a three-footer to three-putt at the fourth hole. Although he responded with a birdie at the par-five fifth, it was given back with another short miss for par and another three-putt at No. 8.
Golf Channel's tracker posted a distress call to Steve Stricker, who gave Woods a putting lesson that turned around his performance on the greens earlier in 2013:
1-800-CHEESE-HEAD? "@6ronda7: .@GCTigerTracker Calling Steve Stricker, calling Steve Stricker! What's his number?!"

— GC Tiger Tracker (@GCTigerTracker) July 19, 2013
Kelly Tilghman analogized the uncharacteristic mistakes from Woods to the unusually sunny forecast in Gullane:
Tiger Woods has missed two 3 foot putts in the same round. That happens about as often as a sunny day in Scotland...oh wait.

— Kelly Tilghman (@KellyTilghmanGC) July 19, 2013
From there, holding the greens proved more difficult for Woods, and grinding for pars was the norm. Whether it was chipping it nearly through the green and draining comeback putts or leaving himself too much work on his second putts, the round was hard to watch.
Sports Illustrated's Alan Shipnuck could barely handle it, noting how uncomfortable Woods looked over the ball with the flatstick:
Tiger doesn't look comfortable on or around the greens. He's grinding so hard on every putt—respect the effort but it's exhausting to watch.

— Alan Shipnuck (@AlanShipnuck) July 19, 2013
An indication of how tough Muirfield is playing is the fact that Woods didn't have a realistic birdie opportunity from his made putt on No. 5 until the relief on the final hole. Woods alluded to the wind being the main culprit for the difficulties:
Tiger, about how Muirfield played today: "It was hard. The wind is blowing from a completely different direction."

— Golf Digest (@GolfDigestMag) July 19, 2013
Will Brinson of CBS Sports pointed out a mind-blowing statistic, which shows just how sharp Woods has had to be with his putter to save a massive number of strokes:
18 one-putts through 36 holes for Tiger Woods so far at The Open. That'll keep you in contention.

— Will Brinson (@WillBrinson) July 19, 2013
In that context—and bearing in mind that conditions will only get tougher as the remaining rounds wearson—it's possible that Woods could grab at least a share of the 54-hole lead on Saturday.
That is likely what he'll need to notch major victory No. 15 at the Open Championship, considering he's never won one of golf's four most prestigious events from behind.