Tiger Woods at British Open 2013: Round 2 Performance Grades at Muirfield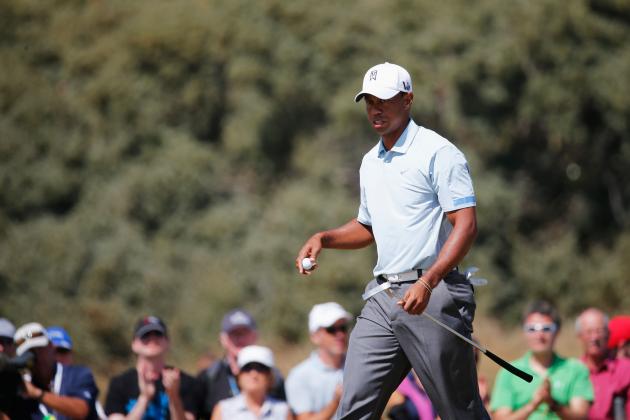 Rob Carr/Getty Images
Tiger Woods shot a solid even-par 71 at Muirfield on Friday.
Following an opening-round 69 at Muirfield, expectations were high for Tiger Woods on Friday.
The world's top-ranked golfer responded with a solid and gritty even-par effort in the second round of the 2013 British Open.
As a result, Woods is two under par at the midway point and right in the thick of things as he attempts to win a fourth Claret Jug.
By no means was the outing perfect, and there are certainly aspects of his game—namely his putting and iron play—that can improve, but Woods was rightfully satisfied with his effort on Friday.
If he can stick to his game plan, remain patient and sink a few more putts, he will remain that way well into the weekend.
Begin Slideshow

»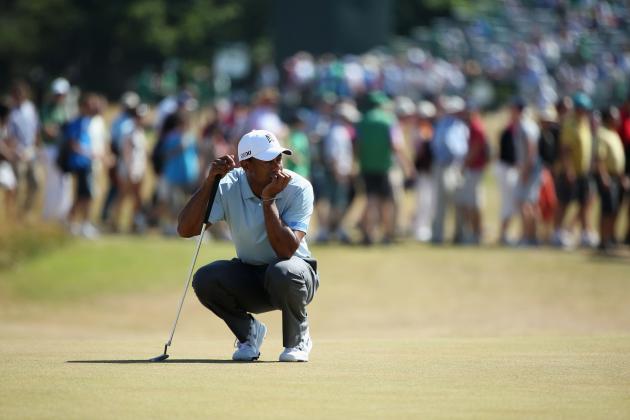 Andy Lyons/Getty Images
Woods was average at best on the Muirfield greens Friday.
As the flat stick goes, so travels Tiger Woods. On Friday, the putter by and large had the world's No. 1 player stuck in neutral.
After a solid day on Thursday, Woods never seemed comfortable with the speed of Muirfield's greens Friday, and he cost himself early momentum with a pair of rather stunning three-putts on the front nine.
The two missed par putts were from within five feet and seemed to sap some of Woods' confidence on the greens.
That said, it wasn't all bad for Woods on the greens. Tiger did roll in several medium-length par putts to keep his round from really getting away from him. He then managed to hole a huge birdie putt on the 18th to head into the weekend with some serious momentum.
Grade: C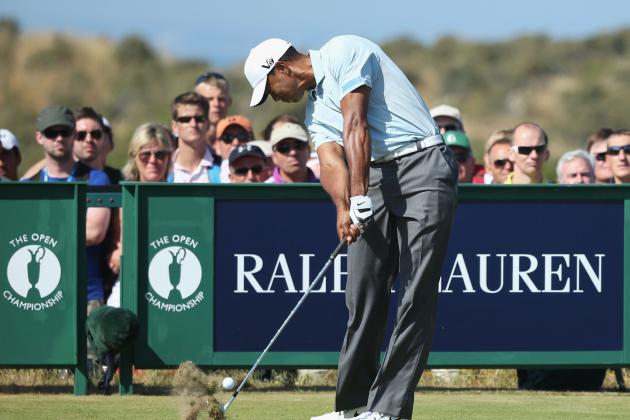 Andy Lyons/Getty Images
For the second consecutive day, Tiger was solid driving the ball at Muirfield.
Thanks to solid ball striking off the tee, Woods spent the majority of his morning in the fairways and away from any significant trouble.
Following his first-round game plan, Tiger avoided his driver, opting to play irons and three-wood off the tee and let much of his distance come from the roll-outs on the firm Muirfield fairways.
Woods did, however, get a little sloppy off the tee in the middle of his round. He missed the fairway on the ninth hole, costing himself a shot at birdie on the par five, and then again on the 11th hole, which resulted in his third bogey of the day.
Outside of those hiccups, Woods was strong and smart off the tee all day.
Grade: B+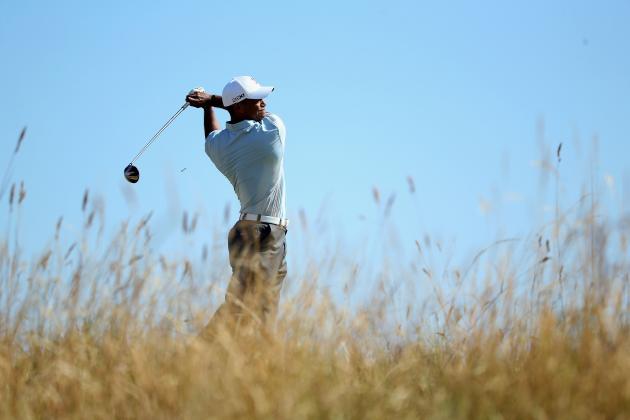 Andy Lyons/Getty Images
Tiger Woods' approach to the second round of the British Open was solid.
With a significant switch in wind direction, Muirfield played quite differently than it did in the first round, and Woods adjusted well.
Albeit not particularly strong, the winds at Muirfield on Friday came out of the east, resulting in a number of holes that played differently than on Thursday or in the practice rounds earlier this week.
Despite the change, Tiger followed his game plan exactly as he did on Thursday and worked his way around the course with little stress. He avoided the treacherous fairway and green-side bunkers and played from the rough only a handful of times.
When he missed greens, he gave himself chances for recovery, and despite three bogeys, he managed to save a number of strokes with his short game.
If not for a balky putter from inside five feet, his round would have been equal to Thursday's effort, which means his game plan for getting around Muirfield is solid.
Grade: B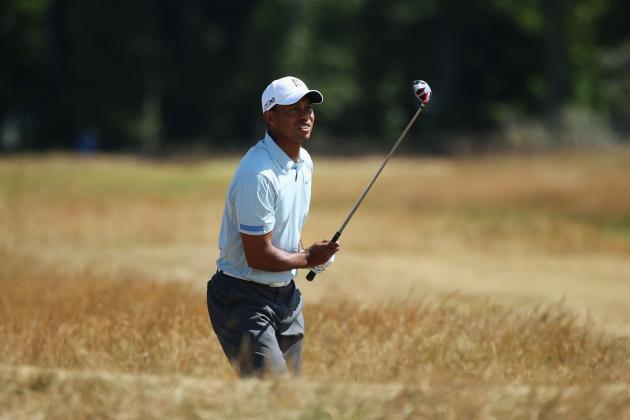 Andy Lyons/Getty Images
Woods' iron play cost him birdie opportunities.
Considering how accurate Woods was off the tee on Friday, his iron play from ideal fairway positions left a little to be desired.
After a solid start that saw Tiger hit most of his greens in regulation on the front nine, Woods struggled with his distance control and execution with his irons throughout much of the back nine.
To his credit, the world's top-ranked player managed to scramble well and hold his round together, but if he had been better from the fairways, he most certainly would have been under par rather than even at the end of the round.
Bottom line: If he's going to win that elusive 15th major at Muirfield this weekend, he'll have to get more dialed in with his iron efforts.
Grade: C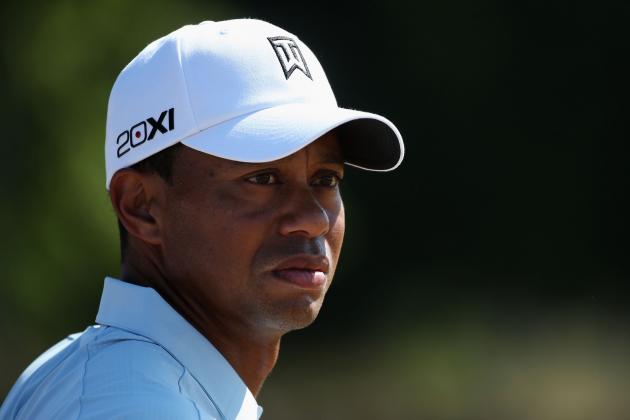 Andy Lyons/Getty Images
Woods remained patient throughout a challenging second round at Muirfield.
Despite some struggles with putting and distance control from the fairways, Woods maintained the same focus and determination he showed on Thursday during his second round at Muirfield.
In fact, Woods shook off the early three-putts and kept his wits about him during another trying day at Muirfield.
The easterly shift in the wind for the first time this week created a whole new set of challenges on the links course, and Tiger stuck to his game plan and remained patient—two significant keys to his success in majors.
While many golfers struggled down the stretch Friday morning on the difficult back nine, Woods stumbled just once—on the challenging par-four 11th—and finished with a huge birdie on the 18th hole to finish his round at even-par 71, heading into Saturday with some mental momentum.
His strong mental approach both on Thursday and Friday is an encouraging sign as Tiger looks to make a weekend run toward a fourth Claret Jug at Muirfield.
Grade: A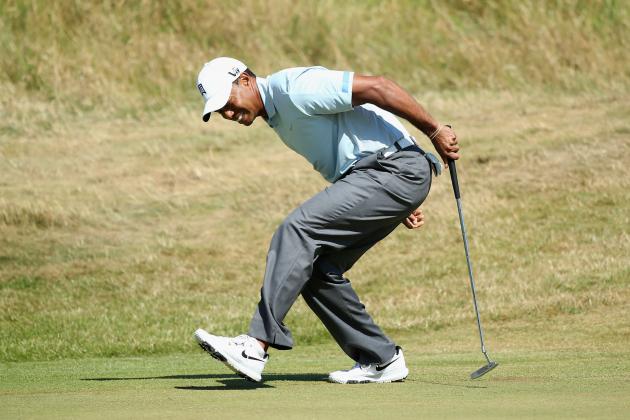 Andy Lyons/Getty Images
Woods is right in the mix heading into Saturday's third round.
Tiger's grinding even-par 71 looked good when he finished his round Friday afternoon. By the time the second round ends, it might very well look great.
Woods birdied the final hole at Muirfield to end the day exactly where he began—at two under—and well within reach of the leaders heading into the weekend.
Granted, Tiger struggled at times with his speed on the greens and was a little off with his iron play, but his focus and patience paid off down the stretch.
For the second straight day Woods avoided trouble off the tee, and when he missed with his irons, it was to spots that allowed him to scramble for key pars that kept his round together.
If not for the two short par putts he missed on the front nine, Woods would have had one of the best rounds of the morning.
As it is, the three-time Open champion is right where he wants to be—in the mix for a 15th career major title after two rounds.
Grade: B