British Open 2013 Results: Biggest Winners and Losers from Day 2 at Muirfield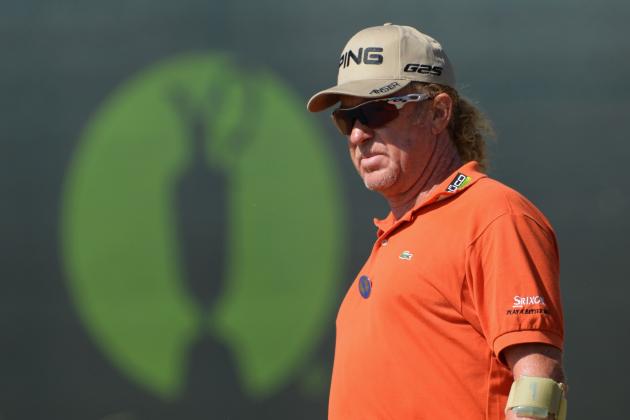 Stuart Franklin/Getty Images

The Royal & Ancient Golf Club did what it could to slow down Muirfield during the second day of the 2013 British Open, but the course still claimed its fair share of scalps for a second straight day.
And like Thursday, the majority of the injured played late in the day. Less than half of the 20 players who began the second round in red numbers remain there heading into the weekend, and only a handful of golfers actually managed to improve upon their Thursday performances.
To be sure, for the second straight day the star of the Open Championship is the host course itself.
That said, there remain some very recognizable faces at the top of the leaderboard heading into Saturday's third round, including 36-hole leader Miguel Angel Jimenez, who is three under. The Spaniard, however, is being chased by likes of Tiger Woods, Lee Westwood, Angel Cabrera, Dustin Johnson and Phil Mickelson. All told, there are 24 golfers within five shots of the lead.
Friday's cut moved all the way to eight over, but it still claimed some significant names, headlined by Rory McIlroy, Luke Donald and Camilo Villegas, who bogeyed the final hole to miss by a shot.
Here are the biggest winners and losers from Friday. Some have momentum heading into the weekend, while others are licking their wounds and happy to have just survived another brutal day at Muirfield.
Begin Slideshow

»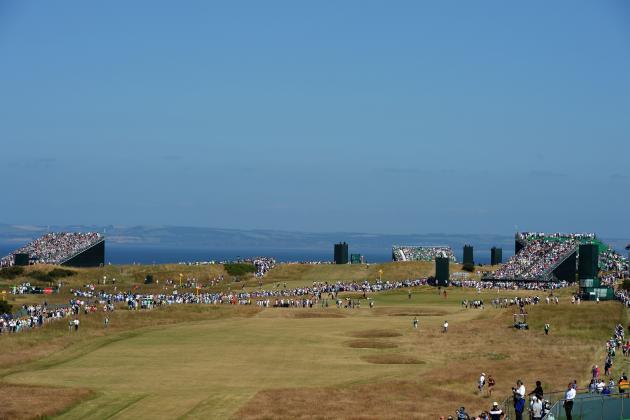 Stuart Franklin/Getty Images

After receiving significant criticism for its course setup Thursday, the R&A reacted just as it should have Friday.
The Open Championship's ruling body listened to the players and watered the greens before the second round, allowing the course to better resist the hot and dry conditions during the second round.
It didn't necessarily make the course play any easier, however.
When the second round began, 20 players were one under or better. By the time the dust settled, there were only nine in red numbers.
The old course is holding up quite nicely against the best players in the world, thank you very much. And the R&A didn't have to trick it up with windmills or clown faces to accomplish that.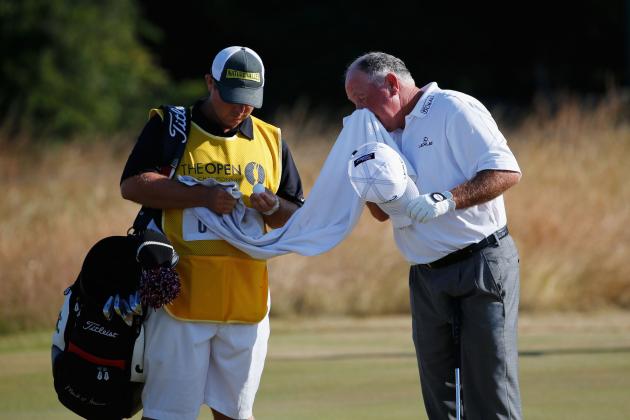 Rob Carr/Getty Images

Mark O'Meara and Tom Lehman, a pair of former Open champions, turned back the clock with their under-par opening rounds Thursday.
Friday, however, their time for contending in the 2013 title ran out rather dramatically.
O'Meara went from a surprising 67 Thursday to a bitter 78 Friday, falling all the way back to three over for the tournament.
Lehman wasn't much better, turning an opening 68 into a 77 to join his senior tour friend in the middle of the pack.
The good news for the pair of fifty-somethings is they made the cut. Yet after such solid and surprising opening rounds, both certainly hoped for more Friday.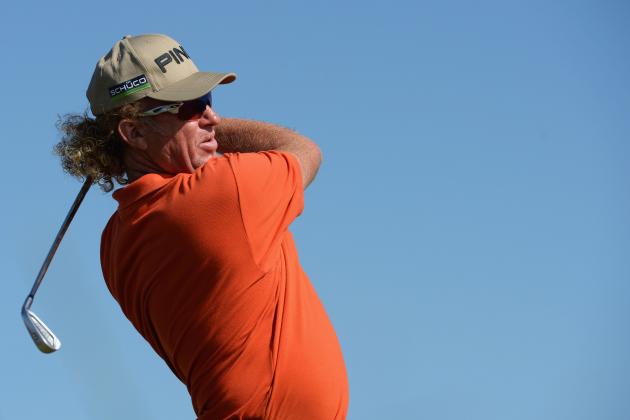 Stuart Franklin/Getty Images

Some eight months or so after breaking his leg skiing, Jimenez is the 36-hole leader of the 2013 British Open.
The Spaniard clawed his way to an even-par 71 and heads to Saturday's final pairing at three under.
While many on the leaderboard fought through up-and-down rounds on the difficult Muirfield layout, Jimenez was the model of consistency, recording just two birdies and two bogeys in the round.
The relatively stress-free effort will benefit the 49-year-old Jimenez as he seeks to stay in position for a first-ever major title Saturday.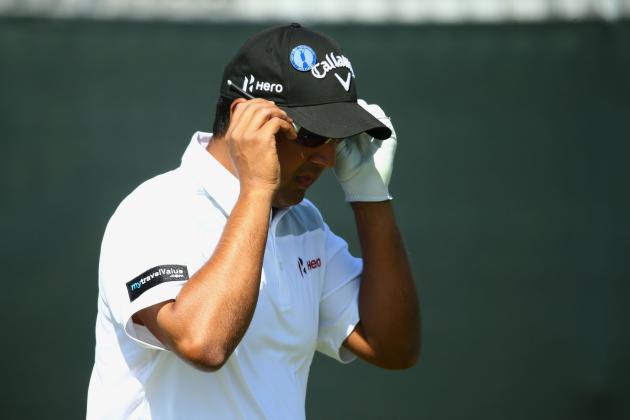 Matthew Lewis/Getty Images

It turns out one of the biggest surprises of the first round was really just a one-hit wonder.
Less than 24 hours after shooting an impressive three-under 68, Shiv Kapur struggled Friday, posting a six-over 77 to slide down the leaderboard.
The 31-year-old looked a lot more like the 210th-ranked golfer that he is, struggling to find the fairways and manage Muirfield's difficult greens.
He'll be around for the weekend, but at three over his tee time Saturday got a whole lot earlier than he might have expected when the day began.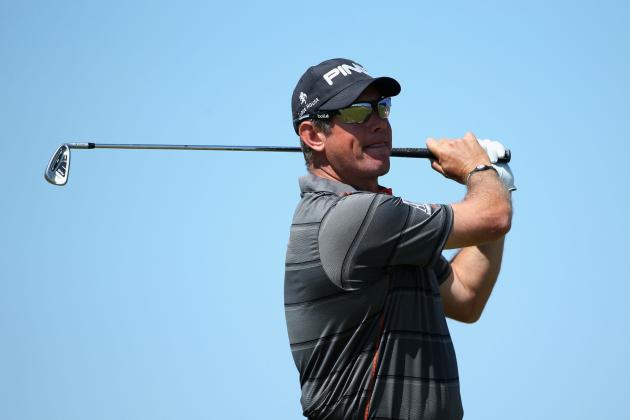 Andy Lyons/Getty Images

Midway through his round, it looked as if Westwood was going to have a career day at Muirfield.
As it was, the Englishman still had one of Day 2's best rounds and is also a significant threat to win his first major title.
Westwood fired a three-under 68 on the difficult Muirfield layout and in the process makes the turn toward the weekend at two under.
At one point in the impressive round, Westwood was six under and shared the lead for a brief moment.
Three bogeys on the back nine tempered the round, but there's no denying that Friday's effort put Westwood directly into contention for a breakthrough win in the Open Championship.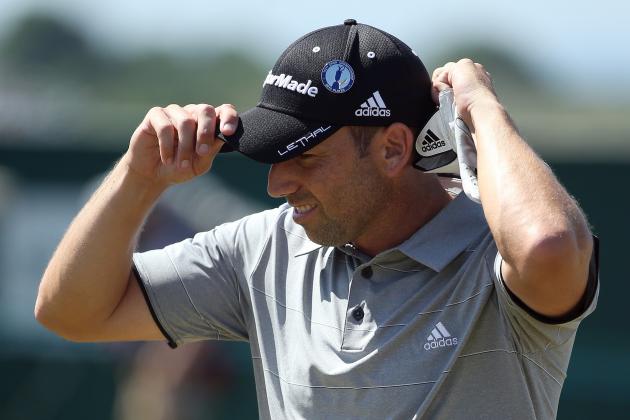 Andy Lyons/Getty Images

After playing relatively well for the majority of the round and working himself comfortably inside the cut line, Sergio Garcia bogeyed three of the final four holes to slip to six over and nearly earned an early trip home.
After an opening-round 75 in the challenging afternoon conditions Thursday, Garcia was one under on his round before bogeys on 15, 17 and 18 pushed him back to a frustrating two-over 73 and likely out of contention, despite making the cut by two shots.
The effort continues a rather difficult summer for the Spaniard, which began with his now-infamous dust-up with Tiger Woods in May.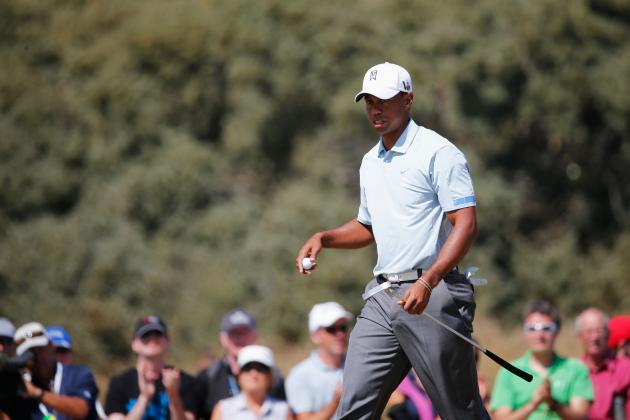 Rob Carr/Getty Images

Despite missing a pair of short par putts on the front nine, Tiger Woods fought his way around Muirfield Friday and is directly in the fight for a fourth Claret Jug this weekend.
Woods birdied the 18th hole to finish his second round at even par and is one shot off the lead at two under. Woods will play in the second-to-last game
While the round wasn't a thing of beauty by any stretch, Woods scrambled well, overcame some shaky iron play, and kept patient throughout.
As a result, he is once again positioned to challenge for his 15th career major title and first since 2008.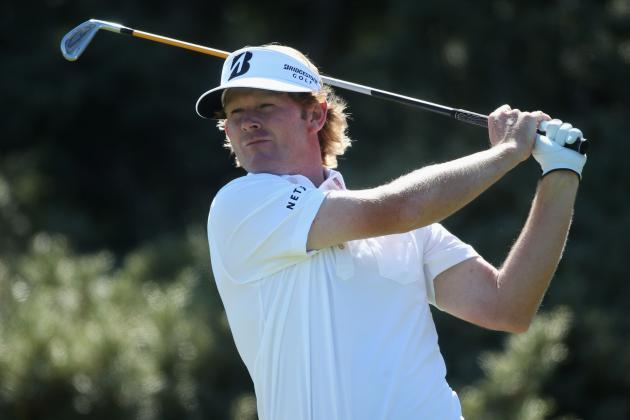 Andrew Redington/Getty Images

Brandt Snedeker was all over the place on Day 2, and his scorecard reflected it.
The American recorded three double bogeys, including one on the 18th, and added a triple just for good measure during a sloppy second round that essentially dropped him out of contention.
The round reached its low point on the 15th hole when Snedeker attempted to casually knock a bogey putt into the hole, only to see it roll some five feet past.
He missed the subsequent putt for double bogey and ultimately finished with a well-earned eight-over 79 that all but ends his championship hopes.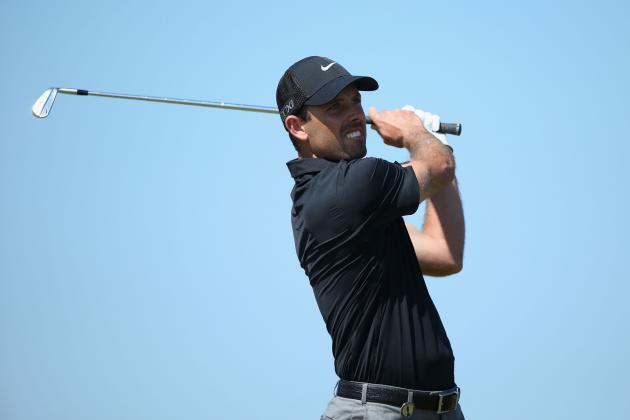 Andy Lyons/Getty Images

Not only did Charl Schwartzel manage to finish his second round with all his golf clubs intact, he shot himself up the leaderboard with a strong three-under 68.
Playing alongside Westwood, the South African who sits at one over for the tournament looked like anything but the golfer who a day before shot a 75 and broke a club in frustration along the way.
The former Masters champion was far more even-keeled Friday, avoiding the major mistakes to get back into contention for a second career major title.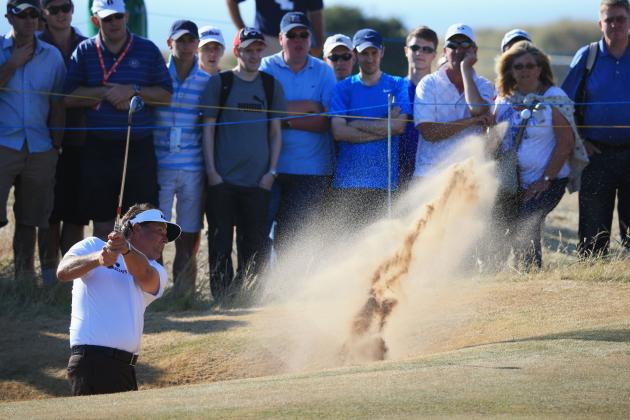 Matthew Lewis/Getty Images

For 15 holes, Phil Mickelson fought diligently to avoid the same terrible fate so many around him in the late afternoon were enduring.
Then on the 16th hole it all came apart. Mickelson missed two gimmie putts to make double bogey with a mind-numbing four-putt.
The miscue, which took all of 30 seconds to make, turned a gritty round in challenging conditions into a devastating one that will surely make it difficult for Mickelson to sleep on the night.
On the 16th tee, Mickelson was one under and holding tough. Walking off the green, he was one over and in stunned disbelief.
All told, Lefty, looking to win his first Claret Jug, fired a three-over 74 to fall four shots behind heading into the weekend.
In addition, the American has golfers the likes of Woods, Westwood and Cabrera in between him and leader Jimenez.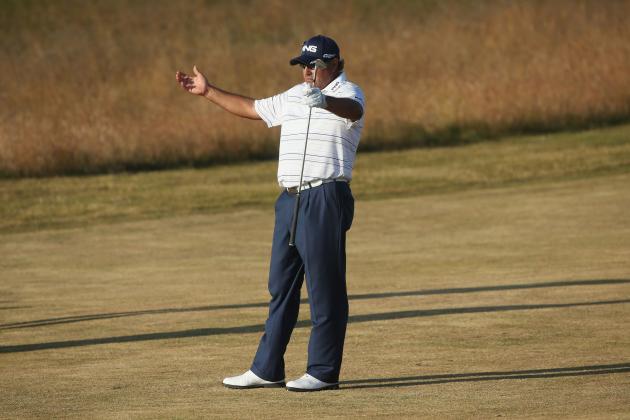 Andrew Redington/Getty Images

If it's a major championship, Cabrera must be in contention.
For the second time this year, the powerful Argentine has played his way into contention and will attempt to win his first Claret Jug this weekend.
Cabrera survived the taxing afternoon to fire a more-than-respectable one-over 72 and sits just two shots behind Jimenez. Earlier this year, Cabrera lost to Adam Scott in a playoff at the Masters.
Cabrera has put himself into position to win a third career major to go along with his previous Masters and U.S. Open titles.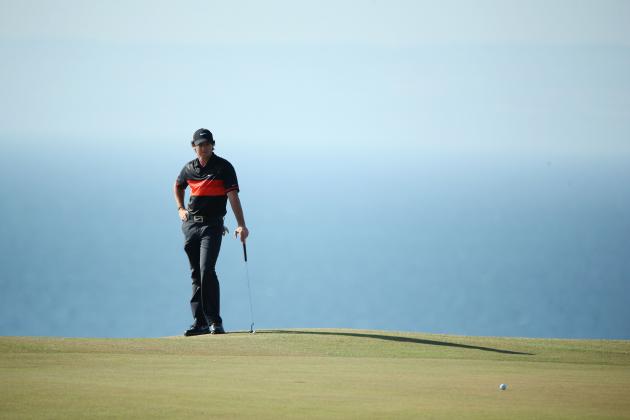 Andy Lyons/Getty Images

As it turns out, all McIlroy had to do to make the cut was shoot level par. He wasn't even close and is going home early as a result.
McIlroy followed his terrible eight-over 79 Thursday with a four-over 75 to miss the cut by four shots. Combined with his U.S. Open performance last month, McIlroy is now 26-over par in his past six major championship rounds.
Given the misery of the past two days, McIlroy couldn't get away from Muirfield fast enough. And the truth is he needs some time away from competition to figure things out.
While he does that, the debate will rage as to exactly what's wrong with him—clubs, confidence, focus or effort—but only the former World No. 1 can figure that out.
Problem is, he has less than a month to do it before defending his PGA Championship title.