Previewing the Players on Dallas Cowboys Roster Bubble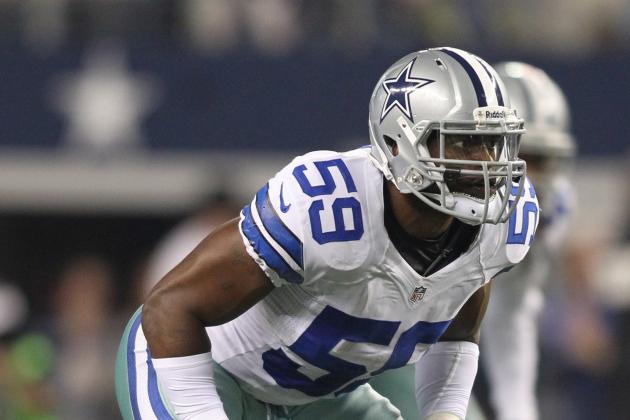 USA TODAY Sports
Linebacker Ernie Sims
With training camp for the Dallas Cowboys kicking off in just a couple of days, there will be no shortage of evaluations to make. For at least eight rather visible players, this could be bad news if they can't stake their claim to an active roster spot in Oxnard, California.
Some of these players that are on the bubble are young, others might be late bloomers and still others are just getting old.
The Cowboys finally seem to have some valuable youth emerging as a result of better drafting and smarter selections following the draft. Free agency wasn't much of a factor this offseason, but it was kind of a waste a year ago and the franchise will have to decide on whether or not some of those investments are still worth the expenditure.
The NFL is definitely a young man's game, especially when considering how little depth all NFL teams can stockpile as a result of free agency and the salary cap. The Cowboys will probably make a greater effort of playing younger players this summer than they have in recent years. This creates more bubble-type players.
Here's eight guys who need to show quickly that they should be a part of the future in Dallas, otherwise they'll find themselves out of the game or, most likely, on some other team's roster trying to figure out a new system without the benefit of training camp.
All contract data courtesy of Spotrac.com
Begin Slideshow

»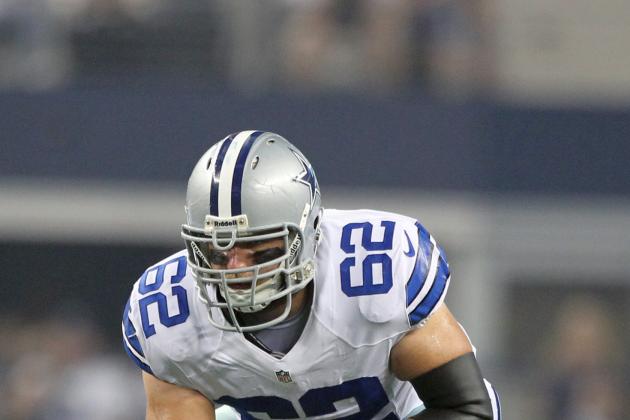 Matthew Emmons-USA TODAY Sports
David Arkin
It's no secret that Dallas took a bath on 2012 free-agent offensive guards Mackenzy Bernadeau and Nate Livings last year. While the money spent here could end up worth the price tag, that's no sure thing at this point.
David Arkin was drafted by the Cowboys in 2011 and was selected in the fourth round. This generally means that a given club expects a player chosen in this position to contribute.
Arkin has played in a single game.
I can't see Arkin remaining on the team beyond this season, at the latest, if he can't unseat one of the two aforementioned veterans listed above from other teams prior to last season. Arkin is scheduled to earn $555,000 in 2013 and it seems that he should be getting close to defining his worth to Dallas.
If Bernadeau can finally get healthy, then things will be tough for Arkin. The first-round selection of center Travis Frederick in the 2013 NFL draft might not help either, even at guard.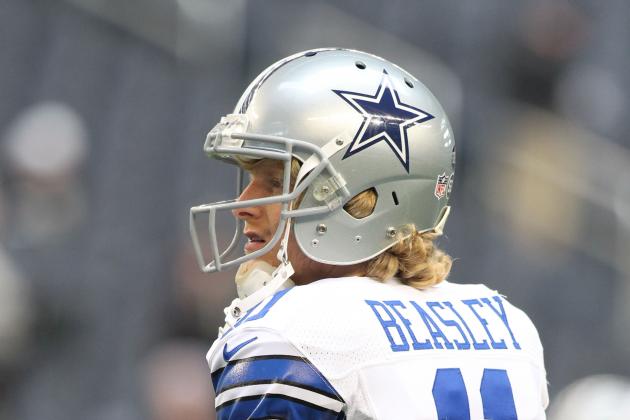 USA TODAY Sports
Cole Beasley
Former SMU product Cole Beasley remains a popular player with some Dallas fans. He has that ''Little Engine That Could'' persona that the Cowboys seem to like.
This is all well and good, but the comparisons to Denver Broncos wide receiver Wes Welker are a little far-fetched, at least at the moment.
Beasley's life got tougher in April when the Cowboys selected Baylor wideout Terrance Williams, a talent that has primary receiving skills and will definitely make the team.
The anticipated contributions from Dwayne Harris likely brings us to four wide receivers that Dallas will carry into the season.
Second-year veteran Danny Coale was chosen in the fifth-round of the 2012 NFL draft, but saw no action as a rookie due to injury—I like comparing him to Welker even more, frankly. This makes five receivers if Coale makes the cut, which he likely will.
What if the Cowboys only carry five active receivers?
If Dallas keeps six, a good possibility, is Beasley better than everyone else remaining at camp?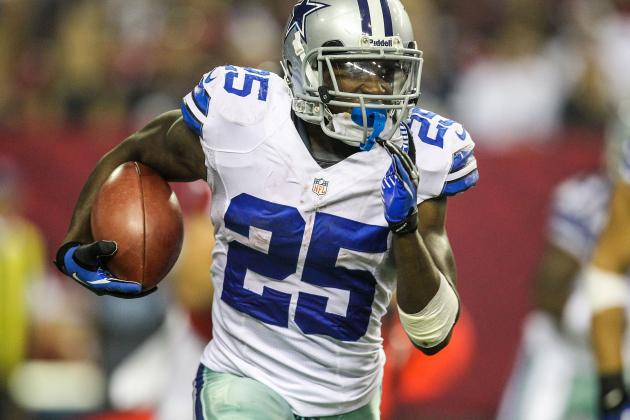 Daniel Shirey-USA TODAY Sports
Lance Dunbar
Like Beasely, Lance Dunbar is another Dallas-Ft.Worth Metroplex product that is vying for a better sophomore campaign with the Cowboys in 2013.
Dunbar had a remarkable career at North Texas after settling in Haltom City after Hurricane Katrina forced his family's departure from New Orleans in 2005. Dunbar was a high school student then but he would go on to set almost all meaningful rushing records with the Mean Green in Denton, Texas.
Now, Dunbar has a shot, but he'll have to really climb up the depth chart over the course of training camp. The presence of incumbent starter DeMarco Murray and 2013 fifth-round draft selection Joseph Randle complicate matters. Further, I suspect that undrafted Phillip Tanner might also have a leg up in the competition for the third running back spot—I think Dallas has to carry three running backs.
Dunbar will get the reps he needs during training camp and in preseason games, especially given the injury history of Murray. But Dunbar will need to re-live his days at North Texas to a significant extent if he's going to remain with the Cowboys this season and beyond.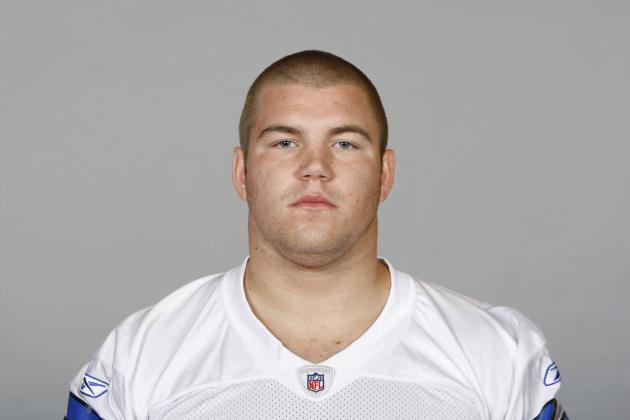 Handout/Getty Images
Kevin Kowalski
If you're offensive lineman Kevin Kowalski, you're an undrafted free-agent still hanging around following two seasons of very little action. Like the previously mentioned Arkin, Kowalski needs to show something in his third camp with Dallas.
Perhaps an advantage for Kowalski is his versatility on the offensive line. With the ability to play both guard and center, he may survive simply for depth purposes. Then again, Kowalski might be one of those late bloomers that can find his way in the starting lineup in 2013.
It will be interesting to see how the battle at center goes. Does incumbent starter Phil Costa keep his gig despite the presence of Frederick? If so, does Frederick move to guard ahead of Kowalski?
Does 2012 undrafted free-agent Ronald Leary rank ahead of Kowalski as well?
Probably so.
Right now the only certainty on the Dallas offensive line is that Tyron Smith, chosen in the first round of the 2011 NFL draft, will start at left tackle.
Every other position is a question mark, a good thing if you're Kowalski who's trying to make one last effort to move up the depth chart. In other words, it's not like there's numerous Pro Bowl-caliber players on the offensive line that simply give him no chance to get on the field.
Still, Kowalski has appeared in just 11 games as a pro and didn't play in a single game last season. Kowalski will have to start fast and keep all eyes on him—he should probably hope that Bernadeau continues his struggles staying healthy.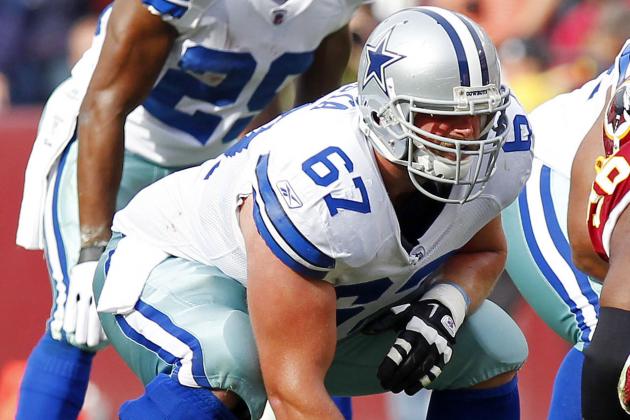 Geoff Burke-USA TODAY Sports
Phil Costa
Contract extension or not, veteran center Phil Costa might be the player sitting on the biggest bubble on this list. His two-year, $2.7 million extension certainly states that Dallas wants him around, even for depth purposes.
There's also the chance that Costa holds down a starting gig in 2013 that he's never really been able to own completely.
Last year it was injuries that essentially eradicated what could have been a breakout season for Costa. In years prior he simply wasn't a player that was ready to start in the NFL.
All things considered, we have to wonder just how secure Costa is given the fact that Frederick was chosen as early as he was in this year's draft.
There's been some speculation that Frederick could end up playing guard, depending on how things go during the battle for starting center. But if Frederick proves superior snapping the ball to quarterback Tony Romo, then Costa might find himself on the bench this year and perhaps playing elsewhere next.
Costa will have the opportunity to make things difficult for the Dallas coaching staff. If he's truly a different player than he's been before, injuries included, then perhaps the Cowboys are forced to move Frederick, a superior player even if he is a rookie.
On an offensive line that has the questions that Dallas has, even Costa benefits from the mass-indecision heading into camp. But Costa has to start fast and be awfully convincing in order to play out his contract extension given earlier this year.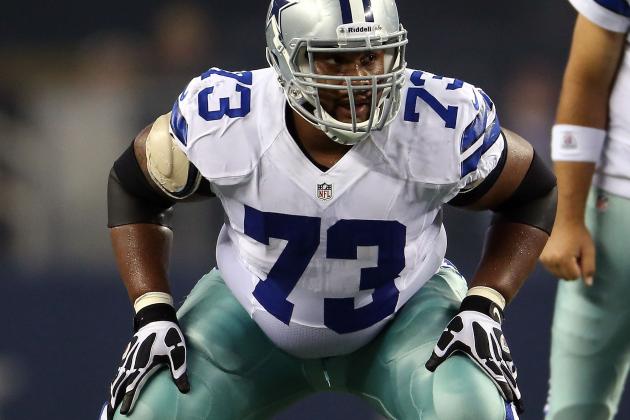 Ronald Martinez/Getty Images
Mackenzy Bernadeau
I like to refer to Bernadeau as "Marco Rivera Part Deux." The only real difference concerning Dallas is Rivera was a much better player prior to landing with the Cowboys.
Rivera essentially signed with Dallas just prior to his expiration date, which nobody could have really seen coming.
Bernadeau signed a four-year, $11.5 million contract not much more than a year ago and immediately started requiring multiple surgeries. As the first player on this list not to debut as a professional in Dallas, it's hard to say exactly how long owner and general manager Jerry Jones will watch this investment underperform.
Bernadeau wasn't really a priority for the Carolina Panthers following his first four seasons with the franchise. So far, he's not heading in the right direction with the Cowboys, even if it's not his fault.
It's hard to see Bernadeau getting cut this season considering his contract status. Signed through 2015, Dallas really needs to get something for this acquisition.
Perhaps Bernadeau is completely healthy this time around and makes a name for himself for the next few years. This would be the ideal scenario for everybody concerned. However, Dallas has indicated that younger and healthier players will be get better consideration during this training camp than they have in recent years.
Bernadeau has to be on the field or his existence in Dallas might not extend beyond 2013.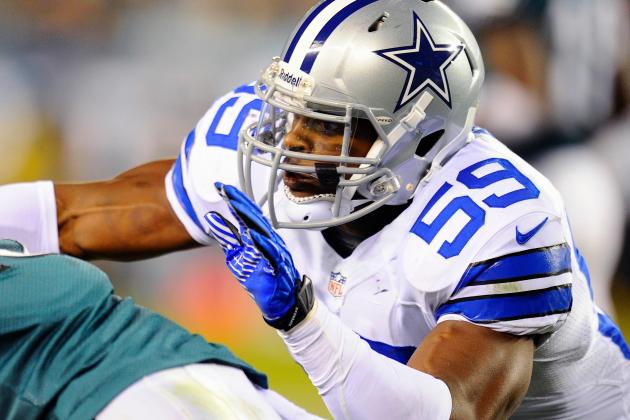 Dale Zanine-USA TODAY Sports
Ernie Sims
Former first-round draft pick Ernie Sims hasn't had the kind of career that the Detroit Lions envisioned when they selected him ninth-overall in the 2006 NFL draft. After just four seasons in Motor City, Sims went from first-round draft choice to journeyman status in playing for both the Philadelphia Eagles and Indianapolis Colts in 2010 and 2011, respectively.
By 2012, Sims was out of football completely.
Fortunately for Sims, Dallas began losing linebackers like Sean Lee and eventually Bruce Carter which prompted Jones to pick up the phone last October.
It's clear that Sims' best days are behind him, yet he represents an experienced linebacker well suited for the strong side in defensive coordinator Monte Kiffin's 4-3 scheme. Sims will fit the Cowboys much better now than he did a year ago in the now scrapped 3-4 experiment.
Working against Sims are probably two rookies named DeVonte Holloman and Brandon Magee.
Like the next name on this list, Sims will have experience working in his favor. But he also has some stiff competition in the form of numerous younger players that look to be a part of the long-term future for the Cowboys.
Sims will have to start hot and stay that way throughout camp.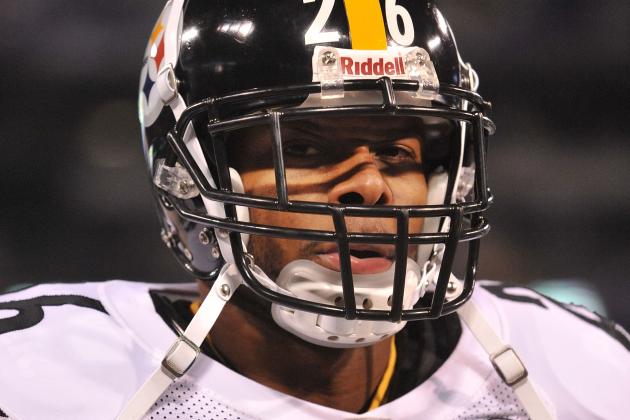 Larry French/Getty Images
Will Allen
Safety Will Allen has just as much going for and against him as Sims does. While not a superstar player with a decorated resume, Allen brings experience to a position that is pretty much wide open heading into training camp.
Assuming that Barry Church and Danny McCray are the top two strong safeties moving forward, this leaves numerous players gunning for the free safety position, vacated by the release of Gerald Sensabaugh earlier this offseason.
It's possible, given his experience in Kiffin's scheme, that Allen can hold off the likes of younger prospects like Matt Johnson, J.J. Wilcox and Jakar Hamilton, none of whom have played an NFL down before.
At the same time, if the youngsters bring it early in camp I can see Allen ending up much like 2012 free-agent safety Brodney Pool, who didn't even make it through training camp.
Pool is a couple of years younger than Allen and had more in the way of skins on the wall as a player upon arriving in Dallas. Pool was also brought in because he was a veteran who had specific experience in then-defensive coordinator Rob Ryan's awful 3-4 alignment.
Can Allen keep his job based solely on his experience with Kiffin?
Anything is possible, but there's a lot of competition for the free safety position as it will be one of the most engaging battles throughout training camp.
Finally, Allen's one-year contract for just $840,000 is far from a major commitment.