Big Ten Football: Bleacher Report's All-Time All-Conference Team
Stephen Dunn/Getty Images

In 1896, a group of universities in what was then known as the western United States decided something needed to be done about the influx of what amounted to ringers in the burgeoning world of college athletics. The conference is still well regarded for its commitment to academics, but after 117 seasons and 44 claimed national championships, there have been more than a handful of top athletic talent to emerge from the Big Ten.
With well over a century's worth of All-Americans, Heisman Trophy winners and national champions to sort through, we've compiled a list of the best of the best; those who stand out amongst a large group of college football stars. The true, immortal greats of Big Ten football.
Here we present Bleacher Report's All-Time All-Big Ten football team selections.
Included on this list are only those players who played in the Big Ten (which excludes Nebraska players who completed their college careers prior to 2011, Penn State players before 1990, Michigan State players before 1950, Ohio State players before 1912, Indiana and Iowa players before 1899, Chicago players after 1946 and Michigan players who played only between 1907 and 1917).
Begin Slideshow

»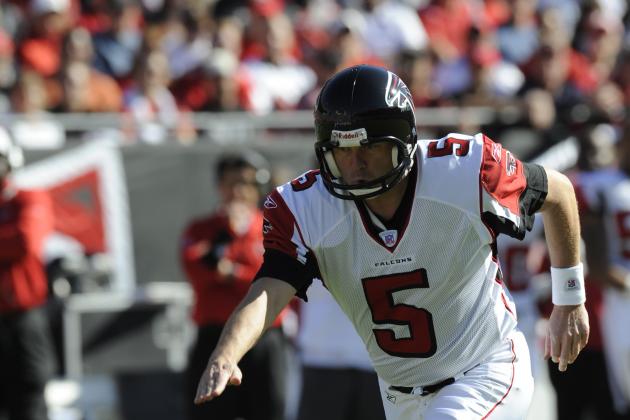 Al Messerschmidt/Getty Images
Morten Andersen, the Big Ten's record holder for longest field goal.
We'll get things started with perhaps the least glamorous players: the kickers.
These guys are never noticed—until they're needed in the final seconds of a game. It's in these moments that the previously anonymous kickers become instant heroes—or goats.
With so many kickers and punters out there, we've selected some guys with unique accomplishments to name to our All-Time All-Big Ten team, from Michigan State's Morten Andersen's record-setting 63-yard field goal to Wisconsin's Pat O'Dea's college football record 116-yard punt (made possibly because Wisconsin was playing Northwestern on a field of over 120 yards in 1898) and 62-yard drop kick field goal (in the same game).
1st Team: Morten Andersen (K), Michigan State
Holds the Big Ten record for longest field goal at 63 yards.
2nd Team: Pat O'Dea (P), Wisconsin
Honorable Mention: Reggie Roby (P), Iowa and Brett Swenson (K), Michigan State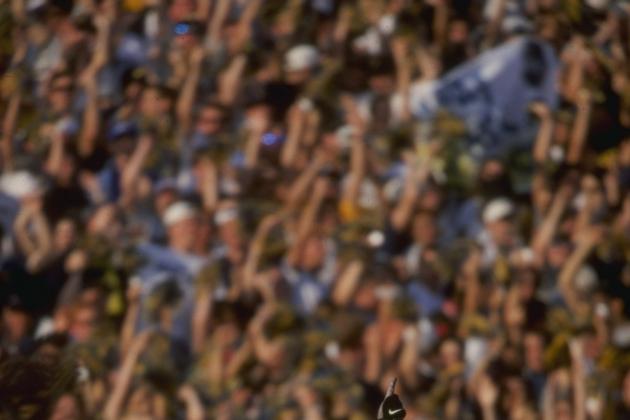 Jed Jacobsohn/Getty Images

Next on our list are the Big Ten's all-time great defensive backs. Clearly leading the way is the only college football player to win the Heisman Trophy while primarily playing a defensive position, Michigan's Charles Woodson.
We also include Illinois' Al Brosky, the conference's all-time career interception leader. Interestingly, Brosky also leads the Big Ten in interceptions per season—twice. Brosky had 11 interceptions in both 1950 and 1951, a number that wasn't matched until Wisconsin's Jim Leonhard in 2002.
Iowa's legendary Nile Kinnick also appears on our list as a defensive back, as his greatest lasting statistical contribution comes with 18 career picks—ninth all-time in Big Ten history.
1st Team: Charles Woodson, Michigan
Only primarily defensive player to win the Heisman Trophy.
1st Team: Al Brosky, Illinois
Big Ten's career (30) and season (11, twice) interceptions leader.
1st Team: Tom Curtis, Michigan
Second in carrer (25) interceptions, was one shy of Brosky's season mark with 10 in 1968.
1st Team: Mike Sensibaugh, Ohio State
A true great with 22 career interceptions and nine in 1949—both records at the time.
2nd Team: Fred Bruney, Ohio State
2nd Team: Jamar Fletcher, Wisconsin
2nd Team: Jim Leonhard, Wisconsin
2nd Team: Nile Kinnick, Iowa
Honorable Mention: Neovia Greyer, Wisconsin and Tim Wilbur, Indiana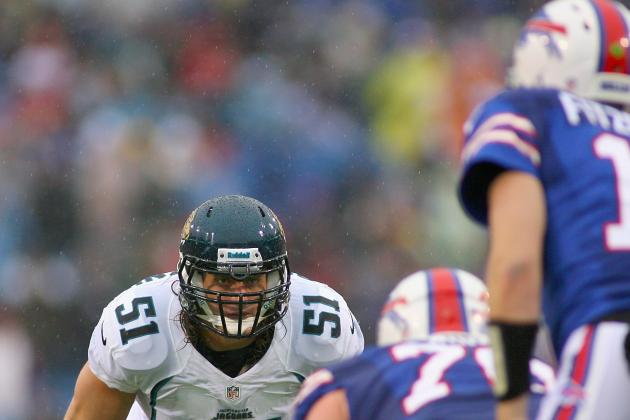 Rick Stewart/Getty Images
Paul Posluszny, one of the best LBs ever to emerge from the Big Ten.
When taking a look back at the history of the Big Ten's best linebackers, it might be stunning to some—if not most—that we have "just" two Penn State stars over our six selections. But before the Nittany Lions faithful stage a complete nutty, it's important to keep in mind that some of the true greats—Shane Conlan, Jack Ham and Greg Buttle—never played in the Big Ten. It just doesn't make sense to put players who never played a Big Ten game on an All-Big Ten team, even if they attended "Linebacker U."
1st Team: Jeff Zgonina, Purdue
Leads all Big Ten LBs in career TFL with 72, tied for most in single game (7).
1st Team: Julian Peterson, Michigan State
Career top ten in forced fumbles (all positions), leads all LB in season TFL (30).
1st Team: Paul Posluszny, Penn State
A two-time Bednarik winner, Penn State great Jack Ham called him the best PSU LB ever.
2nd Team: Whitney Mercilus, Illinois
2nd Team: Mark Messner, Michigan
2nd Team: LaVar Arrington, Penn State
Honorable Mention: Larry Foote, Michigan and James Laurinaitis, Ohio State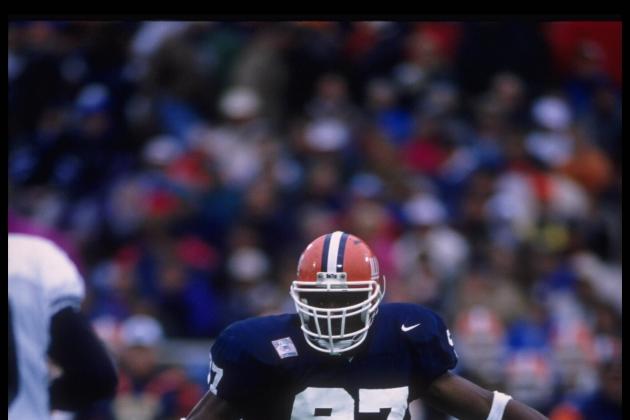 Jonathan Daniel/Getty Images

The Big Ten may not have the flashy defensive superstars of other conferences, but a cursory glance at our All-Time All-Big Ten list of D-linemen is clearly a collection of the college game's best ever.
Minnesota's Bronko Nagurski was so dominant as a defensive player, the nation's top defensive player each season is today awarded the Bronko Nagurski Trophy. Simeon Rice owns nearly every defensive tackling record at Illinois imaginable, and he's at or near the top of most Big Ten DL lists, too.
Michigan State's Bubba Smith deserves special recognition. At a time in this country when the south still shamefully clung to segregation, one of the greatest defensive players ever was shunned by teams in his home state of Texas—and all across the south. He was invited to play at Michigan State by legendary coach Duffy Daugherty, and Smith helped lead the Spartans to back-to-back national titles in 1965 and 1966—along with being named an All-American in both of those seasons.
Then, of course, there's the Big Ten's all-time leader in tackles for loss, Tom Burke.
With so many greats over the conference's history, it was difficult to choose only eight. The list of honorable mentions could have reached into the dozens, but here are our final 10 honorees.
1st Team: Simeon Rice, Illinois
Fifth all-time (all positions) in Big Ten with 69 TFL, once recorded five sacks in one game.
1st Team: Bronko Nagurski, Minnesota
Primarily a FB, named an All-American at two positions in 1929 (FB, DT).
1st Team: Bubba Smith, Michigan State
Got the last laugh over Southwest Conference's segregation, winning two titles at MSU.
1st Team: Tom Burke, Wisconsin
Leads the Big Ten (all positions) in TFL (31), including a Big Ten reocrd 22 in 1998.
2nd Team: Jared DeVries, Iowa
2nd Team: Courtney Brown, Penn State
2nd Team: Mike Vrabel, Ohio State
2nd Team: Jonal Saint-Dic, Michigan State
Honorable Mention: Shawn Crable, Michigan and Casey Dailey, Northwestern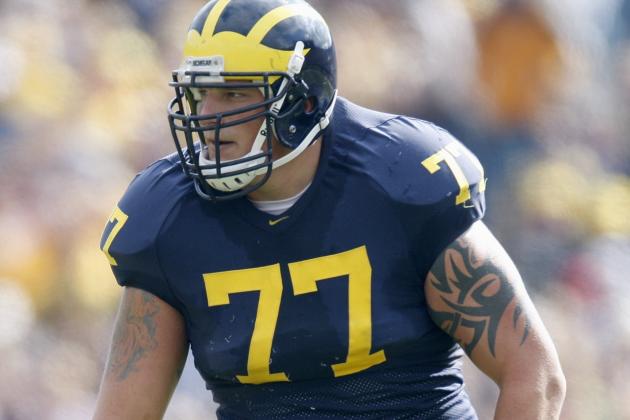 Gregory Shamus/Getty Images

There was a time when linemen weren't particularly larger than any other player on the field. Then along came Ohio State's Jim Parker, a mountain of a man (for the time standing at over 6'2" and tipping the scales at nearly 250 pounds). While miniscule by today's standards, Parker, a 2nd Team selection here, forever broke the mold of what a lineman should be: big and strong, yet quick and smart.
Parker was a two-time All-American at Ohio State, and an eight-time All-Pro with the Baltimore Colts—a successful professional career mirrored by many of our All-Time All-Big Ten offensive linemen.
1st Team: Jake Long, Michigan
The No. 1 selection in the 2008 NFL Draft.
1st Team: Warren Amling, Ohio State
Finished seventh in the 1944 Heisman voting, remarkable even today for a lineman.
1st Team: Greg Eslinger, Minnesota
Started three seasons, named first team All-Big Ten three times.
1st Team: Dan Dierdorf, Michigan
An All-American, two-time All-Big Ten selection and College Football Hall of Fame inductee.
2nd Team: Jim Parker, Ohio State
2nd Team: David Baas, Michigan
2nd Team: Robert Gallery, Iowa
2nd Team: Steve Hutchinson, Michigan
Honorable Mention: John Elliott, Michigan, Orlando Pace, Ohio State and Joe Thomas, Wisconsin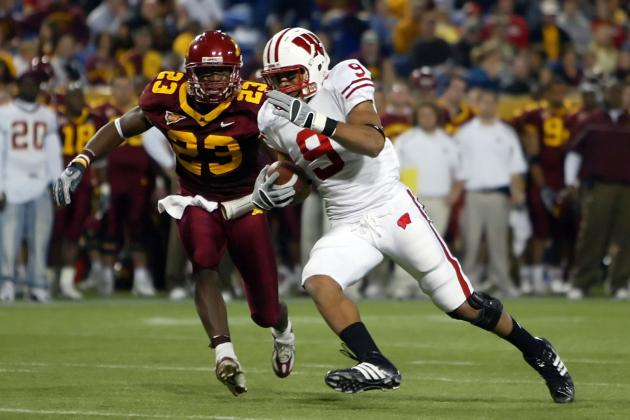 Jeff Gross/Getty Images

Picking the conference's best tight ends ever is a little complicated. For starters, the position has evolved from essentially an extra offensive lineman of yesteryear to today's versatile and indispensable cog in the offensive attack.
For our first team selection, we went with a star tight end from the middle of the last decade, Wisconsin's Travis Beckum. He led the NCAA's tight ends with 982 receiving yards in 2007, led Wisconsin in receiving yards in 2006 and 2007, finished with a school tight end record of 2,149 yards and holds the school mark in season receptions (75) along with one other (Lee Evans, 2001).
1st Team: Travis Beckum, Wisconsin
First team All-Big Ten and All-American in 2007, Mackey Award finalist.
2nd Team: Dustin Keller, Purdue
Honorable Mention: Chris Baker, Michigan State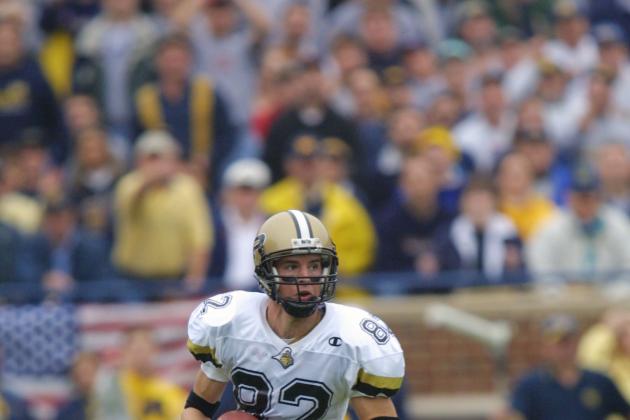 Danny Moloshok/Getty Images

Michigan's Desmond Howard, a true Wolverines legend and Heisman Trophy winner, doesn't quite make it into our top four receivers in Big Ten history. While Howard certainly deserves recognition (and is listed as an honorable mention), he only appears in the top ten of one statistical category: receiving touchdowns in a season (most in Big Ten history with 19 in 1991). Our All-Time All-Big Ten selections were a little more rounded in their careers.
It's another Wolverine, Braylon Edwards, who leads the way. Edwards is fourth all-time in the conference with 97 receptions in a season, and fifth in a career (252). He also appears on the all-time season leaders in yards (sixth, 1,330), career yards (fourth, 3,541), season touchdowns (fifth, 15) and career touchdowns (first, 39).
1st Team: Braylon Edwards, Michigan
Big Ten's all-time leader in career receiving TDs (39), top ten in five other categories.
1st Team: John Standeford, Purdue
Leads Big Ten with 3,788 career receiving yards, set receptions record (since passed).
2nd Team: Charles Rogers, Michigan State
2nd Team: Lee Evans, Wisconsin
Honorable Mention: David Williams, Illinois and Desmond Howard, Michigan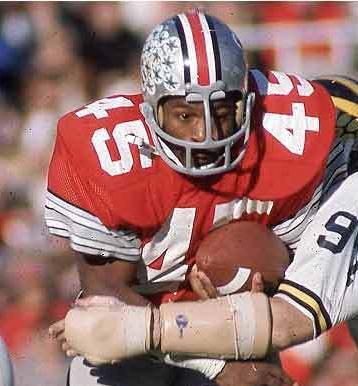 (Photo: Sports Illustrated)
Since the game's earliest beginnings, ball carriers have been one of, if not the most important offensive positions on the field. In the Big Ten, that's historically been the case, as the conference is still known and respected for its power rushing attacks.
There have been so many great running backs in the history of the Big Ten that it seems almost unfair to boil it down to two first team and two second team All-Time All-Big Ten selections. Any of the players named here, even those on the honorable mention list, could certainly be first team All-Time selections in any other conference, and there's even room to argue that all of the follow players are interchangeable insofar as who is All-Time first team, second team and so on.
For our first team selections, we opted to go with Wisconsin's Ron Dayne and Illinois' Red Grange. Dayne, the FBS's all-time leading rusher (6,397 career yards) and won the 1999 Heisman Trophy. Grange scored three touchdowns in his first collegiate game and went on to become one of the earliest superstars in college athletics. He led Illinois to an undefeated season in 1923 and was so dominant as a running back, he even appeared on the cover of Time magazine in 1925. Nicknamed "The Galloping Ghost" for his ability to elude tacklers, he is one of only two players in Illinois history to have his number retired (later joined by Dick Butkus).
1st Team: Ron Dayne, Wisconsin
The all-time career rushing yards leader in FBS history.
1st Team: Red Grange, Illinois
Rushed for 3,362 yards and 31 touchdowns in 20 career college games.
2nd Team: Tom Harmon, Michigan
Widely viewed as the greatest athlete in U-M history, Harmon won the 1940 Heisman.
2nd Team: Archie Griffin, Ohio State
Only player in history to win the Heisman twice, second in Big Ten careers yards (5,589).
Honorable Mention: Montee Ball, Wisconsin and Anthony Thompson, Indiana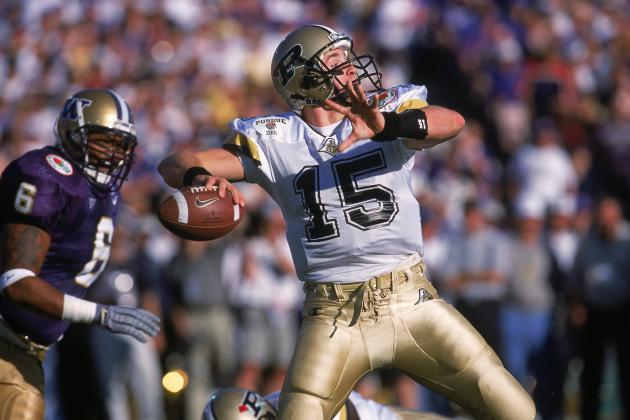 Stephen Dunn/Getty Images

Finally, we come to the best quarterbacks in the Big Ten's long and storied history. Perhaps somewhat unsurprisingly, all three of our honorees come from the "Cradle of Quarterbacks," Purdue University.
While there have been many great quarterbacks to come from the conference, no team has produced the kind of college talent as Purdue. Sure, Michigan has Tom Brady, but when you look at Brady's college numbers, our 1st Team selection, Drew Brees blows the eight time Pro Bowler, three-time Super Bowl champion and two-time NFL MVP out of the water (Brady was never named as an All-Big Ten selection outside of honorable mentions).
Brees leads all Big Ten quarterbacks in attempts in all three categories (in a single game, a single season and a career), leads in completions in all three categories, leads in career passing yards (while also holding the second, third and sixth spots on the single season passing yards list), leads in passing touchdowns in a single season and in a career and ties the Big Ten and NCAA record for longest passing play at 99 yards.
Almost as impressive is the fact that two other Purdue quarterbacks—Curtis Painter and Mark Herrmann—have their names appear almost as frequently, and just behind Brees' in most of those same categories.
The Boilermaker Special may have skipped the tracks as of late, but looking back at the combined history of the Big Ten, there's no question Purdue rightfully lays claim to the title of "Quarterback U."
1st Team: Drew Brees, Purdue
The Big Ten's leading passing in nearly every statistical category.
2nd Team: Curtis Painter, Purdue
Honorable Mention: Mark Herrmann, Purdue
Follow @davidrluther on Twitter!