Best Wrestler in Each UFC Weight Class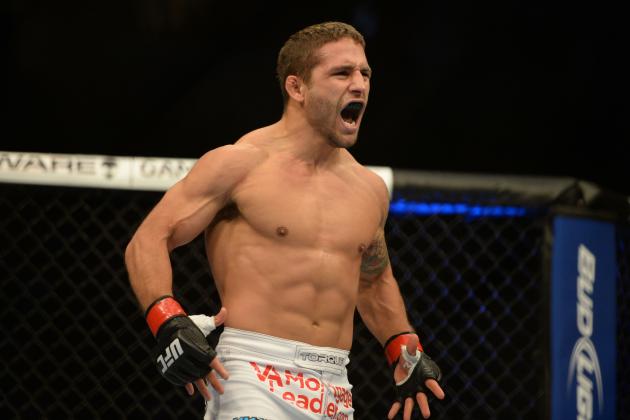 Kyle Terada-USA TODAY Sports

Wrestling has become one of the most utilized and practical disciplines in mixed martial arts.
It encompasses not only natural strength and determination but also the timing and sheer technical pedigree needed to secure a fight-changing takedown.
For years, wrestling has been challenged by the best practitioners of other prominent combat areas. From rangy strikers to crafty submission specialists, the art of controlling an opponent on the ground has fought off pesky suitors and withstood the test of time.
But in an era when so many fighters are well-versed in a variety of disciplines, including wrestling, who's the best of the best?
Look no further.
Begin Slideshow

»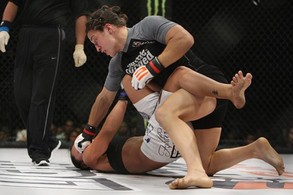 mmdiehards.com
The UFC universe hasn't seen much of Sarah McMann, but that doesn't take away from her innate ability to take an opponent down, hold her there and implement some dangerous ground-and-pound. The Olympic silver medalist has used a strong base and will to win to compile a 7-0 record.
But what makes McMann even more special within the evolving UFC women's bantamweight division is that more than half of her career victories came against experienced grapplers.
That means her wrestling is knocking off even some of the best submission experts in the game.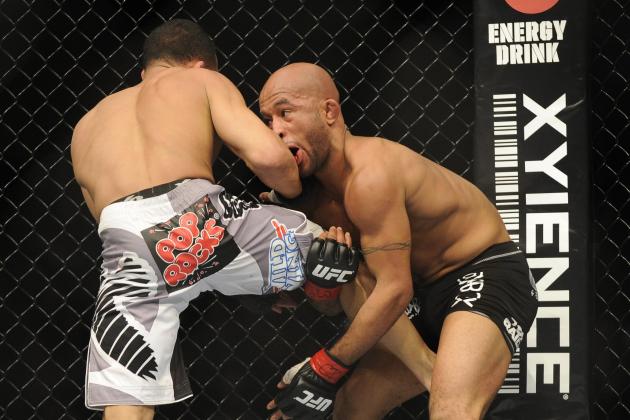 David Banks-USA TODAY Sports

When it comes to wrestling, size often plays a role. It doesn't happen all the time, but being able to overpower an opponent always helps to secure a takedown.
But for Demetrious Johnson, the current UFC flyweight titleholder, size is merely a word associated with lesser opponents.
Instead, "Mighty Mouse" uses quickness and leverage to close his distance, pry an opponent off his feet and ride him to the canvas.
He has yet to be beaten in that department, and for that, Johnson remains the quintessential wrestler in the UFC's smallest weight class.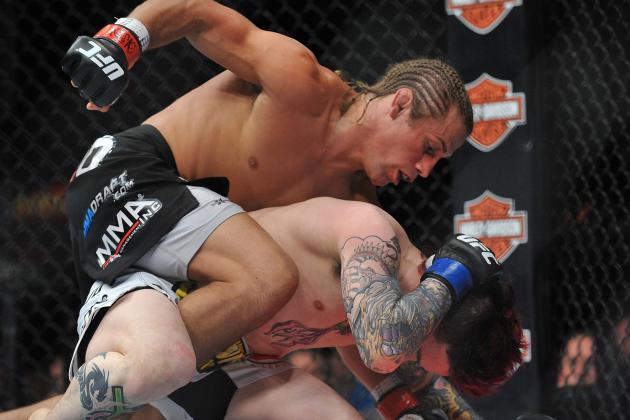 Gary A. Vasquez-USA TODAY Sports

Even though Urijah Faber has failed to cash in on numerous takedowns in the past, he's still the best wrestler at 135 pounds.
You can make an argument for fellow Alpha Male standout T.J. Dillashaw, but Faber is practically in a league of his own.
Now 34, "The California Kid" has lost a bit of quickness when it comes to his in-and-out game, but he's the type of fighter who never stops coming.
That makes him as dangerous as ever, especially when you combine his elite wrestling skills with one of the best in-fight guillotine chokes of all time.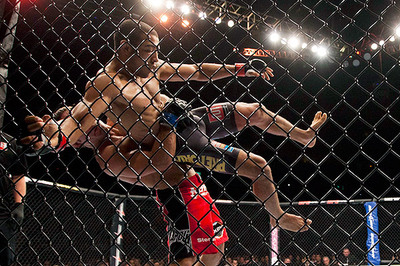 espn.go.com
Chad Mendes hasn't showcased his wrestling skills at all over his last few UFC victories, but that's because his power-hungry hands are doing all of the talking.
In a division full of specialists, ranging from Jose Aldo to Ricardo Lamas, Mendes continues to strive. You can make a case that Frankie Edgar rivals him in the wrestling department, but "The Answer" is getting older. He doesn't possess the power or perennial takedown success that Mendes does.
That said, he needs to remember what type of fighter he is. Sure, he has knockout potential in both hands, but when he finally meets a striker willing to show him up, "Money" has to remember how he makes his bread.
If he sticks to that and avoids unnecessary knees to the face, Mendes will experience prolonged divisional success.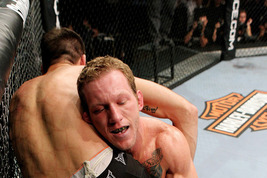 Getty Images
With welterweight size and middleweight power, Gray Maynard continues to bully opponents. Where do you think he got the nickname from?
In any case, the 34-year-old has proved time and time again that he can take down any lightweight in the world if he wants to.
The only problem is that he often gets caught up in a cat-and-mouse stand-up game that doesn't always end well. If he can channel his inner wrestler and understand where his chances of winning nearly double, he'll regain the divisional momentum he lost in his recent knockout defeat to T.J. Grant.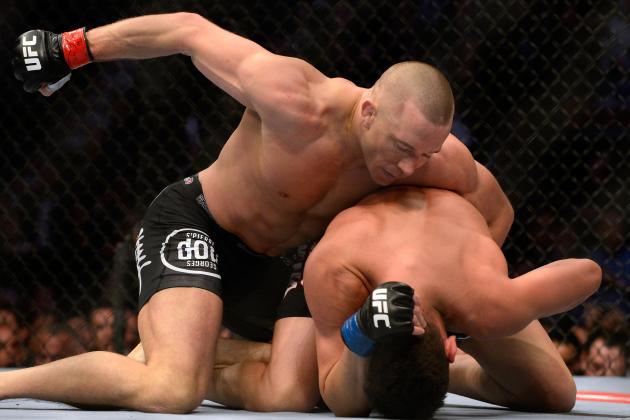 Eric Bolte-USA TODAY Sports

For nearly five years, UFC welterweight champion Georges St-Pierre has been renowned as one of the best takedown artists in the game.
When you consider that the champ never had a prolific wrestling background compared to other skillful standouts, it's that much more impressive.
But regardless of how GSP got to where he is today, the fact that he's one of the most feared wrestlers in the sport is what people need to focus on. Haters are going to bash St-Pierre for not showcasing his striking arsenal as much as he should, which is probably because he doesn't like getting hit, but it doesn't matter.
You don't defend the welterweight title eight straight times by listening to critics. You do it by overpowering challengers to the mat, stifling their strong points and grinding away like a Canadian robot bent on perfection.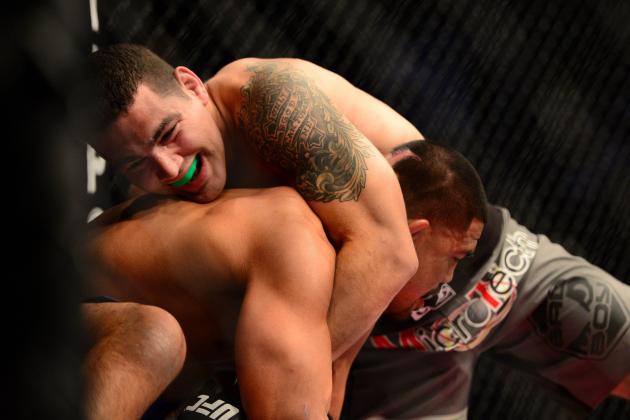 Kyle Terada-USA TODAY Sports

Built by the MMA Gods of New York and trained by some of the sport's finest, UFC middleweight champion Chris Weidman is as hard-nosed as they come.
He isn't necessarily the quickest wrestler in the division, but his mixture of technique, well-distributed strength and self-determination set him apart from the rest of the weight class. It has helped him climb the middleweight ranks en route to securing the biggest KO victory of all time (depending on whom you ask).
As long as "The All-American" can showcase why he was able to knock off Ryan Bader and Phil Davis in college, he'll manifest into one of the promotion's most prolific champions.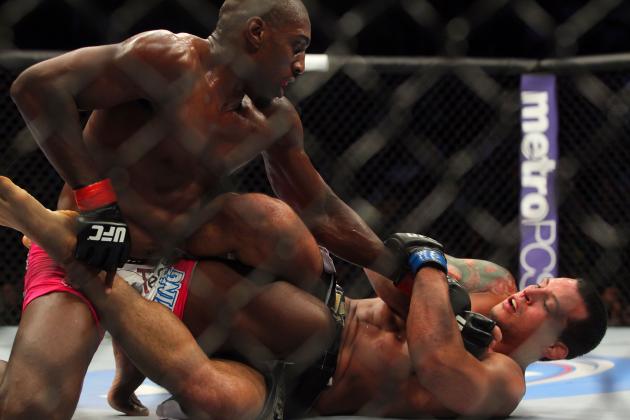 Brad Penner-USA TODAY Sports

When you're discussing the best wrestlers in the light heavyweight division, a variety of names come to mind.
Some still consider Chael Sonnen the best, others say Rashad Evans holds the upper hand. Then you have the people that think Jon Jones is untouchable considering his takedown defense.
While all three of those fighters possess relevant wrestling backgrounds and core abilities, none of them is quite the wrestler that Phil Davis is.
By combining strength with a naturally mind-boggling muscular makeup, Davis has what it takes to wrestle his way to a title shot. Sure, he was unsuccessful opposite Evans last January, but that was more of a hiccup than a beating.
Throw his submission game into the mix and you have one of the deadliest and most ferocious ground games in the weight class.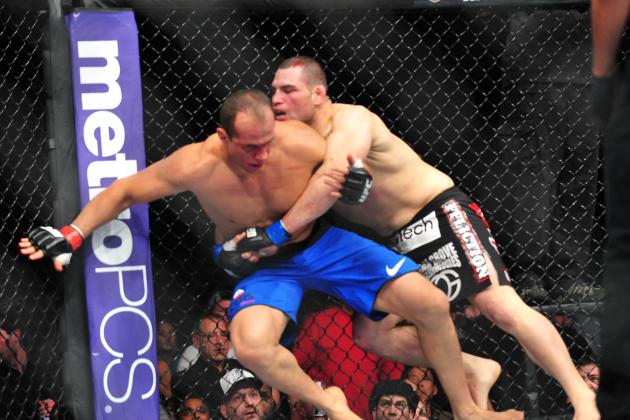 Gary A. Vasquez-USA TODAY Sports

Fueled by a motor better suited for a Mack truck, UFC heavyweight champion Cain Velasquez continues to rag doll opponents as if they were, well, rag dolls.
From Antonio "Bigfoot" Silva to Junior dos Santos, Velasquez has showcased the ability to get inside, wear his opponents down, get on top of them and unleash a monsoon of deadly strikes.
While he isn't the biggest heavyweight, the champion doesn't fret. He uses that lack of size to pester and pressure prominent strikers where they are uncomfortable.
There's a reason Velasquez has secured 27 total takedowns throughout his UFC career: Dude can wrestle.
For more UFC news and coverage, Follow @DHiergesell