Teams Off to the Quickest Starts in 2013 NBA Offseason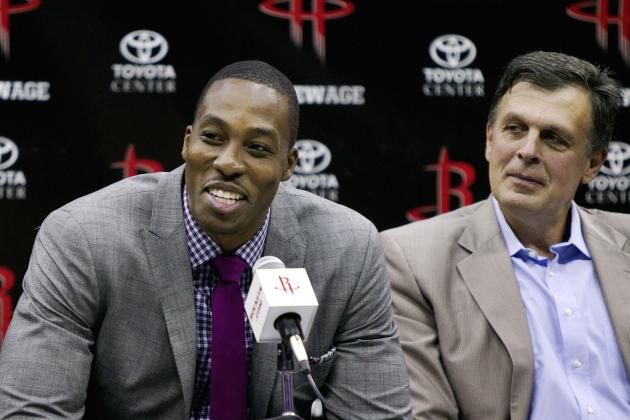 Bob Levey/Getty Images
Houston Rockets' Dwight Howard
NBA teams off to quick offseason starts include those who have upgraded their rosters the most.
These upgrades include the signings of All-Star-caliber free agents, along with making significant trades and, in some cases, adding valuable prospects in the draft.
While the Detroit Pistons and New Orleans Pelicans made significant signings by adding players like Josh Smith and Tyreke Evans, respectively, the teams highlighted on this list have made the smartest combinations of moves for both short-term and long-term success.
They are each listed according to who among them now has the best chance of winning an NBA championship by the totality of the moves made this offseason.
Begin Slideshow

»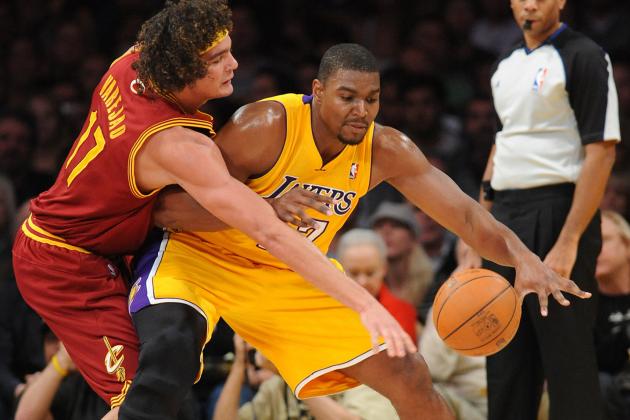 Jayne Kamin-Oncea-USA TODAY Sports
Cleveland Cavaliers' Andrew Bynum
By acquiring Andrew Bynum on an incentive-laden contract scheduled to guarantee only $6 million of the two-year deal worth $24 million in total, the Cavs have put themselves in a great position if the All-Star is able to stay healthy.
The Bynum news broke this summer on the heels of the Cavaliers also acquiring free-agents Earl Clark and Jarrett Jack from the Los Angeles Lakers and Golden State Warriors, respectively.
While Clark, a more natural stretch-4, may spend some time adjusting to life as a full-time small forward for newly rehired head coach Mike Brown, Jack will step in immediately and provide both a short and long-term impact for the Cavs.
Jack's ability to play both the shooting guard and point guard positions will create a formidable three-guard lineup alongside Kyrie Irving and Dion Waiters. The veteran also expects to help both of the Cavaliers' young guards continue their development moving forward.
These free-agency moves come as a complement to the No. 1 overall selection of Anthony Bennett from UNLV along with drafting Sergey Karasev from Russia at 19. Carrick Felix, selected in the second round by Cleveland, also appears to be showing enough talent in the NBA Summer League thus far to be on his way to earning a roster spot.
This, along with gaining a healthy Anderson Varejao, who played in only 25 games last season, will all combine to make the Cavaliers an extremely compelling team heading into the third year of the Irving era.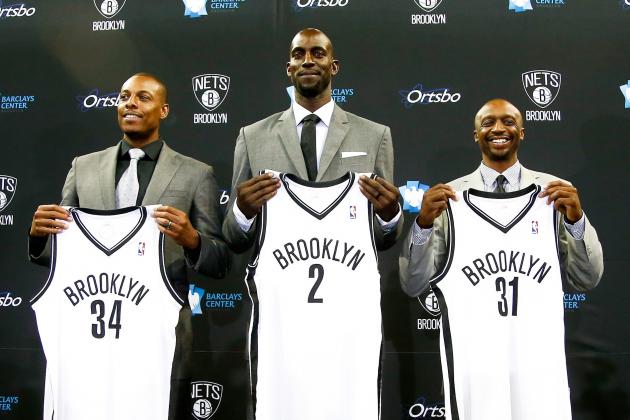 USA TODAY Sports
Brooklyn Nets' Paul Pierce, Kevin Garnett, Jason Terry
The Brooklyn Nets have kept their name in the headlines this summer.
After pegging Jason Kidd as their next head coach, the Nets selected Mason Plumlee from Duke with the 22nd overall pick in the NBA draft.
That selection appears as a mere footnote, however, during an offseason where Brooklyn has traded for Paul Pierce, Kevin Garnett and Jason Terry along with signing Andrei Kirilenko. The team also re-signed veteran Andray Blatche at an extremely cap-friendly price of $2.9 million for two years, along with bringing in Shaun Livingston on a veteran's minimum.
Kirilenko, who averaged 12.4 points and 5.7 rebounds in 2012-13, declined a $10 million player option to stay with the Minnesota Timberwolves before signing a three-year deal worth roughly the same in total.
Coach Kidd could now potentially start a unit that includes Deron Williams, Joe Johnson, Brook Lopez, Pierce and Garnett while bringing Kirilenko, Blatche, Terry, Livingston, Plumlee and Reggie Evans off the bench as a potent lineup of talented veterans.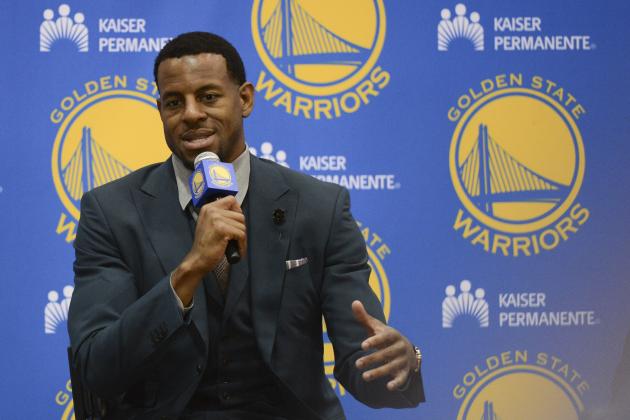 Kyle Terada-USA TODAY Sports
Golden State Warriors' Andre Iguodala
The Golden State Warriors lost Jarrett Jack and Carl Landry in free agency to the Cleveland Cavaliers and Sacramento Kings, respectively.
In response, the Warriors signed an All-Star free agent in Andre Iguodala who will immediately add a defensive presence to the Golden State perimeter that didn't exist prior to his arrival.
In addition to acquiring the all-around talent of Iguodala, the Warriors also signed an underrated big man with the potential to become a solid contributor by inking free-agent Marreese Speights. Prior to spending the second half of the 2012-13 campaign with the Cavaliers, Speights demonstrated an ability to be a consistent big off the bench for a winning team as a member of Memphis Grizzlies.
The more under-the-radar acquisitions of Jermaine O'Neal and Toney Douglas could also provide value off the bench for the Warriors moving forward.
Despite entering the draft without a first-round selection, the Warriors traded in to eventually select Nemanja Nedovic—who has been glossed by some as the "European Derrick Rose"—with the 30th pick overall.
Regardless of when the Serbian rookie is able to help his NBA club, though, the Warriors have strengthened their position as a Western Conference power this summer.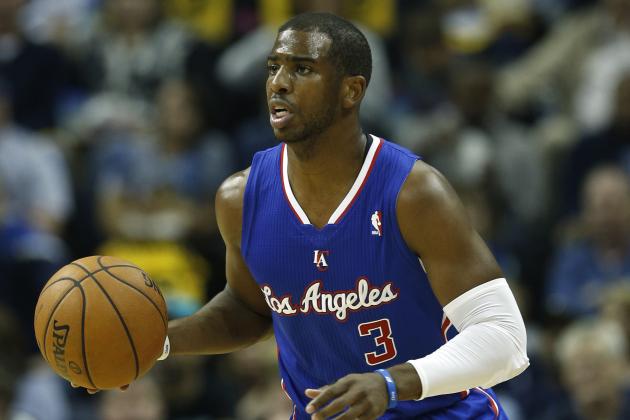 Joe Robbins/Getty Images
Los Angeles Clippers' Chris Paul
The Los Angeles Clippers opened the summer by trading a first-round draft pick to the Boston Celtics in order to acquire new head coach Doc Rivers.
With Rivers on board to replace Vinny Del Negro in Los Angeles, the Clippers quickly re-signed superstar free-agent Chris Paul.
A three-team trade with the Milwaukee Bucks and Phoenix Suns then brought in sharp-shooting J.J. Redick to play alongside CP3 in exchange for Caron Butler and Eric Bledsoe.
To replace the talented young backup point guard that Bledsoe was during the 2012-13 campaign, Los Angeles signed free-agent Darren Collison. They'd also re-sign Matt Barnes and Ryan Hollins to help fill out the roster.
On draft night, Los Angeles used its 25th overall selection to add guard Reggie Bullock from North Carolina, whom many analysts projected to come off the board much sooner.
The net result of the moves made during the offseason to date—led by retaining the services of Chris Paul to pair alongside Blake Griffin—has kept the Clippers' name in the Western Conference championship discussion heading into 2013-14.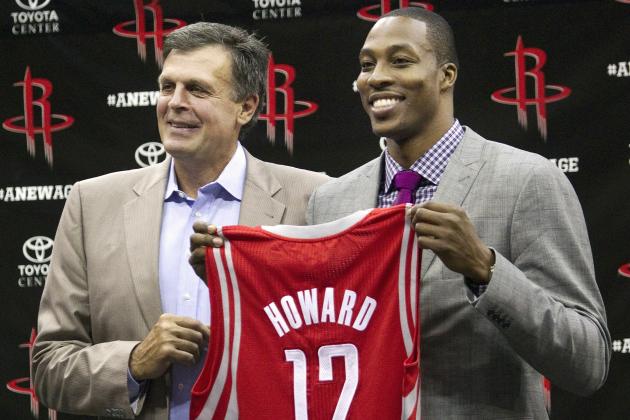 Bob Levey/Getty Images
Houston Rockets' Coach Kevin McHale, Dwight Howard
The most significant free-agent move of the summer was finalized when the Houston Rockets signed All-Star center Dwight Howard away from the Los Angeles Lakers.
Though the acquisition of Howard technically qualifies as one, single transaction, the opportunity for general manager Daryl Morey to secure his services was created by a series of chess-like moves over the last 12 months.
After dealing for James Harden last summer, the Rockets traded away former first-round picks Royce White and Thomas Robinson in order to create the additional cap space needed to acquire Howard. They also waived veterans Carlos Delfino and Aaron Brooks.
While leading a mix that still includes Chandler Parsons, Omer Asik and Jeremy Lin—along with promising young point guard, Isaiah Canaan, whom they selected 34th overall—Howard and Harden now combine to make Houston a legitimate threat to win an NBA championship.
Since the Howard signing, the Rockets have also filled out their roster by re-signing veteran Francisco Garcia along with inking Omri Casspi and Reggie Williams to minimal contracts.