Predicting the Top 10 Players in the ATP Rankings at the End of 2013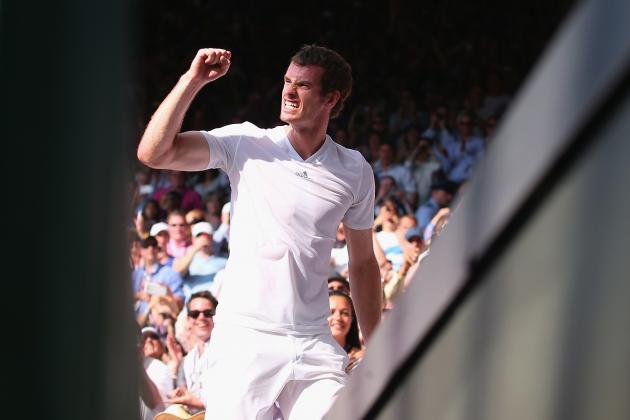 Julian Finney/Getty Images

The top 10 players in the world are so strong that their ranking positions often never change that much.
The biggest and most unusual shifts in the Top Five this year were David Ferrer going as high as three and Roger Federer dipping as low as five.
Though the ninth and 10th spots in the men's ATP rankings are likely to change from time to time, most of the players remain close to the exclusive category no matter how they perform.
As the end of the year and the World Tour Finals draw closer, it becomes easier to tell who will be in which spots.
However, I predict that a few things will change around by 2014. Here are my projected top 10 players and rankings.
Begin Slideshow

»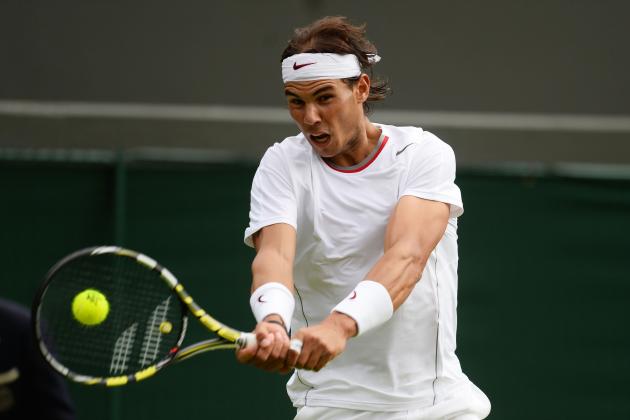 Mike Hewitt/Getty Images

Even though he is currently ranked No. 4 in the world and has about half the ranking points that Novak Djokovic has, I think he is primed to become to top-ranked athlete by either year's end or just after the Australian Open.
He has no points to defend until next year's clay season, so this makes things look very comfortable for him.
He has been able to earn or retain about 7,000 ranking points since returning to the tour and with another half a year to go, his rise to the top should be very certain.
Now, it seems more likely that he would go to No. 2 if Novak Djokovic could defend all of his summer points (which include a U.S. Open and Cincinnati final, as well as Rogers Cup, World Tour Finals and Shanghai championships).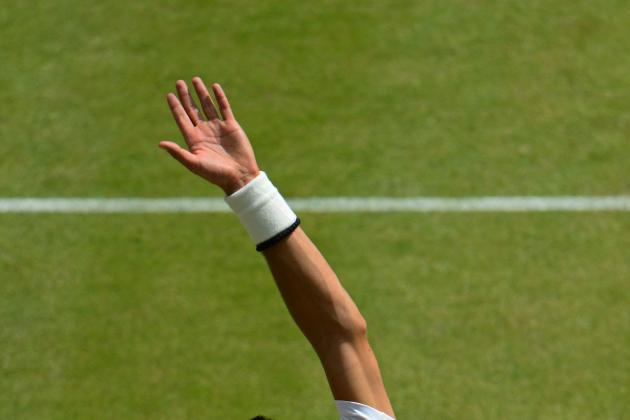 Mike Hewitt/Getty Images

Though I mentioned a few of his results in the previous slide, I am going to list all of the points he must defend for the summer and end-of-the-year swing.
Final of ATP1000 (600 points)
Western and Southern Open in Cincinnati
Final of Major (1200 points)
U.S. Open in New York
Champion (points vary)
Rogers Cup in Toronto (1000 points), Shanghai Rolex Masters (1000 points), China Open in Beijing (500 points) and ATP World Tour Finals in London (1500 points).
So, he has to defend at least (because he lost in the second round at the Paris Masters and did not play Basel) 5,800 points spanning just six tournaments.
I think he can replicate much of his 2012 success, but it would be tough to see him winning all of those events again, even if he is always participating in the final stretches of these tournaments.
On top of all of this, he loses 270 points from the Summer Olympics (though that amount is not the biggest deal in the world for the Serb). But if he does well in Paris or wins the U.S. Open, he will stay No. 1 for a little bit longer.
Chris Jackson/Getty Images

Andy Murray has had a superb year so far and is ahead of David Ferrer in the rankings by a long shot (more than 2,000 points).
Though he has to defend a few semifinals and finals runs on top of his U.S. Open title, it seems unlikely that Ferrer or Federer will be able to catch up in the coming months.
Murray's increasingly aggressive play in crucial moments is helping him to become the elite player that everybody always hoped he would be.
The man who has had much success on hard courts will not have to deal with clay for what seems to be an eternity. Look for him to do big things to close out the year.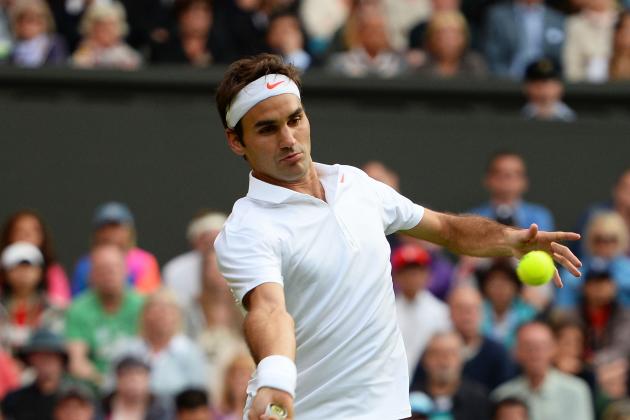 Mike Hewitt/Getty Images

Currently, Roger Federer is ranked fifth in the world and is about 1,400 points behind David Ferrer.
However Ferrer must defend his U.S. Open semifinal and Paris Masters victory points from 2012 while Federer would only have to worry about making an impact at the Open himself in order to catch up to the Spaniard.
Sure, the Swiss player had a win in Cincinnati and made the final at the O2 Arena, but it is very possible that he could take Shanghai, Paris or Toronto home in place of one of those results.
Though he has been in an overall slump this year, he may just have a few tricks up his sleeve for the 2014 season. Keep in mind he could also win one of the two additional tournaments he entered after losing early on at Wimbledon.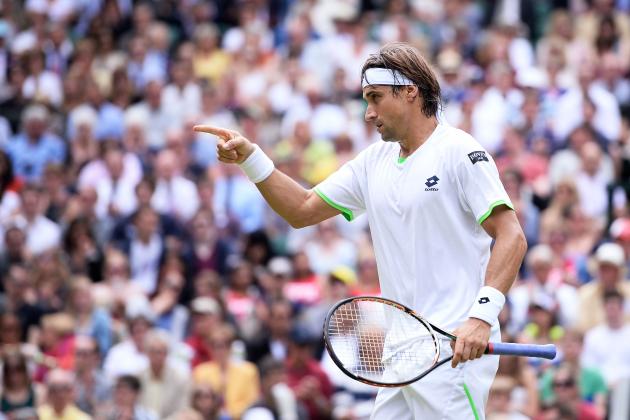 Dennis Grombkowski/Getty Images

As I said previously, David Ferrer has been exceeding all expectations this year, but his all-time high ranking of No. 3 in the world may be the highest he will ever reach.
I have no doubt that Rafael Nadal will take over his compatriot's spot in the rankings very shortly, and Roger Federer has the possibility of doing so as well (though it is less likely).
Ferrer has not slipped up in a major recently, so expect him to reach at least the quarterfinals of the Open.
The question will be whether or not he can go far in the ATP1000 events. I surprisingly can feel him putting on an exceptional performance at the World Tour Finals. We will see.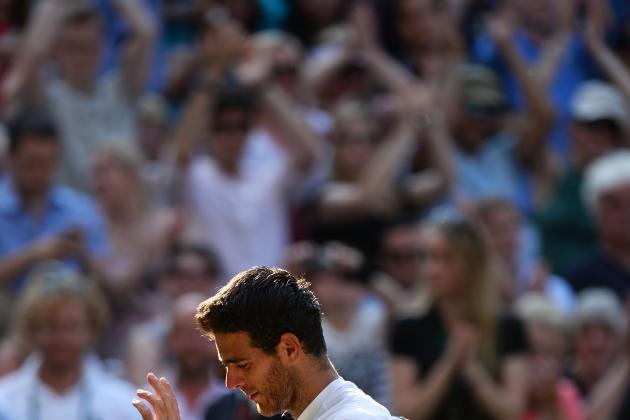 Mike Hewitt/Getty Images

Though he is barely behind Tomas Berdych in the rankings, I can see them swapping spots a few times.
The reason I have Delpo ahead of the big-serving Berdych is that the Czech athlete reached the semifinals at the U.S. Open and never has had a good showing at the World Tour Finals, whereas the Argentine is comfortable with both of those events and under-performed at them last year.
Other than that, it is tough to predict their results in tournaments such as Shanghai, Paris or even Cincinnati.
Assuming del Potro's Wimbledon run did not take a toll on his body, expect him to go as high as No. 6 in the world by the end of the year.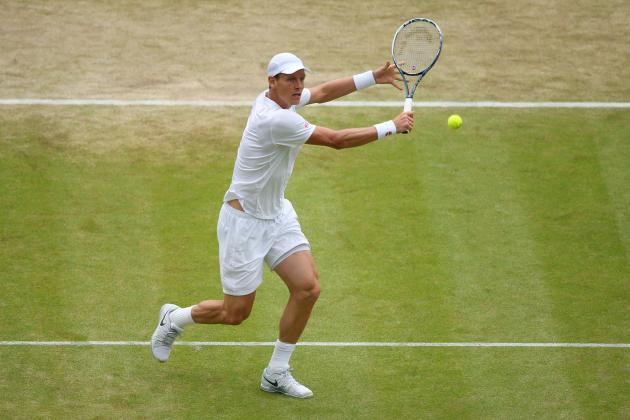 Julian Finney/Getty Images

Tomas Berdych's season to date has not been bad—in fact, it has been very solid and typical of him.
But he has not been able to overcome very many hurdles or take the next big step to greatness.
It does not even seem feasible that he will ever be a Top-5 player with the way he has been playing, and that is a crazy thought because he is so close to achieving that feat.
He should only fall one spot in the rankings, which really is not that awful at all.
Jo-Wilfried Tsonga is lacking in points to challenge this Czech, so let's keep him in the seventh position.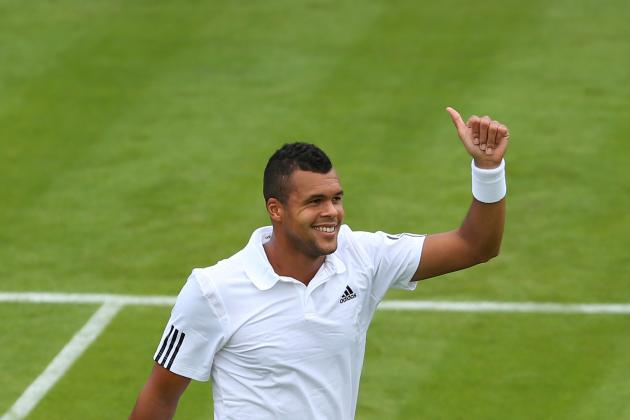 Julian Finney/Getty Images

Jo-Wilfried Tsonga is closest in the rankings to Richard Gasquet (who I think will fall two or three places by the end of the year) and Stanislas Wawrinka.
Though Stan's year has been more consistent overall, Tsonga did better in all of the majors (even though the second round compared to the first round at Wimbledon is not a huge difference).
For this reason I expect him to have a strong U.S. Open and reach the final of a 1000 event.
Wawrinka may have the answer to take over the eighth spot for the World Tour Finals, but it will be a tough task for him to get to that elusive ranking.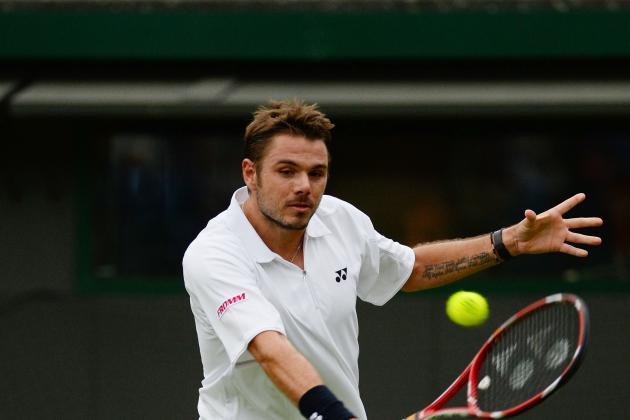 Mike Hewitt/Getty Images

To say a 130-point separation between Stanislas Wawrinka and Richard Gasquet in the rankings is a tight battle for these athletes would be an understatement.
Wawrinka has been the overall better player this year, but the second half of the year could be very different.
The second-best Swiss player can easily take over the ninth spot in the rankings, as can Tommy Haas , who is only 310 points behind Wawrinka himself.
Gasquet has been much better in recent years but could see his way out of the Top 10 briefly.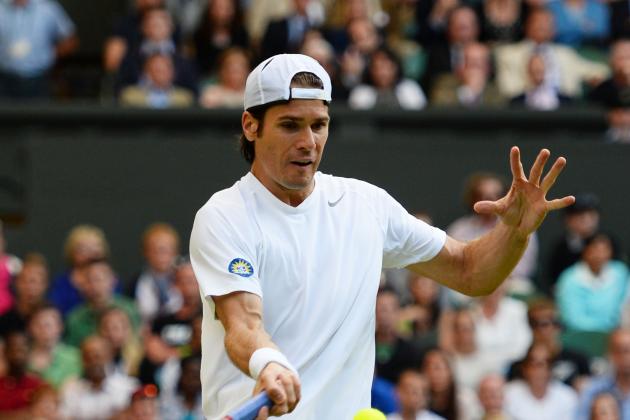 Mike Hewitt/Getty Images

Tommy Haas and Jerzy Janowicz have been tearing it up this year, taking top players' fire suddenly and mercilessly.
The German is No. 11 in the world while the Pole is No. 17, so it makes more sense that Haas could move up to the Top 10.
However Janowicz's Wimbledon run lifted him seven spots in the rankings. All he really needs is another big result or two like that before (or even at) the Paris Masters, where he was a finalist last year.
The Pole's SW19 result was surely not a one-time thing, and he should be in the Top 10 next year for sure.
These two men have defied the odds this year—Haas has shown that age and injury cannot stop an inspired man, and Janowicz has made statements with his style of play.
They are certainly not afraid of the competition and will try to make the next big leap in their careers, even if one's career is just starting and the other's is likely coming to a close soon.