College Football 2013: 6 Best Players to Ever Wear the No. 13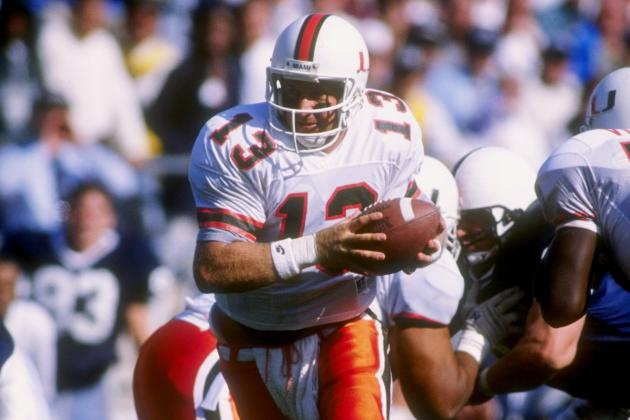 Gene Sweeney/Getty Images

With the 2013 college football season a mere 41 days away, why not pay tribute to the guys who have worn the No. 13?
Of all the jersey numbers available, 13 is perhaps the boldest selection. It requires the wearer to toss aside superstition and laugh in the face of Lady Luck.
The flip side of No. 13 is that fewer guys have worn it making a "greatest ever" search in any individual sport difficult.
Superstars from other sports who have donned the supposedly unlucky number include Wilt Chamberlain, Alex Rodriguez, Steve Nash and Alessandro Nesta.
The following slideshow adds to this exclusive list by highlighting six of the best college football players to ever call the No. 13 their own.
Begin Slideshow

»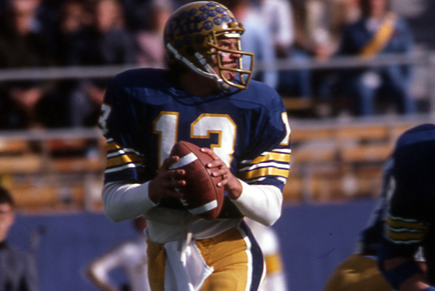 Andy Marlin/Getty Images
photo from pittsburghpanthers.com
Arguably the greatest American athlete to wear the unlucky number, Dan Marino wore 13 as both a Pitt Panther and a Miami Dolphin.
Marino is a native of Pittsburgh and started at quarterback for the Panthers from 1979 to 1982.
As a collegian, Marino threw for 7,905 yards and 74 touchdowns, leading the Panthers to a 33-3 mark through his first three seasons.
Marino's best finish in the Heisman voting came in 1981 when he finished fourth behind Jim McMahon (BYU), Herschel Walker (Georgia) and the winner Marcus Allen (USC).
Marino's No. 13 is one of only two on our list to have been retired.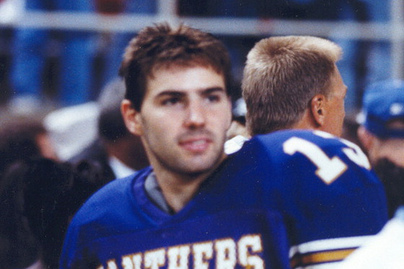 photo from buckys5thquarter.com
Though Kurt Warner is known for his NFL career and his status as one of the greatest undrafted players in history, he and his No. 13 began at FCS Northern Iowa.
Warner didn't get the starting job at Northern Iowa until 1993 when, as a senior, he led the Panthers to an 8-4 record and a Gateway conference crown.
He was named the Conference Player of the Year in '93, and after a four-year stint in the Arena League and NFL Europe, Warner and his No. 13 jersey finally reappeared with the St. Louis Rams.
Warner has the distinction of winning Player of the Year honors at the collegiate, Arena League and NFL levels.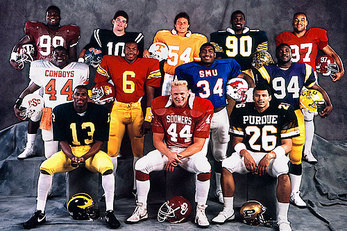 Garland Rivers and the 1986 Consensus All-Americans. Photo from maizeandgoblue.com
Garland Rivers wore No. 13 at Michigan from 1983 to 1986 as a defensive back for coach Bo Schembechler.
Rivers set a school record for single-game tackles as a sophomore in 1984 by registering 17 in the Wolverines 24-17 loss to BYU in the Holiday Bowl.
As a junior in 1985, Rivers sealed a win over Nebraska in the '86 Fiesta Bowl by picking off a pass by Steve Taylor in the Husker's final attempt to topple Michigan.
As a senior, Rivers earned consensus All-American honors and finished his collegiate career with 172 tackles and six interceptions.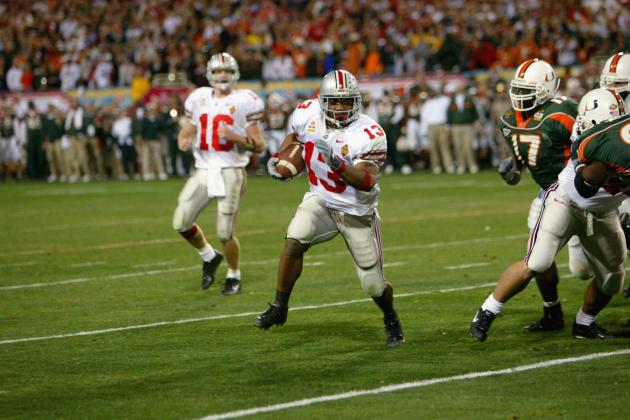 Jamie Squire/Getty Images

Though Maurice Clarett's off-the-field issues at Ohio State are infamous, even they can't completely erase one of the most impressive single-season careers in history.
Clarett played running back at Ohio State as a freshman in 2002 where he managed to pump out 1,341 yards of total offense and 18 TDs.
Clarett was the leading rusher on a Buckeye team that went 14-0 and won the national championship. Not only did Clarett score the winning touchdown in the second overtime of the 2003 Fiesta Bowl against Miami (Fla.), he also managed to be a defensive game changer that day.
In the third quarter, Clarett stripped the ball away from Hurricane defender Sean Taylor who was returning an intercepted pass, leading to a critical score swing and a 10-point Buckeye lead.
Clarett could be tagged as both one of the most talented and most troubled college football players to wear the No. 13.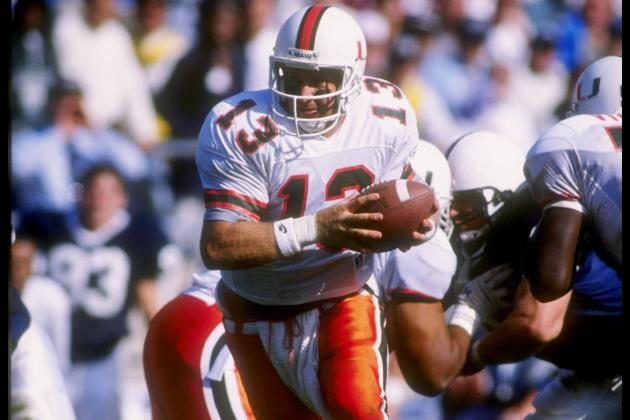 Gene Sweeney/Getty Images

The only Heisman winner on our list, Gino Torretta was the starting quarterback at Miami from 1991 to 1992.
Torretta was 23-1 as a starter, the only loss coming in the 1993 Rose Bowl against Alabama, which was also his final game at Miami.
Torretta threw for over 6,000 career yards and 39 touchdowns and led the 1991 team to a 12-0 record and a national title.
As a senior in 1992, Torretta swept the individual awards, winning the Heisman, Davey O'Brien, Johnny Unitas and Maxwell trophies.
Torretta was also selected as a consensus All-American in '92 and was inducted into the College Football Hall of Fame in 2010.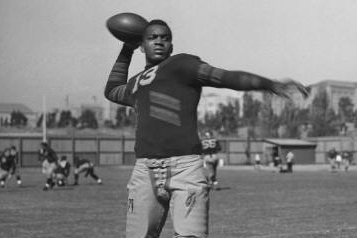 photo from ergo84.com
The first ever consensus All-American from UCLA, Kenny Washington played halfback for the Bruins from 1937 to 1939.
Washington led the nation in total offense in 1939 and was a part of a Bruin team that finished 6-0-4 with a share of the Pacific Coast (the predecessor of the Pac-12) conference crown.
After being blocked from the NFL as an African-American, Washington, along with teammate Woody Strode—as per gojoebruin.com— broke the NFL color barrier by signing with the Los Angeles Rams in 1946.
Washington shared the backfield at UCLA in 1939 with Jackie Robinson, who went on to break the color line in Major League Baseball in 1947, one year after his Bruin teammates signed with the Rams.
Washington was inducted into the College Football Hall of Fame in 1956, and his No. 13 jersey was the first to be retired at UCLA.
Given the racial issues in 1939, it's worth noting that as a senior, Washington managed to finish third in the Far West region of the Heisman voting.
Ahead of him that year were Missouri quarterback Paul Christman, who finished third in the overall vote, and Iowa halfback Nile Kinnick, who won the Heisman.