Hottest and Coldest Cincinnati Reds Players Heading into the 2nd Half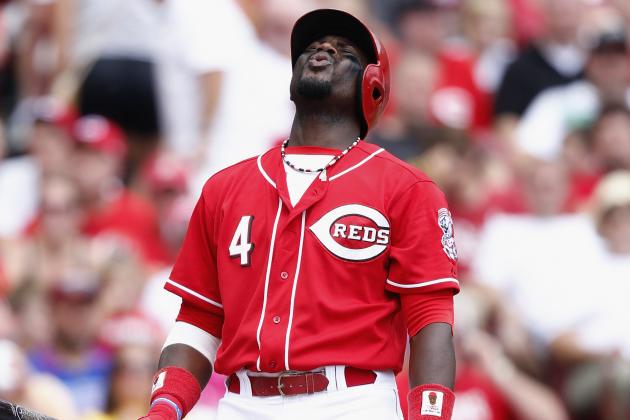 Joe Robbins/Getty Images
Second baseman Brandon Phillips
The Cincinnati Reds, like all Major League Baseball teams, are subject to the normal ups and downs of a 162-game season.
Over the course of the year, players will go through cold and hot streaks. While great players limit these streaks to just a few games, others can drag a team down with inconsistent, or consistently bad, play.
The season's second half has just gotten underway, and while some players are coming in hot, others are ice cold and in need of a big turnaround in order to help the Reds realize their goal of repeating as NL Central champs and ultimately playing for a World Series title.
With that said, though, let us analyze the team's hottest and coldest hitters entering the second half of play.
All stats come courtesy of Baseball-Reference.com and are current through play on July 20, 2013.
Begin Slideshow

»
Kevin C. Cox/Getty Images

Shin-Soo Choo was hotter than hot to start the 2013 season. Through his first 25 games, Choo slashed an incredible .344/.492/.559 and chipped in four home runs, 10 RBI and 19 runs scored.
Choo's 11 extra-base hits provided the Reds with a much-needed boost to begin the year, but he cooled off significantly following his red-hot start.
The next 52 games were unkind to Choo, and he struggled to the tune of a .227/.376/.397 slash line. In addition to the poor slash line, Choo chipped in only 19 extra-base hits, 15 RBI and 33 runs scored.
Choo was still doing his job, providing successive hitters with the opportunities for increased RBI chances, but the hits were few and far between.
The last 16 games, however, Choo has been on a tear, slashing .385/.467/.538 with two home runs, four doubles, six RBI, 15 runs scored and a 9-10 strikeout-to-walk ratio.
As far as the Reds lineup goes, there may not be a hotter or more important bat than that of Shin-Soo Choo.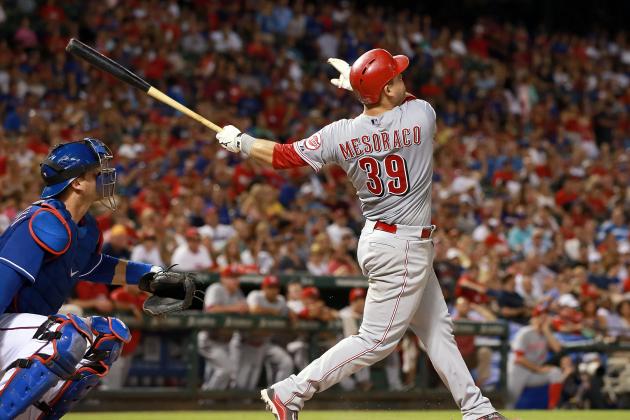 Rick Yeatts/Getty Images

Devin Mesoraco was touted as the catcher of the future for the Cincinnati Reds. The team placed a huge vote of confidence in him when it traded off Yasmani Grandal, who, at the time, was one of the best catching prospects in the game.
Since then, Mesoraco has struggled to wrangle everyday catching duties from Ryan Hanigan and has hit just .221 over 128 career games.
The 25-year-old backstop has been given more of an opportunity this year and has already appeared in more games than he has in any single season—56. However, he's been largely underwhelming, slashing .242/.315/.360.
His triple-slash is better than it has been at any point of his career, so there has been some improvement, but his spot in the lineup creates a problem in terms of offensive consistency for the Reds.
Over his last 20 games, Meso owns a .231/.301/.308 slash line with just one home run, two doubles, six RBI and three runs scored.
If the Reds are going to make a run at the division-leading St. Louis Cardinals, Mesoraco's bat will need to heat up.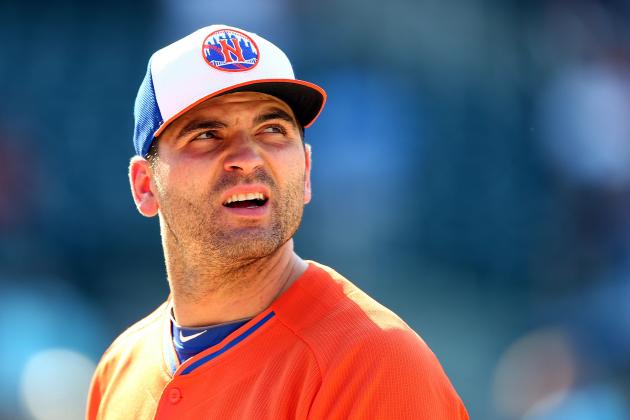 Elsa/Getty Images

There may not be a more patient hitter in all of Major League Baseball than Joey Votto. The 29-year-old first baseman has led the league in on-base percentage in each of the last three seasons while also leading in walks through each of the last two.
In 2013, Votto is again leading the NL in both categories, and although he's been lagging in some peripheral ones—RBI and doubles—it's hard to complain about his production through the team's first 97 games.
Votto came into the break as one of the team's hottest hitters, and he's kept that going through the first few games of the second half.
In his last 28 games, Votto has posted a .338/.439/.520 triple-slash with four home runs, seven doubles, 11 RBI, 16 runs scored and a sparkling 23-21 strikeout-to-walk ratio.
Votto is looking to carry this team into the postseason, and based on his recent performance at the plate, it appears he's capable of doing just that.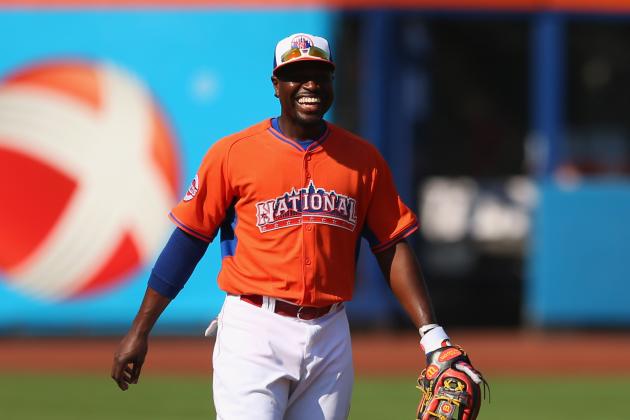 Mike Ehrmann/Getty Images

Brandon Phillips may have more fun playing baseball than anyone we've ever seen. His smile is infectious, but so is his attitude and his play on the field.
On the year, Phillips has totaled a .269/.322/.415 slash line with 12 homers, a league-leading 78 RBI and 47 runs scored. He's kept his strikeout total low for the eighth straight year—55 through 89 games—but Phillips' single stolen base is a disappointment.
Phillips has been one of the offensive leaders this season, but his play has slipped in the past 36 games where he's slashed just .236/.293/.319 with three home runs and only 10 runs scored. Phillips' RBI totals are still solid over that time—34—but his peripherals are lagging.
Phillips is still driving in runs, enough for him to hold value in the middle of the Reds lineup, but he's been pretty cold over the last month-and-a-half.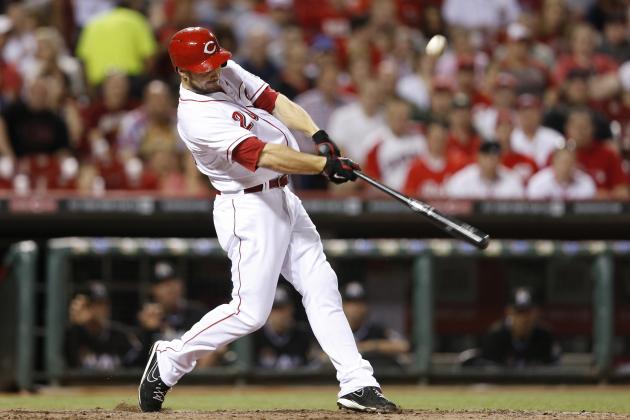 Joe Robbins/Getty Images

Chris Heisey missed significant time earlier this season due to a nagging hamstring injury.
Heisey's overall statistics aren't overly impressive, and he owns a .229/.277/.440 with just five home runs and 13 runs scored. Though Heisey hasn't been great on the year, it's his numbers since returning from the disabled list that are so impressive.
Since returning to the lineup on June 25, Heisey has been one of the hottest bats in the Reds lineup. Over 14 games—34 at-bats—Heisey owns a .353/.429/.765 slash line with three home runs, seven RBI, six runs scored and a 4-4 strikeout-to-walk ratio.
Heisey has been an important part of the lineup since his return, and if he's able to continue his current hot streak, he'll likely continue to get the bulk of the at-bats available in left field while helping the Reds continue their winning ways.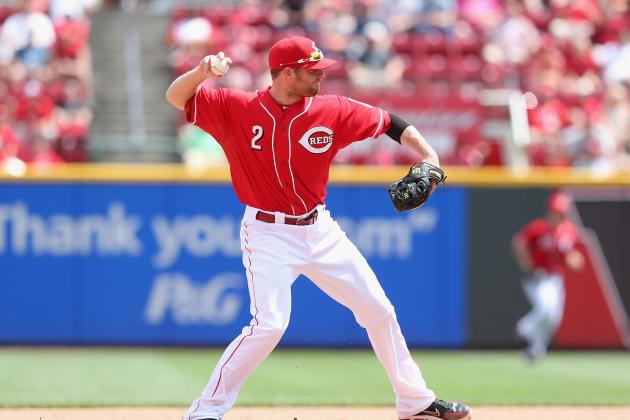 Andy Lyons/Getty Images

Zack Cozart has all the tools to be a great shortstop at the big league level. With Gold Glove-caliber defense and above-average pop at the plate, the only things missing from Cozart's repertoire of tools is the ability to hit for average and to take a walk.
Cozart dons a disturbingly low walk rate that sits at 3.6 percent on the year, 4.4 percent below the league-average 8 percent.
This inability to take a walk has resulted in a poor on-base percentage—.265 this season—and the ever-growing sentiment that Cozart is unsuitable to stay in his current position, batting second in the Reds lineup.
Cozart is 27 years old, and if he's been unable to mend his faulty approach at the plate to this point, then the chances of him fixing it anytime soon seem slim at best.
The last 26 games have been a microcosm of Cozart's struggles at the plate this season. Over that span, Cozart's been a .206/.238/.340 hitter and has managed just four walks to 22 strikeouts.
He has collected 10 extra-base hits and 10 runs scored, but his inability to draw a walk even occasionally will certainly lead to his dropping out of the 2-hole either at the trade deadline or when Ryan Ludwick returns in August.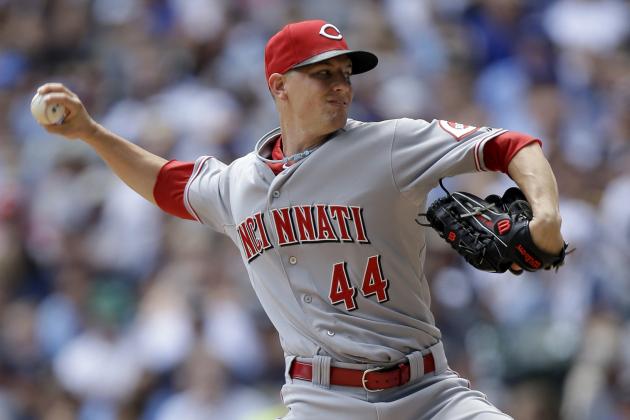 Mike McGinnis/Getty Images

Mike Leake is making a great case for Comeback Player of the Year.
After a disappointing 2012 season (8-9 W-L, 4.58 ERA, 1.35 WHIP, 5.8 K/9, 2.1 BB/9, 2.83 K/BB, 10.1 H/9), Leake has rebounded and then some to be the most dominant and consistent pitcher on the Reds' starting staff.
In 19 starts, roughly 63 percent of his season's prescribed workload, Leake boasts a strong 2.79 ERA to go along with solid ratios, including a 1.13 WHIP, 5.6 K/9, 2.1 BB/9, 2.71 K/BB and 8.1 H/9.
Leake may be benefiting from a bit of good luck, as his .264 BAbip, 4.11 FIP and 3.98 xFIP suggest that some regression is in order. However, for now, we've seen him actually get better as the season's gone on.
In his last 11 starts, Leake owns a 2.18 ERA, a 1.04 WHIP and ratios of 5.1 K/9, 1.8 BB/9, 2.80 K/BB and 6.3 H/9.
Leake has been a stud this season, especially over the last 11 starts, and he's quieted many of the calls for his demotion or a trade to get him out of Cincinnati. The Reds will need him at his best if they're going to continue their run at the Cardinals and the top of the NL Central.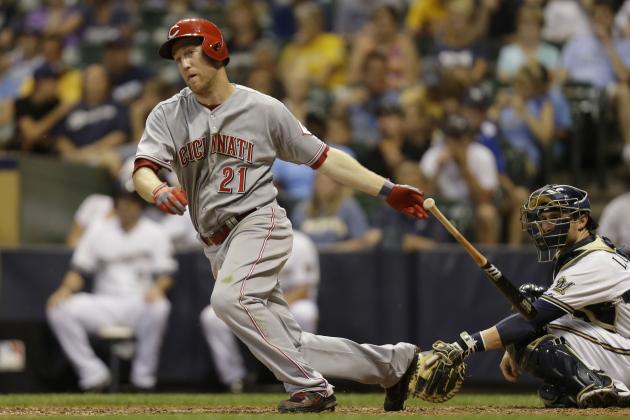 Mike McGinnis/Getty Images

After a season in which Todd Frazier garnered significant Rookie of the Year consideration, he's stumbled a bit here in 2013.
Through his first 89 games, the 27-year-old owns a .239/.333/.398 slash line with 10 home runs, 15 doubles, 43 RBI, 35 runs scored and an 82-35 strikeout-to-walk ratio. His batting average has lagged severely, leading to a decrease in his home run and double production.
Frazier's 2013 season has been an all-around struggle, but his last 30 games have been even more disastrous. In said 30 games, Frazier compiled 105 at-bats while slashing .219/.317/.381 with four home runs, eight extra-base hits, nine RBI and 10 runs scored.
The bottom of the Reds lineup, spots six through nine specifically, have become somewhat of a black hole over the last few weeks. When looking at the performances of Frazier, along with list mates Zack Cozart and Devin Mesoraco, it's easy to understand why.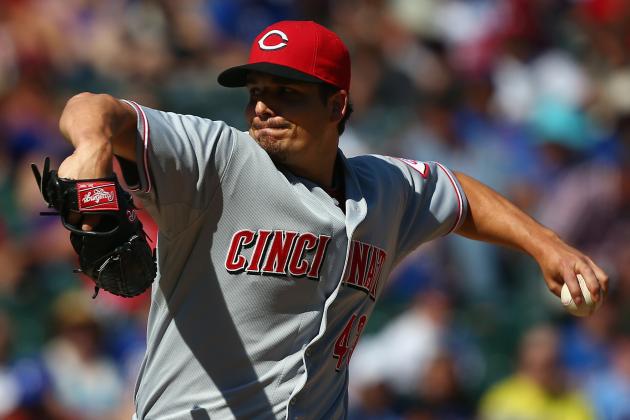 Tom Pennington/Getty Images

Manny Parra seemed to be on the verge of losing his job after a rocky start to the 2013 season. After working to an 8.44 ERA and a 2.53 WHIP over his first 12 appearances, Parra has turned it around and become one of the most dependable pitchers in the Reds bullpen.
Take a look at Parra's splits between his first 12 and his last 16 appearances.
| | | | | | | | | |
| --- | --- | --- | --- | --- | --- | --- | --- | --- |
| Manny Parra | G | IP | ERA | WHIP | K/9 | BB/9 | K/BB | H/9 |
| Apr. 5-Jun. 7 | 12 | 10.2 | 8.44 | 2.53 | 13.6 | 3.4 | 4.00 | 19.5 |
| Jun. 11-Jul. 19 | 16 | 13.1 | 0.00 | 0.53 | 10.8 | 2.0 | 5.33 | 2.7 |
Parra's been dominant since June 11, and it's become increasingly clear that he'll be around after Sean Marshall returns to the pen.
At just 30 years of age, it wouldn't be a surprise to see the Reds bring Parra back for another season or two after 2013 ends.