Comparing Top 2014 Committed Big Ten DL Recruits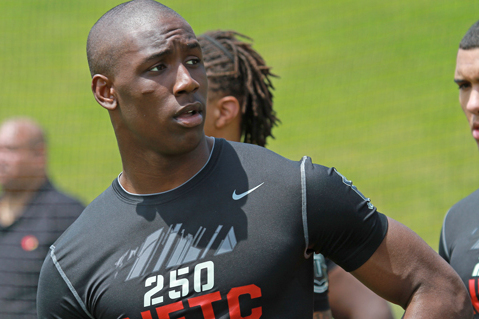 247Sports
To win in the Big Ten, a college football program must be able to control the line of scrimmage. Having a great offensive line is only half the battle, as it is also crucial to boast a strong defensive line. Recruiting defensive linemen is always a priority because the unit impacts both the running and passing game.
Recruits Bryan Mone, Jalyn Holmes and Lawrence Marshall are the top three defensive linemen who are committed to Big Ten programs, according to the 247Sports composite rankings. Mone and Marshall are headed to Michigan, and Holmes is committed to Ohio State.
All three players should make an impact in the conference before the end of their careers, but they each bring a different set of skills to the table.
Player evaluations are based on review of tape at Scout.com, Rivals, 247Sports and ESPNU.


Begin Slideshow

»
Bryan Mone easily wins in this category, as the mammoth prospect stands 6'4" and 338 pounds. Mone can pass any hoof test with flying colors, as he looks like a college senior. He is an intimidating presence who could weigh 350 pounds at the start of his freshman season.
Lawrence Marshall has solid size at 6'3" and 225 pounds. He has good bulk, and his development will be aided by time spent in Michigan's strength and conditioning program. Marshall could weigh 250-255 pounds before he leaves Ann Arbor.
Jalyn Holmes has a slimmer build than his fellow Big Ten defensive line commits. He stands 6'5", but weighs a sleek 225 pounds. However, Holmes has the potential to add significant bulk during his college career. Weighing 260 pounds is not out of the question with Holmes.
Greg Mattison will be impressed by Bryan Mone's great strength and deceptive athleticism. The future Wolverine is light on his feet for a big man, which makes him a versatile player. Mone has outstanding strength and power, which helps him dominate in the trenches.
Although he lacks good upper body strength, Marshall has solid strength in his legs. He is a good athlete who flashes solid agility when pursuing the ball.
Jalyn Holmes is a good athlete who has deceptive strength. He flashes the ability to play big at the point of attack and set the edge versus blockers. He needs to add bulk, but Holmes is not a weak player.
Lawrence Marshall has the ability to quickly fire out of his stance, shock a blocker at the point of attack and anchor on the edges. He does not back down from bigger offensive linemen, as he shows the physicality to powerfully stack blocks.
Marshall flashes shedding skills, short-area quickness and solid tackling ability versus running plays. He has the toughness to play over tight ends.
Jalyn Holmes is at his best when he can chase down running backs from the backside. He will fight blockers at the point of attack, but Holmes prefers to use his athleticism and speed to hunt runners from afar.
Bryan Mone can excel as a run defender due to his size and strength. He plays as big as his listed size at the point of attack, while also flashing the quickness to penetrate gaps. Mone can anchor down versus double-teams, clog running alleys and make a mess in the interior trenches.
Jalyn Holmes is a blank canvas as a pass-rusher. He possesses good quickness at the snap, can bend around the pocket and has a solid burst to close on the quarterback.
Holmes lacks a pass-rushing plan, as he does not consistently use his hands to his advantage. He must develop several good pass-rushing moves at Ohio State.
Defensive ends who can rush with power and quickness will always be good weapons for a defense. Lawrence Marshall has those traits, as he displays the ability to convert speed to power quickly as a pass-rusher.
Marshall will attempt to use his mitts as assets during a rush, but he needs more refinement and moves in his arsenal.
Bryan Mone can fire out at the snap and violently approach a blocker as a pass-rusher. He can turn quickness into power during a rush, fights hard to pressure passers and has heavy hands. Mone will get a few sacks before he leaves Ann Arbor.
Lawrence Marshall has the versatility play defensive end, rush end/outside linebacker and defensive tackle in sub-packages. Marshall's strength will allow him to kick inside on passing downs for Michigan, which will allow an extra pass-rusher to come onto the field.
Jalyn Holmes shows similar potential, however he will likely not play as an interior pass-rusher on passing downs for the Buckeyes. Holmes is at his best on the edges, where he can play with his down or from a two-point stance.
Bryan Mone can play in both a 4-3 and 3-4 defense. He has the size to play over the center or in a gap. Mone can also play defensive end in certain alignments.
Edwin Weathersby is the College Football Recruiting Analyst for Bleacher Report. He has worked in scouting/player personnel departments for three professional football teams, including the New York Giants and Cleveland Browns.