Fantasy Baseball 2013: Bold Predictions for Season's 2nd Half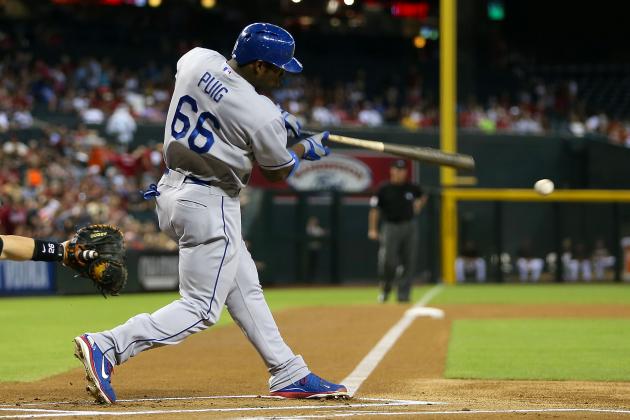 Christian Petersen/Getty Images
Can Yasiel Puig maintain his torrid start?
Welcome to the second half of the MLB season, where fantasy baseball fame and glory hang in the balance.
OK, so every team's technically hit the midway mark well before the All-Star break, but the four-day pause gives fake team managers a chance to exhale and re-evaluate the season. Maybe your squad hasn't followed the season's syllabus, but this convenient hiatus allows gamers to enter the stretch run with a clean state of mind.
Not everything that unfolded during the season's first two-plus months is guaranteed to last another two-plus months. Remember when Jair Jurrjens started the 2011 All-Star Game? He posted a 5.88 ERA and 1.65 WHIP after pitching in the exhibition that counts.
The beauty of a sanity-testing 162-game season is that it shields against most flukes and wild variance. After all, Bryan LaHair was an All-Star last year.
Let's use this time to veer into the forecast and project second-half happenings. Some of these predictions will be plausible, some may just seem slightly off, and a couple may generate a stream of furious comments and hate mail. But isn't that all the fun of bold predictions?
Note: All statistics, unless otherwise noted, are courtesy of FanGraphs.com.
Begin Slideshow

»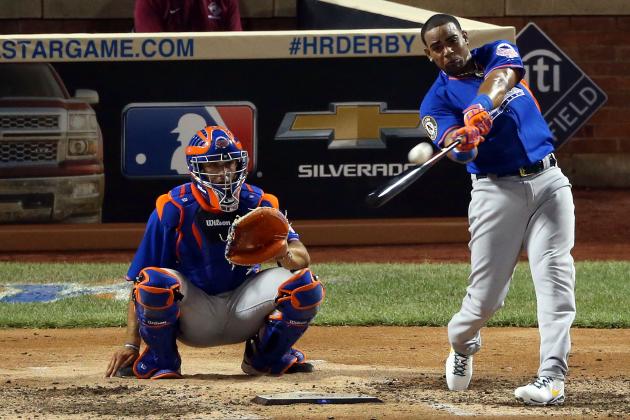 Bruce Bennett/Getty Images
They say that those who succeed in the Home Run Derby fall off the map, but what if the winner entered the competition in a slump?
In hopes that I can at least nail one and ignore the other incorrect guesses, here are some bonus predictions:
Yoenis Cespedes reverses the alleged Home Run Derby Curse, hitting .300 with 15 homers in another monster second half.
Corey Kluber is the Cleveland Indians' most valuable second-half starting pitcher ahead of All-Star Justin Masterson.
Brandon Phillips, who currently has 74 RBI, drives in fewer than 35 runs during the second half.
Eric Young, Jr. finishes the season among the league's top-five stolen base leaders.
Grant Balfour falters, paving the way for Ryan Cook or Sean Doolittle to take the closer's job.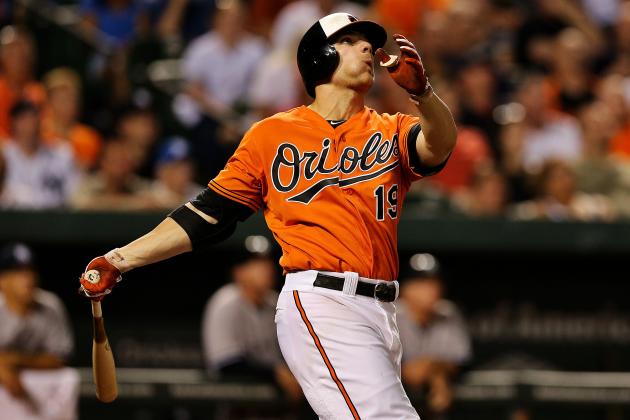 Patrick Smith/Getty Images
How many more home runs can Chris Davis hit this season?
Hey, the title said bold predictions.
Such a radical claim is not an attempt to discredit Chris Davis' blazing start or dismiss Josh Hamilton's struggles as poor luck. Both men have heartily earned the position they're currently in, but that doesn't mean both sluggers will stay on the polar opposite ends of the spectrum.
This boils down to the law of averages. Davis can't possibly be this good, and Hamilton shouldn't remain this bad.
Although their stat lines could not vary more, these mashers have a bit in common. Both formerly resided in Texas, both took a while to break out, and both are notoriously streaky hitters who strike out a bunch.
Through 95 games, Davis has amassed an unreal .317/.392/.717 slash line with 37 homers and 93 RBI. He could fail to record another hit until September and still finish the season as a colossal draft-day steal. Hamilton, on the other hand, is hitting a putrid .224/.283/.413 with 14 homers and 39 RBI after commonly getting drafted in the second round.
If Davis maintains his current pace, he'll conclude the season with 64 long balls, which would cement him as the single-season home run champion in many purists' hearts. A guy who spent the last six years overcoming prolonged stints of futility is due for a rough patch or two, especially since he still ends 28.0 percent of his plate appearances in strikeouts.
While Hamilton has hit .239 through his past 158 games, recall that he was 2012's version of Chris Davis. He hit .308/.380/.635 with 27 homers in the first half before falling out of the Rangers' good graces.
Is it all that unfeasible for his 2013 to resemble 2012, only in reverse sequence? Hamilton should have one scorching hot streak stored away for later this year.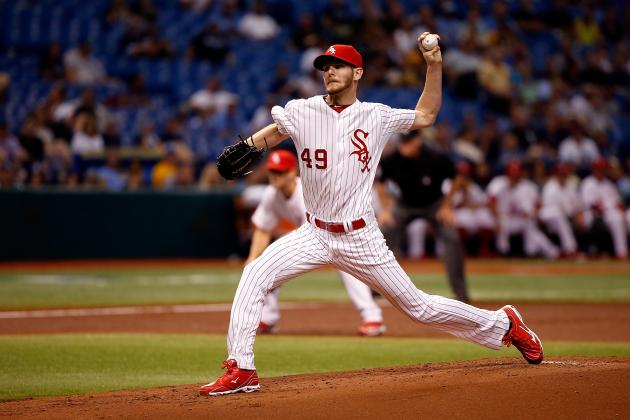 J. Meric/Getty Images
Despite his masterful pitching, Chris Sale has claimed just six wins.
Let's have some fun with numbers. One of these pitchers has notched 11 victories so far. The other has collected a measly six.
Player A: 120 IP, 2.85 ERA, 1.01 WHIP, 131 K, 27 BB, 2.94 FIP
Player B: 111.2 IP, 3.95 ERA, 1.35 WHIP, 89 K, 41 BB, 4.94 FIP
Guess which pitcher holds the 11 wins? The large picture of Chris Sale looming over these words and the fact that this type of exercise always aims to mislead the reader with a surprising result should have telegraphed the answer.
Player A is Sale, who sports a 6-8 record despite Cy Young-caliber pitching. Player B is "All-Star" Chris Tillman, who replaced Justin Verlander solely because the Baltimore Orioles offense led him to 11 wins.
To sum this up, wins are stupid.
Anybody actually trying to formulate accurate win projections is wasting his or her time. Anybody with a computer should be able to identify the loose correlation between a pitcher's performance and his win total.
It's unlikely the Chicago White Sox pick up the scoring behind Sale, who has been treated to an MLB-worst 2.76 runs per game during his starts. If they enter seller's mode, their already anemic offense could get even worse.
Then again, fellow White Sox hurler Jose Quintana has received 4.32 runs per his start, so aligning a pitcher's record with his team's offense is a flawed, inexact science. With a break here and there, Sale, who is every bit as good as any other AL starter, could still win more games than anyone else from this point forward.
Every other number proves Sale's status as a legitimate ace. If he keeps pitching this well, Sale will force Chicago to win some games whether it likes it or not. Anyone who sells Sale will be sorry.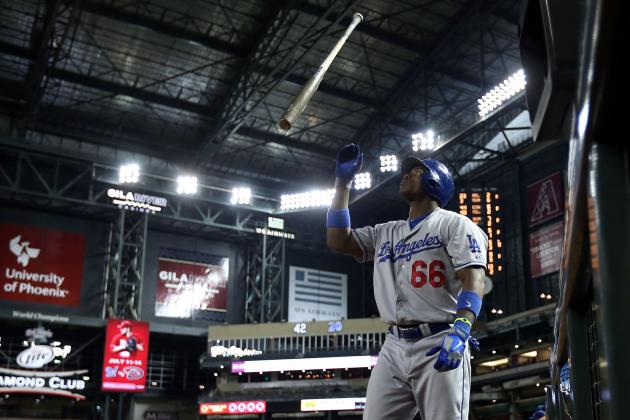 Christian Petersen/Getty Images
Puig's bat will eventually fall down to earth.
Yasiel Puig is Vladimir Guerrero, Ty Cobb, Ted Williams, Santa Claus and the Terminator all wrapped into one amazing cyborg designed to stir a needless controversy during an otherwise dull news cycle.
Except, you know, he's played 38 games, so maybe we should wait and see what the Los Angeles Dodgers really have here.
Since numbers are so much fun to play with, let's compare Puig's stats to another young lad who became the toast of the league in 2005.
Puig: .391/.422/.616, 8 HR, 19 RBI, 28 Runs, 5 SB
Mr. X: .359/.380/.669, 10 HR, 31 RBI, 29 Runs, 1 SB
No, Homer Simpson's alter ego didn't also dominate at baseball while running an anonymous website. Player X is Jeff Francoeur, who the Kansas City Royals recently ditched.
That's not to say that Francoeur's decline assures the same path for Puig, but it's important to put such a small sample size into context. Just because greatness occurred during his first 38 games does not mean it's time to build Puig's plaque for Cooperstown.
His lack of discipline stands paramount as a reason for concern. He has only drawn six unintentional walks while striking out 36 times. Then there's the sky-high, unsustainable .472 BABIP. Joe Mauer leads all qualified position players with a .387 BABIP, and he's a line-drive machine.
With all that said, it should not shock anyone in the slightest if Puig bats .260 during the second half. There's enough power, speed and raw talent to make Puig keeper gold, but look to cash in on the hype and trade him to the highest bidder in re-draft leagues.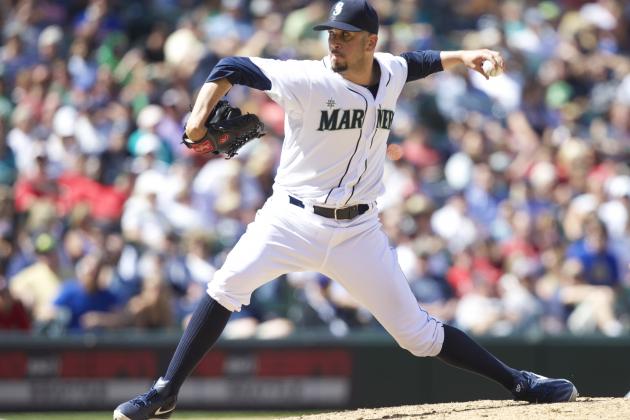 Stephen Brashear/Getty Images
Yes, that Oliver Perez.
As the once-promising Tom Wilhelmsen continues to fall flat on his face, someone needs to step up in Seattle and take over the ninth inning for the Mariners.
This is going to sound crazy, but look for Oliver Perez to take the job and run with it.
Before you ask, this is indeed the very same Oliver Perez who walked 109 batters through 112.1 innings with the New York Mets during 2009 and 2010. No longer looking to salvage his glory days as a potential ace, Perez has flourished in his new bullpen role.
In 36 innings, the 31-year-old lefty has registered a 1.75 ERA and struck out 50 batters while walking a passable 15. If he keeps this up, the Oliver Perez reclamation project could take center stage in fantasy circles, where he has a chance of emerging as a quality closer.
Meanwhile, Wilhelmsen, fresh off snatching the job from Brandon League last season, has recorded an uninspiring 3.95 ERA, 6.80 K/9 rate and 4.61 BB/9 ratio.
Don't make the mistake of pigeon-holing Perez into the lefty specialist role. Although that's how Seattle initially utilized him, righties are hitting .171 against him. He's no LOOGY.
Fellow southpaw Charlie Furbush stands in the way, and he'd also hold some intrigue for fantasy owners if he gets a chance. I'd never thought I would type these words, but he has a higher walk rate (albeit a slight difference) than Perez.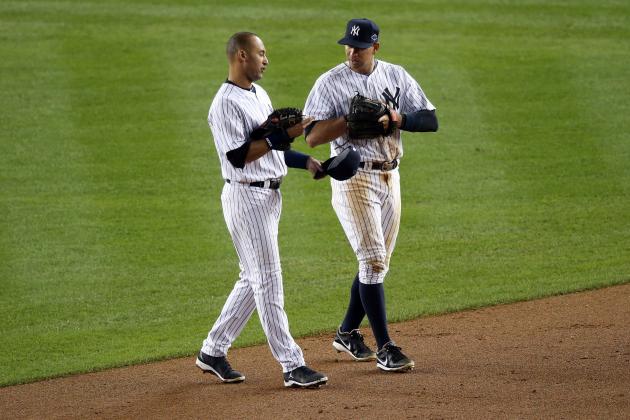 Bruce Bennett/Getty Images
It's been a while since Derek Jeter and Alex Rodriguez took the field for the New York Yankees.
OK, so this is probably the least bold of these declarations.
At least, it should be to a reasonable baseball fan who does not expect two injured veterans to immediately turn the clock back three years and overcome nagging ailments and an overall deterioration of skills.
Jeter finally made his season debut right before the All-Star break, returning just in time to produce one infield hit before landing right back on the injury report.
He's a banged up 39-year-old shortstop who derives his value from batting average despite generating ground-ball rates above 60 percent in each of the past three seasons. Adding quad tightness doesn't quite help his cause.
If he returns, maybe you'll get a .290 average and five homers. That's an optimistic scenario. He also could travel right back to the disabled list and never come back.
Alex Rodriguez is slated to make his highly unwanted return to a franchise currently scouring through the fine print for a loophole to dump his contract. While a washed up Rodriguez is better than what New York is getting from Alberto Gonzalez and Jayson Nix, will he cut it for fantasy managers?
Considering his 2012 .272/.353/.430 slash line, don't expect any miracles. He's not even raking against his minor league counterparts, so he'll need time to re-adjust to the majors.
His slugging percentage has dipped during five consecutive seasons, and rushing back from left hip surgery is not the best solution to buck that trend. Don't expect either of these future Hall of Famers to save any fantasy squads or even perform better than your typical waiver-wire fodder.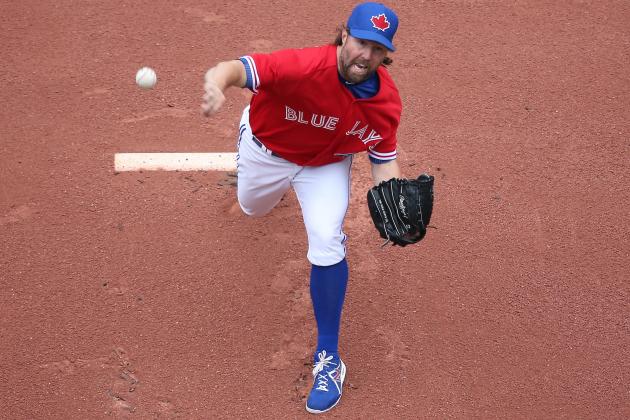 Tom Szczerbowski/Getty Images
R.A. Dickey has not been the same after an extraordinary 2012 campaign.
...or at least to the high-quality pitcher we took for granted before his Cy Young breakthrough.
R.A. Dickey's whirlwind knuckleball creates a mystery that baseball analysts are struggling to crack. Conventional wisdom of "he's a 38-year-old having a career year; this won't last" led many drafters to stray from the veteran, but his gaudy peripherals tempted many others to take the plunge at a potential discount.
Not only has Dickey disappointed, but he has failed to even match his performance from his pre-2012 knuckleball throwing years, when he posted a 2.84 ERA in 2010 and 3.28 ERA in 2011. This year the mark has soured up to 4.69, and his strikeout (6.44 K/9) and walk (3.29 BB/9) rates are both veering in the wrong directions.
So why the optimism for a dramatic turn-around? We've seen the spellbinding power of his effective knuckleball when all is well, and those days have popped up with more frequency lately.
He first teased owners with a revival by starting June with 8.1 shutout innings against the San Francisco Giants. He then promptly surrendered seven runs to the White Sox, but Dickey's best knuckler took center stage to conclude the month with a two-hitter at Tropicana Field.
His pinpoint control has also returned, as he has issued just 16 walks over his past nine starts. While this won't matter too much if the strikeouts don't materialize, his knuckler has been gaining steam during the year.
According to Brooks Baseball, his average knuckleball velocity per start peaked at 75.65 miles per hour from April 18 to June 10. Over his past six starts, his velocity has not delved lower than 75.95.
It may seem minuscule, but that extra zip makes a notable difference on Dickey's special pitch, which could thrive once again in summer humidity. For teams looking to climb up the pitching categories, it's worth a gamble.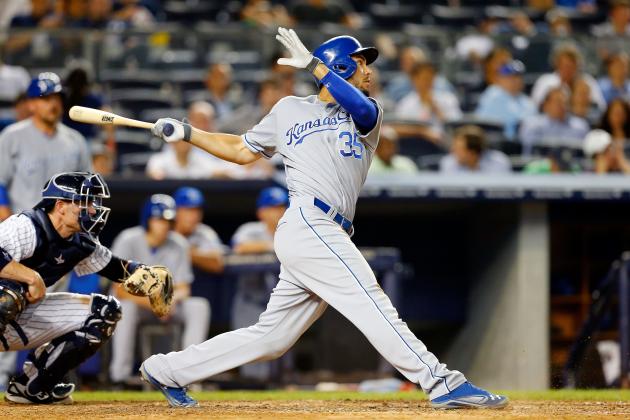 Jim McIsaac/Getty Images
Eric Hosmer caught fire leading up to the break.
Eric Hosmer and Domonic Brown both fit under the post-hype prospect label, with only one of them awakening during the second half. Brown entered a homer brigade, while Hosmer endured a power outage, but look for the tables to turn.
Previously the owner of 12-career homers through 156 games, Brown matched those dozen dingers in a 19-game window. He entered the break with 23 total fence-clearers, which places him third among National League hitters.
Meanwhile, Hosmer needed a surge of his own to boost his tally to nine. The first baseman, who slugged .465 during his rookie season, maintained a goose egg in the homer total until May 9. After finally catching hold of a ball, he failed to produce another one until June 13.
It's understandable if his frustrated owners gave up on him, and I'm not just saying that because I advised them to do so six weeks ago. Now, however, might be a good time to see if there's still a chance to jump back on board.
Beginning the post-break action with a .285 average, nine homers, seven steals, 46 runs and 40 RBI, Hosmer's stats now don't seem all that bad. As is the case with most post-hype sleepers, it feels like Hosmer has been around longer than he actually has. The lefty slugger is still 23, so a return to his power days of 2011 is not unreasonable to anticipate.
But for Brown, come on. You don't go from hitting no more than five homers in a season to hitting 40. He's already begun his regression to the mean, delivering four round-trippers in the past month.
With all of the long balls sapped out of his bat from the first half, don't count on Brown hitting any more than 10 from this point forward.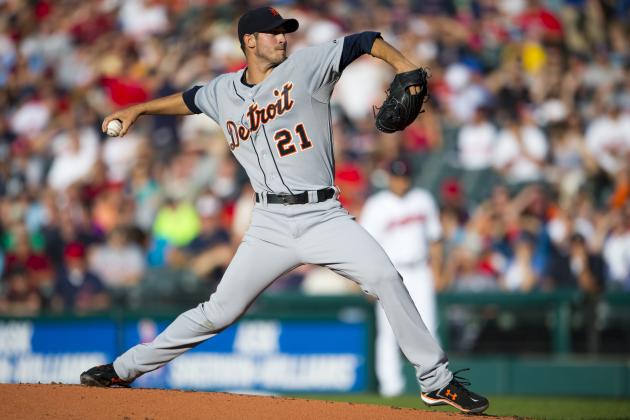 Jason Miller/Getty Images
Rick Porcello made some unheralded strides during the first half.
After posting a 3.96 ERA during his rookie season, Rick Porcello failed to take the leap to stardom that most scouts expected.
Porcello has since provided three seasons with ERAs above 4.50, and he's working on doing it again this season with a 4.80 ERA. It's not all bleak though, as the 24-year-old is quietly demonstrating why his arm garnered so much adoration in the first place.
Despite the bloated ERA, every other number is on the upswing. Porcello has netted a 1.26 WHIP, which beats his 1.34 WHIP from 2009 as his previous best. He's always exhibited great control, but his 1.72 BB/9 rate marks the stuff of an ace (or Carl Pavano). A 3.52 FIP and 3.07 xFIP also point to better days ahead.
But none of this would matter if not for the boost in strikeouts, which have always eluded the young tosser. He has garnered 80 punchouts through 99.1 innings, a 7.25 K/9 rate that trumps his 5.28 career tally and gives fantasy owners a usable number.
Essentially, Porcello's tumultuous first half comes down to the Los Angeles Angels rocking him. They lit him up for 16 earned runs through in five innings stretched through two separate starts. Not that baseball or life allows you to ignore the bad times, but he has a 3.53 ERA outside of those beatings.
If he can avoid the occasional stampeding, Porcello will operate as a solid No. 4 fantasy starter who will spawn massive sleeper appeal for next season.