Ranking the Best NBA Draft Picks in OKC Thunder History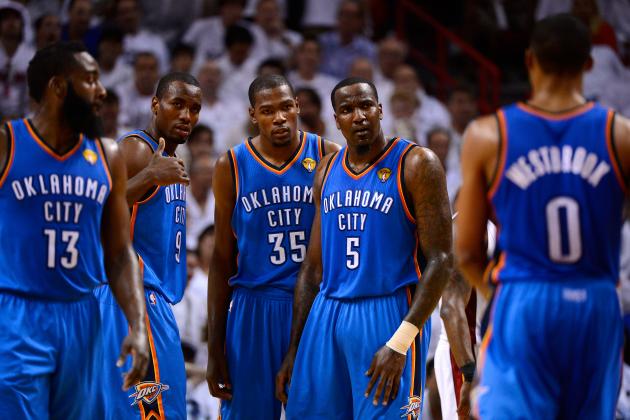 Ronald Martinez/Getty Images

Even if these rankings were restricted to players drafted since the Seattle Supersonics moved to Oklahoma City, there would be few teams with as formidable a list.

Sorry if it's a spoiler, but teams don't draft Russell Westbrook and James Harden in back-to-back years all that often.
Go back one year further, of course, and you've got something historic.
Of course, while the OKC Thunder are one of the most successful teams in the NBA due primarily to stellar drafting, the franchise's history of excellent drafting goes back to Seattle.
The primary factors used to determine these rankings are a player's productivity while a member of the OKC/Seattle franchise, and where in the draft said player was selected.
The strength of that year's draft class and how much the player eventually brought to the franchise via trade are also considered.
All stats courtesy of basketball-reference.com.
Begin Slideshow

»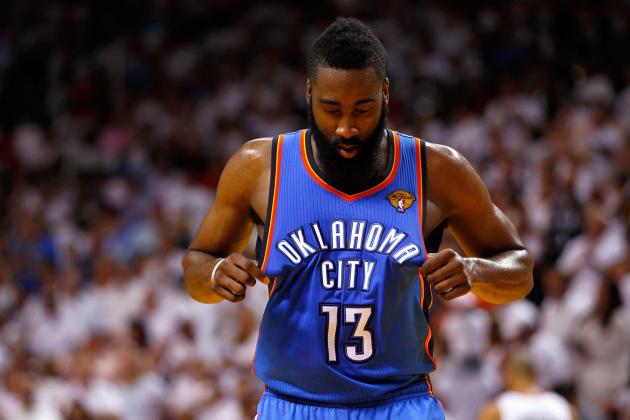 Mike Ehrmann/Getty Images

During a three-year period, the Thunder drafted Kevin Durant, Carl Landry, Glen Davis, Russell Westbrook, Serge Ibaka, James Harden and Rodrigue Beaubois.
That's an NBA championship-level team right there.
Of course, keeping that kind of talent together is impossible (not to mention that Landry, Davis and Beaubois were traded right away), and James Harden's career was only beginning to take off when the Thunder sent him to the Houston Rockets for what now looks like a terribly underwhelming package.
Still, the man averaged 16.4 PPG, 4.1 RPG and 3.7 APG during his third and final season with the Thunder—winning the Sixth Man of the Year award and helping lead the Thunder to the NBA Finals.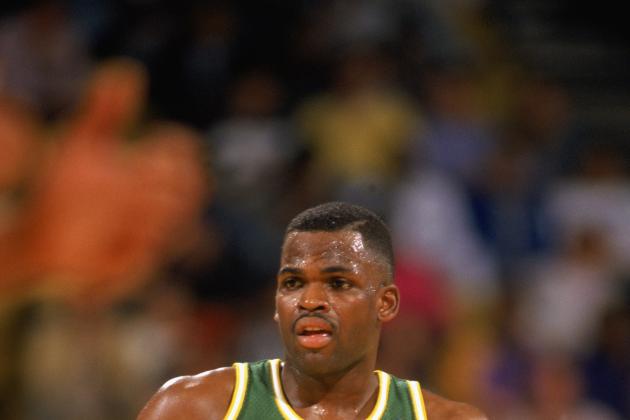 Ken Levine/Getty Images

Nate McMillan spent the majority of his career coming off the bench but was one of the league's top reserves of the early 1990s.
Drafted in Round 2 of the 1986 NBA draft, McMillan instantly became one of the leagues' best passing point guards.
Gary Payton's arrival in 1990 ripped the starting spot from McMillan's hands, but he embraced his role on the bench by becoming one of the league's best backup point guards and most pest-like perimeter defenders.
He spent all 12 seasons of his career with the Sonics, where he averaged 5.9 points, 4.0 rebounds, 1.9 steals and 6.1 assists against only 1.9 turnovers in 25.7 minutes a night.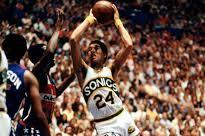 Dennis Johnson only played four seasons in Seattle, but it only took two to become a franchise legend.
In his second season, he averaged 16.1 PPG, 4.6 RPG, 3.3 APG, 1 SPG and 1 BPG during the postseason, helping the Sonics make the finals.
Once in the finals, he averaged 22.6 PPG, 6 RPG, 6 APG, 1.8 SPG and 2.2 BPG. The Sonics won their only championship in franchise history, and Johnson ran away with the Finals MVP.
He was an All-Star the following two seasons.
Not bad for the 12th pick of Round 2 in the 1976 NBA draft.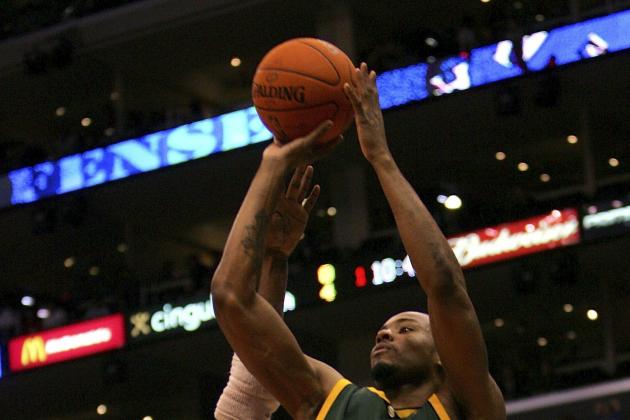 Stephen Dunn/Getty Images

Rashard Lewis came into the NBA out of high school in 1998 and started his career off slowly. But by age 21, he was starting, and for the next seven years, he averaged 18.5 PPG, 6.3 RPG, 38.9-percent shooting from deep and 80.9 percent from the line.
Along with Ray Allen, he formed the best three-point shooting duo in the NBA during the mid-2000s.
Yet another second-round pick with a first-round career.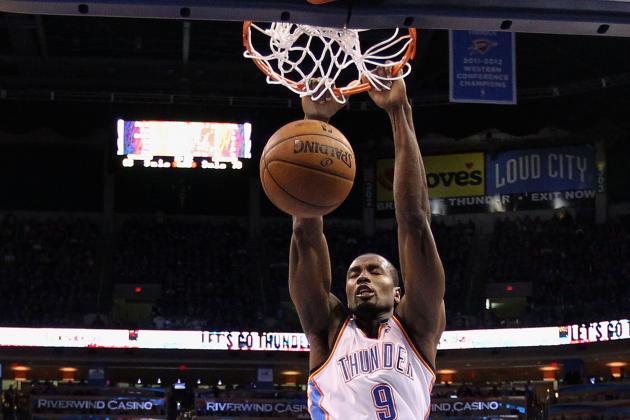 Christian Petersen/Getty Images

Serge Ibaka is only the second first-round pick on this list but was still an incredible steal at No. 24 of the 2008 draft.
His career is just getting started, but his resume is already incredibly strong. Ibaka is now the thrice-reigning shot-blocking king of the NBA, and his offensive game is growing by the season.
After averaging 13.2 PPG, 7.7 RPG and 3.0 BPG on 57.3-percent shooting from the field and 74.9 percent from the line, the 23-year-old looks poised to become one of the best big men in the NBA and soar up this list over the next several years.
Like Johnson, a young Jack Sikma became an instant Sonics legend. Unlike Johnson, he did it in only one year.
During his rookie season, Sikma averaged 13.7 points and 8.1 rebounds to help carry the Sonics to their one-and-only NBA title.
Sikma ranks higher than Johnson, however, due to the greater length of time he spent with Seattle.
In nine years with the club, the center averaged 16.8 points and 10.8 rebounds. His best skill may have been drawing contact and making teams pay for it, as he averaged 83.6 percent on free throws while getting to the line over five times a game.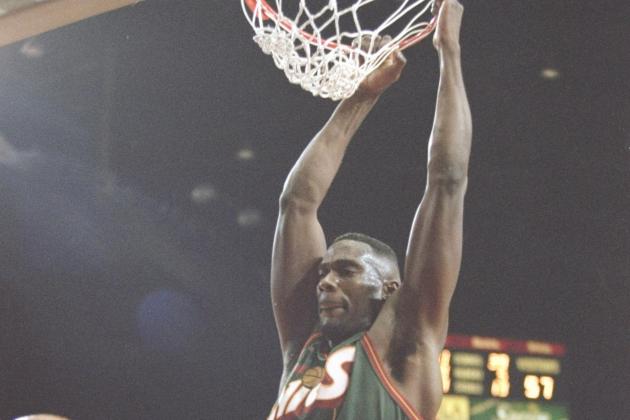 Brian Bahr/Getty Images

Shawn Kemp was the 17th-overall pick in the 1989 NBA draft, but it could be argued that he should have gone No. 1.
The "Reign Man" is remembered by most fans as one of the best dunkers to ever play the game. While this is certainly true, people often forget that he was one of the best two-way big men in the NBA during his eight seasons in Seattle.
Kemp averaged 16.2 PPG, 9.6 RPG, 1.2 SPG and 1.5 BPG while with the Sonics, appearing in five All-Star games and making three All-NBA teams.
And yes, he could throw down a little bit.
He was a seven-time NBA All-Star and indisputably the greatest center in franchise history.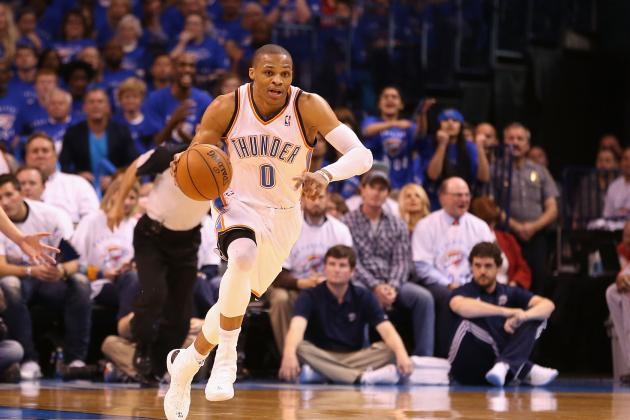 Christian Petersen/Getty Images

How do you become an NBA powerhouse?
The Thunder would have you thinking that the answer is losing a lot of games for a few years in a row.
In reality, it isn't.
To take advantage of extremely high draft picks takes a combination of luck and skill that no general manager has been able to duplicate quite like OKC GM Sam Presti.
Russell Westbrook, for example, fell to his team at No. 4 during the 2008 draft. Five years later, the ultra-athletic point guard has career averages of 19.9 PPG, 6.9 APG, 4.8 RPG and 1.6 SPG.
He's a three-time All-Star, three-time All-NBA selection and without a doubt one of the 10 best players in the league.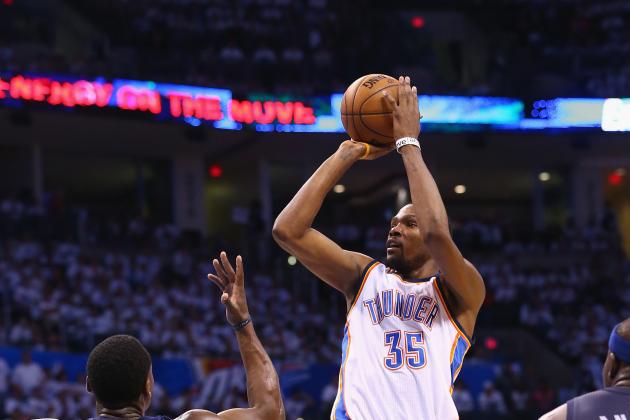 Ronald Martinez/Getty Images

Kevin Durant is the only player on this list who played both for the Sonics and for the Thunder. Needless to say, the Thunder would be an entirely different franchise if not for the small forward.
After months of debate and speculation, the Portland Trail Blazers chose Greg Oden over Durant to open the 2007 NBA draft. The Sonics made one of the easiest selections in draft history after that, and the obvious nature of the pick is one reason why Durant isn't No. 1 on this list.
Of course, if the 24-year-old continues to play at his current level—a level at which he's won three scoring titles and done so more efficiently than just about anyone ever has—he'll be No. 1 very shortly.
For now, the Thunder can enjoy his 26.6 PPG, 6.8 RPG, 47.5 field-goal percentage and 88.4 free-throw percentage, all while thanking their former regional-rival Portland night in and night out.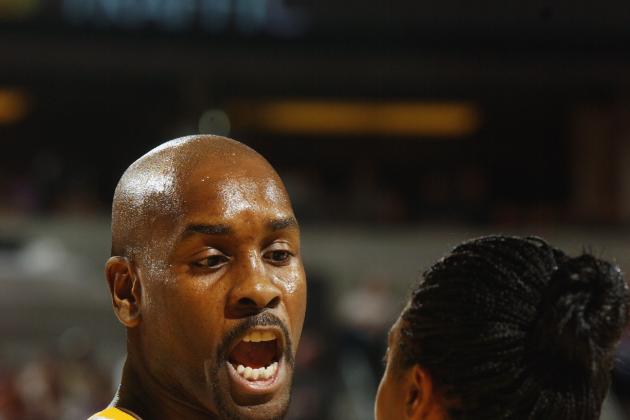 Otto Greule Jr/Getty Images

Gary Payton spent 13 seasons in Seattle, and now that the franchise is defunct, it's safe to say that he was and will always be the greatest Supersonics player of all time.
He averaged 18.1 PPG, 7.3 APG, 4.2 RPG and 2.1 SPG while with the Sonics, but even those fantastic numbers do not do "The Glove" justice.
He appeared in eight All-Star games, made nine All-NBA teams, nine All-Defensive first teams and was the only point guard to ever win the Defensive Player of the Year award.
The combination of his scoring ability, incredible court vision, unparalleled perimeter defense and insufferable on-court persona (at least in the eyes of his opponents and the officials) made Payton—the No. 2 pick in 1990—one for the ages.