The UFC's post Fourth of July break will come to a close on July 27 when the promotion heads to Seattle's Key Arena for UFC on Fox 8, which will be headlined by a flyweight title bout between champion Demetrious Johnson and challenger John Moraga.
In the co-main event, highly ranked welterweights Rory MacDonald and Jake Ellenberger will face off in the hopes that they can take one step closer to a title shot.
The four-fight main card will be rounded out by Robbie Lawler vs. Bobby Voelker and Liz Carmouche vs. Jessica Andrade. Read on to find out the odds and predictions for the upcoming event.
Demetrious Johnson (17-2-1) vs. John Moraga (13-1)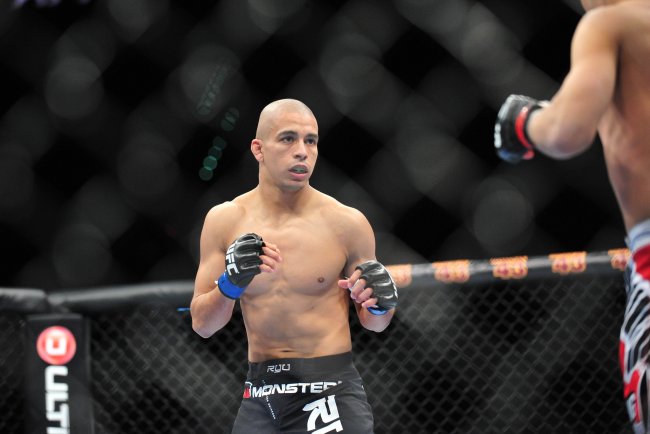 Gary A. Vasquez-USA TODAY Sports
The UFC's flyweight division is not what you would call deep, and that's how, more or less, you end up with champion
Demetrious
Johnson facing John
Moraga
in the main event of UFC on Fox 8.
Johnson's last three wins came against the three fighters ranked higher than Moraga in the division: Joseph Benavidez, John Dodson and Ian McCall. That's not to say that Moraga should be dismissed; he has a puncher's chance in this one, but the odds of him landing that punch and capitalizing on it are slim.
Johnson has exponentially faster footwork and striking than Moraga. Johnson also possesses better technical ability and is a more well-rounded fighter. He will set a frenetic pace and control where the fight goes.
If Moraga is fortunate enough to land a punch, he will do so in the middle of the Octagon, giving Johnson the time and space to recover. There will be no repeat of the back-to-the-cage knockout Moraga had over Ulysses Gomez.
Moraga has the advantage in the wrestling game, but his flat-footed striking style is practically plodding when compared to Johnson's. I just don't see him having the opportunity to take the fight to the ground.
The other X-factor is the level of competition. Moraga has never faced anyone as highly skilled as Johnson. He may have 14 professional fights to his name, but outside of his last two victories, fans will be hard pressed to recognize many of Moraga's opponents. The one they will notice, John Dodson, is responsible for the single defeat on Moraga's record.
Johnson will use his aforementioned attributes to wear Moraga down and take the unanimous decision in this one.
Odds: Johnson favorite (-450) over Moraga (+325)
Rory MacDonald (14-1) vs. Jake Ellenberger (29-6)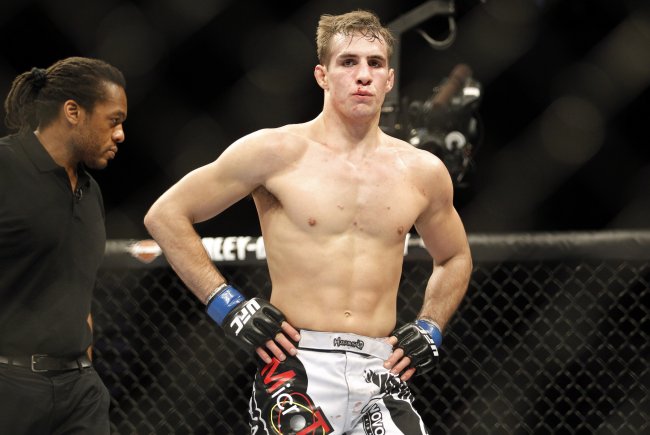 Joe Nicholson-USA TODAY Sports
No offense to the headlining bout, but the co-main event at UFC on Fox 8 is the fight that most fans will be keeping their eyes on. The welterweight matchup pits No. 3 Rory MacDonald against No. 4 Jake
Ellenberger
.
To be honest, I struggled with this one.
I do not expect to see the slow-paced Ellenberger we saw in the Jay Hieron fight. That style won't give him any advantage over MacDonald.
I think Ellenberger comes out aggressive, fast and swinging for the fences, and that's his best chance in this fight. He also has to be aware that if hurts MacDonald, he cannot get sloppy and take unnecessary chances.
MacDonald's best bet is to control the pace, frustrate Ellenberger and wear him down. He can do this through takedowns, technical striking, working from a distance and avoiding the power striking of Ellenberger.
If the pre-fight talk means anything, Ellenberger is going to fight angry. He seems irritated by MacDonald and the younger fighter's hype. If that is more than trash talk and there is real anger, Ellenberger is making a huge mistake. Fighting with emotion will cloud his thoughts, which won't benefit him against the stoic MacDonald.
The X-factor in this fight is the team at Tristar. By the time fight night arrives, the Tristar team will have a solid plan in place for MacDonald, not unlike the blueprints they prepare for UFC welterweight champion Georges St-Pierre.
This one goes the distance, and MacDonald walks away with the unanimous decision.
Odds: MacDonald favorite (-225) over Ellenberger (+175)
Robbie Lawler (20-9-0-1) vs. Bobby Voelker (24-9)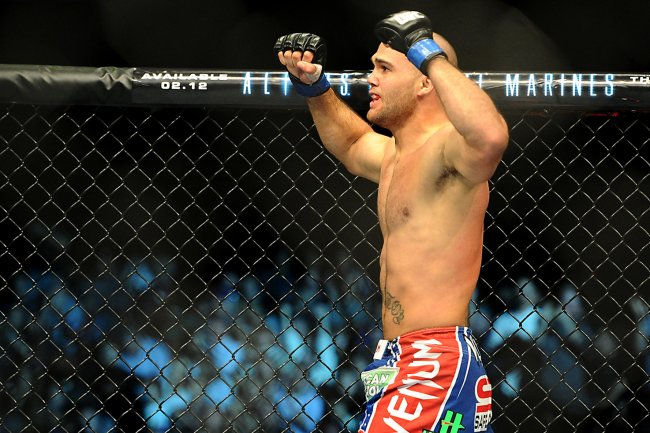 Jayne Kamin-Oncea-USA TODAY Sports
Robbie
Lawler
was originally booked to face
Siyar
Bahadurzada
at UFC on Fox 8, but an injury forced
Bahadurzada
from the card. Replacing him in this welterweight contest will be Bobby
Voelker
.
Voelker is coming off a somewhat controversial decision loss to Patrick Cote in his UFC debut. He showed some heavy hands, a good chin and decent cardio in the loss. Early in the fight he seemed a bit stiff, and at other points he was a bit sloppy in his attack, but for his first UFC fight, he looked solid.
Lawler will enter UFC on Fox 8 coming off a first-round TKO win over Josh Koscheck at UFC 157. That victory earned him a place in the Top 10 in the welterweight division.
Like Voelker, Lawler is a heavy-handed striker with a hell of a chin, but he has faced a lot tougher competition throughout his career. That will be the difference here: experience against top-notch competition.
Expect Lawler to wear Voelker down through Rounds 1 and 2 and put him away in Round 3.
Lawler wins by third-round TKO.
Odds: Lawler favorite (-300) over Voelker (+230)
Liz Carmouche (8-3) vs. Jessica Andrade (9-2)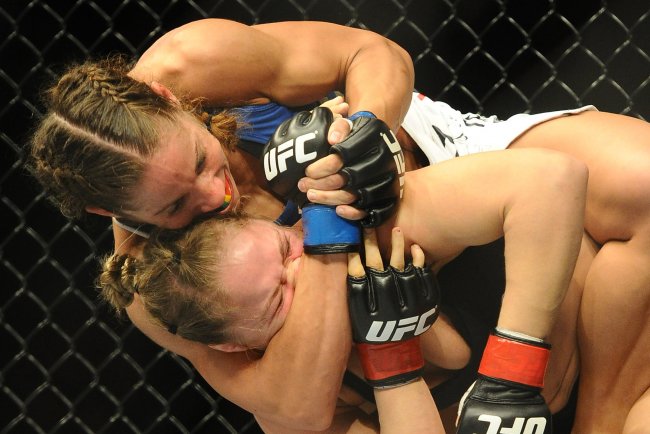 Jayne Kamin-Oncea-USA TODAY Sports
Jessica
Andrade
turned professional in 2011 and wasted no time getting busy and staying busy. Between September 2011 and April 2013, the Brazilian bantamweight racked up 11 fights, going 9-2. All nine of her victories came via stoppage (four KO/TKO, five submissions).
Andrade will get a tough fight when she makes her UFC debut, facing No. 5 women's bantamweight Liz Carmouche. She got the call to face Carmouche after Carmouche's original opponent Miesha Tate replaced an injured Cat Zingano as coach opposite Ronda Rousey on Season 18 of The Ultimate Fighter.
Andrade is a raw prospect, and she's being thrown to the wolves in this fight. But hey, when the UFC calls, what have you got to lose by saying yes? She has shown a decent chin, but her striking is rudimentary. Her go-to move has been the guillotine choke, which she has used to earn four of her five stoppages.
The only way Carmouche loses this fight is if she takes Andrade lightly and totally dismisses her, which is unlikely. Carmouche has something to prove after her last fight, a loss to UFC champion Rousey. She will be hungry to return to the front of the line and get another crack at the belt.
Carmouche wins via first-round TKO.
Odds: Carmouche favorite (-700) over Andrade (+450)
All odds via Bovada.