So far, Arsenal has been nothing but talk when it comes to the acquisition of big-name talent during the transfer window.
Although, at least there's been a lot of talk. Arsenal has been connected to numerous targets, and those connections aren't drying up.
Sky Sports brings us one of the latest developments, as they tell us the Gunners are looking to be the fourth team in on Barcelona's Cesc Fabregas.
Landing Fabregas won't be easy. As Sky Sports also reports, Manchester United put in a £25 million bid for the midfielder, and that just goes along with the interest he is receiving from Chelsea and Manchester City.
However, the Gunners do have one big factor in their favor here. As Sky Sports tells us, Arsenal has a first-option buy-back clause from when they sold the Spaniard to Barcelona in 2011.
Of course, that clause won't be worth much if Fabregas doesn't want to return. And if the former Gunner decides that Manchester United is a better home for him, it is going to be an extremely tough pill for Arsenal fans to swallow.
Although, they may be able to do a little poaching of their own.
Can They Lure Rooney?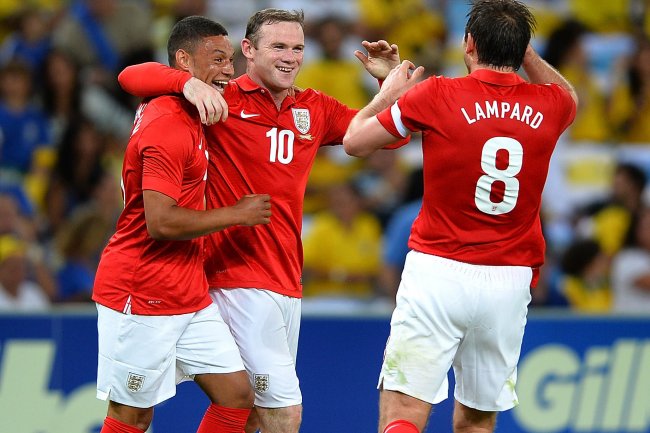 Laurence Griffiths/Getty Images
Wayne Rooney is becoming a rumors fixture.
José Mourinho and Chelsea reportedly made a bid on Tuesday per the BBC, and Mourinho has made no secret of his desire to land Rooney.
According to the Guardian's David Hytner, Dominic Fifield and Jamie Jackson the bid was a £20 million, but they also note that Arsenal is interested.
And the interested teams must be getting a little anxious after the The Telegraph reported the striker was "angry and confused" over his current treatment at Manchester United.
As aggressive as Chelsea has been, it'd be a surprise to me if Rooney left Old Trafford and didn't wind up there. However, until a deal happens, everything remains a possibility.
Could Marouane Fellaini Be in Play?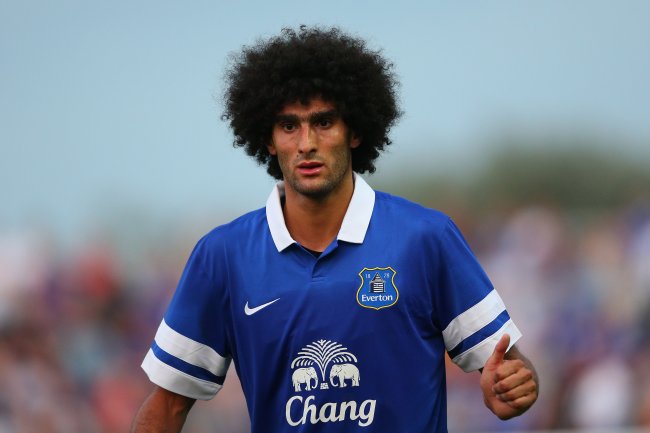 Alex Livesey/Getty Images
Arsenal is exploring a lot of options. One of those, according to Matt Law of the Daily Mirror, is Everton's Marouane Fellaini:
If Fellaini is Arsenal's biggest signing...

Everton are already braced for a second bid from Moyes for another of his former players, Leighton Baines. Arsenal have made an enquiry over Fellaini, but have so far concentrated most of their efforts on trying to sign a striker after making ­approaches for Real Madrid's Gonzalo Higuain, United's Wayne Rooney and ­Liverpool's Luis Suarez.

The clock is now ticking for Arsenal and United over ­Fellaini, particularly as both clubs are away on long-haul ­pre-season tours.
There is a dramatic time limit on this possible move. As Law also notes, there is a £23.5 million buyout clause in the current contract for Fellaini, but it expires on August 14. According to Law, after that point, Everton is expecting somewhere in the neighborhood of £30 million for Fellaini.
I like Fellaini. He is a valuable and explosive player. However, he isn't exactly in the same class as the other top names being bandied about for the Gunners.
I can't imagine fans will be too happy if Fellaini is the big summer signing for this club.